Board Games for Kids: The best board games for 5-10 Years Old
A roundup of the best board games for kids! Fun games for families with hundreds of top recommendations from game-loving families!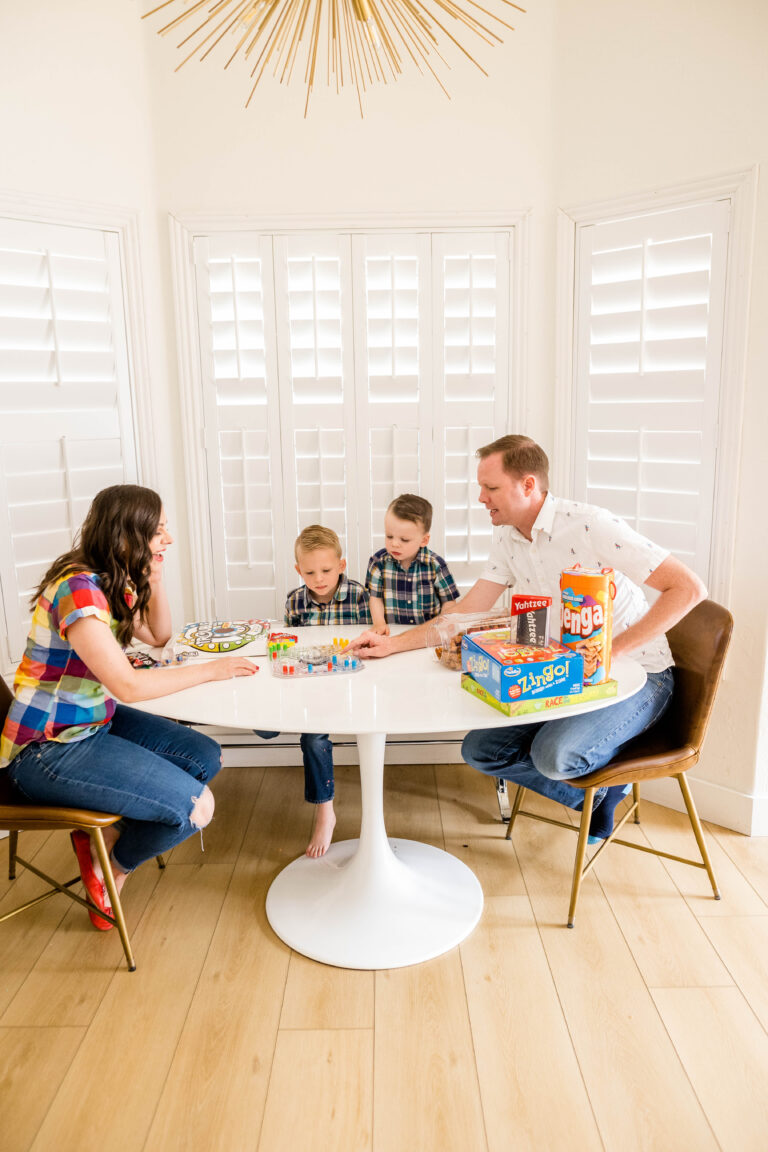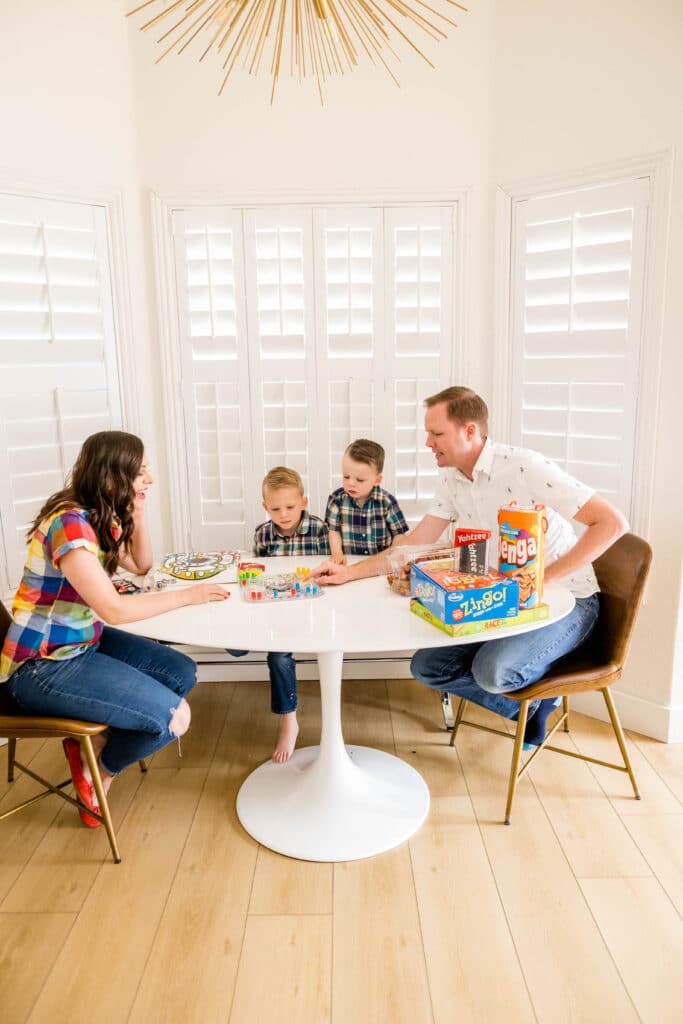 Excellent Family Game Night Games
These are some of the best board games for families with younger children! A family game night is always a fun way to bond and connect together! But sometimes when you have young children it can be hard to find a great game the whole family can enjoy!
I surveyed on Instagram game recommendations for families with young kids and what fun game options they recommend. I was blown away by hundreds of responses in a few minutes with a tone of repeat clear winners of the best games for families!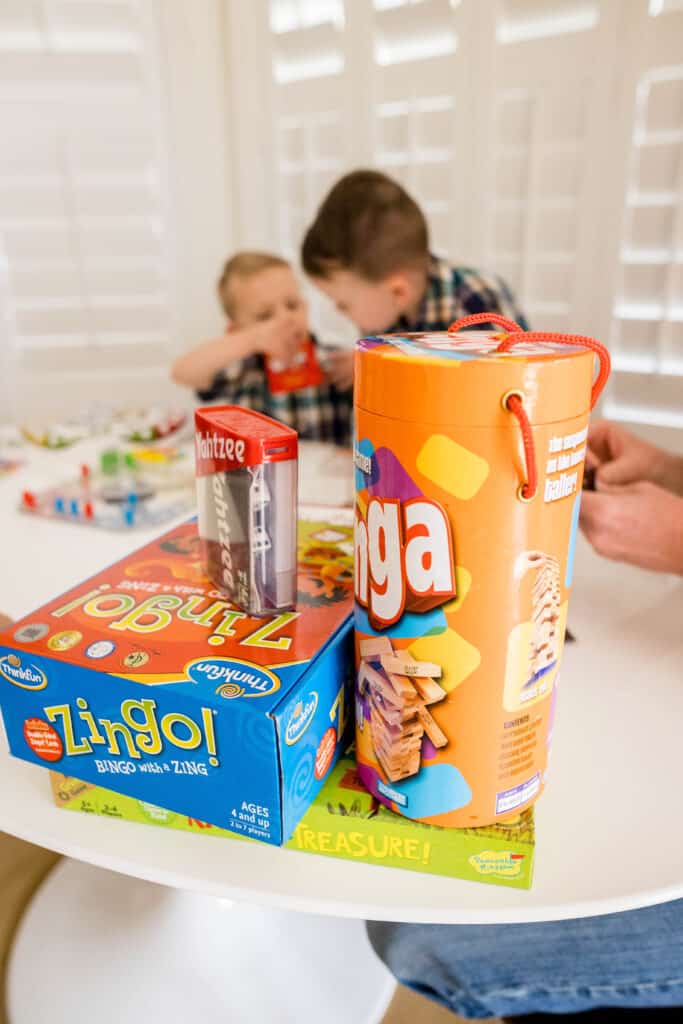 Board Games for Families
We're focusing on the best board games for 5-6-year-olds. As well as the best family board games and card games for families with elementary-aged kids. We're talking about those who are just old enough to appreciate how much fun a game can be. They are old enough to understand the object of the game. But also, may still need a little help.
Get ready for plenty of ideas for the best board games for 5-6-year-olds! These are fun games for kids with simple rules, or games they can play independently. As well as favorite board games and card games for families with kids around ages 5-10.
Younger kids may need to team up with other family members or get extra help from older players. But with a little bit of help and teaching, these are great board game options for families with younger kids! They are great options for those who are learning to love to play games!
The Best Board Games for Kids
Family Favorite Games: Highly Recommended Games Loved by Game-Playing Families
The most highly recommended family bored games (and card and dice games) from game-loving families.
TENZI Dice Party Game - A Fun, Fast Frenzy for The Whole Family -
AWARD-WINNING: TENZI is a fast, fun dice game that encourages fast reactions and is super easy to learn. That's why it was named one of ASTRA's Best Toys for Kids. (Ages 7 to 97)
FAST ACTION: TENZI is fun because it's fast. To play TENZI you must roll your 10 dice as fast as you can which makes the game instantly competitive and fun for the whole family.
A Delightfully Strategic Tile Laying Game Ideal for Kids, Teens, & Adults | from The Creators of Cover Your Assets & Skull King, Grandpa Beck's Games | 2-5 Players 7+
A REFRESHINGLY UNIQUE GAME : The Bears and The Bees is a charming, tile-placement game, where the first player to get rid of all their cards wins! This contemplative and strategic game is one of a kind! Each of the 104 hexagonal cards is beautifully illustrated with an array of colors on each side. The various types of cards, including honeycomb, bees, flowers, and bears, add their own unique twist to the game! The Bears and the Bees is an enticing game you'll want to play again and again.
Grandpa Beck's Games | Easy to Learn and Outrageously Fun for Kids, Teens, & Adults Alike | 2-6 Players Ages 7+
Fast-paced, competitive, more than a little addicting, and now with an updated look! Compete by building a stack of matching asset cards.
Be careful! Your top set can be stolen by other players, making it more valuable! Fun for experienced players, as well as those stealing their first asset!
- The Ultimate Pirate Trick Taking Game | from The Creators of Cover Your Assets & Cover Your Kingdom | 2-8 Players 8+
 A fast-paced trick-taking game with a pirate twist. Bid each round on how many tricks you'll win. Watch out! Mermaids, pirates, the notorious Skull King, and the new White Whale and Kraken cards add to the adventure! Bid correctly, and you'll gain points—bid wrong, and it's Davy Jones' locker for you!
Card Game, Quick Playing, Family Fun
Easy to Learn, Award-Winning,
2-6 Players,
15-30 Minute Playtime,
Ages 8 and up
A unique card game for kids!
Be the first player to ditch their artichoke cards and draw a hand of anything but! Build your own personal deck and use each vegetable's powers to your advantage. Comes in an artichoke-shaped tin.
Photo Credit: rstyle.me
A plundering pirate card game for kids. If you're looking for a pirate board game, try Loot instead!
A Hilarious Whipped Cream Family Game for Kids Ages 5 and Up
On their turn, a player slides their head through the mask, and then they must watch out -the pie-throwing arm could go off at any moment! Each player turns the dial and awaits their face to see if they will get whipped cream in the face.
It's one of the funniest games you'll ever play!
Photo Credit: restorationgames.com
You're invited to the fanciest soiree since the Cenozoic Era. Just one problem: Due to your walnut-sized brain, you've forgotten everybody's name. Politely inquire — "Are you wearing a hat?", "Did you bring your pet chicken?" — until you have enough info to guess their name. If you're right, you'll get a sugar cube; three cubes and you win the game. Dinosaur Tea Party is a delightful restoration of 1976's Whosit?, a slightly meatier, multi-player version of the classic deduction game, Guess Who? Featuring the delightful art of Matijos Gebreselassie.
 I love when a game has thousands of 5-star ratings with tons of rave reviews.
Families love this silly game that's full of strategy. There's a recently updated version with several expansion packs options.
Most people claim it's one of those fun board games that's easy to include younger kids and younger siblings on a "team" and play for family game night.
This one is for the slightly older kids, but parents with kids of all ages really love playing as a family.
A Game of mix and match your way to a potion explosion!
Description:
Rice and dice! Roll with your favorite sushi go! Characters in this dice version of the best-selling card game!
Load up the conveyor belts with savory sushi dice – then pick one and pass the rest!
Earn points for winning combos like two tempura or a set of sashimi.
Grab a menu to re-roll your dice or use chopsticks to swap with an opponent.
And of course – save room for Pudding at the end! Pick up the most points and you're on a sushi roll!
Lanterns: The Harvest Festival
A Fast-Paced Card Game Set
2-4 Players,
30 Min Playing Time,
Place Tiles to Adorn the Palace Lake with Floating Lanterns, Earn the Most Honor Before the Festival Begins
Top That is a bluffing card game in which players try to out-think their opponents and gain the least number of cards possible.
his standard version is currently out of print, so check eBay for purchasing options!
Splendor Board Game: Family Board Game
Strategy Game
Ages 10+ (but many families say it's great to play in teams and younger kids catch on and can play too!)
2 to 4 players
Average Playtime 30 minutes
Board Games for Kids: The Most Recommended Fun Games for Families
These make the list of the best board games for families with tons of recommendations from game-loving families.
Great Board Games for 5-6 Year Olds (Beginner board games for kids)
Grab a classic board game for kids and help them learn to love popular games with junior versions perfect for their skill level!
These are great board games for 5-6 year olds who are learning to read, know how to count, and can process simple games in teams and on their own.
Classic four in a row game -
Board Games and Toys for Kids, boys, girls - Ages 6+
Battleship With Planes Strategy Board Game
The 'No Reading Required' Strategy Game that families love! The original is one of the highest-rated games on Amazon!
Here's the perfect game for younger kids who are still learning to read, and really love board games for kids!
The Game of Life Junior Board Game
for Kids Ages 5 and Up,
Game for 2-4 Players
Description:
TEST YOUR DISNEY KNOW-HOW: Can you remember the color of Princess Elsa's eyes in Frozen? How about the color of Woody's vest in Toy Story?
A RAINBOW IN YOUR HANDS: In this Disney board game, all the questions can be answered with one (or more) of the 11 color cards in your hand.
WHO WILL LIVE HAPPILY EVER AFTER: Put down the right color and wait for the other teams to slip up. The first team to score ten points are the winners!
FROM PETER PAN TO PUMBA: Includes 250 questions from over 20 Disney films. So, whether you're a Mulan master or a Hercules hotshot, there's something for everyone.
Educational Insights Pancake Pile-Up, Sequence Relay Game: Preschool Board Game for Preschoolers & Toddlers, Ages 4+
The Game of Crazy Comparisons, Board Game with 504 Cards, Family Party Game Especially for Kids, Gift for Kid, Teen & Family Game Night
Strategy Games for Kids
Incorporate some strategy and keep it kid-friendly with these strategy games for kids.
Board Game for Kids | Strategy Game for Kids | Family Board Game | Adventure Game for Kids | Ages 6+ | For 2 to 4 players | Average Playtime 30 minutes | Made by Catan Studio
Board Game for Kids | Board Game for Children | Family Board Game | Fun Game for Kids | Ages 4 and up | 2-4 Players | Made by Z-Man Games
Hasbro Gaming Clue Junior Board Game for Kids Ages 5 and Up, Case of the Broken Toy, Classic Mystery Game for 2-6 Players
| Strategy Board Game | Dice Game | Family Board Game for Adults and Kids | Ages 8 and up | 3 to 8 Players | Average Playtime 30-45 Minutes | Made by Eggertspiele
Race to solve the formula by moving your molecules from tube to tube without touching them or dropping them!
The game can be played with a group or this is one fun game kids can play by themself!
Easy To Follow Rules, Qwirkle Is Great For Younger Kids Through Adults!
The Rules Of The Game Are Basic: Simply Build Lines By Matching Tiles Based On Either Color Or Shape, And Score Points For Doing So. However, The Ability To Build Complex Combinations Will Keep Children Interested And Engaged, And Challenge Them Mentally
This is a perfect board game for 5-6 year olds to get them started on a love of games!
| Strategy Board Game | Mosaic Tile Placement Game | Family Board Game for Adults and Kids | Ages 8 and up | 2 to 4 Players | Average Playtime 30-45 Minutes | Made by Next Move Games
In Spinderella, players race to get their three ants across the forest floor as quickly as they can, but spiders await in the branches above, and - with a little help from opponents - one might swoop down to scoop up your ant and return it to the starting line.
You can do the same to them, of course, so search for the right time to act and the right places to hide. Recommended for 2 to 4 players, ages 6 and up.
Description:
Solve the puzzle to stop the stampede! The river is rising and the rapids are raging – do you have the right kind of smarts to help the animals to safety?
All the wooden animals need to get across the river, but they can only cross one at a time and only in the right sequence; follow the rules to solve the sequence; puzzle is solved once all animals are correctly removed from the game board
Great for all ages 5+; high quality, durable, safe design and materials; sturdy game pieces, game board, and instructions are highly intuitive; easy to play, challenging to solve
Strengthens object recognition, sequencing skills, matching abilities, logic, critical thinking, creative thinking; each puzzle is more challenging than the last; WILDLY effective logic-building entertainment
Winner of Parents' Choice Gold Award, Named one of the best educational toys by USA Weekend
Card Games for Kids
A roundup of fun card games for kids that parents will also enjoy playing for family game night!
When I asked for family favorite games this was the most popular game recommendation by far!
This game was invented by a 6-year-old, and it's a great time and beloved game for many different age groups!
Plus it's about a 20-minute game so basically, the perfect game to play when you want quality time together, but don't have a ton of time for a full game night.
Can you say almost 40,000 5-Star rating reviews?
This was the second most recommended game from game-loving families. And also, one of the most affordable game options out there!
Uno is one of those classic card games for kids you'll play on repeat!
Score points by being the first to get rid of all the cards in your hand.Fast,Fun For Everyone
Strategize to defeat your competition with special action cards like Skips, Reverses, Draw Twos and color-changing Wild cards.
Plus, there are many other games played with Uno cards. This is a deck of cards you'll use and love!
Skip-Bo is another classic card game for kids and families that is fun to play with a ton of other game variations.
Players use skill and strategy to create sequential stacks of cards.
​First player to use all the cards in their stockpile wins.
This is a fast-paced competitive game that kids and adults adore!
The Description:
Players are raucous raccoons, tipping over Trash cans for food
Players push their luck to acquire more cards, but must stash them in order for them to count as points at the end of the game
When the deck runs out, the game ends. The player with the most points wins!
Reinforces visual discrimination and probability
Kids Against Maturity: Card Game for Kids and Families, Super Fun Hilarious for Family Party Game Night
Description:
A Kitty-Powered Russian Roulette Card Game - The hit party game for family and friends who are into kittens and explosions and laser beams and sometimes goats.
A Simple Card Game for Kids and Adults - Perfect for all occasions, including a family game night, beach trip, road trip or drinking with friends!
Game Of The Year Award Winner - More than 10 million copies sold, breaking records in kids' games, adult games, and everything in between.
Beginner-Friendly, Just 2 Minutes to Learn - If you draw an Exploding Kitten, you lose and you are full of loser sad sauce. All the other cards in the deck help you avoid or mitigate your risk of drawing an Exploding Kitten. If you don't explode, YOU WIN!
HABA Rhino Hero A Heroic Stacking Card Game for Ages 5 and Up - Triple Award Winner
This is a fun take on a card game where the game play turns into a fine motor skills card stacking game to help build a skyscraper out of cards. It's a quick game and a good choice for little kids!
Grandpa Beck's Gnoming A Round Card Game is a Fun Family Card Game
Enjoyed by Kids, Teens, & Adults
from The Creators of Cover Your Assets
Ideal for 2-7 Players Ages 7+
This party version that's better for older kids. But if you're playing with 5-6-year-olds who can handle a slightly more advanced game, this is a good one! It's a good game to practice math skills and brush up on probability and strategic thinking.
It's a great game for younger card game players to play withe older siblings!
The players draw cards from a card supply in the middle of the table.
During the game, the players try to specialize in a few colors, as at the end of the game, a player can score plus points for only 3 colors; the rest score minus points.
The more cards a player has of a color, the more points he scores.
The player with the most points wins.
Cooperative Games for Kids: Cooperative Games the Whole Family Will Love
Why compete against each other when you can work together? Cooperative games for kids offer a great update to a board game. Work as a team and help each other to play these fun board games for kids.
Classic Board Game Top Picks for Young Players
Ready to start a family game night tradition with your kids? Look to the classic board games for a bunch of great board games for 5-6 years olds and beyond!
Family Game Night
We hope these help you find a few great games to gift for birthdays and holidays! These are fun tried-and-true games families love and use for family game night.
Also, make sure to check out these ideas to take family game night to the next level. It's a fun tradition your kids will always remember!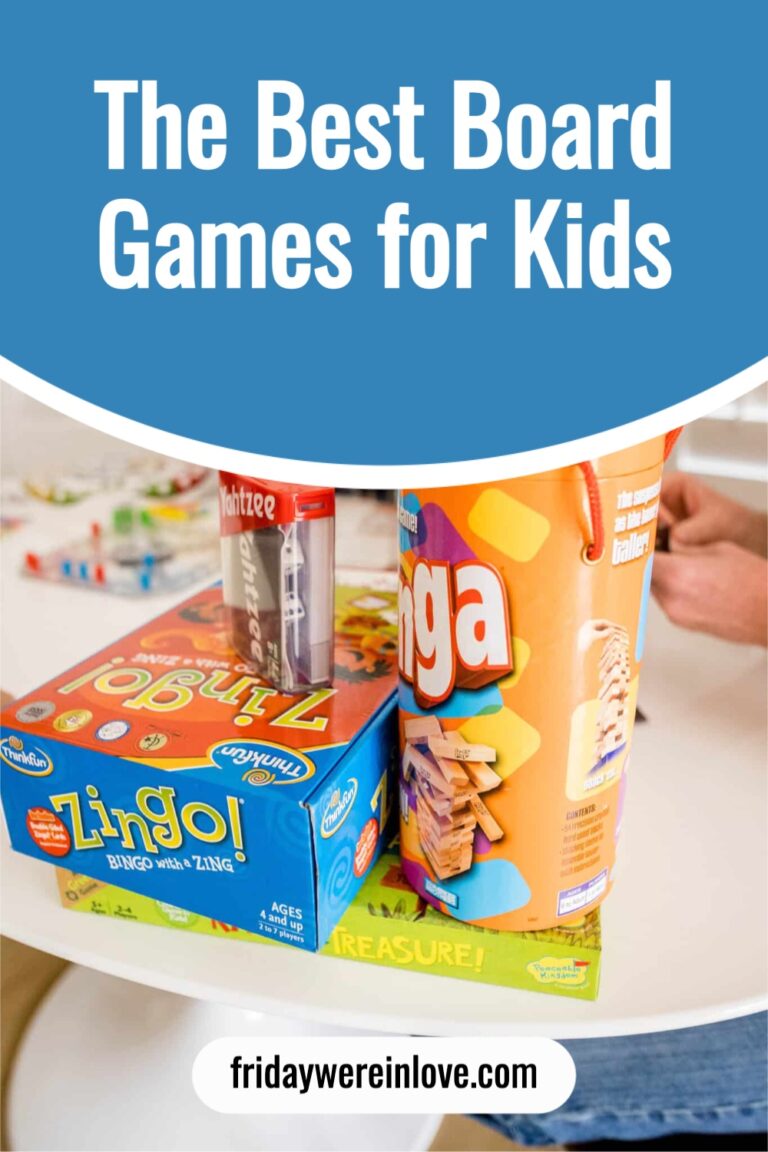 Like this roundup of best board games for families? Be sure to check out these posts too:
100 Couple Games for Your Next Game Night Date Night In
How to Make Family Movie Night Tradition You'll All Love