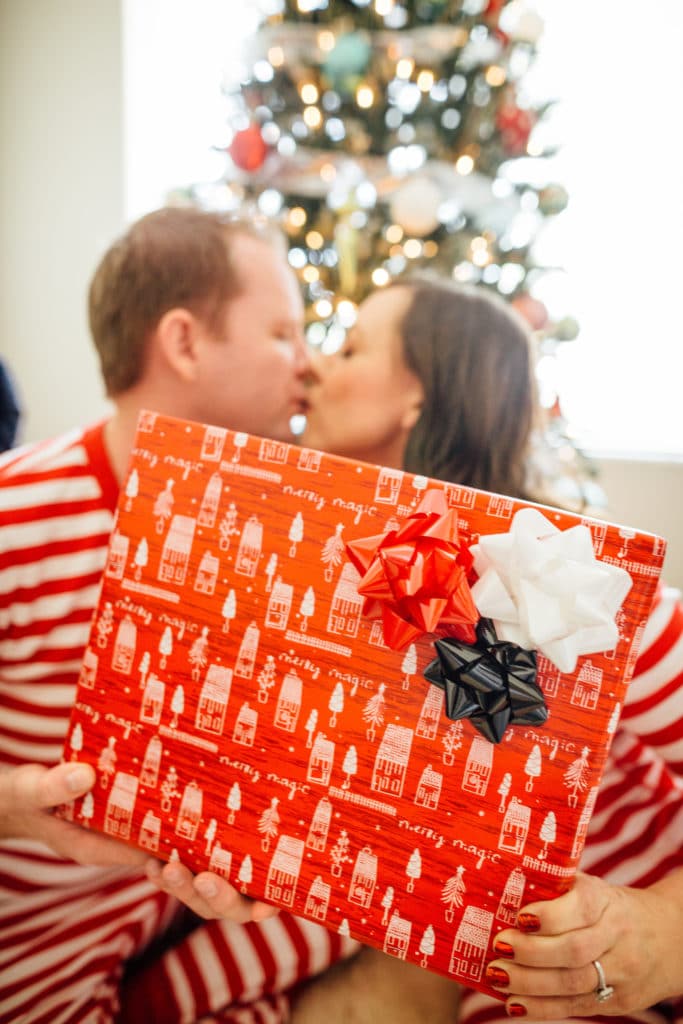 If you've been with us for a while you know that we almost always include a date night gift with each special occasion. I've done the year of dates for Jacob since our first year married (that was almost nine years ago- whoa!). Each Christmas if I haven't given a full year of dates to him, I've at least included a few date nights as a gift.
Three years ago I was pregnant and hardly able to hold my head up most days. It was a full nine months of struggle, but date night gift ideas were still on my radar! Luckily. my husband really pulled through and gifted me a year of dates. It made me cry, and oh man he did a great job!
I've found that gifting a date night as a present is just one of the best things you can do in a long-term relationship. For us, it's an excuse to spend money would have spent on stuff on a much more expensive date night than we normally do. It's a time to buy those tickets, plan something amazing, or just really get creative!
Those experience gifts for couples turn into some of the best memories. I wouldn't trade the concert Jacob took me to, or the night we went paddle boating for the world! All these experience gifts for couples were date night gifts!
Whether you're planning a year of dates, or you're just looking to give a date night or two, here's a bunch of date night gift ideas to get you started.
Date Night Gift Ideas
Concert Tickets. Do you have a favorite artist, you both love? Is your significant other obsessed with a particular band or artist? This is a great time to check if they're doing a digital concert this year you can broadcast, or touring later in the year and you can plan to splurge on tickets!
A Cooking Class. We have always had an amazing time learning how to prepare something out of our comfort zone. The only downside is these are often a little more money than our date night budget. Find a cooking class in your area is such a great way to go! And even if you're in a smaller area, a food subscription box can create a similar experience at home. And there are plenty of virtual classes being offered right now too!
Buy Tickets to a Broadway play. I know many shows aren't performing right now, but it's a great time to buy some for next year and support the arts as they reopen!
This is actually what started our date night gifting. I found one play I thought we'd enjoy, and gave Jacob tickets. He has returned the favor again and again. Last year I almost died when I opened Hamilton tickets! Touring shows are amazing, and you can find upcoming shows in your area here.
Photography Class for Two. You may have a fancy camera or just a cell phone. It doesn't matter, a class will still teach you a lot! The more I do commercial photography the more I realize it's an art and a skill more than a device. I love looking to Groupon to find a local photographer selling courses. You can easily wrap a new photography gear to unwrap with this date night. Even if it's what you've already bought/own, it's still a fun thing to unwrap and find out you're going to learn how to use it.
Date Night In Subscription. I love that you can do one date night in, three months, six months, or a year. They make it super easy to gift date nights, and we have a roundup of the best date night boxes reviewing the top options on the market. I am so excited to share I have a half off happily date box promo code for you! Use this link and sure to use the Happily promo code: FRIDAYWEREINLOVE to get 50% off your next box!
Loom Connecting Couples Journal. These are so amazing that we have a huge post about couples' journals! Talk about a great way to open up communication and start a conversation. Each journal gives hundreds of prompts with two sides, one for each person to fill out. They are a great starting point for couples to really share thoughts, concerns, and document feelings.
Sporting Event Tickets. From professional top-of-the-line to college sports, a sporting event makes a really fun date. Find your favorite team's schedule and snag some tickets for a really fun surprise.
Dates You Can Order On Amazon. I wrote a huge list of dates available on Prime that you can use as physical gifts you can wrap. There's a ton on that list, and they are mostly items you can do at home.
Groupon Outing. There's always something new and fun to try in your area, and Groupon has awesome deals to try said things. I love finding something fun for a date night on Groupon. You can also do a gift card and let them choose the outing themself!
Couple Games for Game Night. It's always a hit, and sometimes a new game is the best way to spend quality time together. We have a huge list of over 100 couple games to help you find the best one.
A Couple's Paint Night. We've loved going to paint night studios, and Groupon is a great place to find a local spot. But there's also a fantastic company that does a paint night date night at home. We love Painting to Gogh, and have a code to save you 10%. Use the Painting to Gogh discount code FRIDAYPTG.
Now Discover Your Strengths. I shared this in our at-home date ideas list, and I wrote a whole post about the Strengthfinder 2.0 date night and why it's such an amazing date night gift.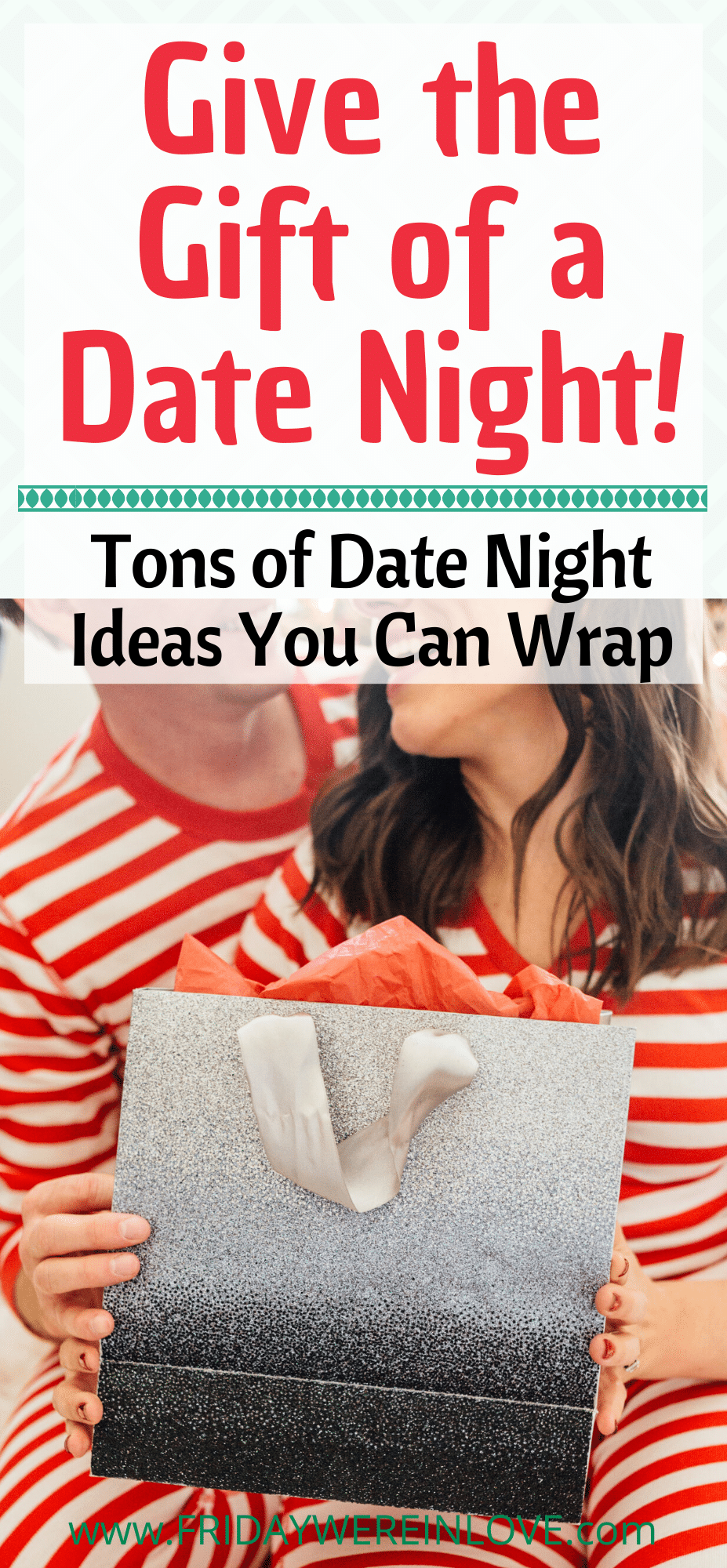 There are 12 all ready to go, and clearly, you could repeat several of these if one isn't your jam. They should help set you up for your own Year of Dates date night gift. But also, they're fun things to gift any time you're wanting to gift more experiences and make date night happen.
Photos: Chrissy Blake
Like these date night gift ideas? You may like these posts too:
How to Reconnect With Your Spouse: The Date Night We Always Recommend
Get 365 Date Ideas!
We want to help you have the best date nights ever! Grab this FREE printable with 365 date ideas, a date for every day of the year so you never run out of ideas!