Scavenger Hunt for Kids + Free Printable!
Scavenger Hunt for Kids: a picture and/or riddle based scavenger hunt you can do at home with free printables to make a fun treasure hunt for kids!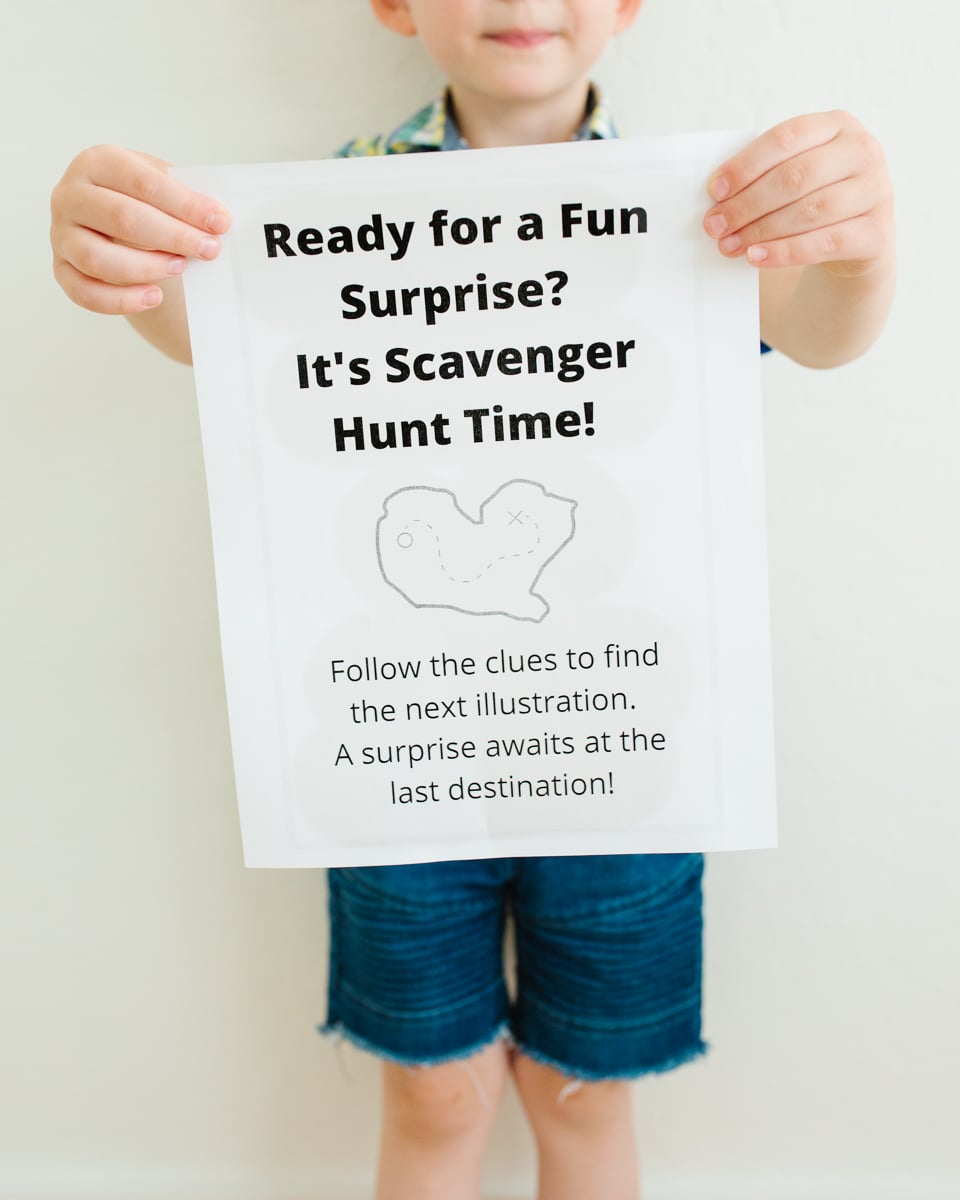 There are few things more fun as a parent than selecting something you know your child will love for a birthday or holiday, and watching their joy when they receive it! I had no idea toy/game/experience shopping could be so fun!
Scavenger Hunt for Kids
But we've found a really easy way to escalate the joy, and that's escalating the anticipation with a scavenger hunt for kids! And today I wanted to share what we're doing for Easter this year with a free printable for any other parents who want to make the Easter basket hunt a little more exciting.
This year, our boys will find some Easter books for kids, quiet time at home activities for kids that they can do independently, and some candy. But the really exciting element to find will be some outdoor play toys. My oldest is suddenly into soccer. And as a mama who played soccer throughout high school, I could not be more delighted that he discovered it on his own! He plays an imaginary game often without a ball. So this year he's set to find a small net and child-sized soccer ball to keep him busy.
My baby is a climber, and he wishes he was big enough to climb our play structure in the backyard. To try to deter him some, he'll be the proud recipient of a toddler slide. We think our kids will both love it when we add a kiddie pool this summer.
Easter Scavenger Hunt
When we decided as parents that these big items would be the main Easter event, we knew they wouldn't fit in a standard Easter basket. Right then and there we decided a scavenger hunts with clues to find throughout our house would make this such a fun gift!
We're starting with eight different locations in our home. Our free printable includes cards for up to 12 common household locations. You can easily use all of them or choose what works best for you.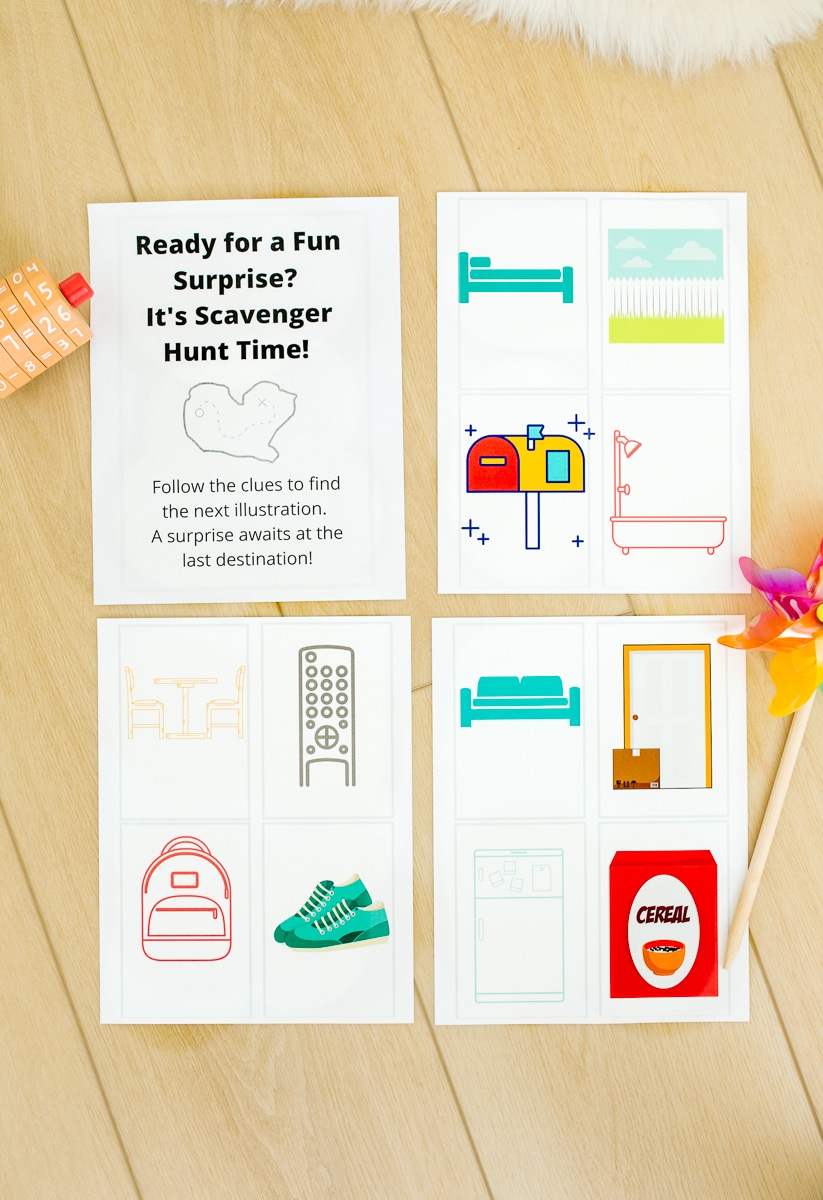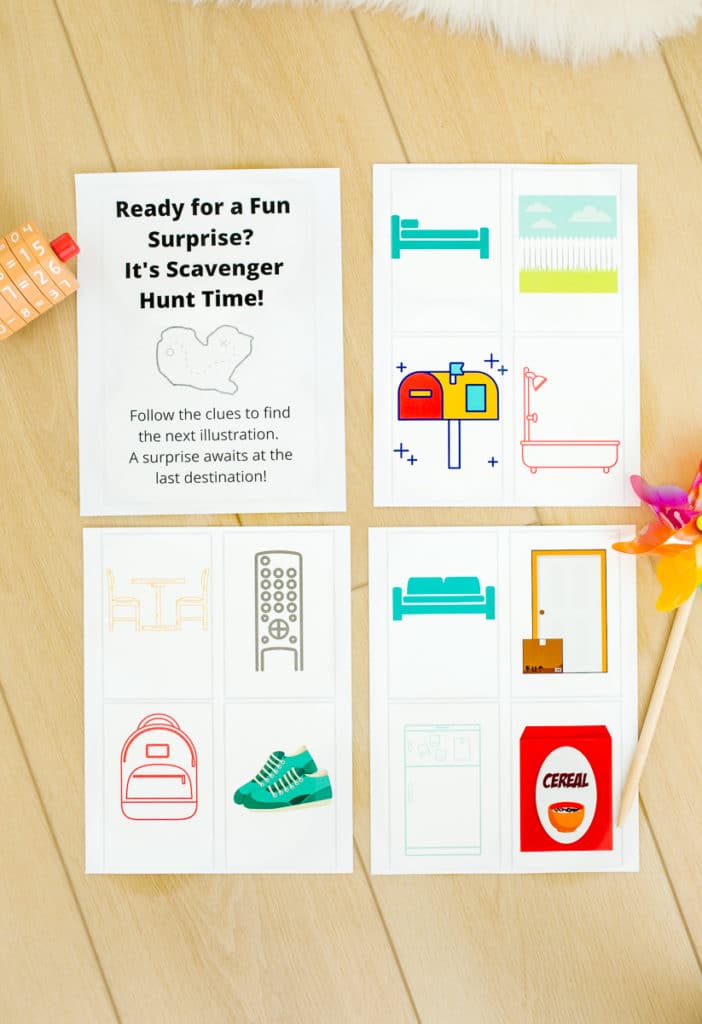 Picture Treasure Hunt
Because our kids are so young, a picture scavenger hunt is ideal for them. Simply finding a card with a picture of the next place to go is going to be perfect. I'd recommend explaining they are going on a treasure hunt, and start by handing them a picture card for the next destination. Remind them to look for the picture card there.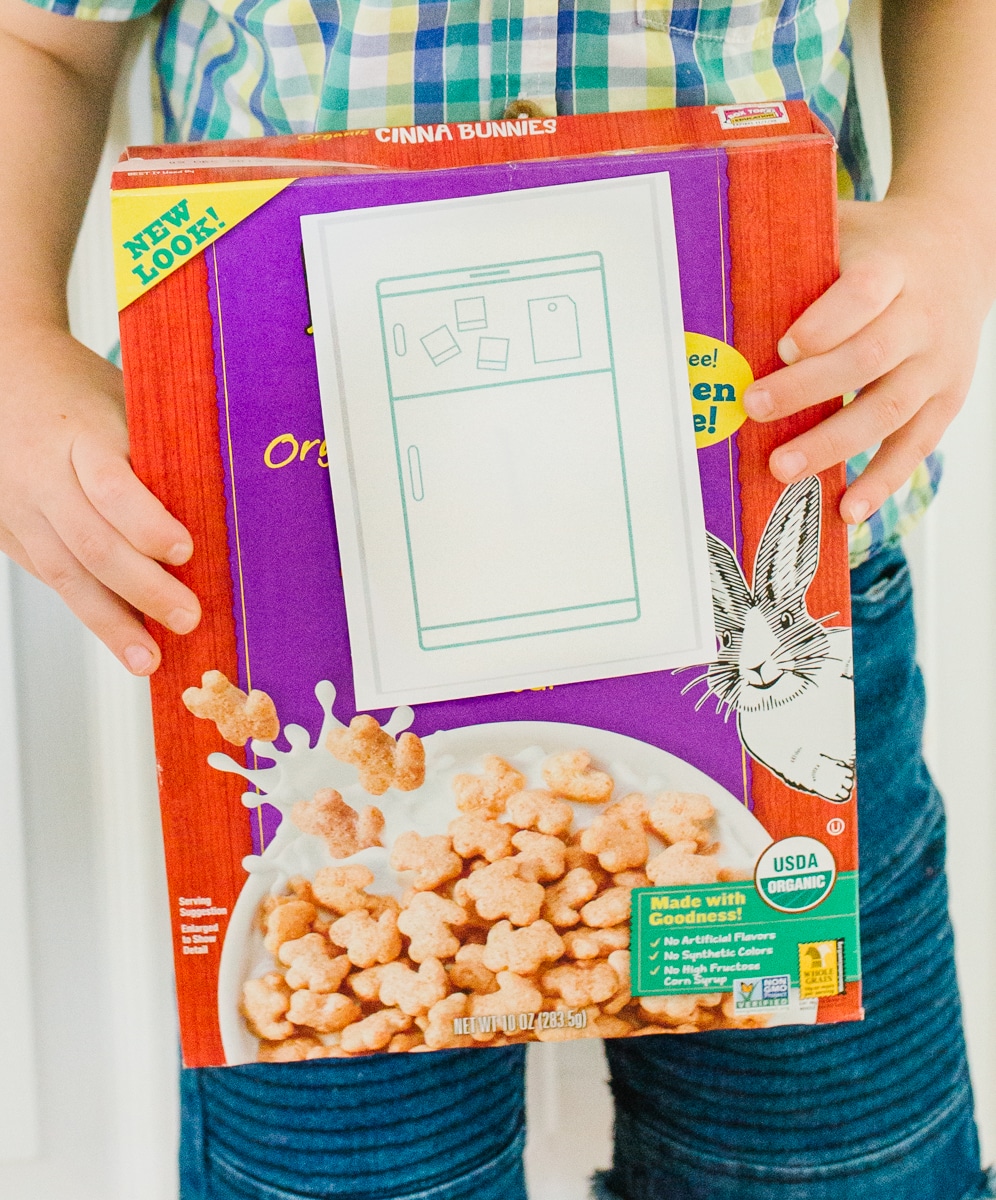 If your kids are older and can hunt, try getting creative! Hide the couch card under the couch or in-between cushions. Or maybe get sneaking with a clue inside the fridge or a cereal box.
If your kids can read and are really into riddles, add a riddle to the back of the card for the next destination. Here's a sample printout of riddles you can use.
Scavenger Hunt Clues and Riddles
Mailbox:
I open and close and let papers stay, except for my big day off on Sunday
Fridge:
With a light that goes on each time you open the door, I"ll keep everything cold including the white stuff you pour
Bed:
When the long day is done and you're ready to rest, I'm the place most people love best!
Front door:
I'm where you may find a package, and should wipe your feet. But best of all, when people come over I'm where you will meet!
Bathtub:
I'm where people come when they're ready to feel fresh and new. I'm the one holding your soap and shampoo!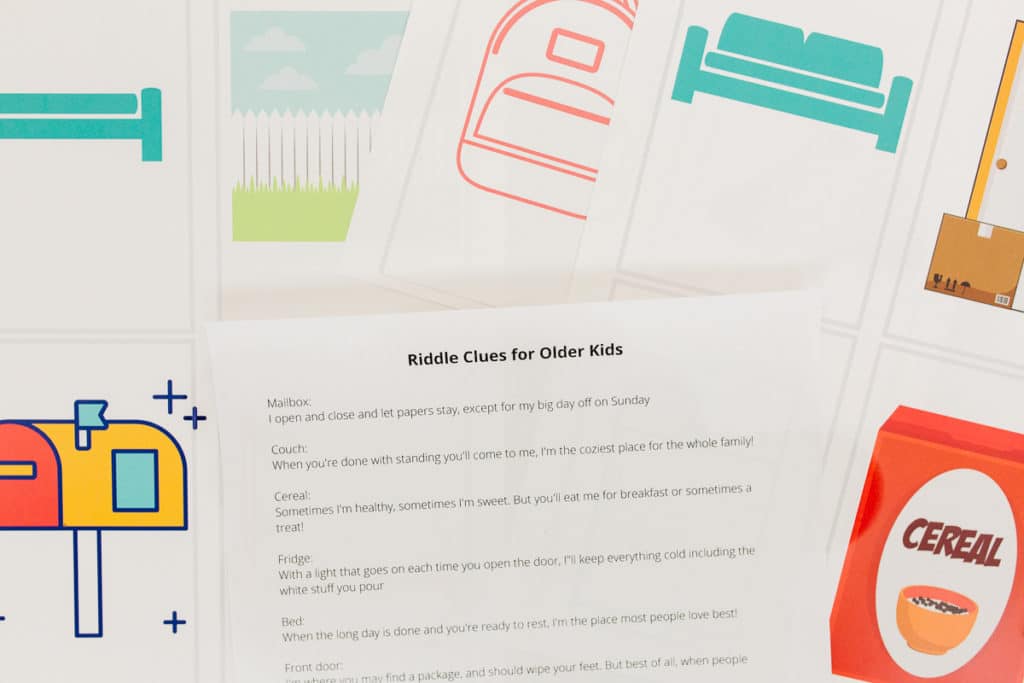 I'd recommend placing the picture on the actual object, and a riddle on the back to find the next location. For example, use the picture of the couch at the couch. And if their next scavenger hunt destination is the mailbox, leave the clue for the mailbox on back.
The best part of these scavenger hunt ideas is that they work for so many ages. You can adapt it for what works best for your family! It's also easy to use as an Easter scavenger hunt, a Christmas scavenger hunt, or for any other holiday or occasion you may need.
I hope this helps with the excitement of finding a treasure! And best of all, it's one you can stay safe and stay inside using this year.
Grab Your Free Printable Here

Like this scavenger hunt for kids idea? You may like these posts too:
Dinosaur Coloring Pages You Can Print From Home!
Easter Outfits for Kids: Where to Find the Cutest Easter Outfits
Customized Christmas Cards: The Easiest Custom Holiday Cards!
Easy and Affordable Toddler Easter Basket
Get 365 Date Ideas!
We want to help you have the best date nights ever! Grab this FREE printable with 365 date ideas, a date for every day of the year so you never run out of ideas!