Easter Outfits for Kids: Where to Find the Cutest Easter Outfits
The best places to find Easter outfits for kids: Easter clothes for church, egg hunts, and casual outings to celebrate Easter while looking their best! Where I find all my Easter outfits for boys (and girls too)!
Long before I had kids, I joked that the main reason you have children is to dress them up for church and Halloween. I've always been a sucker for a baby in a sweater vest or tiny dress shoes. And if you've been around these parts at all, you know I'm a sucker for Halloween. But close behind is Easter, because it's another excuse to dress my kids up!
Easter Outfits for Kids
Easter is a holiday I just love because it's one time of year we go all out and updates the dress wardrobe for our kids. If I had a daughter, this would be one special event to get a new Easter dress. My mom always sewed or purchased one for me and I loved that tradition so!
As a boy mom, I still believe in splurging on a cute church outfit and helping my little guys look dapper. We even do a formal Easter mini session to document our kids dressed up and dapper. I just love helping them look their best!
Even if you aren't a church family, getting an Easter outfit for kids is still a great idea to celebrate the day. These are items they can wear to a nice brunch, a family outing, family pictures, a wedding, graduation, etc. It's just a great time to get something a little nicer for kids.
Because we document our weekly Sunday dress up in our Whiting Sunday photos on Instagram, I'm asked often where I find little boy dress clothes. I thought I'd share for anyone in the market for Easter outfits for kids.
Favorite Places to Buy Cute Easter Outfits for Kids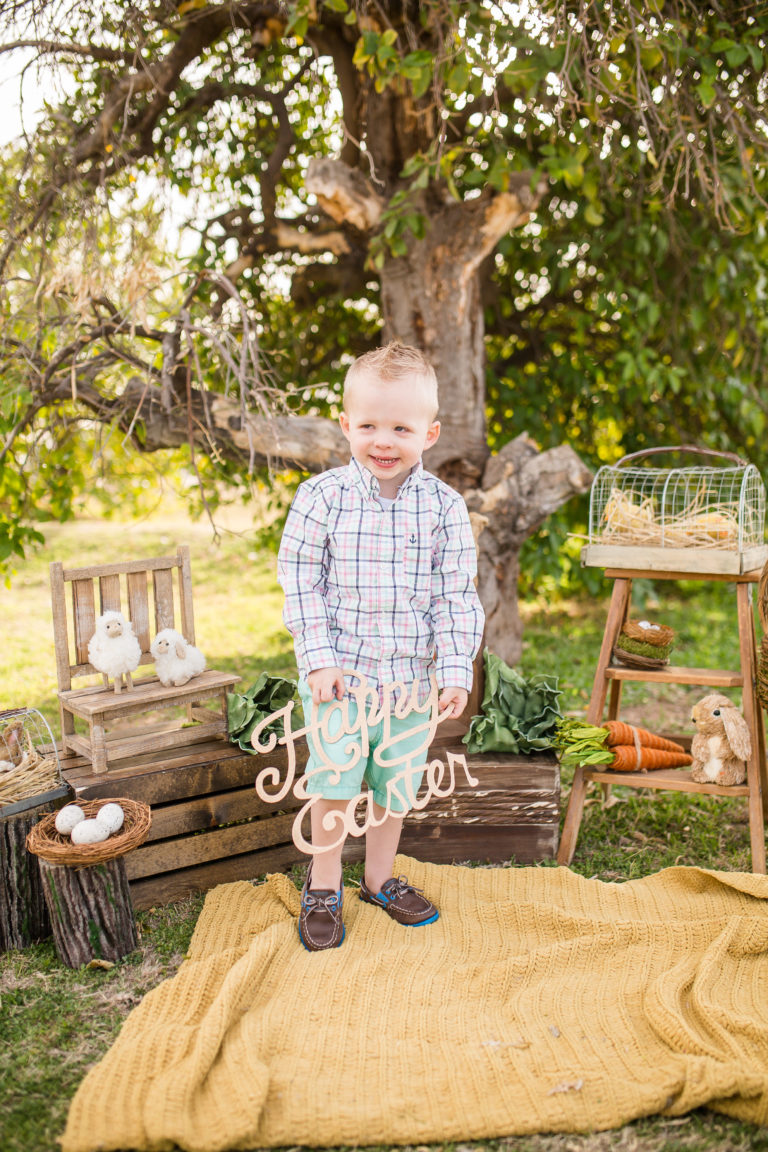 Carters. I love that they do seasonal items and you can buy a complete set in one place. Shirt, pants, bow tie: check and check! I grab some dress shoes if my boys need a spring update and call it a day.
Also, there are more casual options and short available too. I love to snag something pastel for the big egg hunt we have every year. It makes my pictures and the memories even cuter with clothes he can use all summer.
Plus there are always coupons and deals. If you're buying last-minute you can even order online and have it shipped in store in a hurry.
The shirt and shorts combo above all came from Carter's last year.
Target. Both my boys' outfits are from Target this year. Cat and Jack make darling stuff for little boys, and their Easter pieces were just too cute this year! They have darling girls items too, and I love how easy it is to coordinate your kids of all ages without being too matchy.
Bonus: Target also does 2-day shipping over $25 or you can do in-store pickup or car pick up from most parking lots.
Both my kids' outfits are from Target this year, and you can still buy them online!

Janie and Jack. I've been really sad about Gymboree closing its doors, and I'm so happy there's still a Janie and Jack! It's higher end, higher quality, and more expensive. However, these clothes are super high quality and last!
Old Navy. If you want a fun pair of colored chinos and a classic dress shirt, Old Navy has you covered. There's always a spring sale and deals that make it an easy place to get a more casual Easter outfit for your kids.
When my little man was one, his toddler Easter outfit came from Old Navy.

Nordstrom. Once again you'll find higher end pieces here, but there are always items that are perfect for Easter and the sorting online is hard to beat!
Gap Kids. The first thing I purchase my oldest child was his first Easter Outfit for kids at Baby Gap. There was an after Easter sale and I just adored the fun neon yellow pants that I hoped would fit him the next Easter. I've loved looking for Easter outfits there since! They have darling Easter dresses for girls and always something fun and dapper for boys.
Here's that first outfit from Baby Gap in all its glory!

Secondhand kids stores like Kid to Kid. I love that lots of people buy the Easter outfit and then their kids only wear it to nicer events keeping it looking almost new. I've purchased a lot of my children's church clothes in nicer neighborhoods secondhand kid stores.
Kohl's. Kohl's carries a lot of their own brands as well as Carters and OshKosh items. It's a place you can get something for several kids in one stop. They also make their displays super easy to find so you can shop efficiently if you're in a rush.
And one more bonus, toys are easy to find online at Kohl's if the Easter Bunny needs a little last minute help.
Children's Place. I love that there are so many sizes in one store! The Children's Place makes so many styles that are more casual and more dressy. It's easy to mix and match and find the perfect Easter outfit in one spot.
Amazon. I typically buy my boys clothes at one of the stores listed above. But when it comes to suspenders or bowties, I'm always searching Amazon! I've found specific colors and sizes quickly and inexpensively. They always seem to pull together the final look!
Any other favorites out there? These are our go-tos when we're on the hunt! I love grabbing a casual pastel Easter Outfit for my kids, and a dressy church one too. I hope these help you find the perfect look for your kids this Easter!
Now excuse me while I go cry seeing how quickly my oldest baby has grown up!
All Easter photos by: Chrissy Blake
Like these Easter Outfits for Kids? You may like these posts too:
25 Beat-the-Heat Summer Activities to Do With Your Kids
10 Perfect Items For Your Husband's Easter Basket
Easy Ways to Show Your Child Love on Valentine's Day
Get 365 Date Ideas!
We want to help you have the best date nights ever! Grab this FREE printable with 365 date ideas, a date for every day of the year so you never run out of ideas!