Sausage, Peppers, and Potatoes Sheet Pan Dinner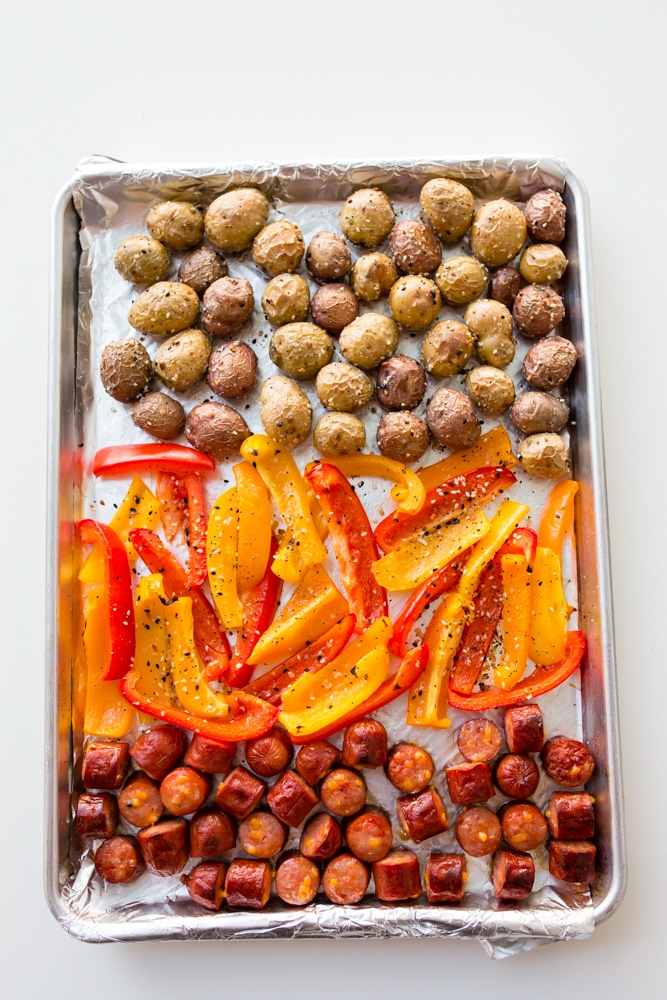 This sausage peppers and potatoes sheet pan recipe is sponsored by Eckrich.
We have fallen in love with sheet pan dinners in our home! It's an easy and delicious way to enjoy produce and meat and it comes together quickly and easily.
Life gets so crazy sometimes and this time of year always seem to ramp up in after-school activities, daily-drop offs, and end-of-year celebrations. Sometimes meal planning and time to prepare the way I'd like to just doesn't happen. That's when I need a meal in a pinch, and sheet pan dinners with meat and veggies I have on hand always save the day!
We've had sausage peppers and potatoes on repeat in our house, it's a family favorite! Luckily, with Eckrich – no recipe is no problem! Crafted with just the right blend of spices for a rich, savory taste, and pre-cooked so all you have to do is heat and eat, Eckrich Naturally Hardwood Smoked Sausage can be paired with whatever you have on-hand in the fridge or pantry for a fast, fool-proof meal that the whole family will love.
For anyone looking for a healthier dinner from real food that even kids adore, this recipe is for you!
Sausage Peppers and Potatoes Sheet Pan Dinner
Ingredients:
Sausage Peppers and Potatoes Prep
Start by cutting the sausage into 1″ slices. It's that easy to get your Eckrich sausage prepped!
Wash and cut potatoes into 1″ cubes. If you're working with red potatoes, I like to cut them in half, and then cut six even pieces from there. But I'm a fan of small potatoes you can just wash and dump on the pan. Any variety works and cooking time is about the same for each variety.
Slice the bell peppers into long, thick strips.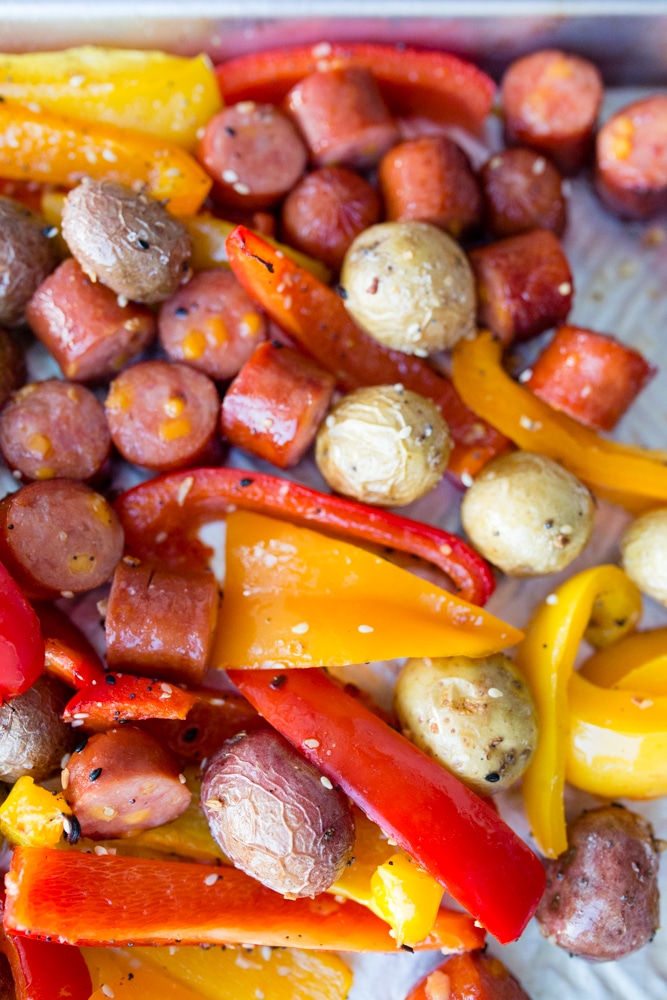 Cooking Prep
Line your sheet pan with foil. This is an optional step but it really helps with clean up! You may also want to consider using two sheet pans, here's why.
One word about cooking these items. The potatoes take longer to cook than the other items. I like to cut those first and add them to their own sheet pan to get cooking! You can also place them on about 1/3rd of the sheet pan and just get them going first.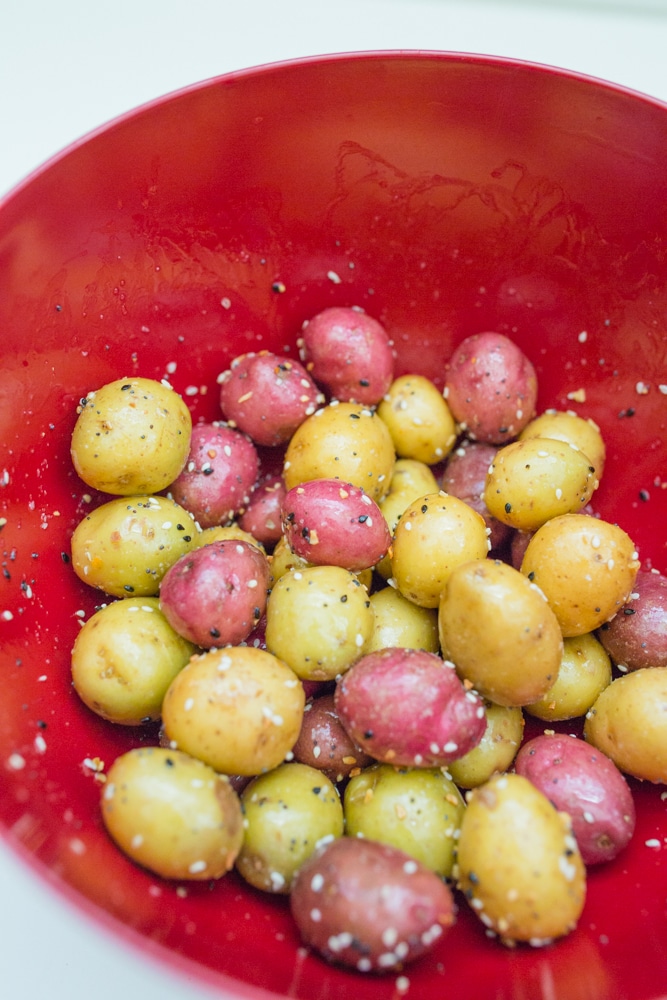 I love to cut and prepare potatoes first and put them in the oven for 20 minutes roasting while I prep everything else. The potatoes take 40 minutes total to roast on the sheet pan. Everything else takes about 20 minutes.
You can also do the cheater method and microwave your potatoes for about seven minutes and then add to the sheet pan to roast with the other items. This helps everything cook evenly. I like the crispier texture of fully roasted potatoes, so I opt to just start them first. It's totally up to you!
Seasoning the Sausage Peppers and Potatoes
Before you stick anything in the oven to roast, you'll want to season it! The beauty of using Eckrich Smoked Sausage is that it's seasoned and ready to go! You can plan to just put the sausage slices on the sheet pan and know you'll have a quick and delicious sheet pan dinner!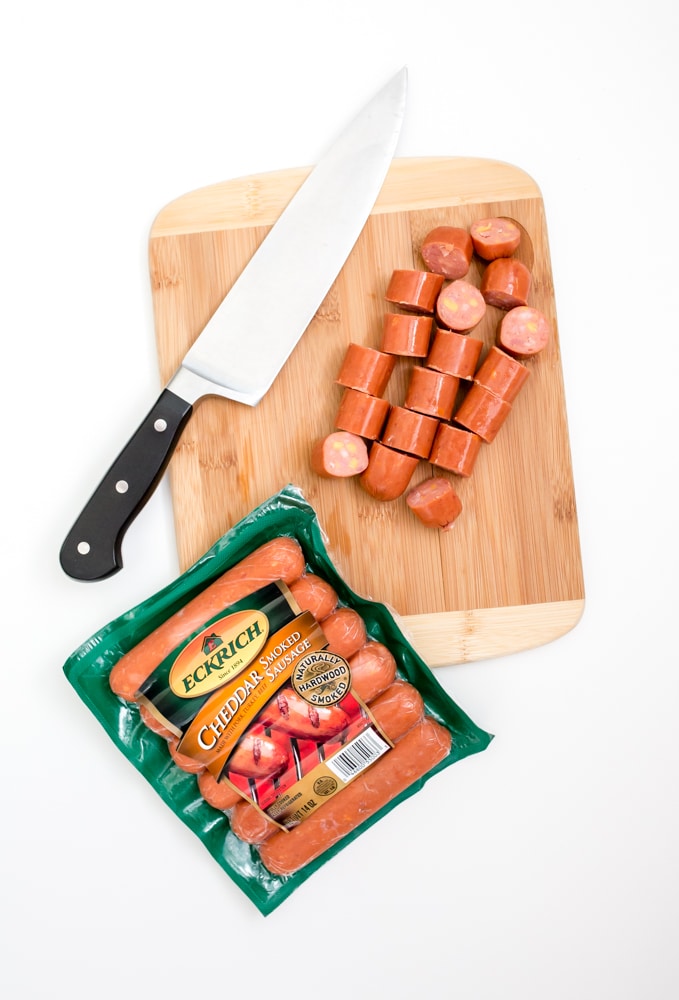 For the potatoes and peppers, they just need a light coat of olive oil. Toss them so each is lightly covered with oil. From there it's just a quick seasoning. A little sprinkle of salt and your favorite seasoning and your set. I love the everything bagel seasoning you can get at most grocery stores right now. But honestly, anything you have on hand goes well! And even if it's just salt and pepper, you will still love the outcome!
Cooking Instructions for Sausage Peppers and Potatoes
Heat the oven to 400 degrees for this. We are roasting here, so we want it nice and warm!
Start with the potatoes only and bake them for 20 minutes. That gives them just enough head start to be fully cooked and come out at the same time as the rest of the meal.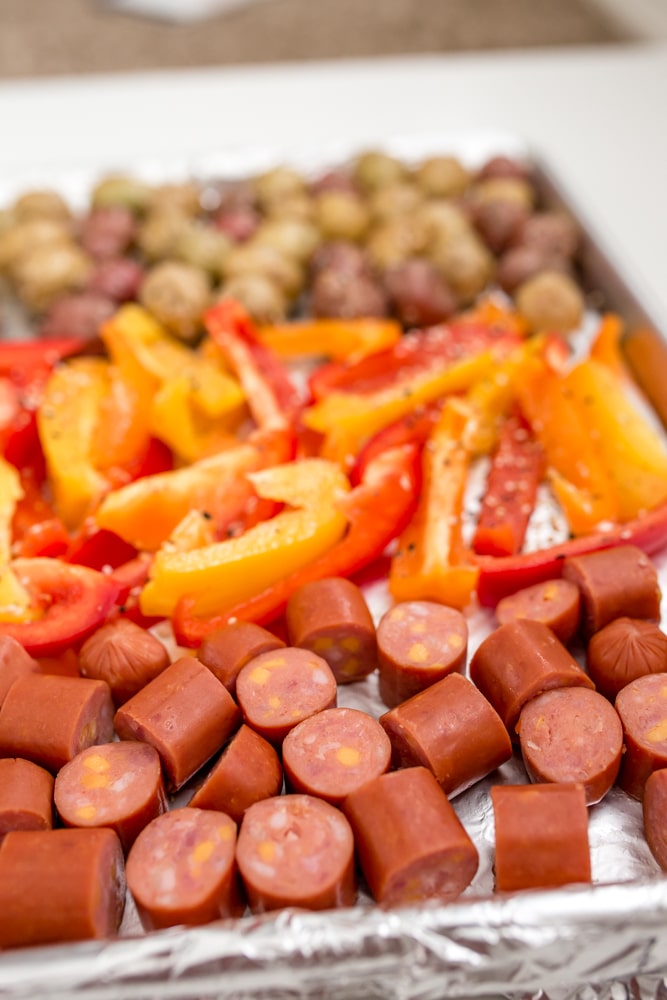 When you hit the 20-minute mark, add the peppers and sausage. You'll bake another 20 minutes still at 400 degrees. That means a total baking time of 40 minutes for potatoes, and 20 minutes for everything else.
Feel free to take the pan out halfway through roasting and stir everything so they bake more evenly. The sausage can be a flip to the other side, of just a little stir to help distribute heat better. I try to stir, but if you miss this step in the chaos of dinner prep, the food still comes out great!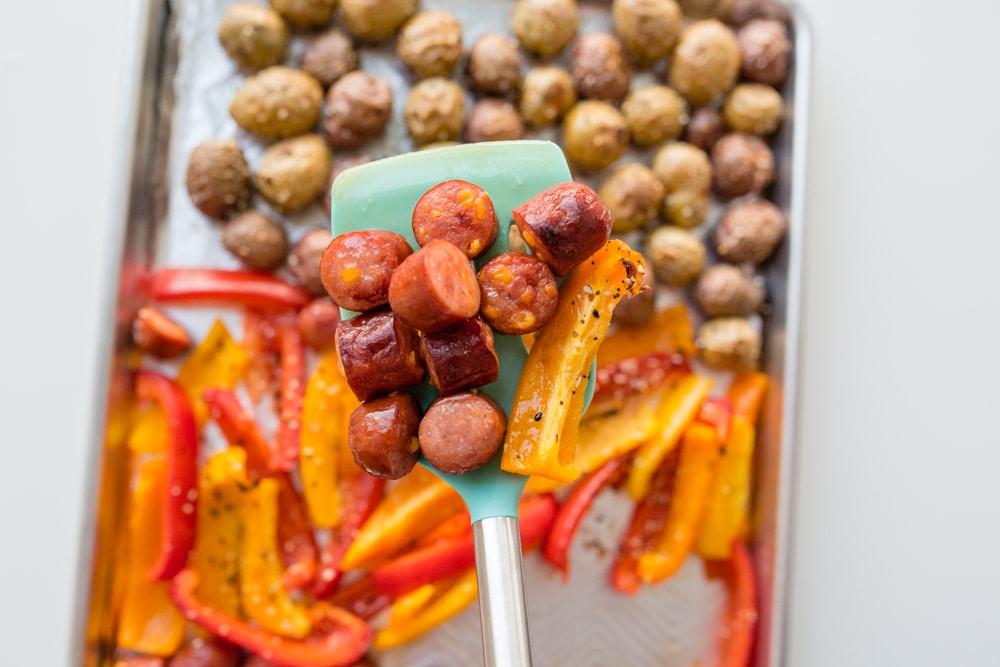 While the bake time may seem a little longer than you classic quick dinner, I'd argue it still belongs in the fast, easy meals category. It's an easy quick chop, and it's in the oven. I like to do all the dishes and clean up while they roast. When dinner is over it's so quick to take off the tin foil and quickly clean the sheet pan. Dinner is easy, clean-up is easy, and it's a meal everyone loves!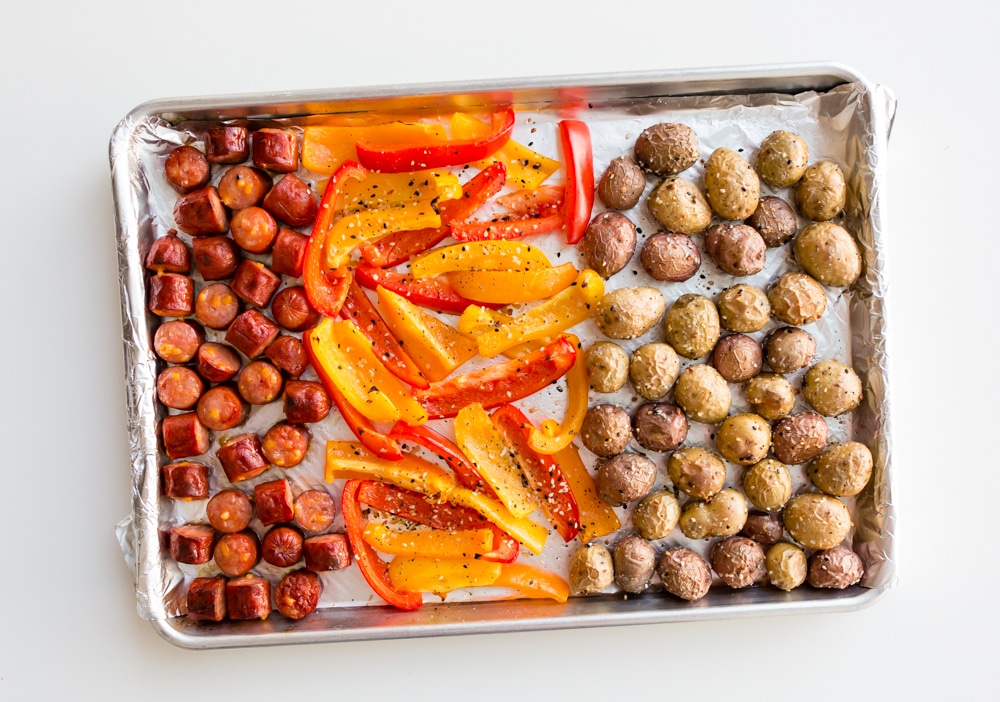 We have this sheet pan dinner on regular rotation, and it's really easy to sub out any veggie you have on hand and any seasoning too.
Plus you can find even more variety of delicious flavors of meat from Eckrich to mix up your sheet pan meals! Like the Original Skinless Smoked Sausage Rope, Polska Kielbasa Skinless Smoked Sausage Rope, Turkey Skinless Smoked Sausage Rope, Cheddar Smoked Sausage Links, and Jalapeno & Cheddar Smoked Sausage Links. Eckrich Smoked Sausage is so versatile and simple to cook with, you can whip up a delicious, home-cooked breakfast, lunch or dinner at a moment's notice – no instructions (or plan) needed.
Get 365 Date Ideas!
We want to help you have the best date nights ever! Grab this FREE printable with 365 date ideas, a date for every day of the year so you never run out of ideas!