A quinoa enchilada bake makes an easy family-pleasing dinner. But it also works fantastic as a freezer meal! Here's how to make it once and enjoy a backup meal too!
I love home cooked meals, but I also love nights when I don't have to spend my time in the kitchen- and thus my love of prepping one meal now and one for later! I'm extra picky about my freezer meals, so many just taste like freezer, so I'm sharing my tried-and-true favorites that are excellent the day of and taste just as good after being frozen.
When I first tried a Quiona Enchilada bake recipe, I thought it had a lot of potential to freeze well. I took a chance and after a few trials and updates, I found that it froze perfectly!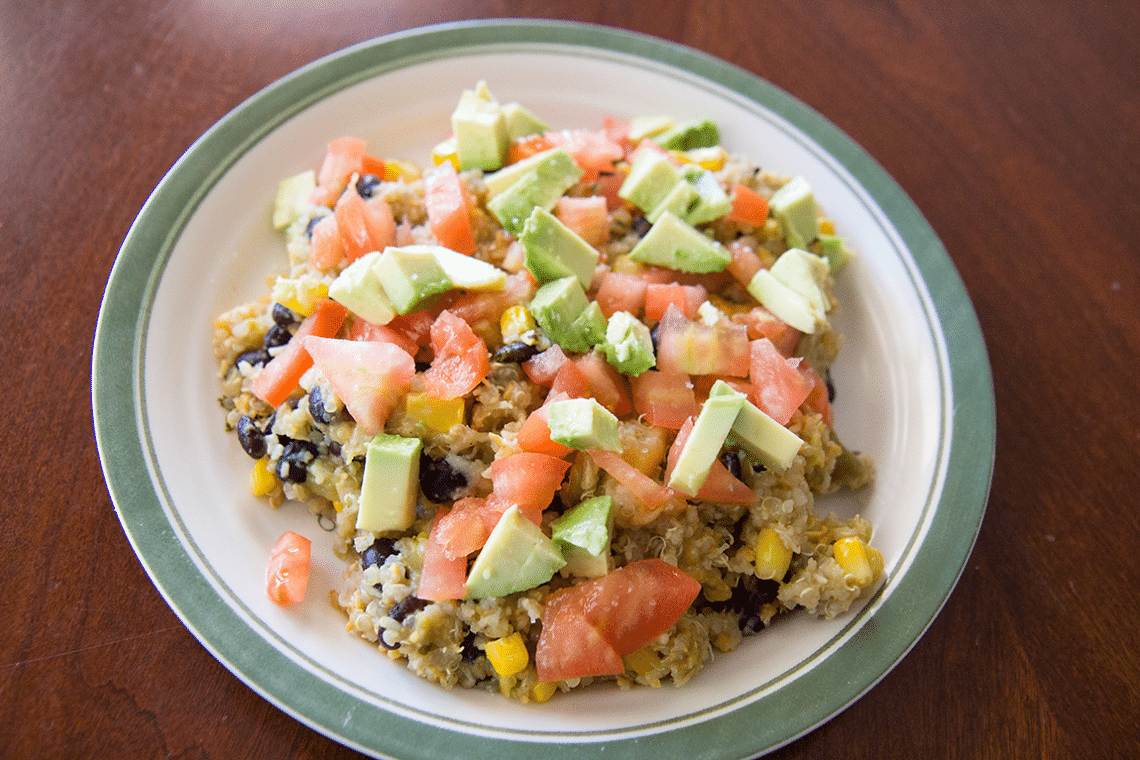 (This makes one tray, if you'd like to make a freezer meal too be sure to double!)
Quinoa Enchilada Bake
Ingredients:
3 cups cooked quinoa
1 (10-ounce) can green enchilada sauce
1 (4.5-ounce) can chopped green chiles, drained
1/2 cup corn kernels (I used frozen)
1 can canned black beans, drained and rinsed
2 tablespoons chopped fresh cilantro
1/2 teaspoon cumin
1/2 teaspoon chili powder
Kosher salt and freshly ground black pepper, to taste
2 cups shredded cheese (one cup mixed in, one on top)
Toppings:
1 avocado, halved, seeded, peeled and diced
1 tomato, diced
Instructions
Preheat oven to 375 degrees F. Lightly oil a disposable baking sheet (about 9 x 13).
In a large bowl, combine quinoa, enchilada sauce, green chiles, corn, black beans, cilantro, cumin, and chili powder; season with salt and pepper, to taste. Stir in 1 cup of cheese.
Spread the quinoa mixture into the baking dish. Top with the remaining cup of cheese. Back for 30 minutes, or until warm and cheese is melted.
What really makes it taste fresh is the two fresh toppings. Be sure to top generously with avocado and tomato just before serving.
If you make a frozen pan be sure to cover tightly with tin foil before freezing. When you're ready to bake it, defrost it overnight and cook it as directed above.
Get 365 Date Ideas!
We want to help you have the best date nights ever! Grab this FREE printable with 365 date ideas, a date for every day of the year so you never run out of ideas!