These healthy breakfast cookies will leave you in awe of the amazing flavor that feels like a treat, and all the good stuff that leaves you feeling healthy and full! These oatmeal breakfast cookies are perfect for those busy mornings, the week after having a baby, or on a trip when you want a delicious, perfect, and healthy breakfast cookie!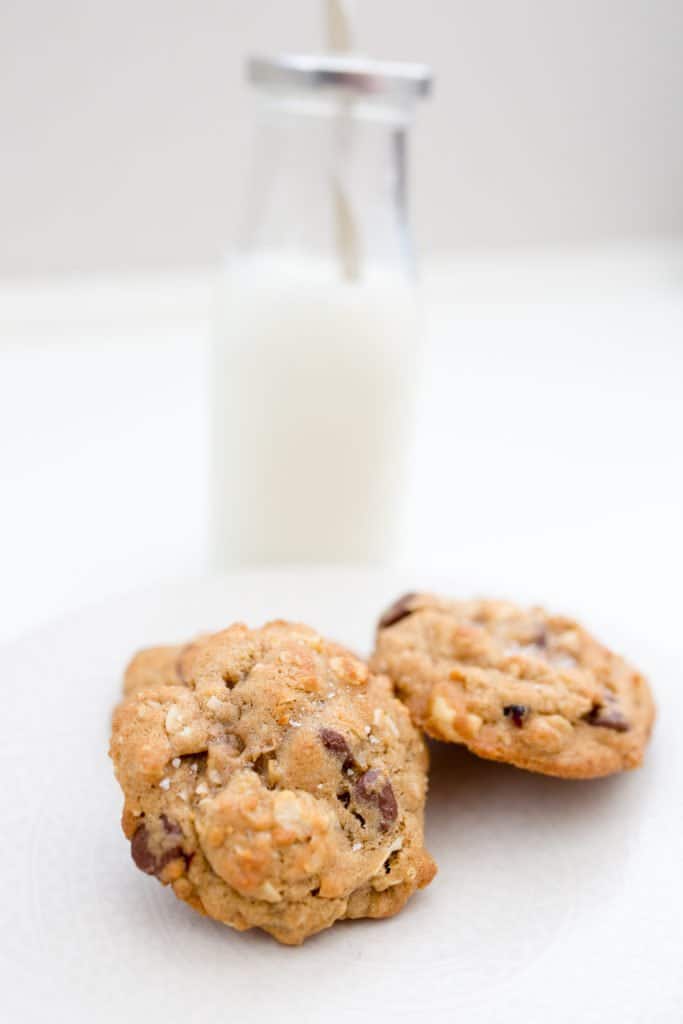 As we prep for the arrival of the baby, we've been going through all the things we're so glad we did with #1 and all the things we'd like to repeat. The home stretch really makes you think a lot about birth and delivery and what you need to pack for the hospital. This is about breakfast cookies my friends, don't worry!
One of the best pieces of advice we were given was to bring some of our own food. We have a great hospital known for good food. But we'd also heard mom is taken care of and well-fed, and dad has a harder time getting a meal when he needs it. We talked about what we could make and bring that would sustain Jacob in a pinch, and the answer was abundantly clear that healthy breakfast cookies needed to be a part of our hospital list.
I had a coworker introduce me to breakfast cookies long before I was pregnant the first time. I gave them one bite and I've never been the same! They were one of the best things I've ever tasted! Also, they are healthy breakfast cookies that won't make you feel over-sugared or like you didn't eat well. Truly, they are the perfect breakfast!
He brought them a few times with different ingredients to share at work. We're talking this guy is a true foodie who grows most his own stuff and walks the walk and talks the talk of being a chef. Everyone begged for the recipe and asked him to teach them his ways and innovations in new breakfast cookie recipes. I'm so glad he did, because it's been a favorite of ours for a long time and a recipe I'm always asked about whenever I make them for others.
Healthy Breakfast Cookies Recipes
So as we prep for our hospital stay and our plan to keep busy new mom alive the first crazy week of a new baby, I'm digging up this recipe again and I just can't keep it to myself.
Let me tell you one more great thing about this breakfast cookie recipe. They freeze really well! In fact we love to make big batches, form the cookies, and plop them in the freezer to make them fresh as needed. We made some right before we headed to the hospital. There was a batch of healthy breakfast cookies ready to go the first few weeks of baby. They are oatmeal breakfast cookies great for a new nursing mom, or anyone needing some more oats in their life! Make-ahead is my jam, and I love that these breakfast cookies work perfectly!

Yield: 2 dozen
Breakfast Cookies Recipe
Easy, delicious, oatmeal breakfast cookies the entire family loves!
Total Time
2 hours
18 minutes
Ingredients
2 Cups Flour (use organic sprouted wheat flour for nutrition and texture)
1 Teaspoon Baking Soda
1 Teaspoon Salt
3/4 Cup Brown Sugar
1/2 Cup Cane Sugar (You can go a little light-handed on this one and do a little less you'll be fine!)
1 Cup Butter (Use GOOD, real butter. It makes a huge difference!)
1 Teaspoon Pure Vanilla Extract
2 Eggs
1 Cup Rolled Oats
1/2 – 3/4 Cup Chocolate Chips
1/2 Cup Dried Cranberries
1/2 Cup Dried Shredded Coconut
1/2 Cup Chopped Cashews
Instructions
In a mixer, combine:
3/4 Cup Brown Sugar
1/2 Cup Cane Sugar (You can go a little light-handed on this one and do a little less you'll be fine!)
1 Cup Butter (Use GOOD, real butter. It makes a huge difference!)
1 Teaspoon Pure Vanilla Extract– After mixing these together,
add:2 Eggs
Continue by slowly adding the flour mixture from the first bowl. Don't overmix. Just mix until incorporated.
BREAKFAST COOKIE ADD-IN DIRECTIONS:
This is when you ditch the mixer and have some fun mixing by hand! This is also where they turn to oatmeal breakfast cookies.
ADD IN:
Mix in: Rolled Oats, Chocolate Chips, Dried Cranberries, Dried Shredded Coconut, and Chopped Cashews. Knead in ingredients like you're kneading bread dough. Don't overmix, just mix until combined, and fairly evenly spread.

Mix them all by hand so the ingredients are incorporated.
Chill Dough
From here you'll want to chill your dough for at least a couple hours. If you can refrigerate overnight you'll have the perfect dough for the next day. But a few hours works too.
When your dough has thoroughly chilled, you can prep for baking!
Baking Directions:
Preheat the oven to 375 degrees.
Form the dough into 1″ balls, and flatten down slightly to create more of a cookie shape with rounded edges.
Bake your breakfast cookies for 8-10 minutes keeping an eye out for when the edges are brown.
When they come out of the oven, sprinkle some fleur de sel salt on top. Trust me, this makes a huge difference in flavor!
Finally, let them cool on a cooling rack as long as you can stand it and enjoy some healthy breakfast cookies that have some of the most amazing flavors out there!
Recommended Products
As an Amazon Associate and member of other affiliate programs, I earn from qualifying purchases.
Nutrition Information:
Yield:
24
Serving Size:
1
Amount Per Serving:
Calories:

241
Total Fat:

13g
Saturated Fat:

7g
Trans Fat:

0g
Unsaturated Fat:

5g
Cholesterol:

36mg
Sodium:

234mg
Carbohydrates:

30g
Fiber:

2g
Sugar:

18g
Protein:

3g
For freezer breakfast cookies:
First, follow the same recipe for the freezer breakfast cookie recipe. When you get to the chilled dough phase, form the balls and flatten like you're going to bake them. Add them to a freezer bag and freeze in this form. They should last 1-3 months frozen depending on your freezer.
When you're ready to bake the freezer breakfast cookies, take them out and let them defrost for about 30 minutes-an hour, or overnight in your refrigerator. Bake as directed.
Oatmeal Breakfast Cookie Variations:
This is where it gets fun and the sky is the limit on flavors!
Use the base recipe above, and when you get the ingredients listed that you'll mix with your hands, you can sub anything in! I'd keep the oatmeal breakfast cookies base. But you can add any chocolate chip variation like using mini yogurt chips instead. Get creative- this is the sweet part, and any sweet baking chip will do!
The same goes for fruit and nuts. Whatever dried fruit and nut combination you add is totally up to you.
My favorite breakfast cookie recipe variation includes using yogurt chips, macadamia nuts, and dried blueberries. Get creative! Also, remember to keep the portions the same. Breakfast cookies can be enjoyed in so many flavors!
Healthy Breakfast Cookies Notes:
I was told by my friend who perfected this recipe that the quality of your ingredients will make all the difference. Boy, was he right! Using fresh ground flour makes a difference. He's all about organic and local ingredients, and the more we use those, the better our breakfast cookies! Sure you can sub out cheaper options. But note that healthy and fresh ingredients taste better and will make the quality of the cookie that much more amazing.
I hope your family loves these healthy breakfast cookies as much as mine! They are seriously our favorite hospital hack, we ate a dozen in three days with the last baby. They also are perfect to have on hand in busy seasons. Not to mention I've handed over a freezer bag to many friends when they have a baby and each comes back begging for the recipe!
Like this breakfast cookies recipe? You may like these posts too:
Crockpot Freezer Meals that Don't Taste Like Freezer
Make Your Own Acai Bowls At Home Recipe
First Weeks After Baby Essentials Checklist
Get 365 Date Ideas!
We want to help you have the best date nights ever! Grab this FREE printable with 365 date ideas, a date for every day of the year so you never run out of ideas!