10 Perfect Items For Your Husband's Easter Basket
Easter baskets aren't just for kids, they are a great way to show your husband or boyfriend some love too! Sometimes you just need some help with husband's Easter basket ideas. Here are 10 perfect items for your husband's Easter basket.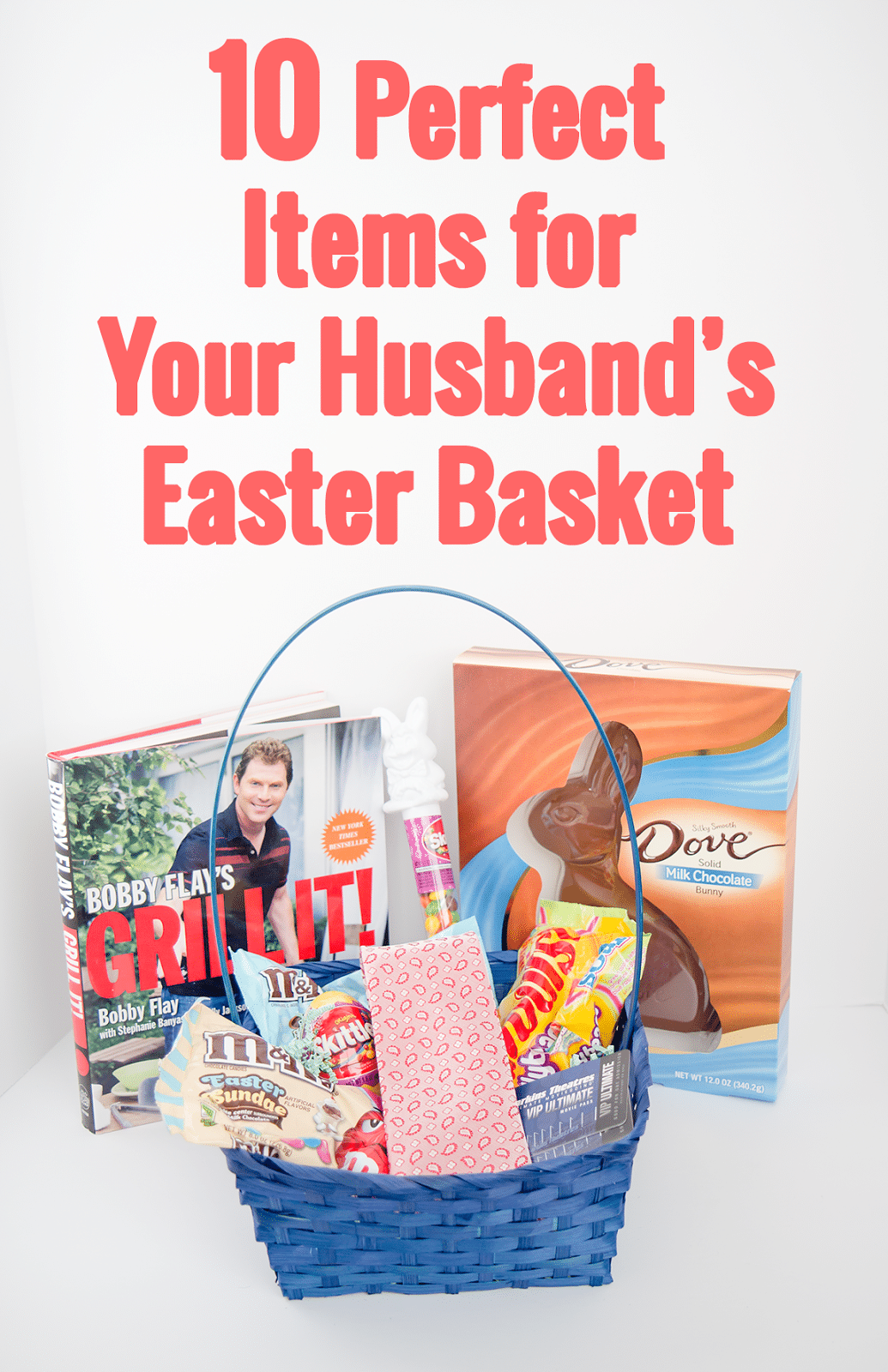 Many think of Easter baskets as something for children only, but we've found that giving each other a basket on Easter is a way to help your spouse feel loved with a little-unexpected gift. I think he always knows jewelry or nail polish work great for a gift for me and fit in a basket, but sometimes it's tricky to find smaller, meaningful gifts for the man in your life when you need husband Easter basket ideas. I thought about this long and hard this year so I could get more than just some of his favorite candy. I'm excited to have on reference Easter basket ideas for my husband and anyone else looking.
10 perfect items for your husband's Easter basket.
1. A Date
How could I not eek this one in first? Plan a date, get some gift cards, wrap it up in an envelope, and let him know a special night is already set and paid for. Here's a list of our favorite 365 date ideas. And you can always check Groupon for fun new date ideas!
It doesn't matter if he's a big reader or not, anything that falls into this category is great: how-to books, the best-selling novel, something for his professional development, a new cookbook, etc.
Blockbuster season is around the corner, let him know you will support him during this summer of nothing but superhero movies.
Before this sounds like a pretty sad excuse for a gift, think about what type of socks he's a fan of. Is he a runner/golfer/basketball enthusiast/fill-in-the-blank active in some sport? These special socks make a big difference in athletic performance and can be the perfect refresh as the weather heats up and they can get out more.
Sports aren't their thing? Don't worry, dress socks for work or a special occasion can be stylish and exciting too!
Husband Easter Basket/Boyfriend Easter Basket Ideas
It's always fun to get a small bottle of a new scent, particularly when it's one that you know your significant other really enjoys.
Easter is a time many go to church, and a pastel tie or something fun and bright for summer to spice up the basket fast.
I kind of laughed when my parents gave my husband one of these a few years ago for Christmas, but I'm telling you he loves that thing and uses it for almost every home project! It's practical and a bit of luxury all mixed into one.
Whether he's a poker fan or not, there are a lot of games to be played with this deck, and it's a great thing to have on hand for entertaining or travel.
You can choose how nice you want to go or what you want to spend, but this is a necessity for most men, and getting a new one is a nice luxury that's not typically expected. My husband owns and loves this razor.
10. Gift Cards
I know this one seems less personal, but it doesn't have to be! I love to find a few of his favorite lunch spots and get gift cards there. That way he knows I was thinking of him, and he doesn't have to share anything with me, it's a gift truly for him! They are always perfect for your husband's Easter basket.
Arranging Your Husband's Easter Basket
I always start by grabbing a few of the gift items that fit well in the basket. A husband's Easter basket comes together pretty easily with a few gifts and a few treats!
I love to do the treats second. They seem to fill in the cracks and he can easily spot some of his favorite chocolate items framing the presents!
Husband's Easter Basket Treats
A chocolate bunny and some Easter M&M's are always a good choice.
After the main affair of chocolate for my husband's Easter basket, I like to make sure there are a few non-chocolate treats as well- which definitely include jellybeans. And can we just all agree that Starburst Jellybeans are the greatest thing to happen to jellybeans? It's a dangerous thing to leave me alone with a bag of them!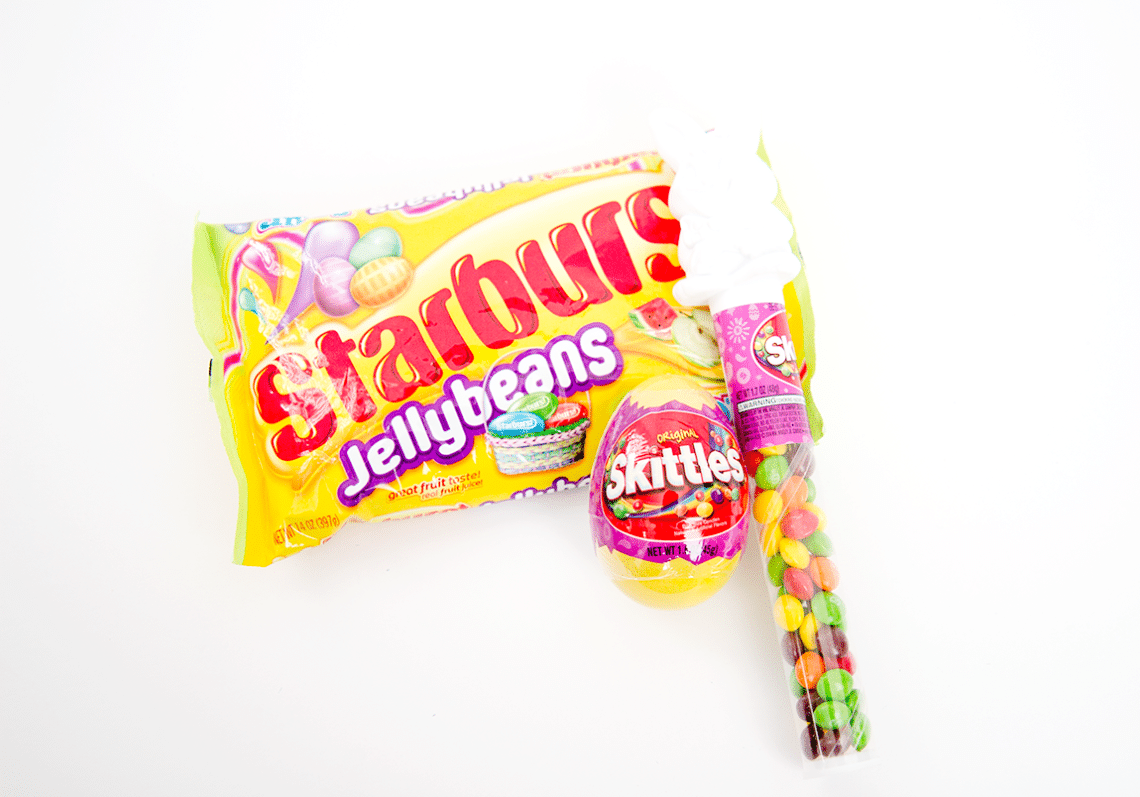 I love grabbing a few extra filler items too!
Easter Basket for Him
Then I arrange the candy and the presents in a more manly basket on the big day and let him enjoy a bunch of treats and some meaningful presents to let him feel loved and special too. I'll be honest, he'll gladly enjoy the thoughtful Easter gift for him no matter what the basket looks like. But a cheap blue basket with his favorite items lets him know it's just for him.
I feel like this works well as an Easter basket for a boyfriend, a father, or any other man in your life. I'm just in charge of purchasing for my husband only, so that's who I chose to focus on.
Anything else you'd add to the list? What are some of your favorite treats husband basket ideas?
Like this husband's gift guide? You may love these posts:
Experience Gift Ideas: Gifting Experiences Instead of Just Things
Get 365 Date Ideas!
We want to help you have the best date nights ever! Grab this FREE printable with 365 date ideas, a date for every day of the year so you never run out of ideas!