Random Acts of Kindness: Teacher Edition
Looking for an easy teacher gift? Want to just say thanks? Random acts of kindness for teachers go such a long way, and here's a crazy easy one that will help them feel so appreciated!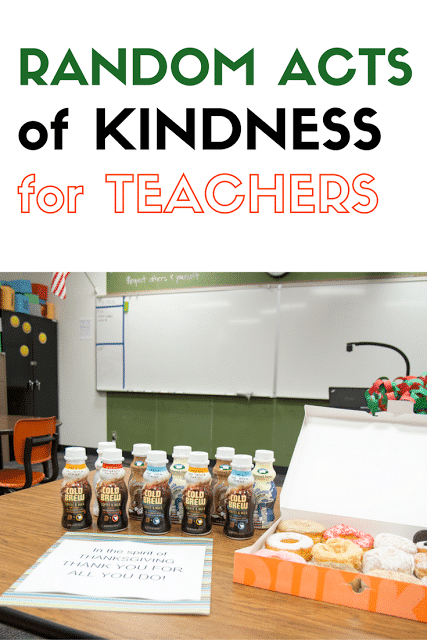 If you've been a reader for a long time, you know that when I started this blog I was wrapping up my career as a high school teacher. I left for many reasons, but I have to admit there are definitely things I miss, and for the most part, they are people. I do miss teens, but I really miss the amazing people who go into teaching that I got to call my colleagues- we're talking the best of the best with the biggest hearts.
They have been on my mind a lot this week as I heard about an incident at the first high school I taught at. A boy brought a knife to school and stabbed five other students and then himself. The situation is tragic and horrifying, and I have a lot of sympathy for the students and teachers and the former family I knew at a school I really adored teaching at.
What's amazing is it was under control in six minutes due to brave teachers who put themselves in harm's way and a resource officer/law teacher who acted fast. I've been thinking about all teacher sacrifice to do their job and serve communities, sometimes including their own safety, and how little thanks I think they really get for how much they give.
Random Acts of Kindness for Teachers
I decided that instead of grieving the incident from another state, I would try to spread some kindness today and take my son to do a random act of kindness for some deserving teachers. Teachers are given a lot of gifts for the holiday break, and often for Teacher Appreciation Day, but aside from that there's typically a complete dry spell and I know for me those thank you notes got me through the toughest of times! Teacher gifts can make all the difference for them!
In the spirit of Thanksgiving, I wanted to send a gift and a thank you note with something I know most teachers live for- coffee! I'm not a coffee drinker myself, but I witness firsthand how many are, and how it helped fuel them for busy days that start very early.
Easy Teacher Gift
I grabbed several of the new Shamrock Farms Cold Brew Coffee and Milk from the coffee/juice refrigerated section of Albertson's (but you can get them at Quik Trip, Sprouts, Bashas, AJ's Fine Foods, and Safeway too). Shamrock Farms Cold Brew Coffee and Milk is smoother and less acidic than regular coffee and has 2X the caffeine of regular coffee, so it gives coffee lovers a great buzz to start off their day!
It's made of 100% Colombian coffee with a touch of cane sugar and fresh Shamrock Farms milk, so it's free from any artificial growth hormones and it's locally sourced. I made sure to grab a few Shamrock Farms milk varieties for the few non-coffee drinkers.
With all the Shamrock Farms goodies in hand, I made one last stop to get a dozen fresh donuts so they could start their department meeting off with a fun surprise and a someone to let them know how much they are appreciated in their community!
Gifting a Random Act of Kindness for Teachers
Can I tell you the reactions? First, there was a lot of thanks. Then there was a lot of excitement over the three different flavors, vanilla, mocha, and original. When they were opened I heard a lot of "Mmmmmmmm" and then a lot of inquiry what the other flavors taste like. This department must be great friends because a few asked to trade a few sips. They all seemed to agree each flavor was really good, and it was the perfect way to start their day- particularly when it was full of meetings and they didn't have time to brew a fresh cup.
I definitely left with some warm fuzzies. For anyone who has a child in school or knows a teacher, I'd highly recommend finding a random act of kindness you can do on a whim, and thank teachers for all they do- it means the world to them!
This is a sponsored conversation written by me on behalf of Shamrock Farms. The opinions and text are all mine.
Like this Random Acts of Kindness for Teachers post? You may like these posts too:
Ways to Show Your Family Love for Random Acts of Kindness Day
Random Acts of Kindness Date Night
Get 365 Date Ideas!
We want to help you have the best date nights ever! Grab this FREE printable with 365 date ideas, a date for every day of the year so you never run out of ideas!