Easy Mom Halloween Costume Ideas
Who says moms can't get in on the Halloween fun? If you need an easy costume you can wear while shuffling around children, try one of these easy mom Halloween costume ideas!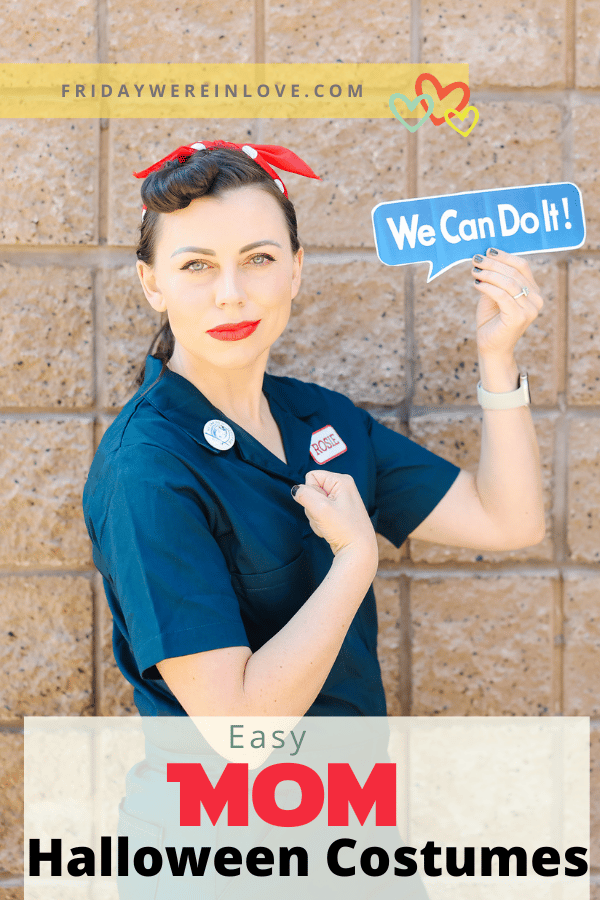 I love Halloween, it's my favorite holiday, and we go all out with family Halloween costumes every year. But even with little kids, I'm already experiencing Halloween outings where my kids don't want to wear the family costume. And with a husband who travels frequently in October for work, sometimes I'm often left the lone ranger.
Mom Halloween Costume
Honestly, sometimes I feel a little silly dressing to a theme by myself. But sometimes I feel like my other family members shouldn't have all the fun. That's why I think it's a great idea for moms to have a few last minute Halloween costume options on hand! It's a great way to be that fun and adorable mom and rock your own Halloween costume.
Let's talk logistics: I know you still need to be able to do all the mom tasks busy moms do even with a costume! Like picking up a baby, wrestling toddlers into little baby costumes, dropping off older kids and teenagers, running to the grocery stores for last-minute things, or carrying all of your kid's costume accessories or candy pail. We know October 31st is usually a busy day for moms; you're likely the one getting everyone ready, setting up and cleaning up the Halloween games, and quite possibly feeding kids while trying to get yourself ready. This is why a lot of functionality is key! It's also why were' sharing a bunch of great option costume ideas with easy DIY costumes with things you likely have on hand or can order with overnight shipping.
So shake the tired mom stereotype and get ready to have some fun dressing up this season! Here are so super easy mom Halloween costumes ideas you can pull together in no time!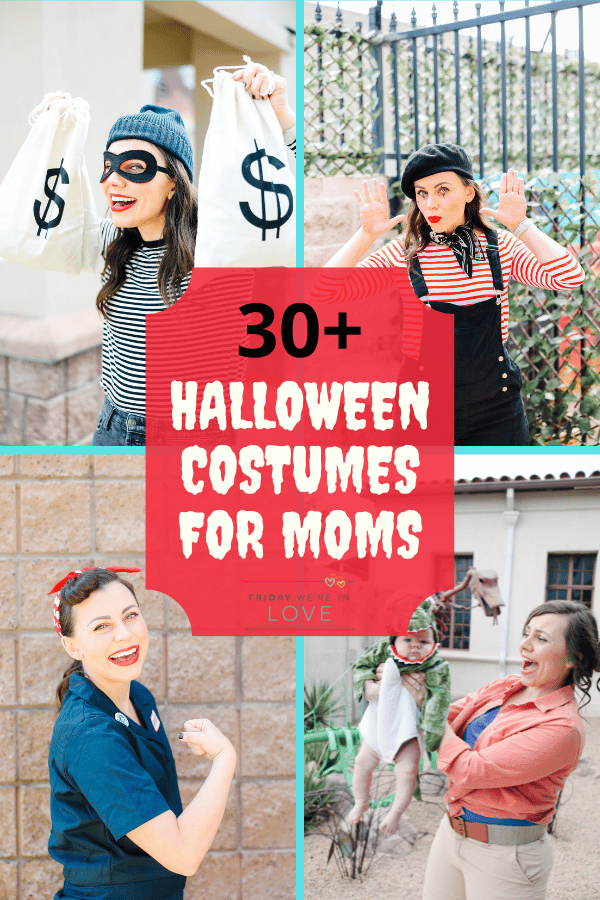 30+ Easy Halloween Costumes for Moms
Witch.

Hello, one of the best mommy costumes out there! Grab a witch hat and a black outfit and you're set!

Rosie the Riveter.

I have a full Rosie the Riveter costume tutorial here. It's such a great way to rock a cute costume with limited time!


Minnie Mouse.

Do you have Minnie ears from Disneyland or Disneyworld? Or does a friend or neighbor? Throw on those ears and a Minnie-inspired dress! It's about the easiest last-minute costume idea that little kids love!

Skeleton.

You can always draw the bones on a black outfit, but buying some skeleton pajamas makes this costume even easier! Feel free to add some white face paint and draw a few teeth lines with eyeliner. But you can ditch the makeup and rock the simple skeleton pajamas for an easy look!


Teenage Mutant Ninja Turtle.

If you have a tin foil pan and some green spray paint, the good news is you have a great easy costume! Grab some orange, blue, purple, or red felt and make the iconic eye masks that tie. Fair warning: you may convert the whole family into joining you with this easy group costume idea!

Pineapple Costumes.

Throw on a yellow dress or yellow outfit, and hot glue some green felt sprigs onto a headband. It's about the easiest cute idea you can throw together in minutes!

Princess Costume.

Do you have a formal dress or a long maxi skirt? Just add a crown and you're a princess.



Princess Bride Costume

One of my favorite costumes was our family Princess Bride Costume But I would gladly wear the comfy red dress and ribbon sash with my Princess Bride Buttercup costume any day!


Evil Queen.

This is even better if you have a daughter ready to be Snow White. But you can wrap a satin cape over black clothes and top it off with red lipstick and a crown. And boom, you have a great Daughter duo or mom costume rocking classic Disney characters.

Little Mermaid.

Add a bra on top of a plain colored shirt, wrap a sparkly green fabric as a skirt, and add some red hair spray or a wig and you're a super recognizable character.
Alternately, if you have a little girl you can easily let her be ariel, rock a pixie cut wig and some purple face paint with a black dress, and go as Ursula from The Little Mermaid.

Little Red Riding Hood.

Grab a red Hooded cape and you're basically set! But you can also grab a red sheet or blanket and make it look like a hood if you need quick option!



Sia Costume

I mean you only need this wig with a giant bow, and black, white, or black-and-white clothes, and you're set with the easiest costume! I wore it for our family pop stars costume, and it's still one of my favorites!


Princess Leia.

Rock a white outfit, whether that be a dress, a sheet wrapped around your body, or white pants and a white tee. Wrap your hair in the famous Princess Leia buns and you're set without much time or effort!

Greek Goddess.

I did this in college when I needed a last-minute costume. I grabbed a white bedsheet and wrapped it around my body as a draped goddess robe. The white costume with a little gold glitter eyeshadow all over my face plus a sprig of green garland as a crown was the perfect combination for my first Halloween without my own mom! It's one I'd totally rock again as a mom!

Cat.

Add the cat ears or two space buns. Dress in all black. Pull out some eyeliner and draw whiskers and a triangle on your nose. And just like that, you have one of those iconic creative Halloween costumes in no time!

Mime Costume.

A striped shirt and black pants with a beanie and some makeup are all it takes. Check out my easy mime costume tutorial here.


Farmer.

Grab those overalls, a plaid shirt, and a straw hat and you're all set!

Winnie the Pooh.

This works any time, but if you have a baby bump a red shirt and yellow pants with some bear ears (or space buns covered in yellow fabric) make an excellent costume!

Andy's Mom.

I mean why not be the best of the best from Toy Story? If you have leggings and a blue shirt, you can easily be Andy's mom!

Carmen Sandiego.

If you have a trenchcoat and hat, you're all set! Bonus points if it's red, but it's not necessary to pull off this costume. Check out my Carmen Sandiego costume tutorial here.


Mother of Dragons.

One of the cutest baby Halloween costume ideas is to rock a dragon costume and many moms have joined the fun by adding a long-haired white wig with either a white dress or a blue dress. It's easy, it's fun, and you can rock this look even without a baby boy or baby girl to wear it with.

Tin Man from The Wizard of Oz.

Grab a metal funnel, or spray paint a plastic one. Wear all your gray or silver gear and enjoy this easy costume! And you may look so good your family may decide to join in on a family costume afterall!

Sandy from Grease.

If you have black leggings, a white tee shirt, and a black jacket, you're pretty much set! Grab a neck scarf and poof your hair ready to make the late Oliva Newton-John proud!

Bank Robber/Cat Burgler.

Do you have a striped shirt and a beanie? All you need is a mask and a bag with a money sign and you're all set!


Shark attack.

Grab an old shirt and add some fake blood (or ketchup or red food coloring) to look like a shark bite. If you have a baby shark to go with you it's even cuter. But you can rock this one all by yourself no problem!

Unicorn Outfit.

If you have pastel clothes and a headband with a unicorn horn, you're all set!
There are so many fun Halloween costume ideas you can wear by simply adding an adult onesie. I've seen unicorn costumes, Grogu, Disney characters, and all kinds of animals. There are so many fun ways to wear these and the best thing is you're cozy, warm, and comfortable ready to rock a great costume for Halloween night or a Halloween party.

Jurassic Park: Ellie Sattler Costume

I loved being Dr. Ellie Sattler in our family Jurassic Park costume. But her khaki shorts, salmon-colored button-down, and hiking boots make a great iconic costume to wear on your own!

Bat
Rock a black outfit and grab some black fabric. Cut it into scallup bat wings and pin it under your arms. A few triangles taped or glued onto a headband make the perfect bat ears!
Smarty Pants
Grab a bag of Smarties and tape them onto your pants for a punny costume you can make as a last minute DIY Halloween costume.
Like these Halloween costume ideas? Be sure to check out these posts too:
Mom Dad and Baby Halloween Costume Ideas