Family Halloween Costume Reveal: Jurassic Park Costume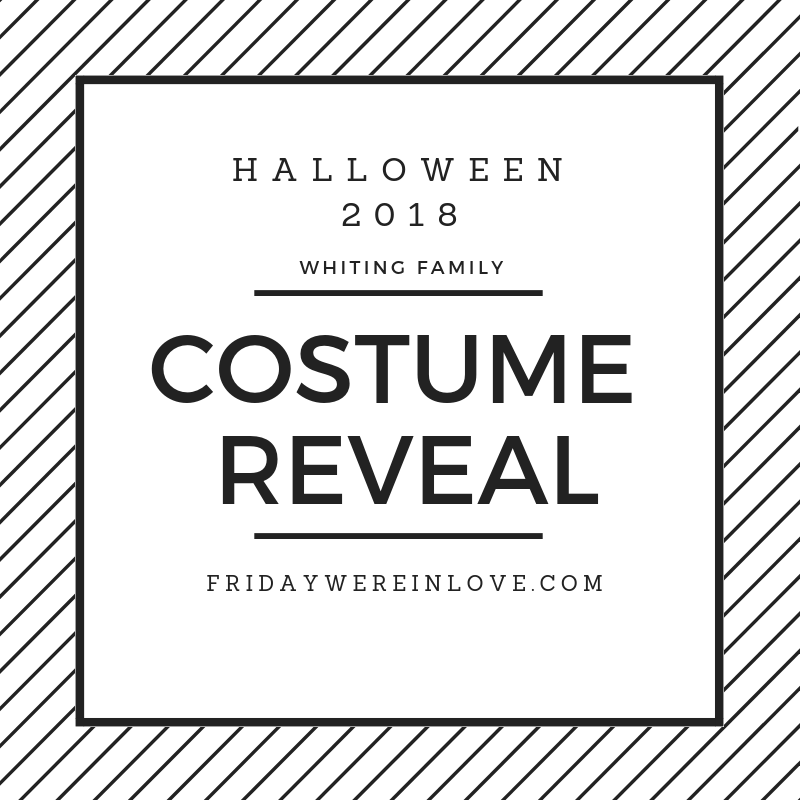 Family Halloween Costume Reveal
If you are new around these parts, I'd like to introduce you to my favorite post of the year. You see, Halloween isn't just another holiday to me. It's my favorite holiday, and one I never outgrew dressing up for!
On our first Halloween as a couple, we opted for a couple's costume, and we've never looked back! It's safe to say Jacob is quite possibly the world's greatest sport putting up with all my Halloween shenanigans and hopes and dreams each year. Oh, the number of wigs he has worn through the years! It's hot in Arizona friends, that's true love right there!
To be fair, I always have a robust list of ideas each year, and I let him have the final say in what we'll be for our annual Halloween costume. But this year we did something a little different.
Our Toddler Chose Our Costume
This is the first year we've had an opinionated toddler on our hands. I suppose last year a barely-two-year-old had a few opinions and it resulted in going out and buying a second costume he could walk in and was excited about. I could see where our future with family Halloween costumes may be a real challenge.
However, this year we decided we could definitely make it work if we heard the toddler out and let him express his hopes and dreams. Additionally, if we committed if we could build a fun theme around what he was excited about, we would!
And so friends, we did just that! He chose his costume. With a newborn in tow this year, we found a baby dinosaur costume that worked with it too. Next, we built around it and decided on our family theme.
Jurassic Park Halloween Costumes
Feel free to fire up some John Williams in the background, because this theme song may get stuck in your head!
So friends, it only feels right to start this off with a John Hammond impression and the announcement
"Welcome to Jurassic Park"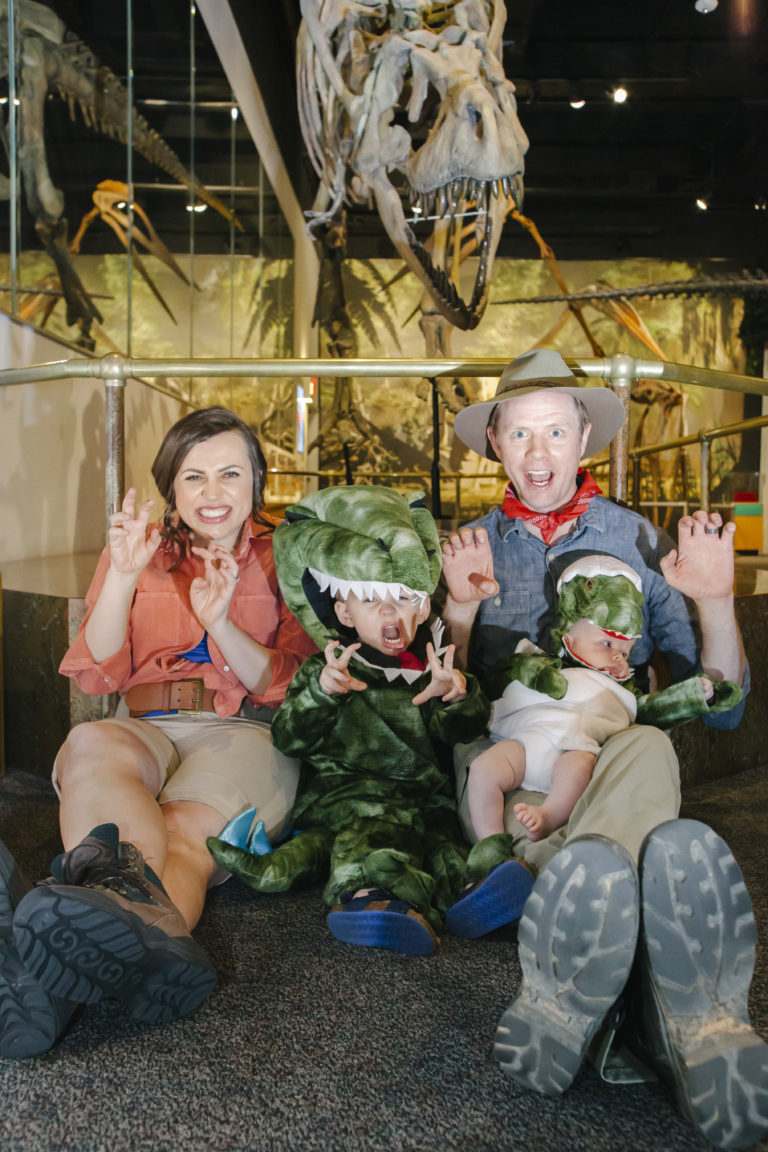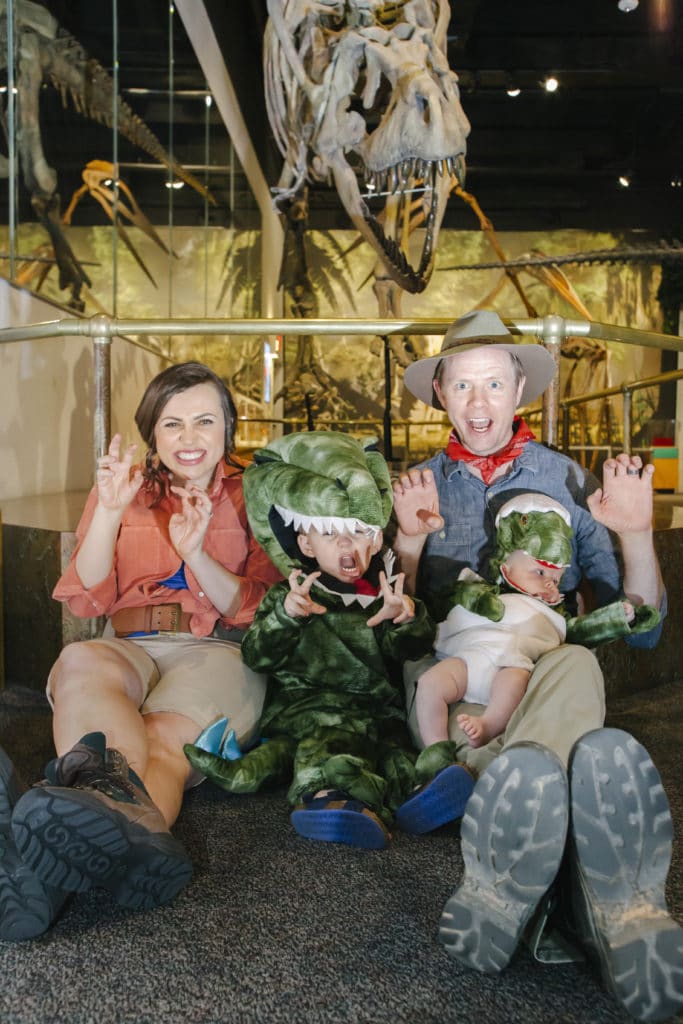 Jurassic Park Halloween Costume
I have to give a huge shoutout to the Arizona Museum of Natural History. I reached out to them and asked if they could help all our photo shoot dreams come true. They graciously allowed us to take pictures at the museum. They were amazing and let us come after hours so we could achieve the look of the dark, creepy, final attack scenes at the end of the Jurassic Park movies.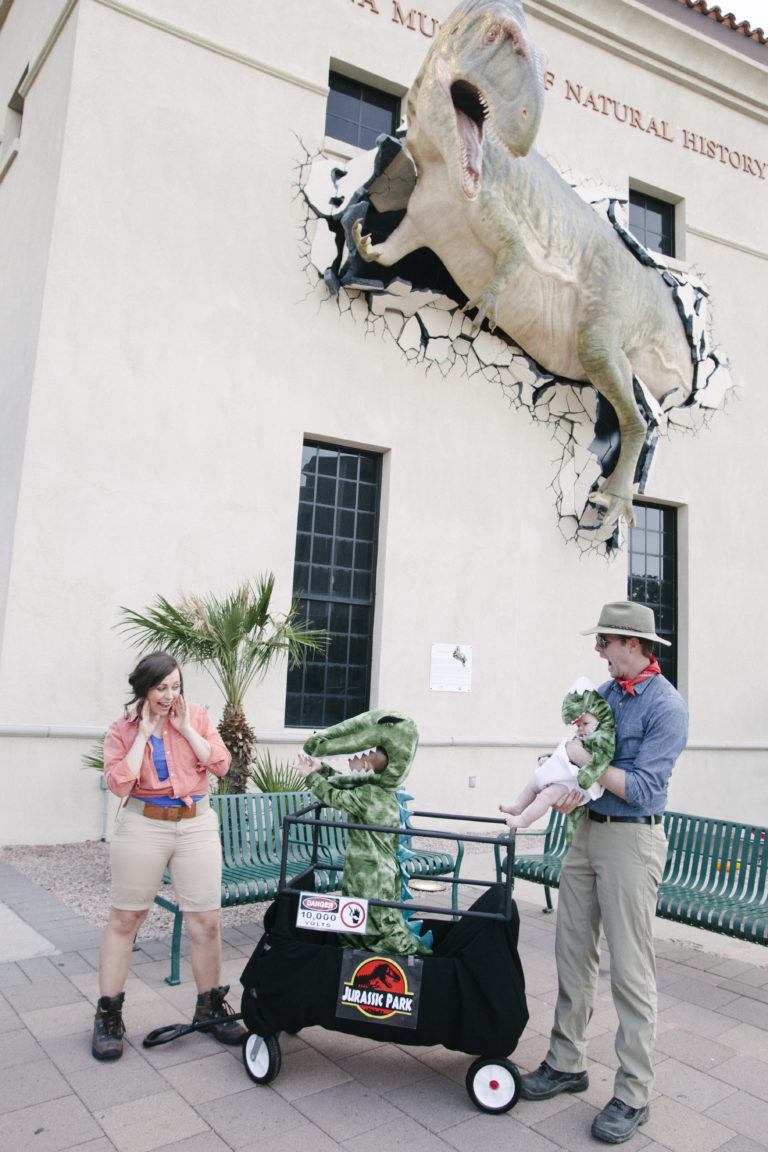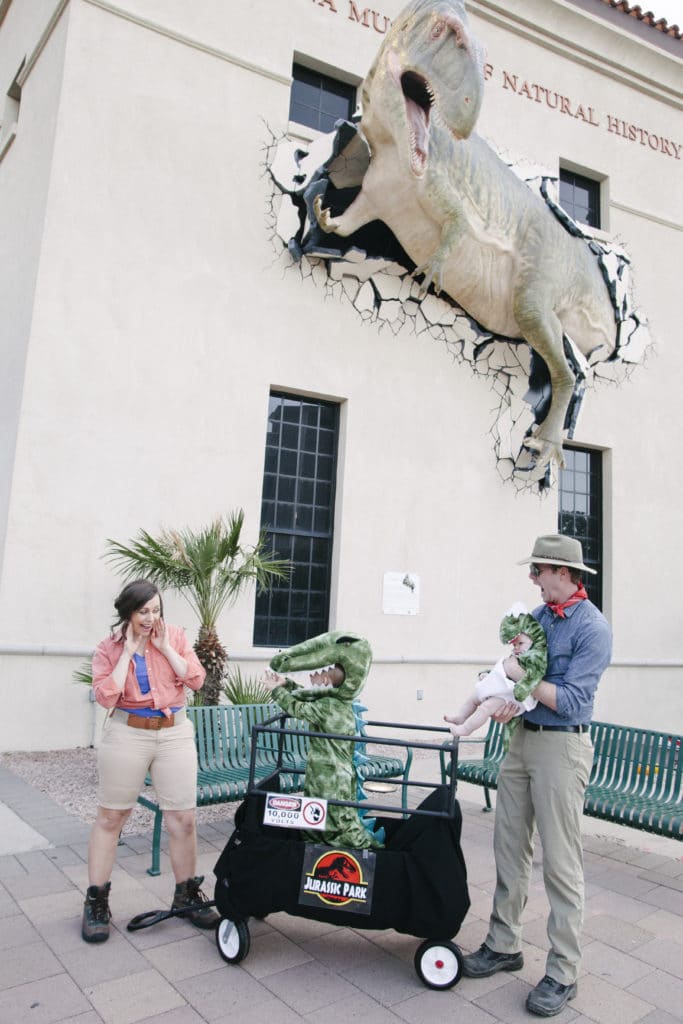 And did I mention the museum is amazing? It was all we could do to get our son out of there after we snapped some pictures. He absolutely adores it! It's like the hidden gem museum of Arizona. He only left willingly after we promised we'd bring him back soon! Seriously, this museum is amazing and if you're in Arizona you definitely need to plan a visit!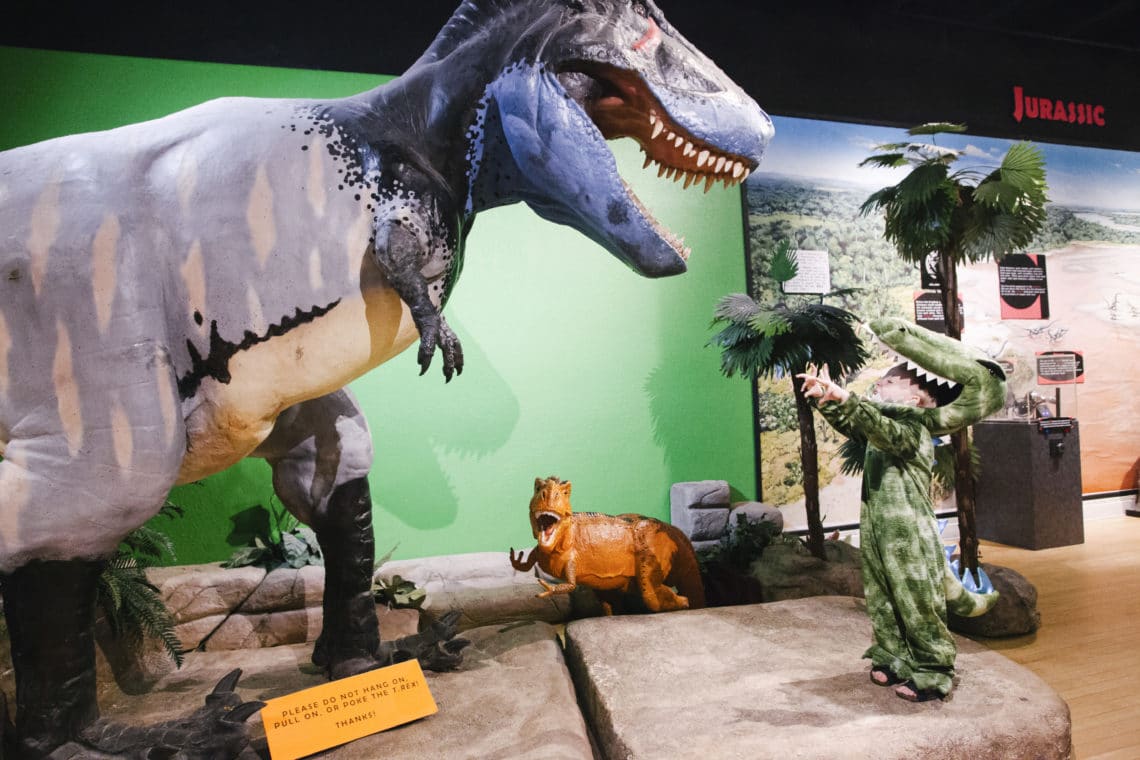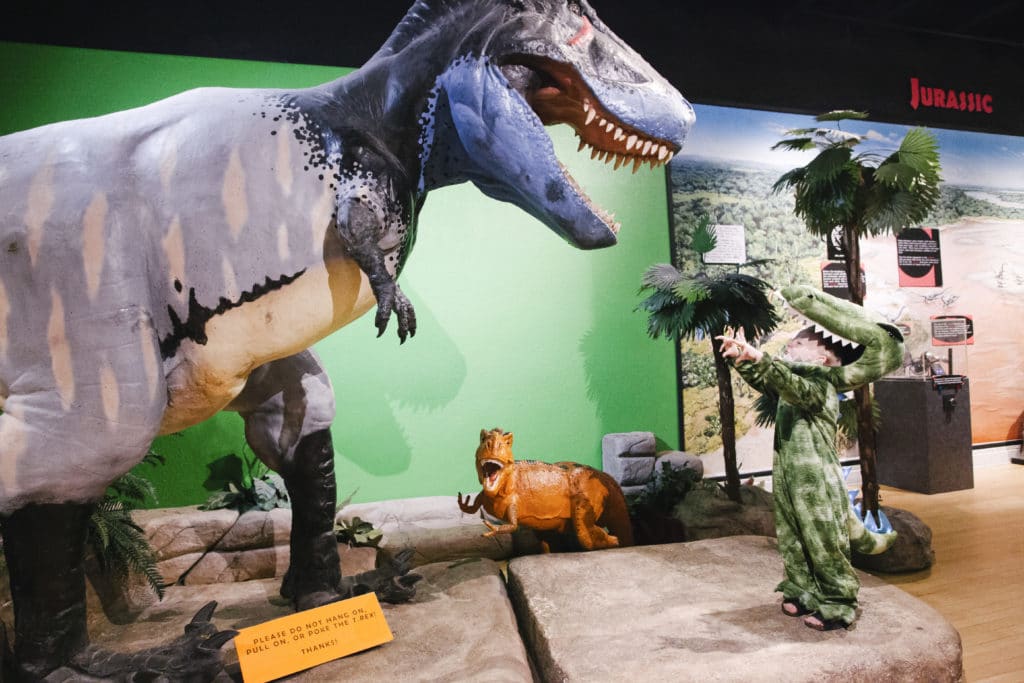 Jurassic Park Costume
First of all, Jacob was super thrilled to not be wearing a wig this year. I love his Dr. Alan Grant costume. It came together easily with some clothes he already owned, travel khakis from Costco, a borrowed hat, his work boots, and a bandana.
Next, I loved being Dr. Ellie Sattler! The book's portrayal of her isn't very impressive, but I love how they made her a strong lead in the movie! She's smart, she saves the day, and her 90's style can't be beat!
I found her classic shirt color in an old Madewell shirt I ordered off Poshmark. A pair of khaki shorts and a nursing-friendly tank in the right color did the trick. I added an old belt and my mom's hiking boots and was set! That set up my Jurassic Park Halloween costume perfectly!
Both their outfits are really easy to pull together with some closet staples. Yet, iconic enough fans of the Jurassic theme parks will recognize these two easily!
Jurassic Park Couple Costume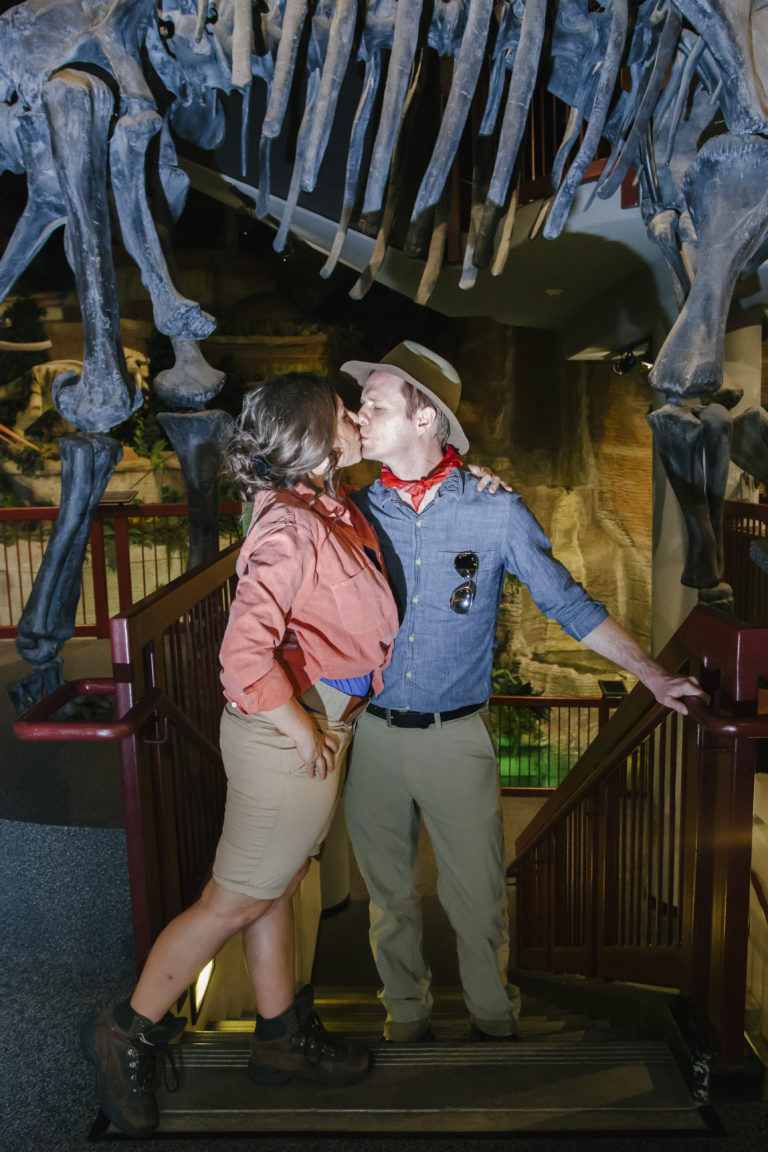 I actually read the book when I was a kid. After being told it was too old for me by librarians, I told my dad I was interested and he told me to go for it. My dad was always the type to say yes whenever he could and encourage our literary appetites. Go for it I did! But he may have thought twice when I came in asking what the F-word is…
It was one book I loved and saw the movie when I was probably too young and scared for it too. That hasn't stopped my love for dinosaurs or this series. A Jurassic Park Costume based on my toddler's T-rex choice was easy to comply with!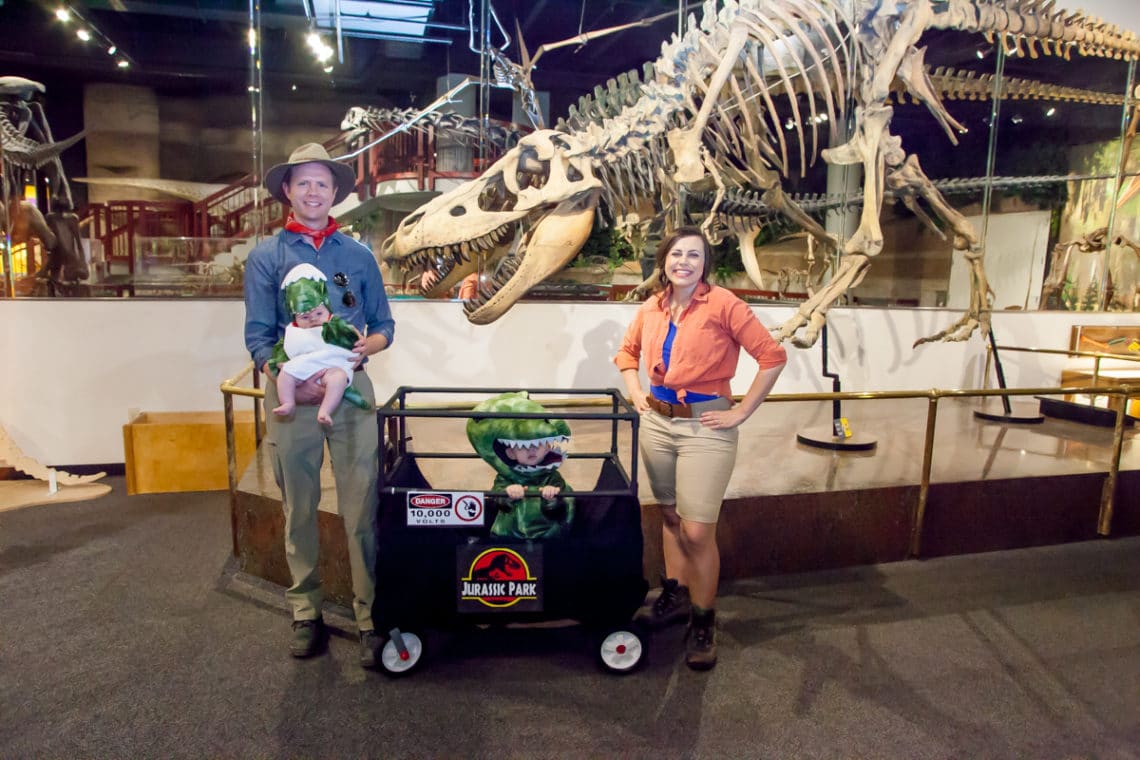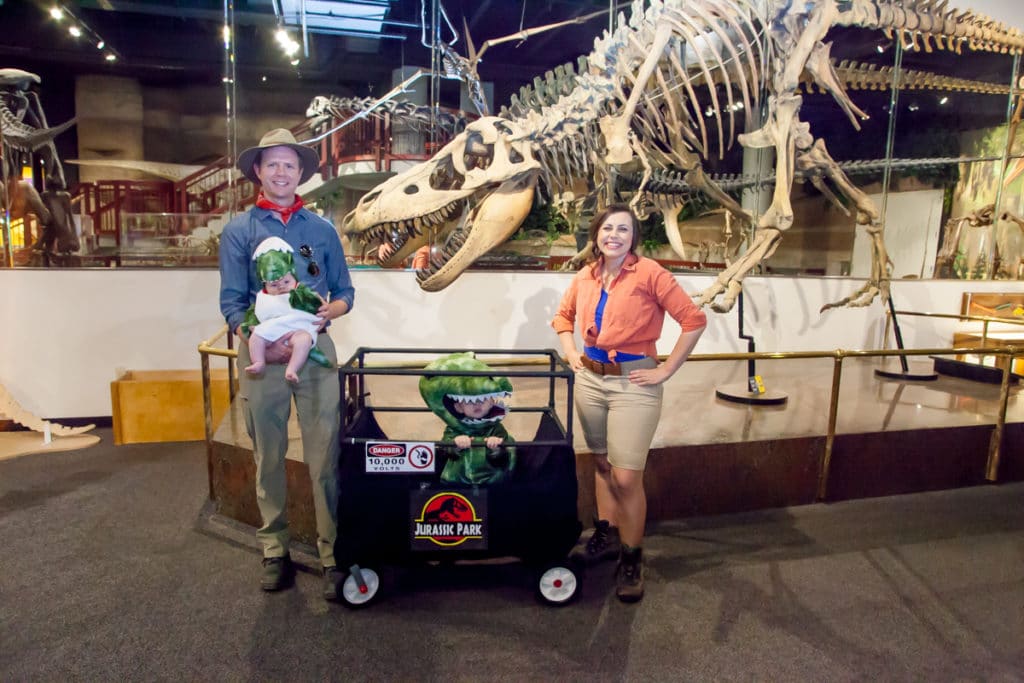 Kid's Jurassic Park Dinosaur Costumes
Finally, both our boy's Jurassic Park dinosaur costumes are from Pottery Barn. I was amazed at how fast all Pottery Barn kid's dinosaur costumes sold out this year! Consequently, I can't recommend buying early enough. If you're in the market, shop early and snag them at least a month in advance, they do have a variation every year!
And if there's any love of dinosaurs in your family, these make the perfect costumes for kids to use as dress ups. No mask is required, and there's no additional accessories to worry about!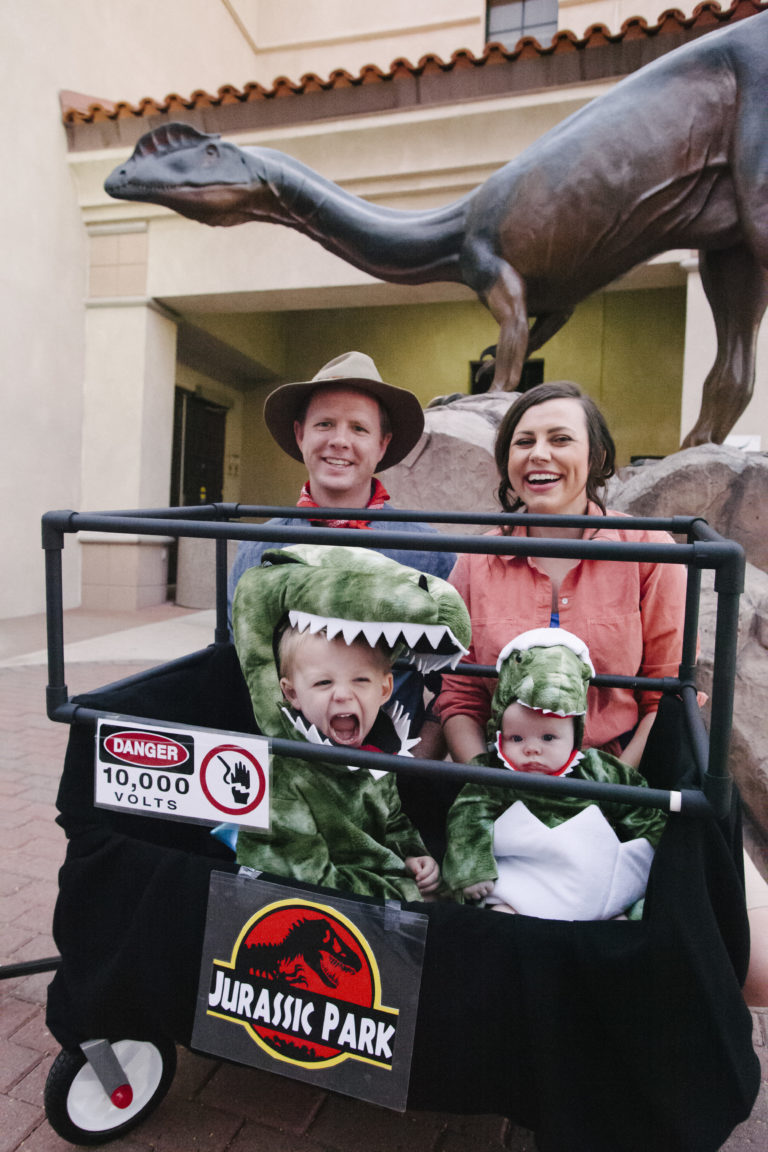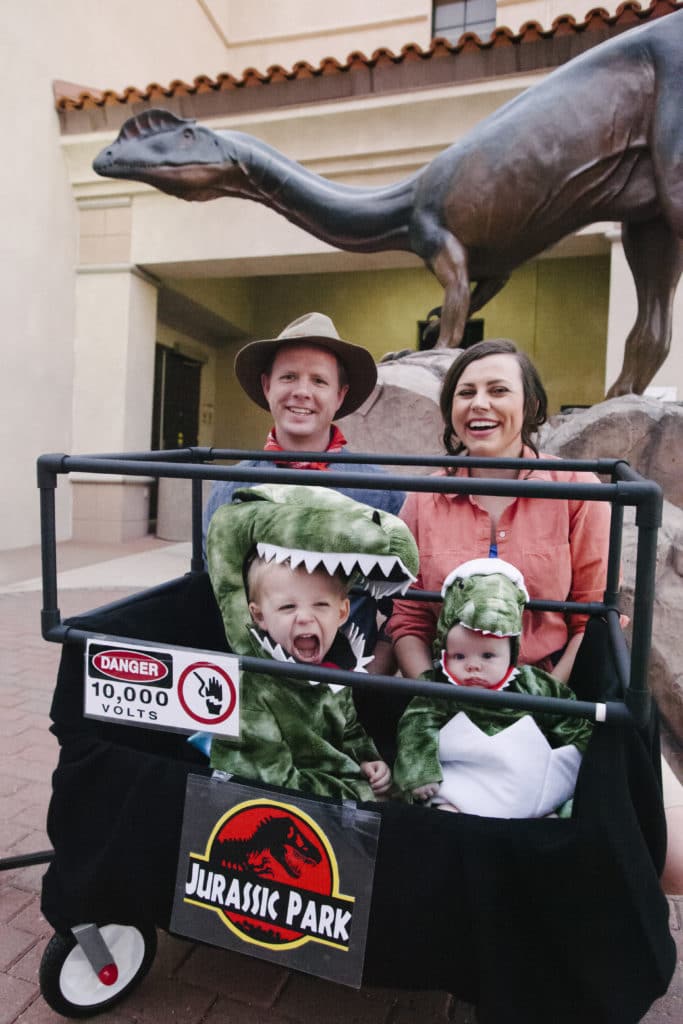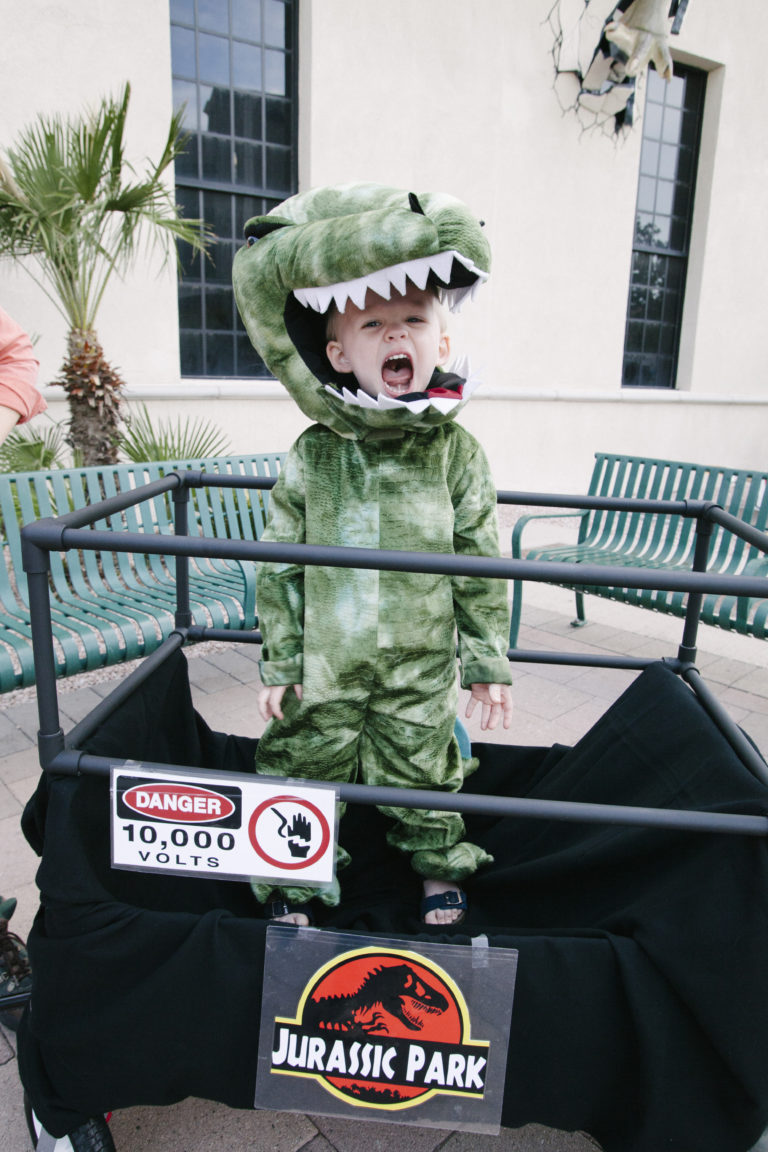 Also, we were so thrilled with these pictures our friend Lydia of Photography Hill took. This was a low-light setting (which is tricky!), and she is a master at making things work and never missing a single rawr from our son. Can you hear him through the screen?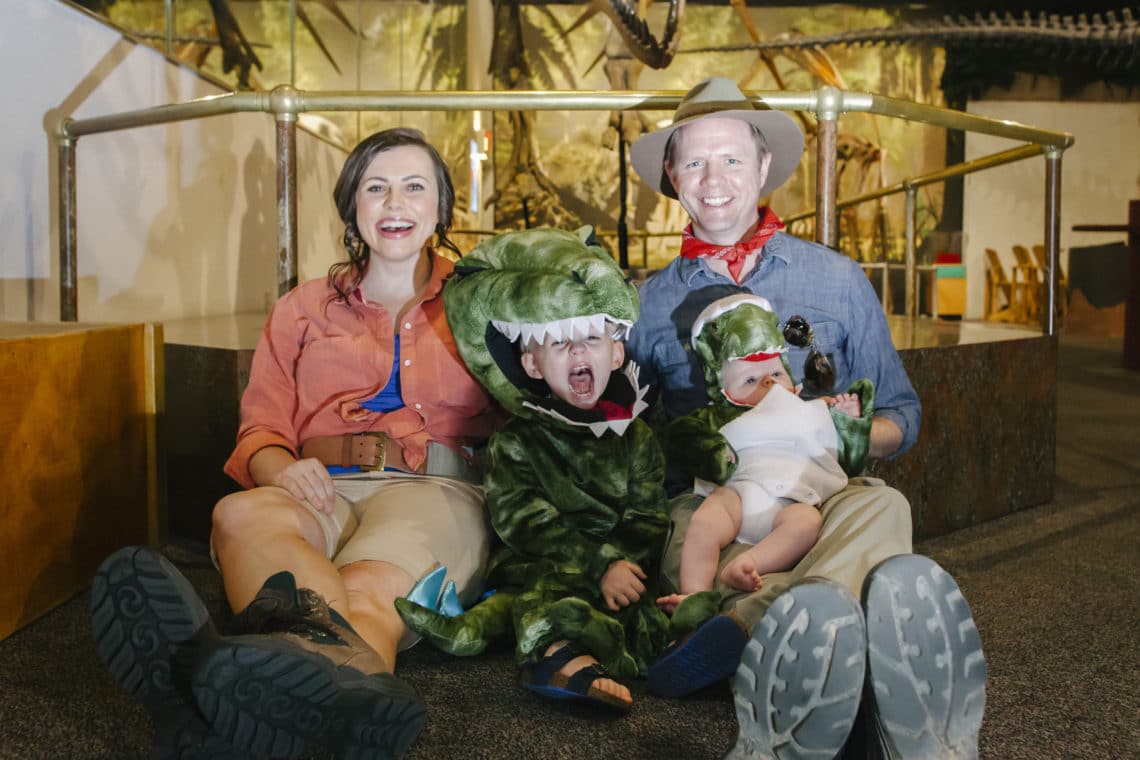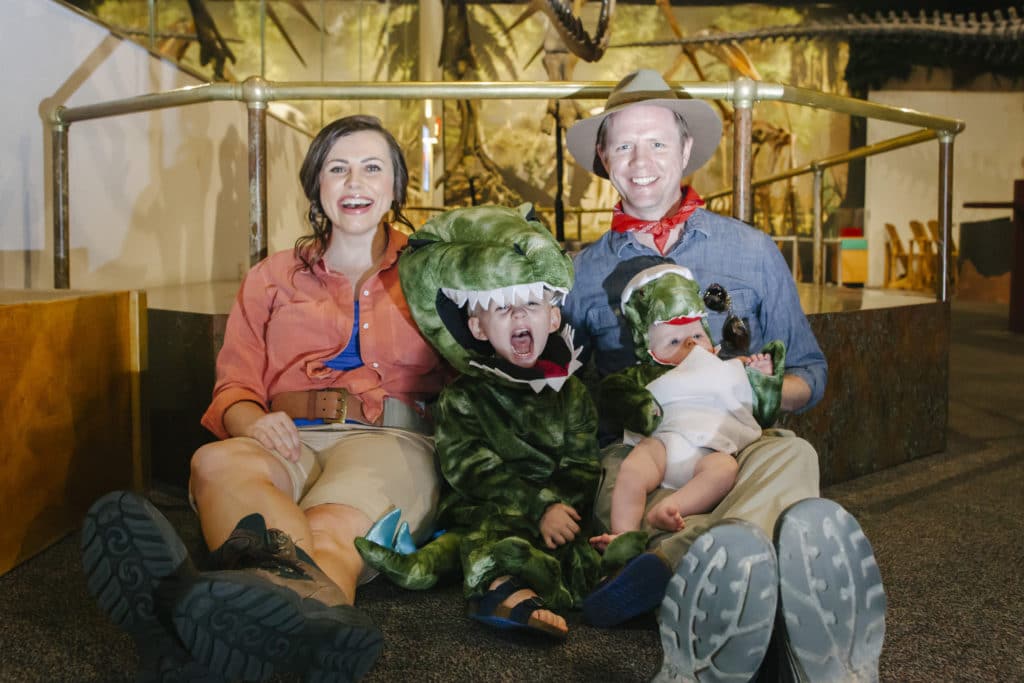 And now we're off to two more parties this weekend and a huge night of trick-or-treating celebrating our Jurassic Park costumes. Heaven only knows I loved every minute of it.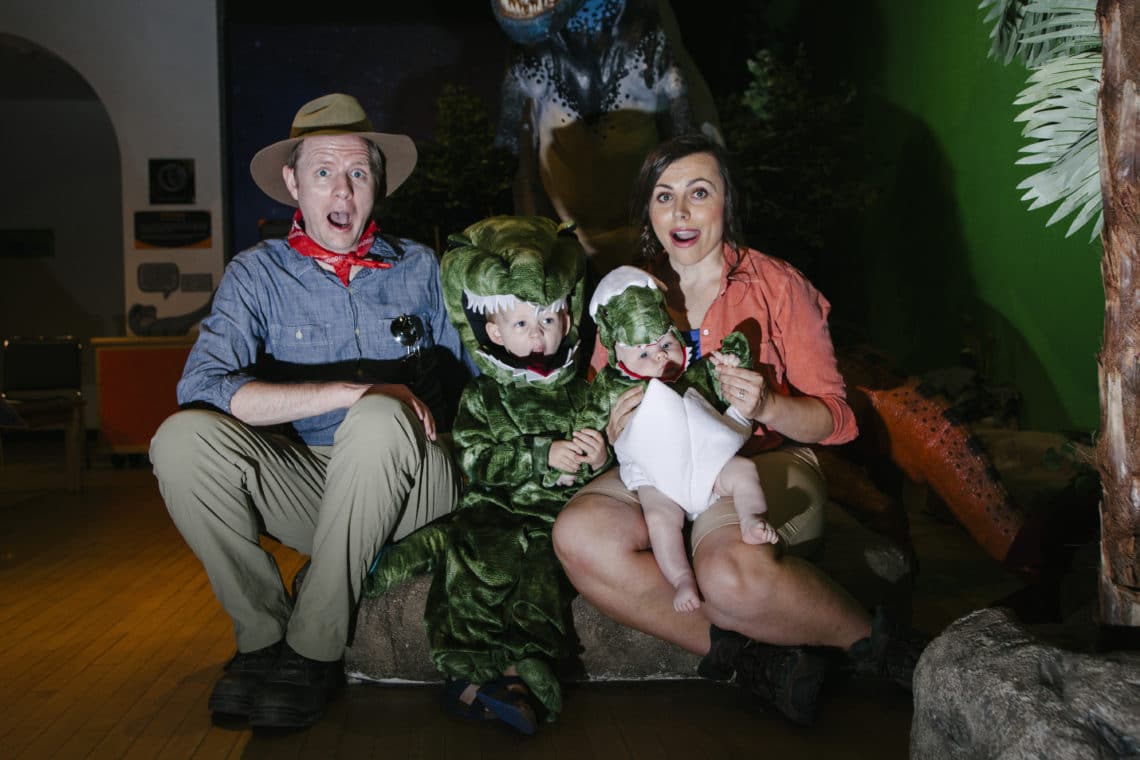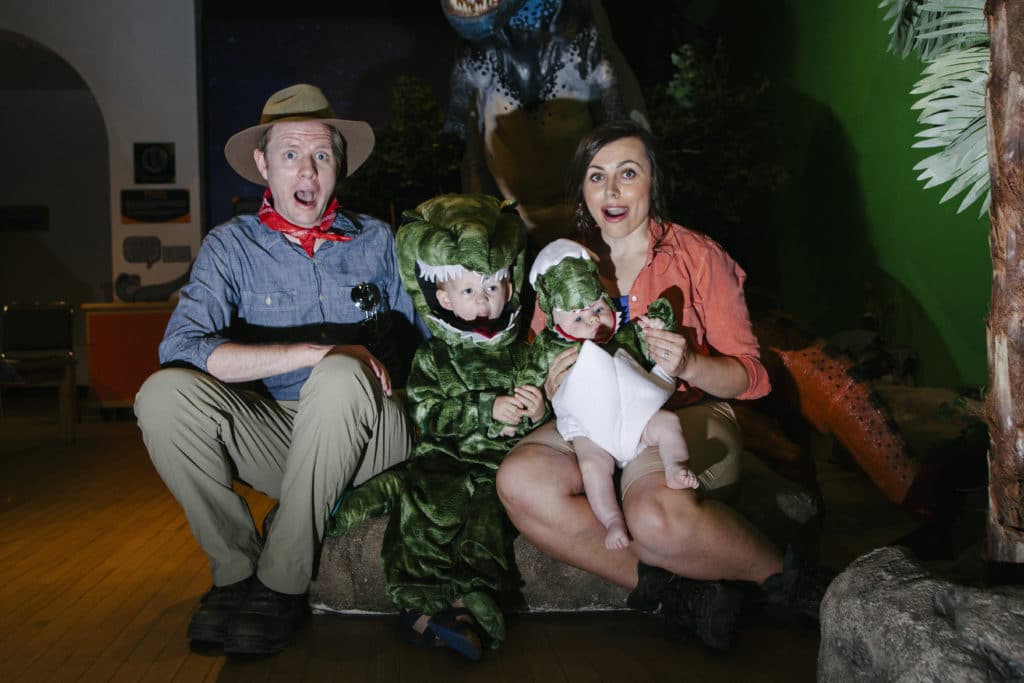 If you need some additional Jurassic Park costume ideas for a group, here's a bunch of fun costume add-ons:
Jurassic World characters: Owen Grady, Claire Dearing, Blue, or any other Jurassic World Franchise characters.
Additional Dinosaurs
Dinosaur Inflatable costume
John Hammond
Lex Murphy and Tim Murphy (Dr. Hammond's grandchildren and famous visitors of the park!)
Ian Malcolm
Dennis Nedry
Ray Arnold
And if you've been around here long enough, you know I'm now officially allowed to start scheming on next year's family costume!
If you need a flashback of our costumes through the years, here are all the family Halloween costumes we've blogged!
Halloween 2017: Family Pop Star Costumes
Halloween 2016: Princess Bride Costumes
2015: Emperor's New Groove Family Costumes
Halloween 2014: Back to the Future Marty and Doc Costumes
2013: Arrested Development Costumes
Halloween 2012: PBS Stars Bob Ross and Julia Child Halloween Costume
2011: Kenny Rogers and Dolly Parton Costumes
Like this Jurassic Park Costumes post? You may like these Halloween posts too:
Over 150 Couple's Halloween Costume Ideas (With Family Costume Ideas Too!)