Marty McFly and Doc Brown Back to the Future Costume
HAPPY HALLOWEEN!
How to pull off a Marty McFly costume and Doc Brown Costume. This Back to the Future Costume is perfect as a couple's costume! Here's how to recreate Marty and Doc yourself!
Couple's Halloween Costumes
We are so lucky to have some really amazing friends that we often double/group date with. Two of our favorite couples are a pair of brothers and their wives who throw a couple's Halloween party every year. We seriously look forward to it and try to pull out our best costumes for this night.
See what we were last year and read the
recap HERE
.
See what we were the year before and read the
recap HERE
.
And for funsies, here's what we were the year before, recap
HERE
.
This year we knew we had some big shoes to fill, and that we needed to come up with a couple's costume that was fairly original since there are a lot of couples and the stakes are high for best costume! It took weeks of thinking, and searing, and then one night it hit!
A Back to the Future Marty McFly Costume and Doc Brown Costume is the perfect couple's Halloween costume! They're a perfect duo, and Back to the Future costumes are easy to pull together!
Back to the Future Marty McFly Costume and Doc Brown Costume
DIY Marty McFly Costume:
Here is how to create a Marty McFly Costume:
A Marty McFly costume is pretty easy to create! The main element is his signature red puffy vest. From there, a plaid shirt (preferably blue and white) over a red t-shirt topped off with the denim jacket and vest is all it takes. Layer it up, add some white sneakers and sunglasses and you're all set!
Bonus points if you have a skateboard to ride or carry as a prop!
Doc Brown Costume
How to pull off a Doc Brown costume:
Start with khaki pants and a fun Hawaiian-style print button-down shirt. Add the lab coat and wig. Place the fanny pack on top, and goggles over the wig. As a bonus, add several watches to your look. Doc Brown wears several in Back to the Future movies.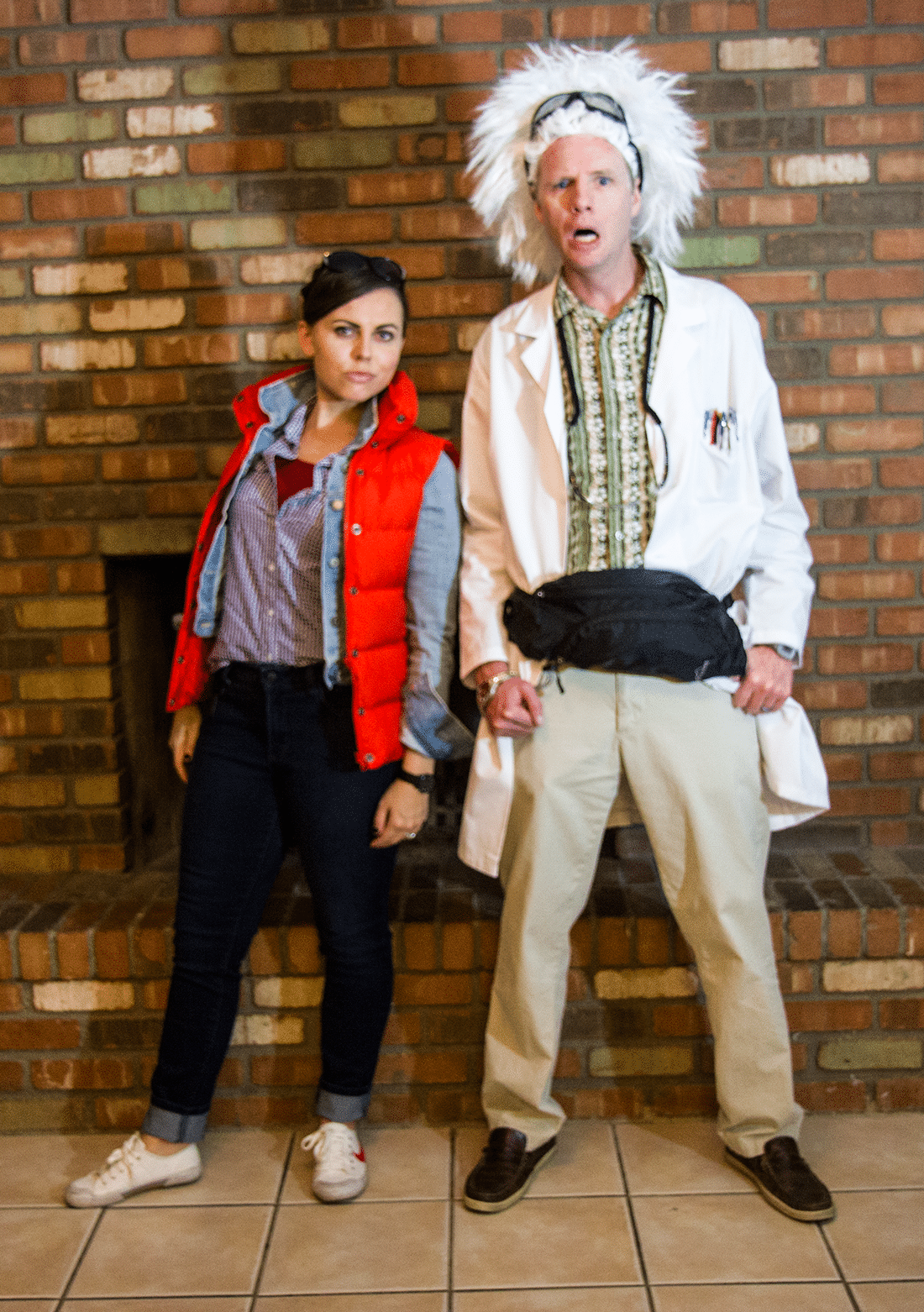 We watched Back to the Future for some inspiration after stumbling upon a Doc Brown costume we both liked. I forgot what an amazing movie that is, even though it's now almost 40 years old! It's still a classic, and Marty McFly costume and Doc Brown costume are easy to recognize and make a perfect Halloween costume!
Doc and Marty Halloween Costume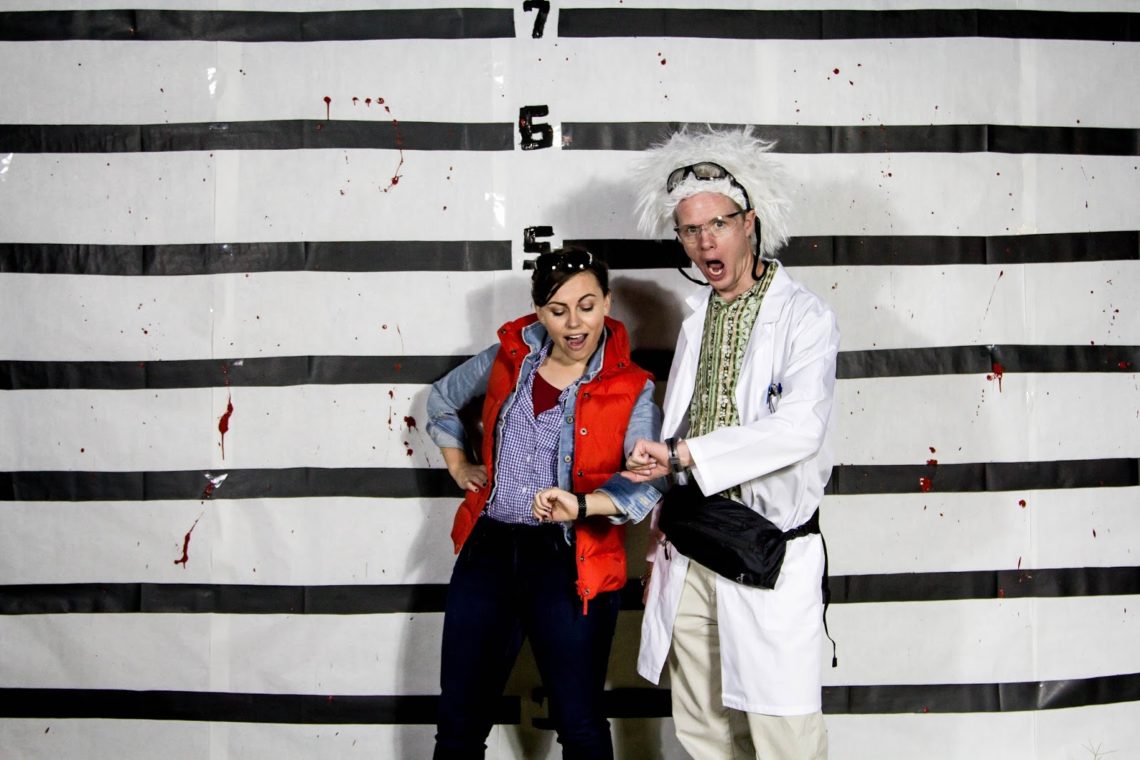 Marty McFly and Doc Brown seemed like the perfect duo for my shorter frame and Jacob's tall, lean body. And I have to say, it was cheap to throw this together too! A lab coat, a $7 scientist wig on Amazon, and a red puffer vest later, plus some clothes in our closets, and we were set!
We weren't able to get everyone before they left, but here's a good sampling of some of our very creative friends!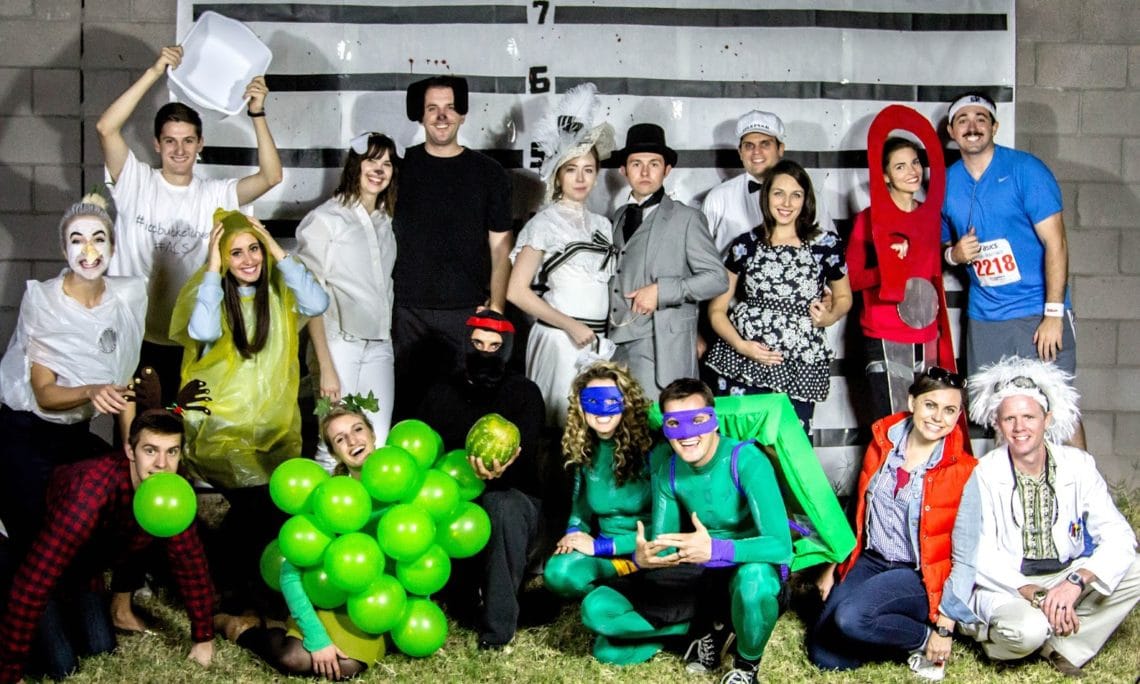 Notable mentions: Fruit Ninja, Running with scissors, and the milkman and housewife on his route. We loved everyone's, but serious props to those who made us laugh with their creativity!
Our friends also set up an amazing photo booth. I loved the creativity of a prison line up!
We grabbed our besties and got a few shots with them! Aren't they hilarious? John said all night, "She's on my route!" and laughed. Such a funny guy, I love when he cracks himself up!
And seriously, it takes some confidence to stand next to the gorgeous, glowing 5-month pregnant Marisel- particularly when dressed like a boy!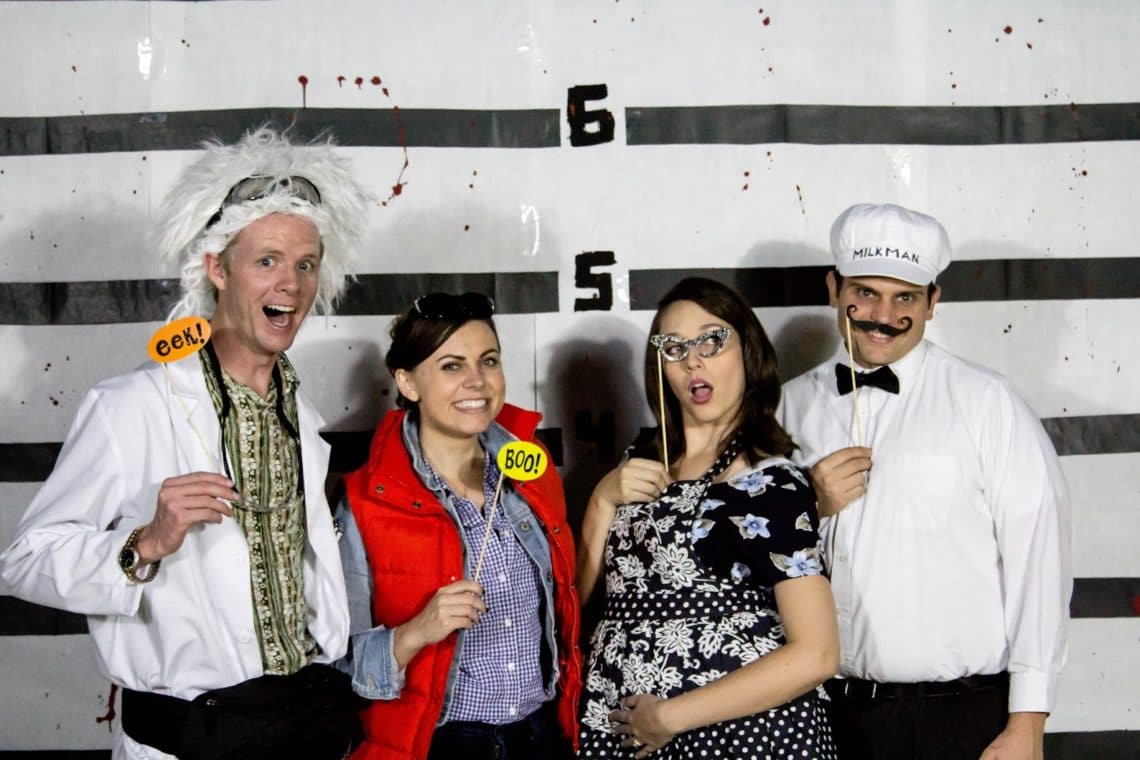 When they have mustaches for the photo booth prop pack that isn't exactly PC, you just kind of go with it and make uncomfortable faces.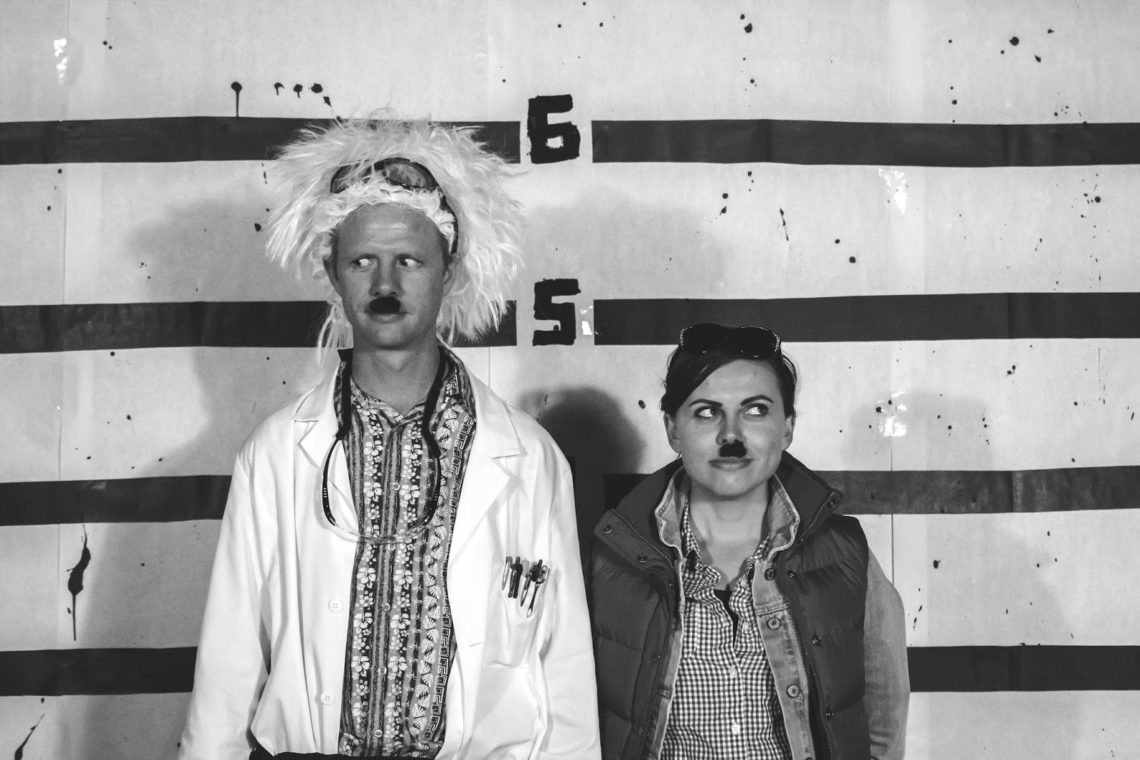 Charlie Chaplin anyone? Yeah, we'll go with that.
We also really enjoyed the snacks! I brought my favorite clean eat fruit dip, recipe here. A few treats naturally happened too. Halloween food is just so fun, and it's awesome to have an excuse to make it.
Thanks again to our awesome friends for such a fun group date we always look forward to!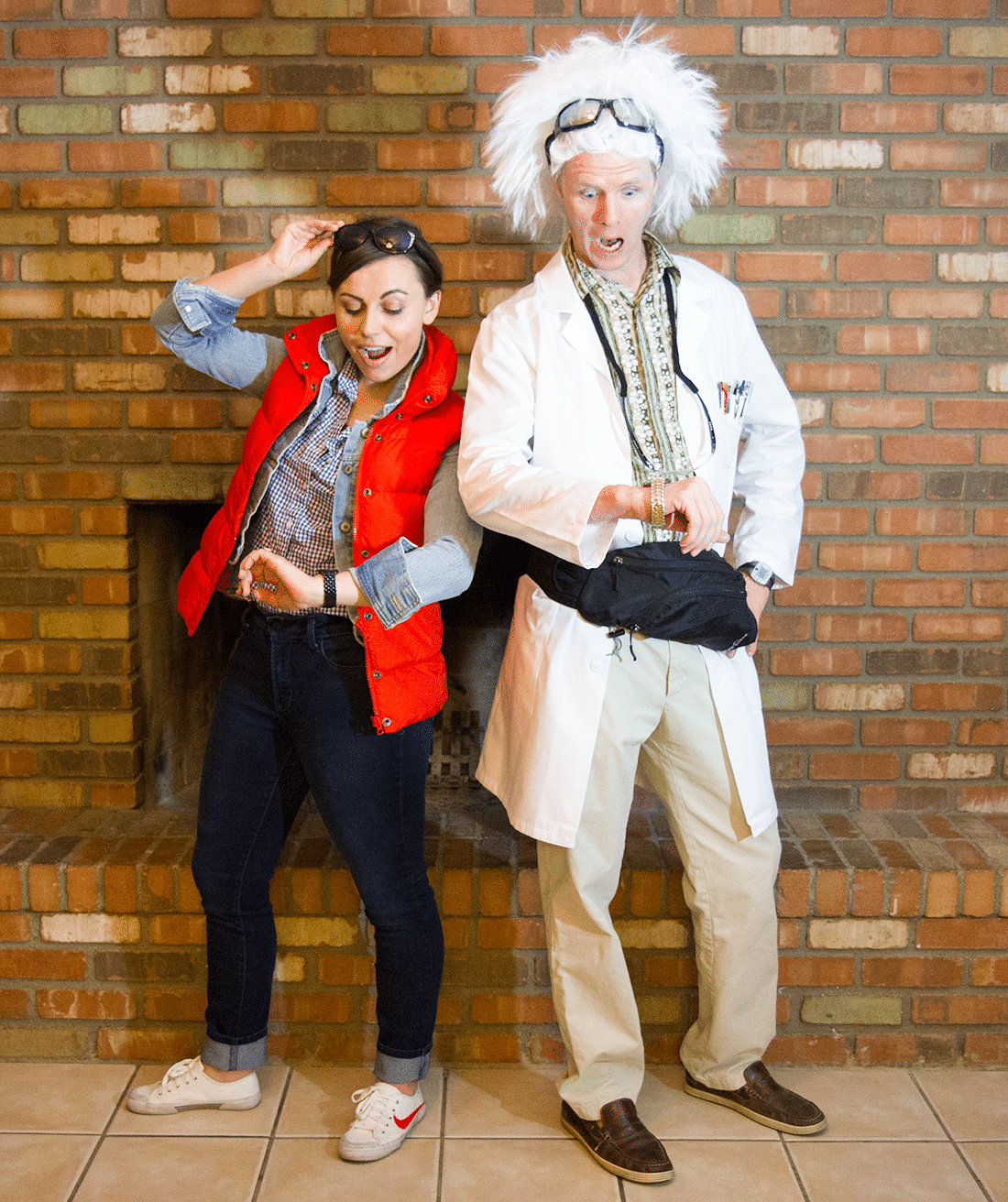 Like this Doc and Marty Halloween Costume? You may like these posts too: