Do you have those events or dates you do each year and they never grow old? The holidays bring out the best of these for us, and there's one I particularly love and look forward to. The annual Halloween costume party our friends host is definitely one of my favorite nights of the year!
Halloween Parties for Couples
Our first year married we threw a small Halloween dinner party as a couple's Halloween costume party, and remarked it was about the most fun we've had! We didn't have the setup to grow it beyond a few couples, and it was a lot of work to create a full spooky menu and cook everything. So the next year when our amazing friends were newlyweds and hosted a huge outdoor couple's Halloween party, we were so excited! All the fun of the party, very little effort on our part.
We've shared this party every year as a date here on the blog. Well, minus one year when Jacob took me on a surprise trip to see the Hamilton Chicago opening. Had it not been Hamilton, I think I would have said no thanks, let's go to the annual Couple's Halloween Costume Party! Anyway, you can see all our past parties documented in our Halloween Ideas roundup.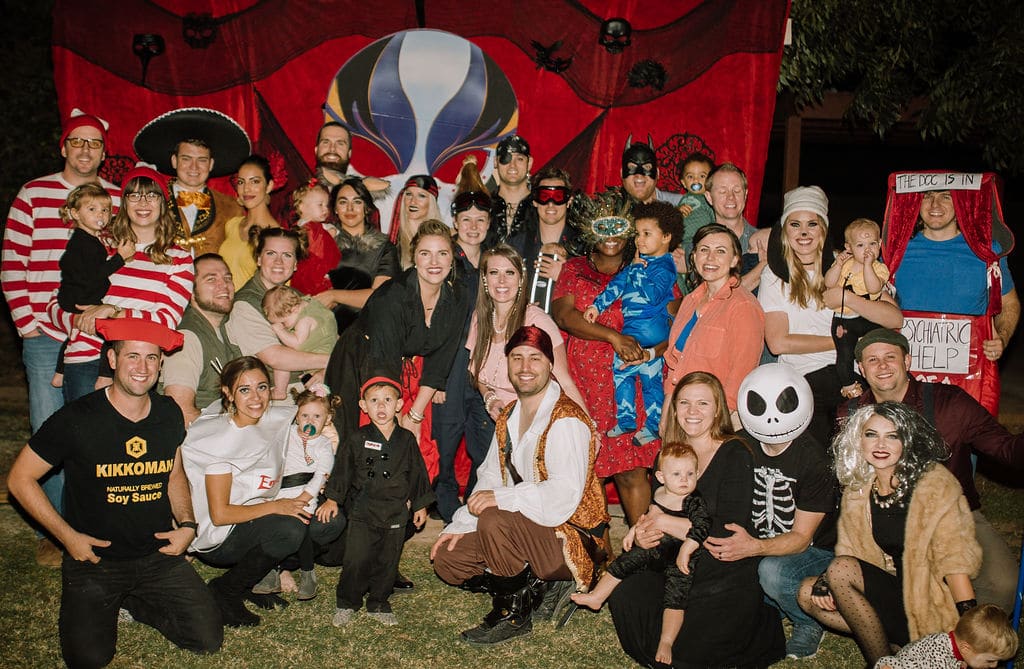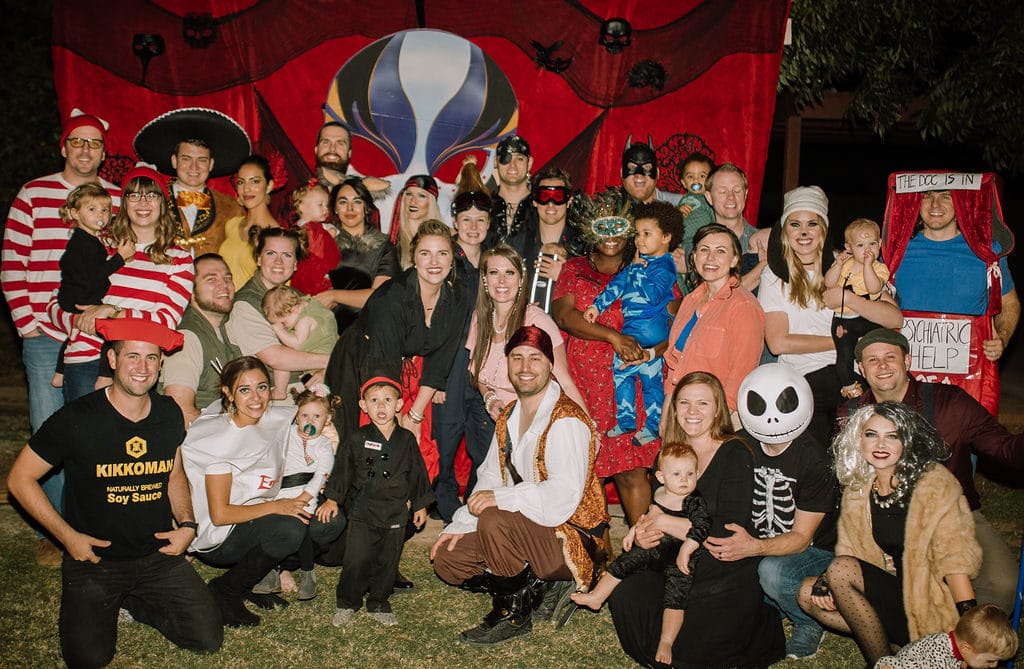 Halloween Costume Party
It's one of the reasons we go all out dressing up. There isn't a weak link here. All the couples and all the families go all out with costumes. Everyone looks amazing and they just have the best friends! We've made so many new couple friends we double date with at this party. Don't you love those kinds of events that are so fun and all your friend's friends are amazing people?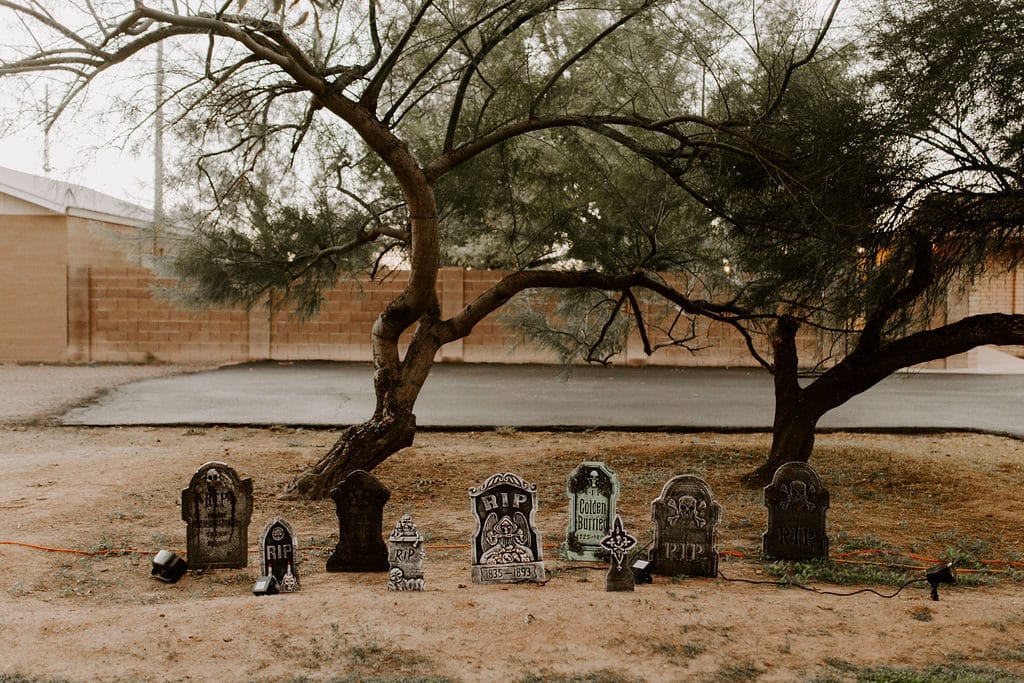 Our friends Jesse and Brittany host this Halloween costume party each year, and let me tell you, it's more amazing each year! On top of being amazing people, fantastic party throwers, and creative geniuses, they are also professional wedding photographers and own Noble Photographers. Their pictures are gorgeous! And all pictures in this post are taken by them.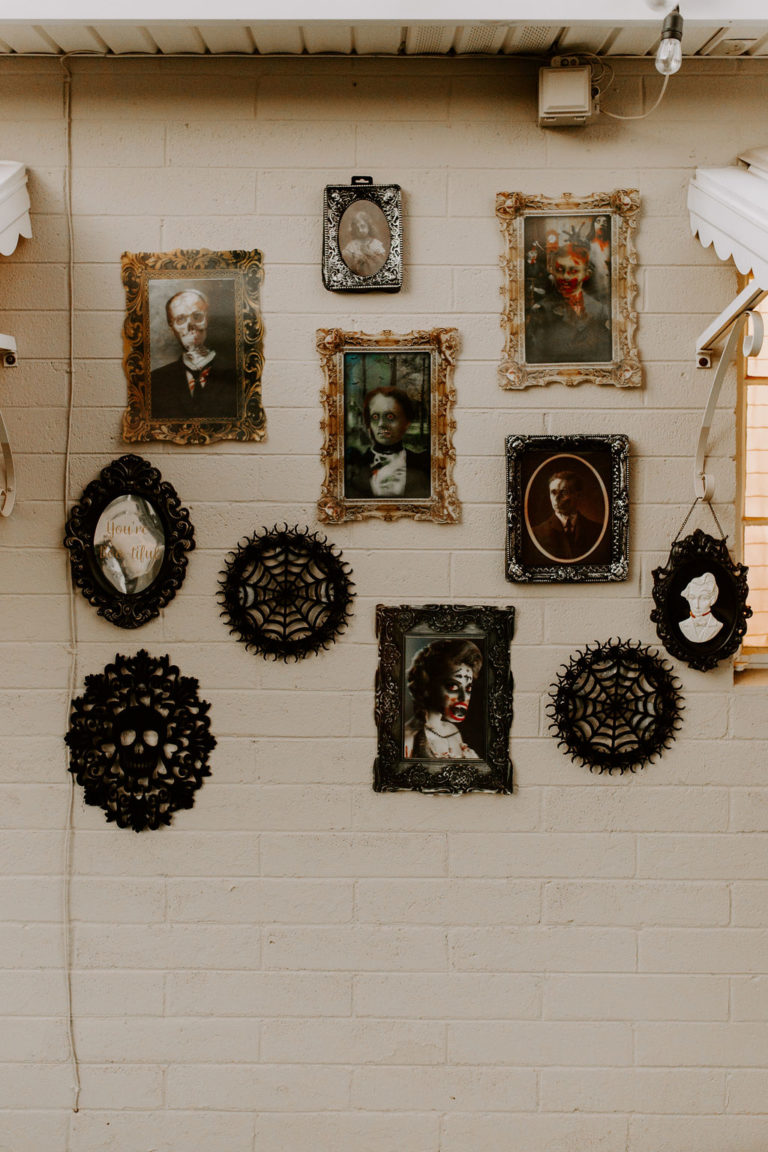 Halloween Party Decor
When they shared the photos this year I begged them to let me share their genius and their amazing Halloween costume party through their lens here. I'm so glad they said yes! A creative backyard Halloween party like this through the lens of a wedding photographer is so stunning!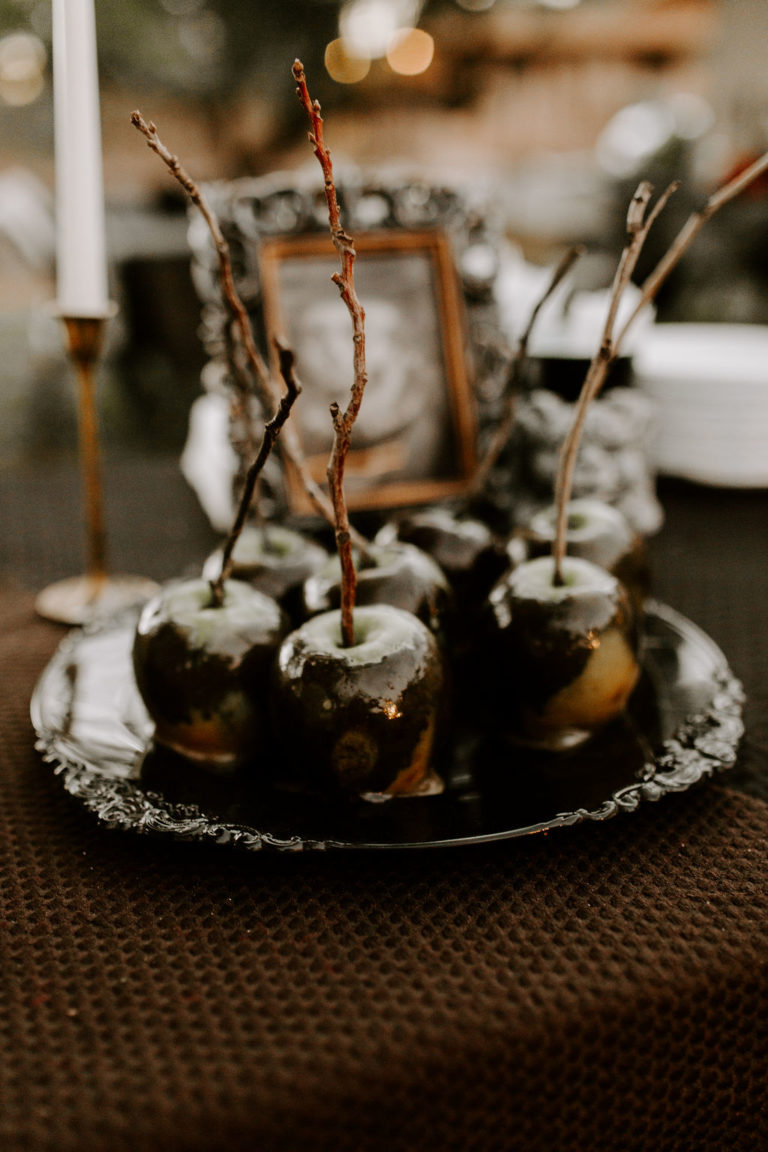 There's always a theme. This year was the masquerade, and everything had a Phantom of the Opera vibe. Last year they were ghost hosts and did The Haunted Mansion. I just smile at the creativity and how they dress up to fit the theme each year.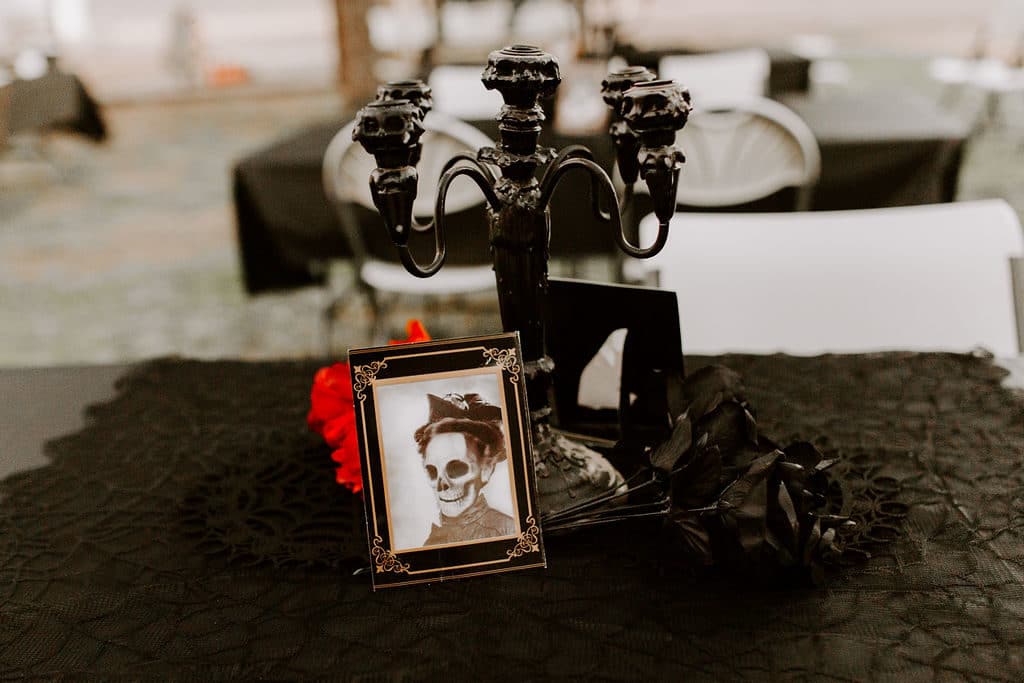 Halloween Photo Booth Backdrop
The photo backdrop always reflects the theme, and I'm pretty sure they are more fancy and amazing than my professional prom picture backgrounds were.
In a pitch black corner of their backyard they set up an amazing setup with professional lights, and every family gets to snap their own costume photos. It's one of my favorite things to have them post the pictures and smile at the clever details of each family.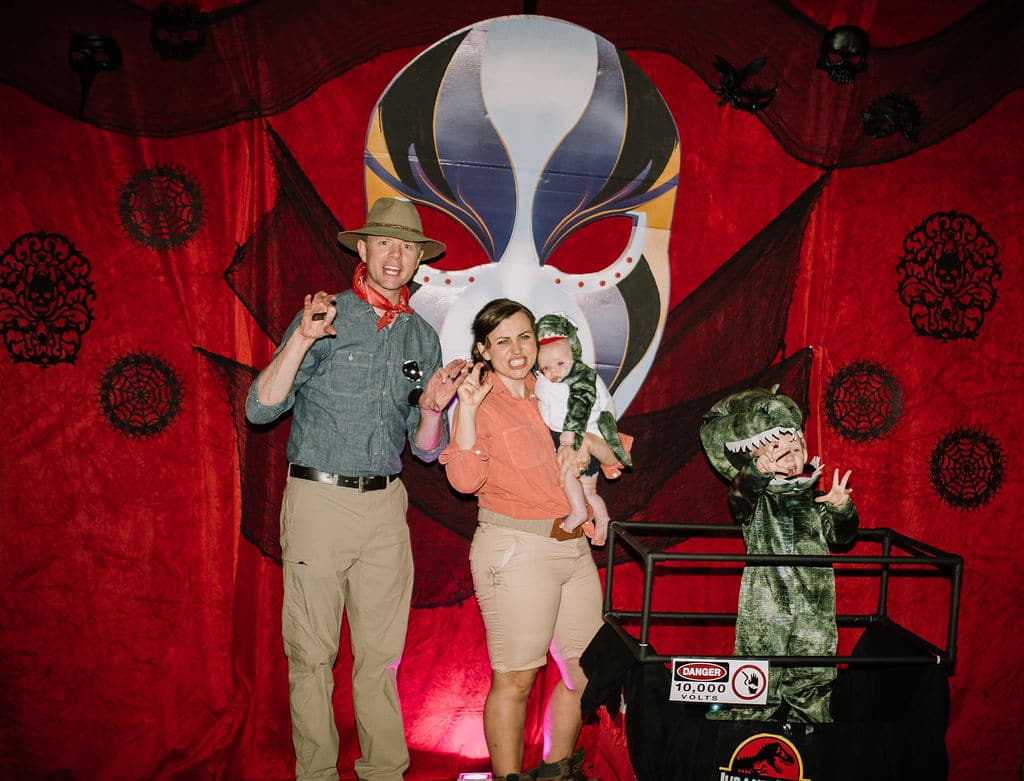 We've now gone for seven years, which blows my mind! We used to all show up as newlyweds. As people had kids, we watched the creativity with pregnancy and family costumes bloom. We're now to the point where some get babysitters and enjoy a fun date night, and many bring the whole family.
I'd highly recommend setting it up like they do: amazing decor outside for everyone to enjoy potluck snacks. They had a bounce house for kids, and a movie playing too. It was so easy to make sure the whole family had a great time.
This was the end of the party when many had left, half the costumes were ditched by children, and we were all still laughing and smiling.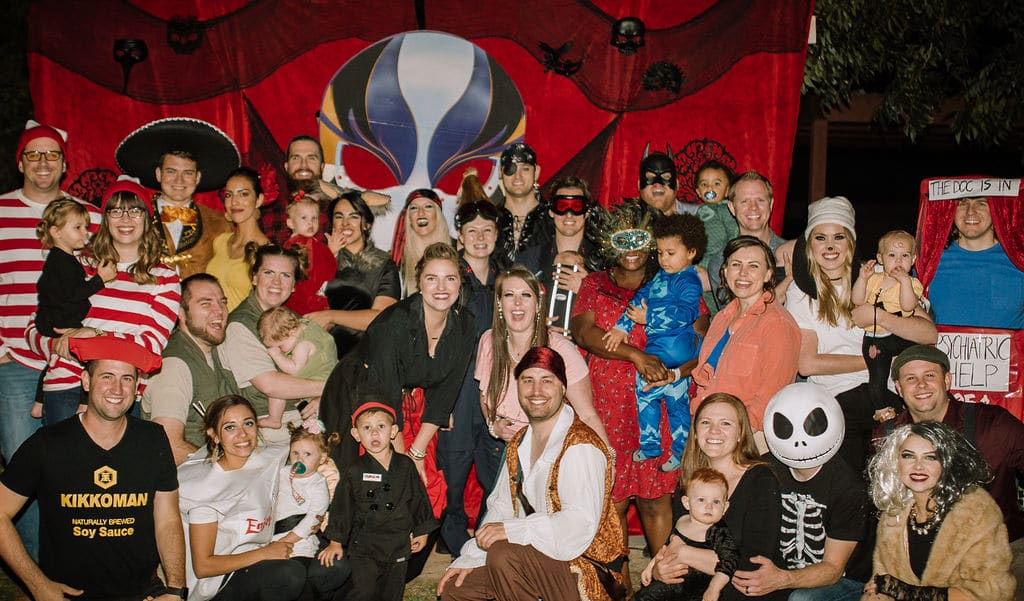 I guess the moral of this story is if you aren't lucky enough to have amazing friends who set up the best party each year. be those friends! People love to get together. It's so fun to dress up as a couple or a family. We all find ourselves doing anything to get to this party. Adults really need fun social time. And best of all, it's a date that helps create memories as a couple or as a family.
Like this Halloween Costume party? You may like these posts too:
Halloween Activities for Kids + Families: 14 Halloween Traditions