Halloween Rice Krispy Treats
Halloween Rice Krispie Treats are not only easy, they're spooky good! The best Halloween Rice Krispy Treat recipe that's simply eerie-sistible!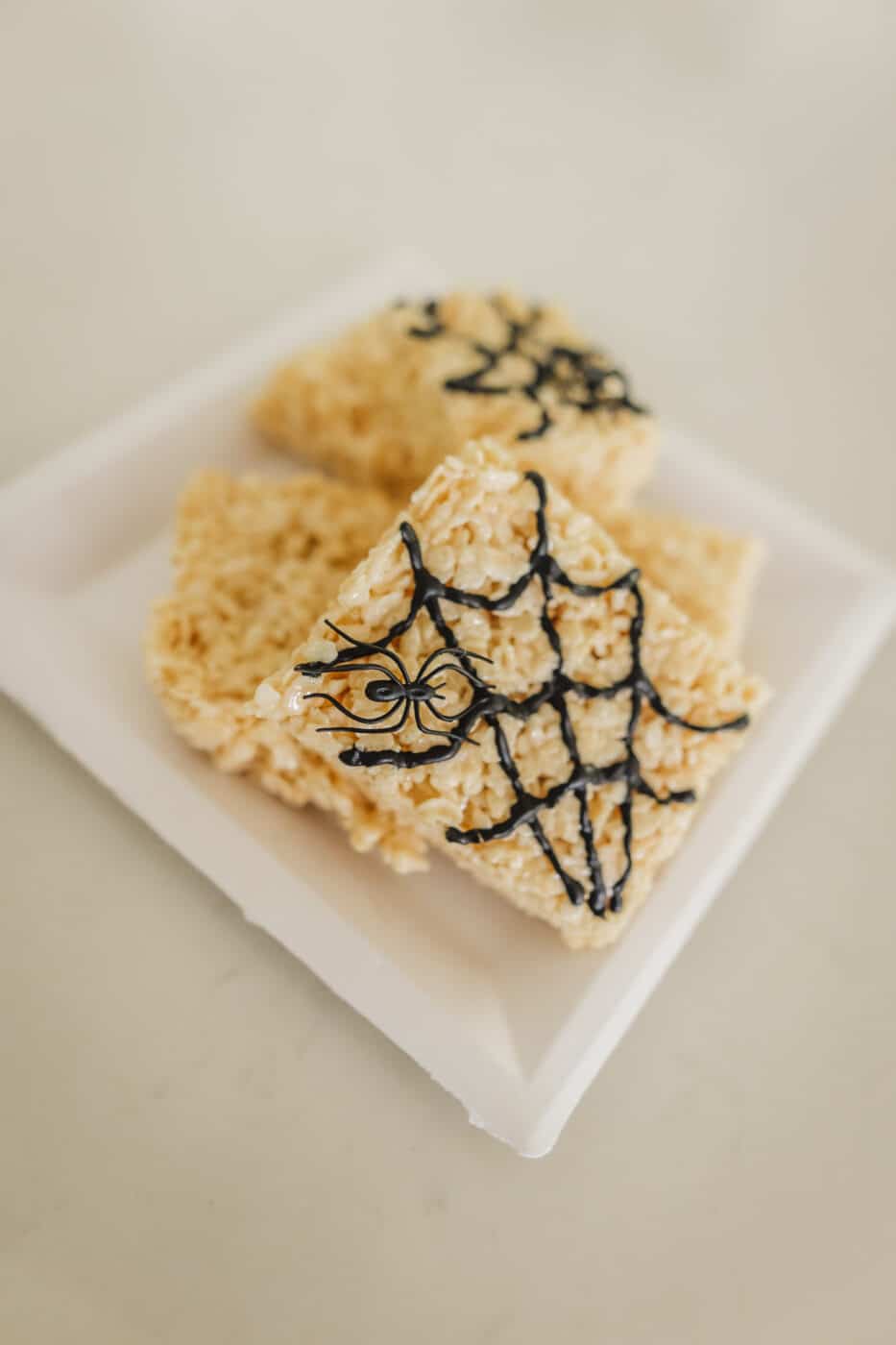 One of our favorite Halloween treats is making a pan of Halloween Rice Krispie treats. They're frightfully easy to make, only take a few ingredients, and they're always a big hit at any Halloween party or gathering!
Here is how to make the best rice krispie treats, and tons of Halloween rice krispy treat ideas to add in some spooky fun!
Yield: 15 treats
Halloween Rice Krispie Treats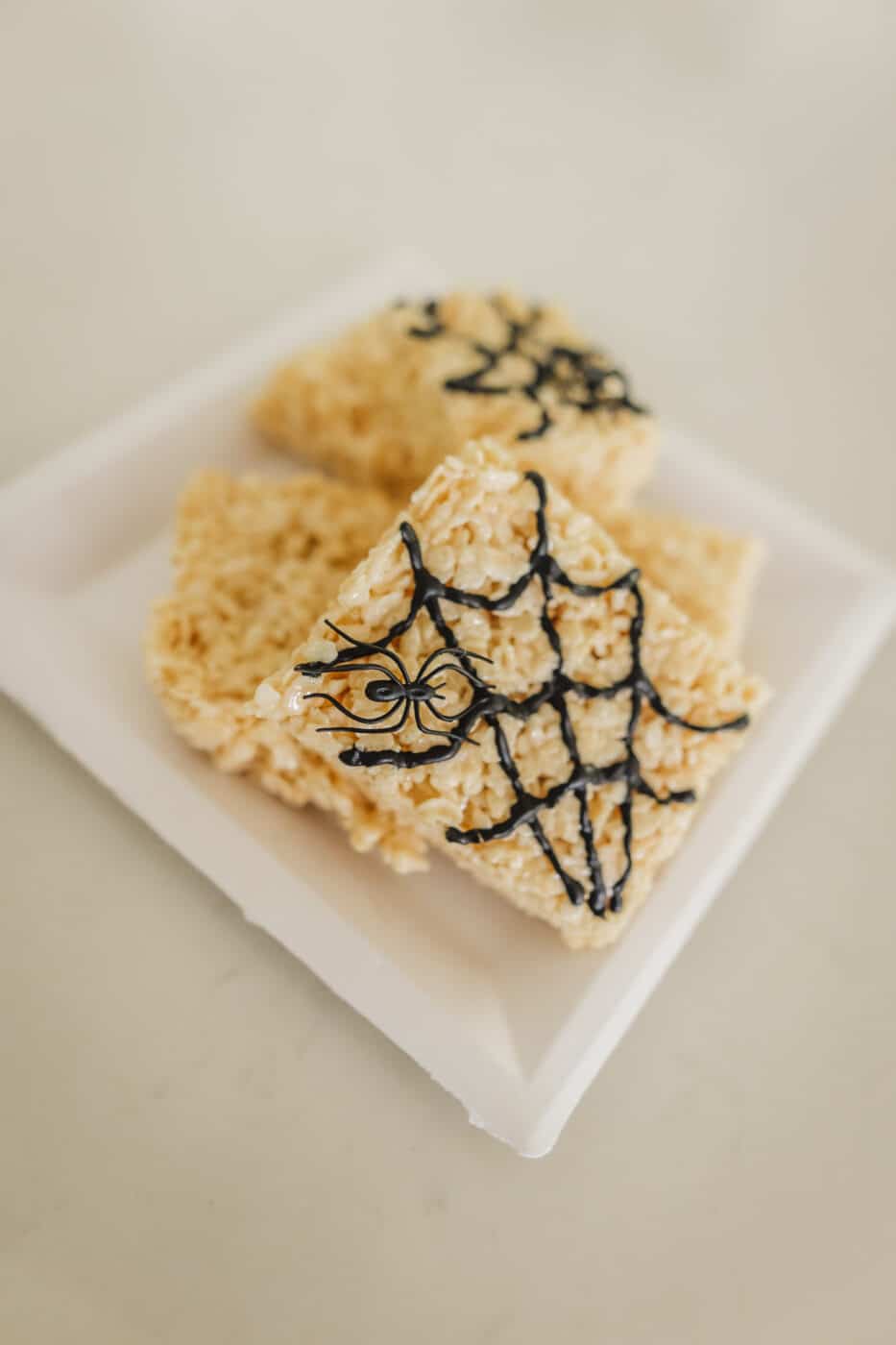 Deliciously spooky Halloween rice krispie treats that are so easy to make, and always a Halloween-themed favorite!
Total Time
1 hour
10 minutes
Ingredients
3/4 cup (1.5 sticks) butter
20 ounces (about 10.5 heaping cups) mini marshmallows
1/2 teaspoon vanilla extract
1/8 teaspoon salt
9 cups krispie cereal
Optional: Black frosting, spiders, food coloring, and candy eyeballs for Halloween designs.
Instructions
Prepare a 9x13 baking pan. Line it with parchment paper, and lightly spray the parchment paper with non-stick spray. I like to use coconut oil cooking spray.
In a large saucepan / large pot (large enough to prepare the recipe in), melt butter on medium-low heat.
Mix in the mini marshmallows, stirring constantly so they don't burn.
Once the marshmallows are completely melted, remove them from heat and add the vanilla and salt.
Optional: If you plan to color your Halloween Rice Krispies, add a few drops of your favorite food coloring in spooky colors and mix well.
Mix crispy cereal into marshmallow mixture.
Transfer mixture to the prepared pan, and spread gently to cover the pan. I like to use a s'poon or rubber spatula and gently spread so it stays fluffy and soft even after it sets.
Optional: If you want to add candy eyeballs or other Halloween candies, now is the time before it sets!
Let it set for at least an hour.
Optional: draw spiderwebs in black frosting, and top with a black spider.
Notes
1. For better cutting options, lift the parchment paper out of the pan and then cut it into squares.
2. Cut 3 rows vertically and 5 rows horizontally for a perfect-sized shape.
3. Place in an airtight container and cover and store leftover treats at room temperature for up to 3 days. If layering, add parchment paper between layers to prevent sticking.
Nutrition Information:
Yield:
15
Serving Size:
1
Amount Per Serving:
Calories:

107
Total Fat:

2g
Saturated Fat:

0g
Trans Fat:

0g
Unsaturated Fat:

1g
Cholesterol:

0mg
Sodium:

113mg
Carbohydrates:

22g
Fiber:

2g
Sugar:

8g
Protein:

2g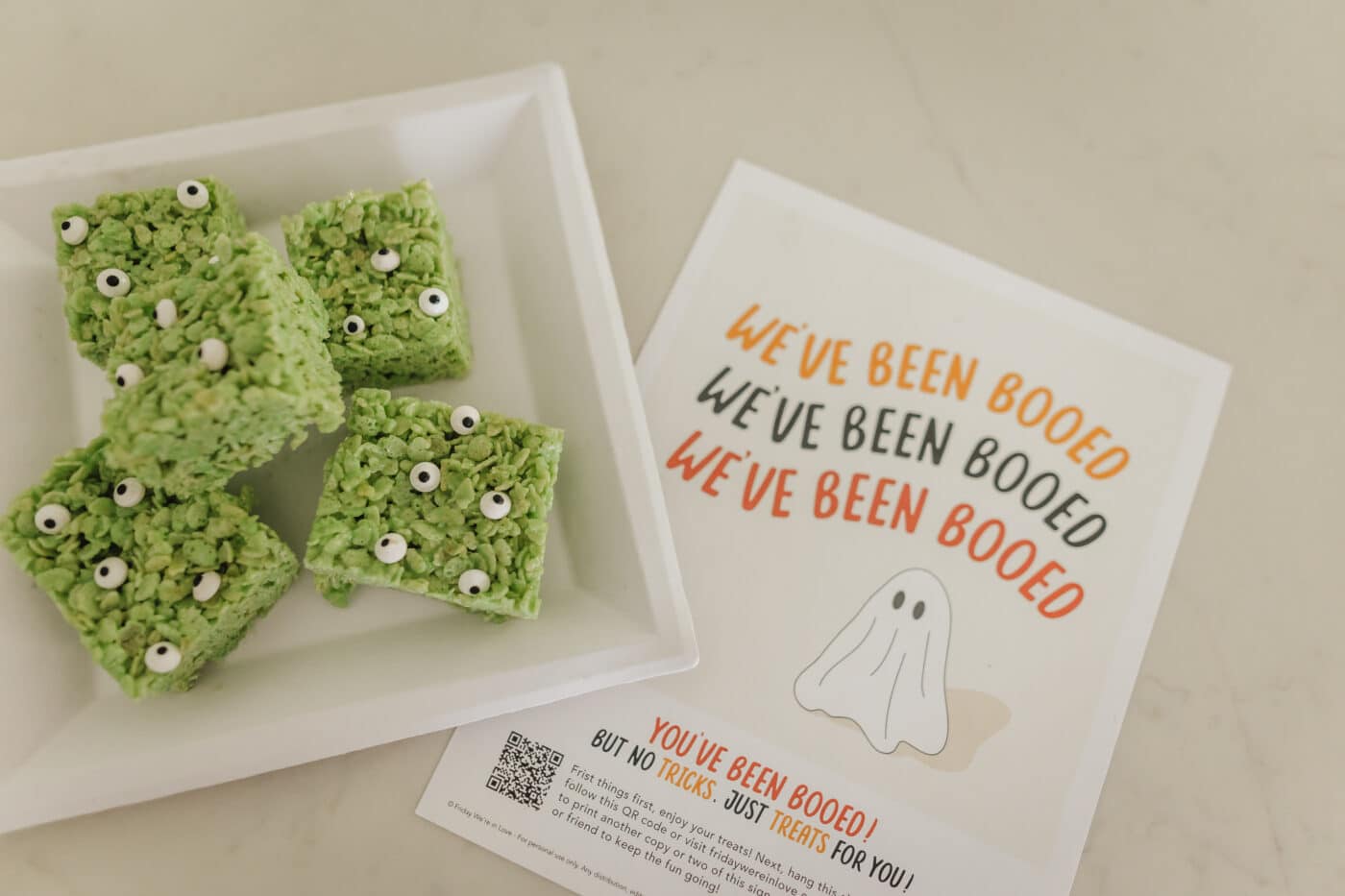 Fun Halloween Rice Krispie Treats Ideas
Spider Web Halloween Rice Kripsy Treats
If you love classic rice krispie treats, a simple spiderweb and spider is a great idea! Draw a small web in one corner. Add a small plastic spider to the frosting before it dries.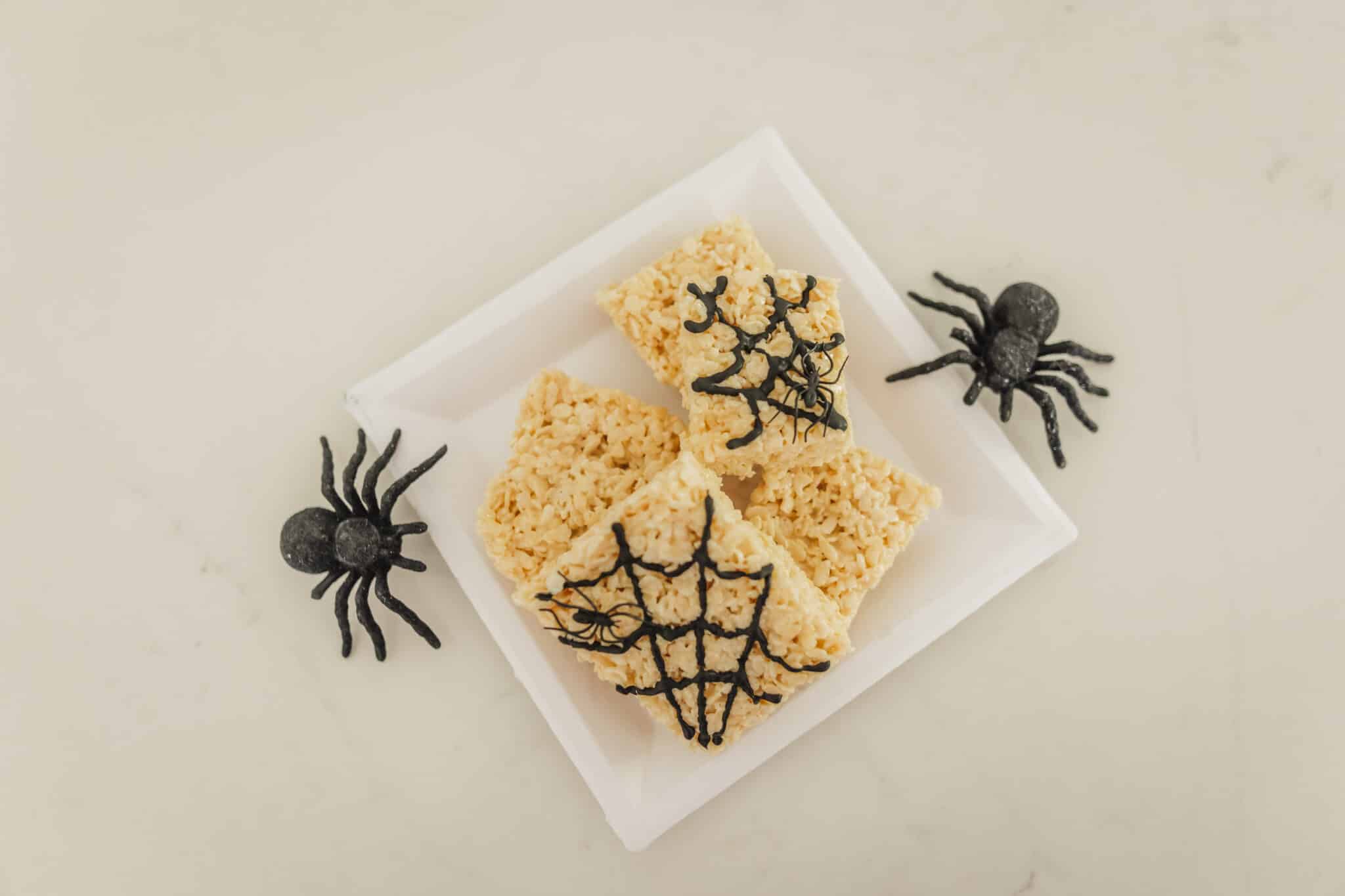 Frankenstein Rice Krispie Treats
Dye your classic batch green. After they've set you cut them into squares, add two candy eyeballs. Finish with some black frosting to create hair and face. And don't forget the most iconic part: the classic Frankenstein scar.
Halloween Sprinkles
Perhaps the easiest way to give homemade rice krispie treats a Halloween makeover is to add some Halloween sprinkles. Before your treats cool and set, sprinkle your favorite Halloween sprinkles on the top and let them set into the treats.
Spooky Cereal Variety
Instead of using Rice Krispy Cereal, grab a Halloween cereal variety like Boo Berry Ghosts or try a chocolate flavor with coco puffs.
Monster Rice Krispie Treats
Mix in some green food coloring (or orange, or purple), and add in some candy eyes for a cute spooky dessert kids just love!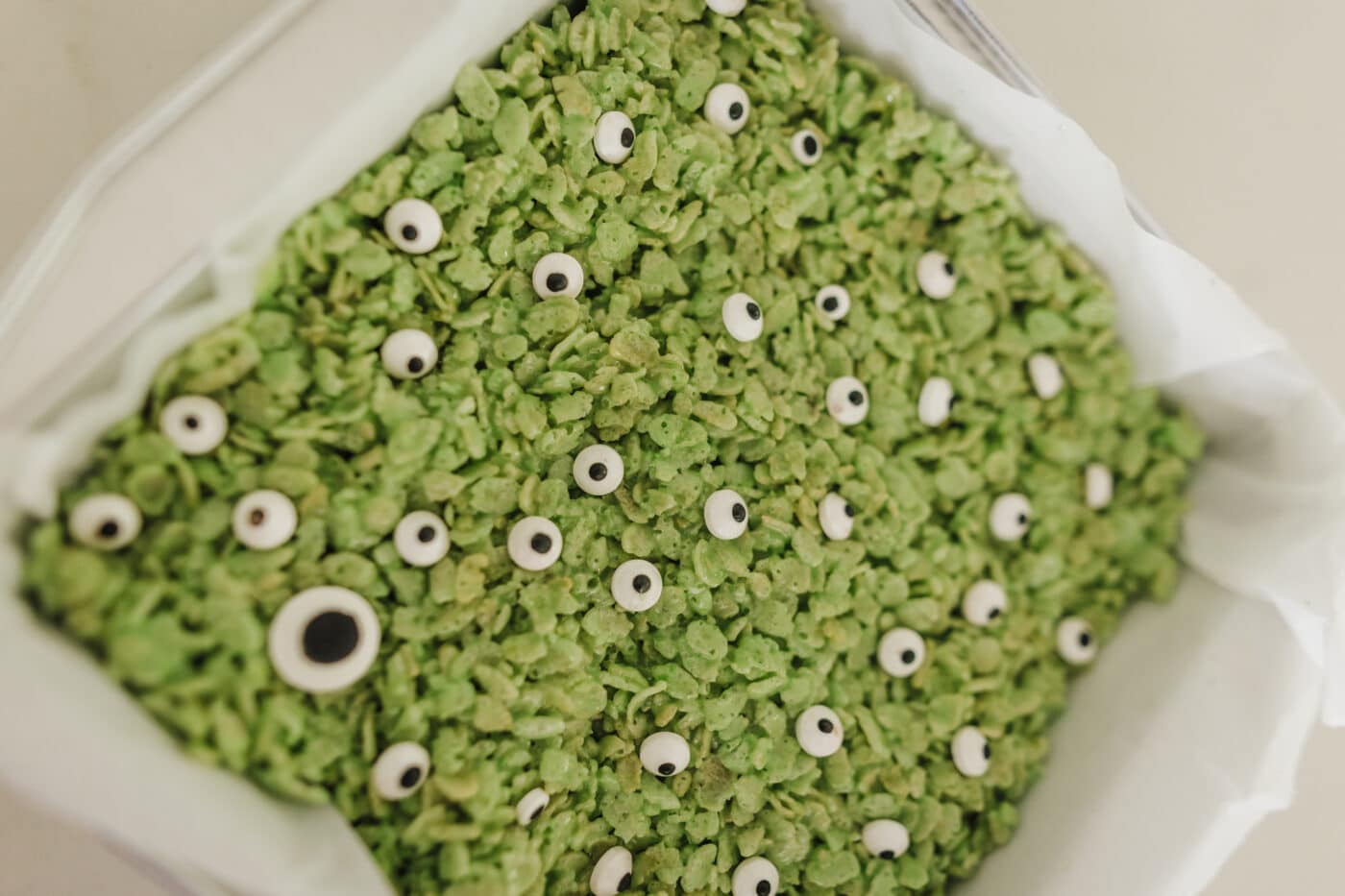 Pumpkin Krispie Pops
Use orange food coloring to dye your homemade rice krispies orange. After you cut it into squares, insert a green popsicle stick. This will make your treats look like a pumpkin with a stem.
Candy Melt Coated Treats
There's something stunning about a half-dipped rice krispie treat. They look and taste amazing!
After your treats have set and been cut into squares, melt candy melts in the microwave according to their instructions. Dip half your treat into the melts and let them set on parchment paper.
A combo of half orange candy melts and half black candy melts make for a to-die-for platter perfect for a Halloween party!
Use Cookie Cutters
Grab some fun Halloween-shaped cookie cutters, and make some fun Halloween treats in spooky shapes.
This takes little time and is a fun one to do with kids!
Candy Corn Crispy Rice Cereal Bars
If you love candy corn, add some right to your mixture after your 9 cups rice krispie cereal are added. I'd recommend 1-2 cups. Save a few extras to top for a fun garnish.
M&M Rice Krispy Treats
Get a bag of Halloween M&M's and place them on top of pan before the rice Krispies set. This simple addition adds a fun texture and color with hardly any additional prep time.
Halloween Rice Crispy Treats FAQs
Why do my rice crispy treats get hard?
If you increase the temperature too quickly (like using medium or high heat), the marshmallows get too hot. It turns the sugar in the marshmallows into a candied texture that leaves rice crispy treats a harder texture.
What happens if you put too much butter in Rice Krispie Treats?
Too much butter in Tice Krispie treats changes the composition to have too much liquid and fat contents. This results in a soggy and sticky slice. Alternately, too little leaves a more stale and hard texture.
Are Rice Krispie Treats gluten-free?
This is going to depend on the type of cereal used. Not all crispy rice cereal is created equal! Be sure to read the box and verify the contents to make sure you're making a gluten-free bath if that is what is intended.
How Far in Advance can I make rice crispy treats for a party?
Rice Krispy Treats will always be better fresh. But you can store them in an air-tight container for up the three days.
If you need to prep in advance for a party, the day before is the ideal time to make them.
Like this Halloween recipe? Be sure to check out these posts too:
Spooky Halloween Punch for Kids