25 Cute Printable Halloween BINGO Cards
Grab our FREE 25 Cute Printable Halloween BINGO cards ready for your next Halloween party! This Halloween party game is fun for all ages!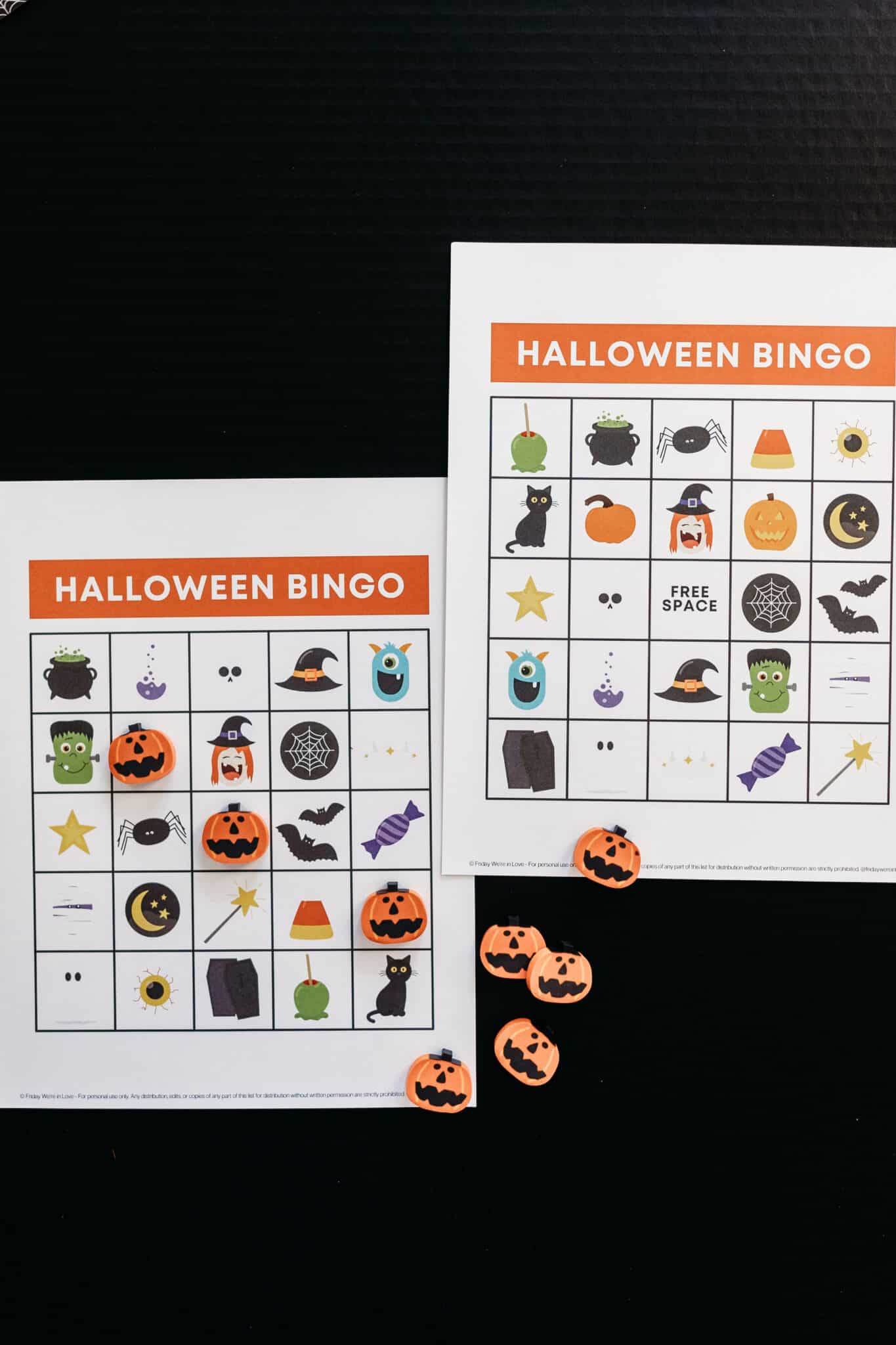 As we officially kick off the Halloween season, children and adults alike prepare with spooky decorations, delicious seasonal food, and, of course, Halloween parties. One of the best ways to add some fun to the mix is through games! And we're here to hook you up and make it easy with a free printable Halloween BINGO game!
That's right, free printable Halloween BINGO cards with 25 different cards ready to go! It's a great game to enjoy with small groups, with your family, or even for a classroom Halloween party. Last year we launched our Christmas BINGO printable, and it was such a hit, I knew we had to do a Halloween version this year!
Dive into the spooky season with the ultimate free printable Halloween BINGO game. Perfect for Halloween parties, class parties, and a guaranteed hit with young children.
If you've been looking for the perfect activity to spice up your class or family festivities, you've landed in the right place!
Grab the fun Halloween BINGO cards are ready to download and celebrate the spooky fun with you!
Grab the FREE Printable Halloween BINGO Cards
Instant Download
No more waiting! This free download gives you access to a pdf file that contains everything you need. But remember, these cards are for personal use, so enjoy them with your friends and family.
*For personal use only. Teachers and room parents are permitted to download and use it in classroom settings.
Why Halloween BINGO?
It's a fun game that's suitable for both young children and adults. We're clearly a little partial, but we designed unique bingo boards with the cutest Halloween imagery! With different themes like a black cat, costume elements, a haunted house, and irresistible Halloween candy, we think you'll love these cards that make for a fun Halloween party game!
What's Inside the BINGO Set?
Different Bingo Cards
No one likes repetition! That's why this set offers 25 unique cards for everyone to enjoy. This way, even if you play multiple rounds, no two experiences will be the same.
Printable Note:
If you're planning to use these for a kid's class party and need more than 25 Halloween BINGO cards, I'd plan to just print double and note that you may have two winners. It's an easy way to utilize the free printable fgame boards with a larger group! There are 25 unique cards, so you can still use these free bingo cards with up to 50 kids for a classroom holiday party. And trust me, kids don't mind one bit if there are two winners! They still have a great time!
Just plan to get a bonus prize for your larger group if you might have more than one winner.
Calling Cards
Just like traditional bingo, our free Halloween bingo cards come with their own set of calling cards. These can be shuffled and placed in a draw pile for the game master to pick from.
And don't forget to get…
Bingo Markers
(not included in the download)
You can choose to use small items like plastic spiders or Halloween erasers as bingo markers. A pen or pencil on printed cards also does the trick. You could also use dry-erase markers if you're playing on laminated cards. Another fun idea? Use candy corn or other Halloween candy as markers!
For the younger ones, especially younger children, you can use bingo markers from a dollar store. They're easy to handle and can be a great addition to the game.
Here's how to use them:
Each person will need his/her own bingo cards to play plus enough markers for each space on the BINGO free printables. So make sure you download the printable bingo cards and make sure each person has their own game board and markers ready to play!
You can certainly print these at home, but if you want a higher quality print, they are professionally designed and optimized to send to a printer. Many people love to download them and laminate the different cards to use over and over again at Christmas time. But a simple home print job also works great.
How to Get the Best Cards
Print on Card Stock
For the best results, it's a good idea to print your free Halloween printables on white cardstock. This makes the cards durable and sturdy.
How to play a game of BINGO:
Playing BINGO is a great way to have some fun for the entire family!
Here's how you play bingo step by step.
Each player needs a BINGO card. This is a card with a 5×5 grid of numbers, with the center square typically given as a "free space".
In traditional BINGO, the spots are numbers, and a caller will draw a number randomly. If the number is on your card, mark it off. If you're using our free printable Halloween party game, the caller will draw an image from the pile and announce it to be marked off. It helps young children get to play, and adds some spooky fun to this classic game!
The goal is to get five numbers marked off in a row, either horizontally, vertically, or diagonally.
The first player to do this calls out "BINGO!"
The caller verifies the card and the winning player is declared.
And many people add a prize for the winner for the best results to keep everyone competitive and engaged! We'd recommend something the whole family would enjoy for family game night. Or think of fun things kids love if you're using it for classroom use.
Halloween BINGO Frequently Asked Questions (FAQ)
How do you play Halloween BINGO?
Playing Halloween bingo is easy and fun! First, you'll need Halloween bingo cards, which you can either purchase or create yourself with Halloween-themed images or words in the squares. Next, gather a group of players and some bingo markers, such as candy corn or small Halloween-themed objects. The game caller draws random Halloween-themed items and calls them out to the players. If a player has the called item on their bingo card, they mark it. The first player to complete a row, column, or diagonal by marking off all the called items shouts "Bingo!" and wins the game. It's a great way to add some festive entertainment to your Halloween celebrations.
How do you make a fun BINGO game?
Here are 16 ways to make a BINGO game more fun:
Thematic Bingo Cards: Create bingo cards with fun and engaging themes related to the occasion or event.
Exciting Prizes: Offer attractive prizes for bingo winners to add an element of competition and anticipation.
Variety of Bingo Patterns: Mix up the traditional 5-in-a-row bingo with different patterns like X, T, or blackout for added excitement.
Interactive Game Caller: Have an enthusiastic game caller who engages the players with jokes, commentary, or themed announcements.
Thematic Decor: Decorate the bingo playing area with decorations that match the theme of the game.
Background Music: Play festive or themed music in the background to enhance the atmosphere.
Special Rounds: Add special rounds or bonus games within the bingo session to keep players engaged.
Custom Bingo Daubers: Provide colorful and thematic daubers or markers for players to use.
Costumes: Encourage participants to dress up in costumes related to the bingo theme.
Interactive Bingo Cards: Use digital bingo cards on smartphones or tablets with interactive features for a modern twist.
Themed Snacks and Refreshments: Serve snacks and drinks that align with the bingo theme.
Personalized Bingo Calls: Replace traditional bingo calls with themed or humorous phrases related to the event.
Family or Team Bingo: Play bingo in teams or as a family, encouraging collaboration and social interaction.
Prize Wheel: Incorporate a prize wheel for additional chances to win prizes.
Bingo Challenges: Include fun challenges or trivia questions between bingo rounds for bonus prizes.
Adding these elements can make your bingo game more enjoyable and memorable for everyone involved.
How many bingo games can be played in an hour?
The number of bingo games that can be played in an hour can vary depending on several factors, including the speed at which the games are called, the complexity of the bingo patterns, and the efficiency of the players in marking their cards. In a traditional bingo hall setting, where games are called at a moderate pace with short breaks in between, you can expect to play around 8 to 10 games in an hour. However, in a faster-paced environment or with simpler bingo patterns, you might be able to play more games, while in a more leisurely setting, fewer games may be played.
Fun Halloween Activity
The printable Halloween BINGO card is more than just a game. It's a bonding experience for the whole family, a fantastic class party activity, and one of the best Halloween games for groups of all ages out there. So, don't wait for the next Halloween party. Grab your set now, and let the fun begin!
Like this fun Halloween printable? Be sure to check out these posts too:
Halloween Activities: 50 Ways to Celebrate Spooky Season
Q Tip Skeletons with Free Printable
Handprint Halloween Crafts + Free Printable Templates