Pin the Nose on Rudolph Printable Game
Need a great holiday game for kids? Grab our free Pin the Nose on Rudolph printable game! It's lots of fun for even the youngest kiddos to get in on a holiday game night!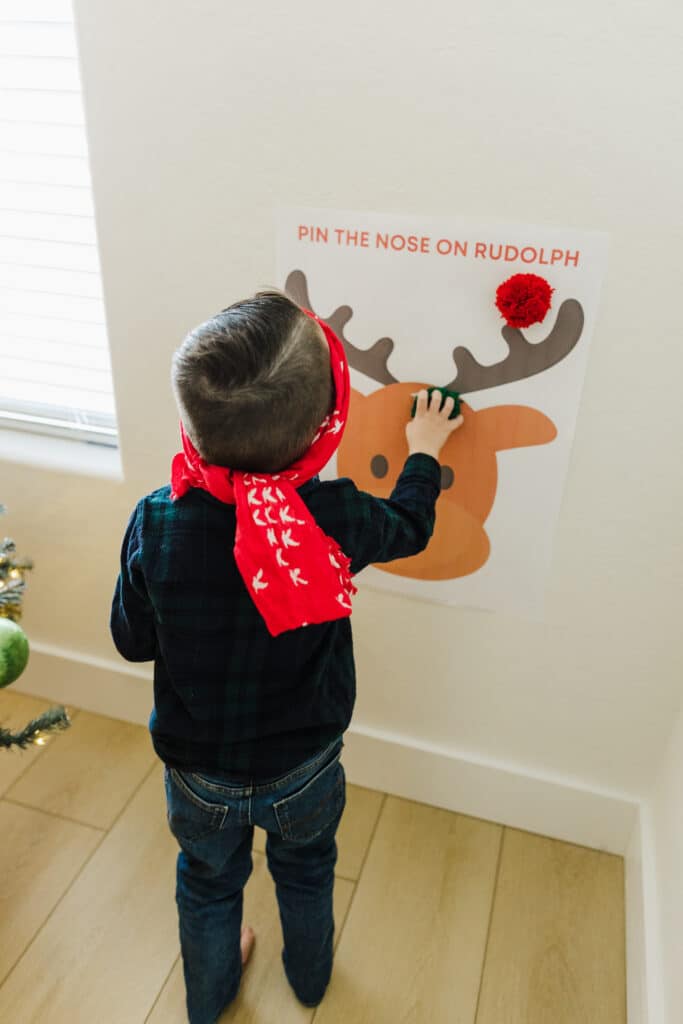 Pin the Nose on Rudolph
If you've ever played the traditional pin the tail on the donkey at a birthday child, get ready for a holiday twist that's a fun party game the whole family can play! We're turning the classic party game into a reindeer game and giving it away as a free printable Christmas game you can download and play this holiday season!
It's a perfect game for a class Christmas party, a play date, or a fun game for a family game night. It's one of those easy games that even younger kids can enjoy, but you also have a pretty even playing field if older kids or adults want to get in on the fun too!
And best of all, this Christmas fun can be done with our free picture of Rudolph game board, and a few simple craft supplies.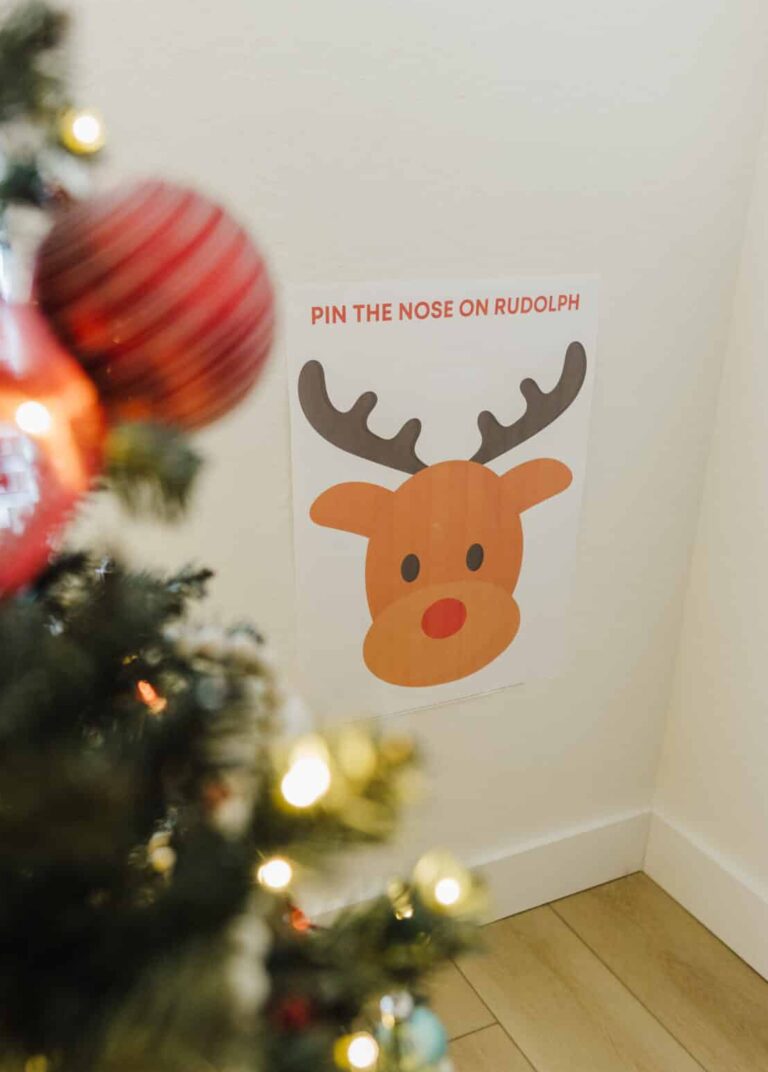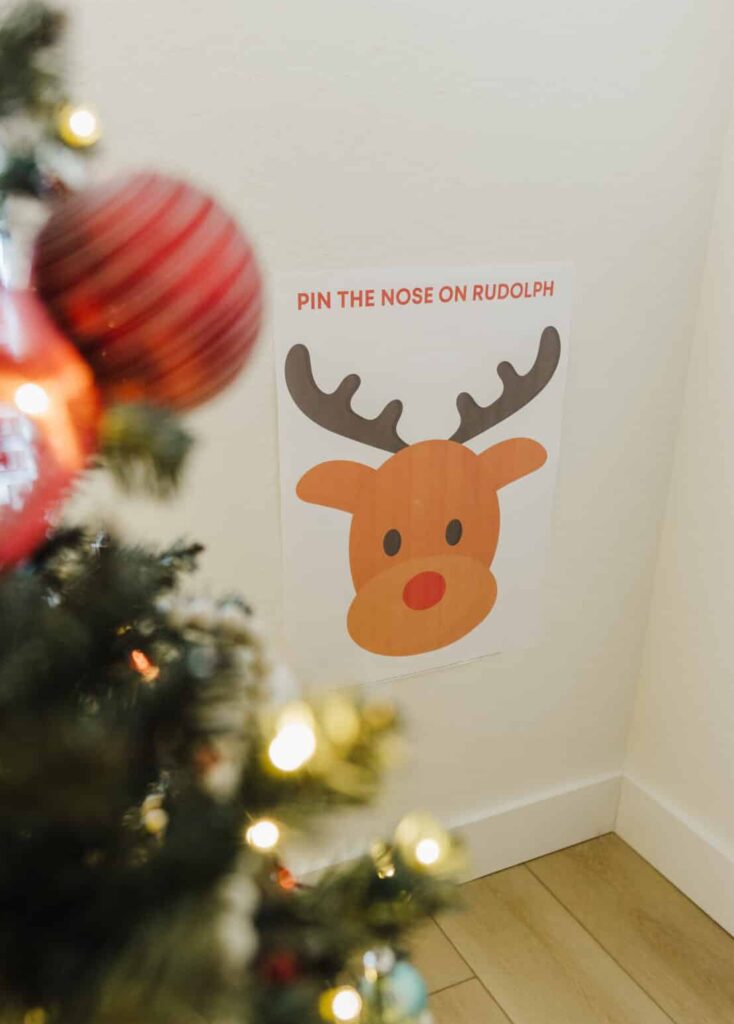 Supplies Needed:
A large printable picture of Rudolph/ rudolph's face (pst. grab out free printables)
Large red pom-pom/ DIY large red circles for the red nose for each player
Adhesive to attach to the back of the noses
Blindfolds for players (a scarf or bandana work really well)
Optional Items:
Timer if you're playing with a time limit
Additional Pom Pom/ large cotton balls/ paper set of noses for each player to have an additional turn
Note: If you can't find red pom poms, you can easily shift the Rudolph Christmas game into a reindeer name. Go with a black nose using black pom-poms to make a reindeer nose game instead!
Grab the Pin the Nose on Rudolph Free Printable Game Here!
The PDF file will download to your downloads folder, and you can print the free worksheet ready for your game!
Just a reminder this is for personal use only and copyrighted material. But teachers and church groups who want to print this and use it for classroom holiday parties (or even as a send-home Christmas gift) are permitted to do so. Please enjoy this free gift, and thanks for all you do to add some holiday fun in your classrooms!
How to Print Poster Prints on the Cheap
Did you know Staples does large blueprint/Engineer prints for only a couple of dollars? You can send it to their print shop and usually get your fun Christmas game printable templates enlarged and back in about 24 hours. They also have quite a few sizes so you can get a bigger image, or go with a medium or small one if that works better for your space.
Check out all the details in this blog post all about how to create giant engineer prints.
You can certainly opt for a professional print job and even get it laminated. But we opted to only spend about $5 to get a color engineer print of Rudolph's face, and it did the job perfectly!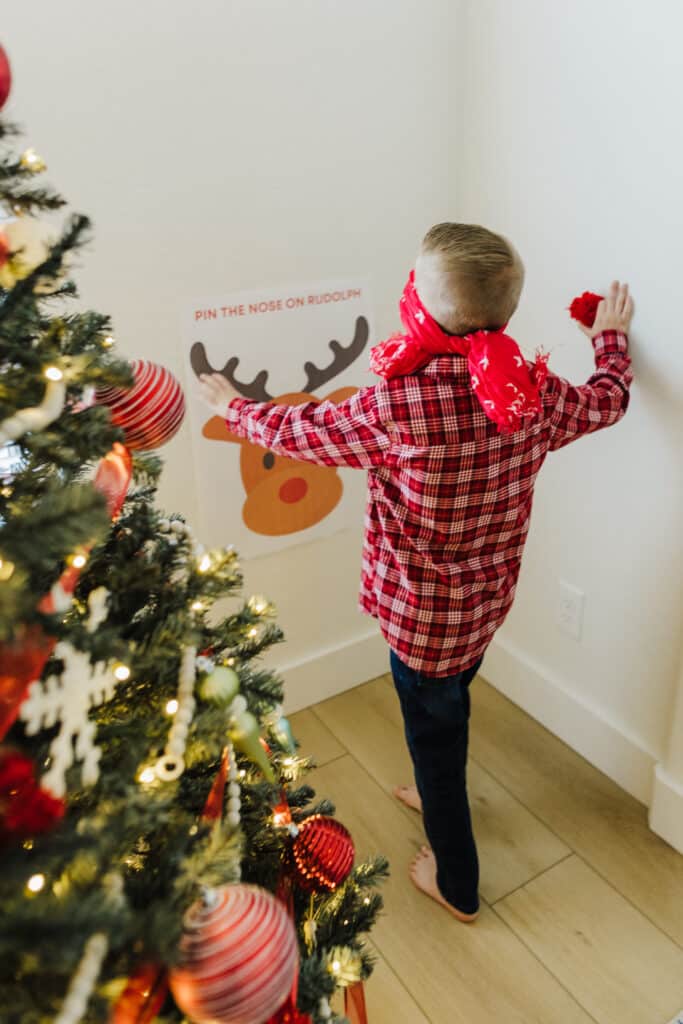 How to Play Pin The Nose on Rudolph the Red-Nosed Reindeer
Download our free Christmas printables, and get Rudolph the Red-Nosed Reindeer ready for the fun!
Print the Game (see instructions above) and hang the poster on the wall
Blindfold the first player and spin them around 3 times.
Have the player then try to place the nose on Rudolph.
Take turns letting each player attempt to place their pom-pom on Rudolph's face, as close to the center of the nose as possible.
The player who places Rudolph's nose closest to the correct place is the winner.
Note: If you have players with over a year age difference, you can even the playing field with a time limit for older players. Also, you can close the age gap with a greater distance to the game board for older players. Also, you can require additional spins for older players and fewer or no spins for the young children.
Christmas Game for Kids
It's a great way to get in the holiday spirit! We've also found most kids cheer each other on like they are a team members. It's really sweet to see! Is there anything better than your siblings/cousins/friends/classmates cheering a child's name in encouragement?
We hope you enjoy this freebie as much as we enjoyed making it. And may it bring some laughter, smiles, and a lot of fun as you play some Christmas games together this holiday season!
Photos: Chrissy Blake
Like this fun Christmas activity? Be sure to check out these posts with free printables and fun ideas too!
Christmas Bingo! Free Christmas BINGO Cards Printable
Merry Christmas Finger Painting Ideas: Free Christmas Tree Finger Painting Download!
Christmas Dot Painting: Q-tip Tree Painting FREE Printable
Get 365 Date Ideas!
We want to help you have the best date nights ever! Grab this FREE printable with 365 date ideas, a date for every day of the year so you never run out of ideas!