How to make your own Christmas sensory bins, where to buy great Christmas-themed sensory bins+ Christmas cookie play dough kit tutorial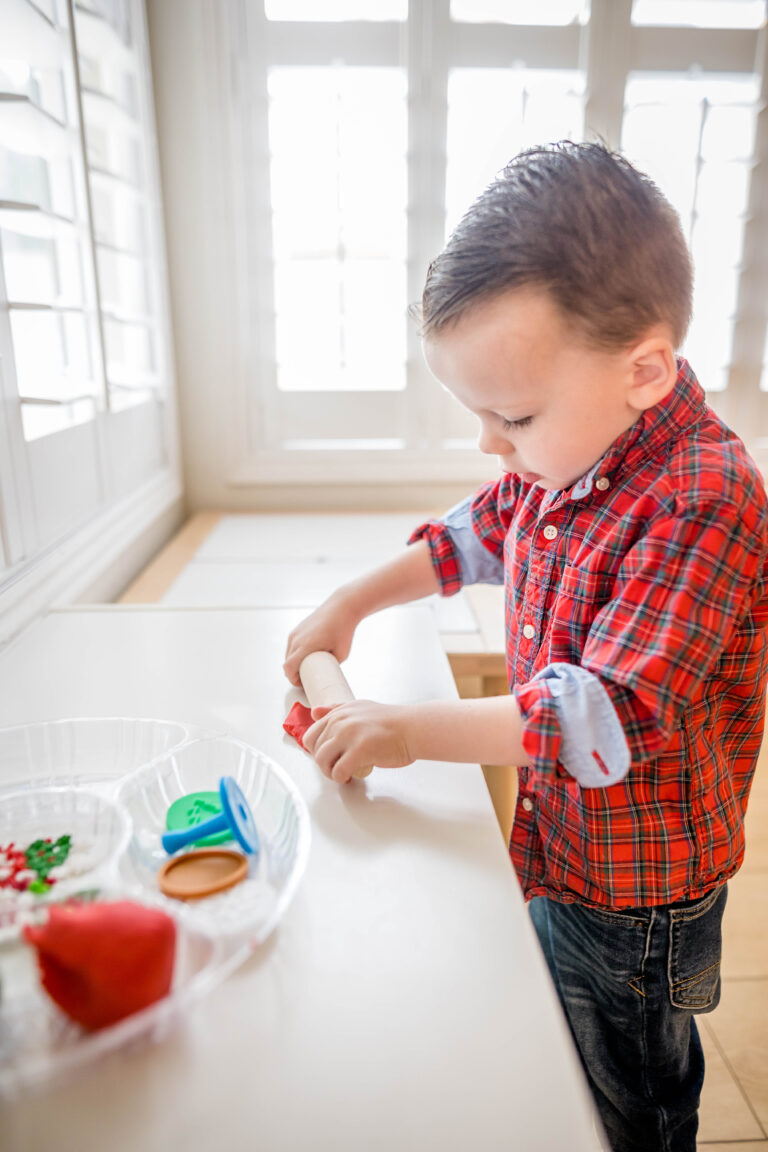 If you have a busy toddler or preschooler you'll love sensory play! A good sensory activity can keep younger kids occupied for literal hours! Any parent will tell you that sounds like a fake time frame miracle, but it's true! And this holiday season, Christmas sensory bins will be your best friend!
There are a few ways to go about this. If you're not the crafty type, don't worry, we have you covered with a few fun Christmas sensory bins you can purchase. But if you're looking to save a little cash, you won't believe how easy it is to create some themed Christmas sensory activities with things you likely mostly have on hand.
Create Your Own Christmas Sensory Bin
If you're feeling ready to make your own, we have some fun, EASY Christmas sensory bin and Christmas playdough kit ideas for you!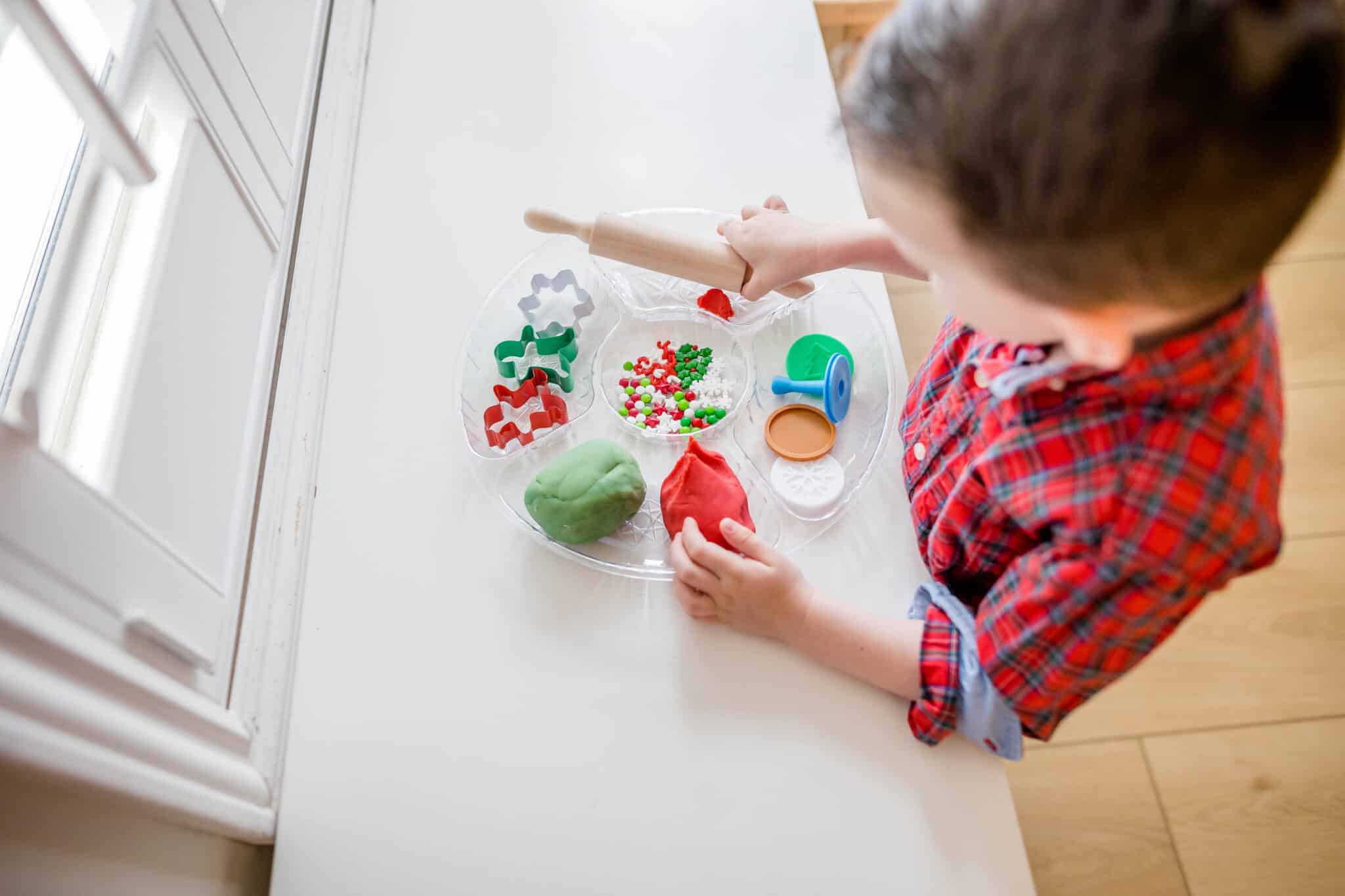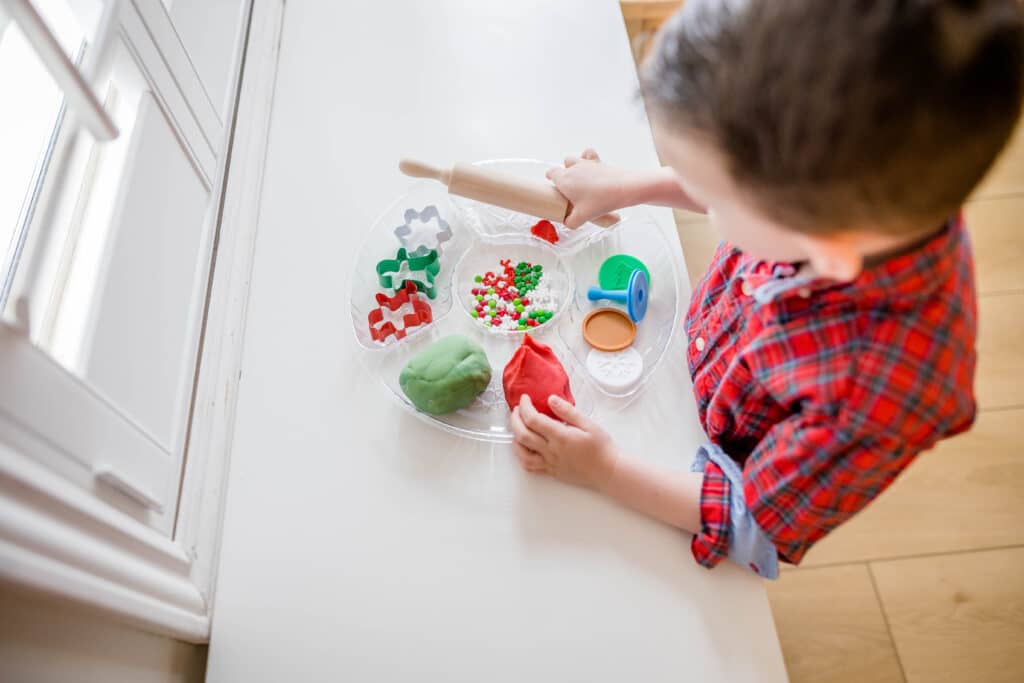 Christmas Cookies Sensory Bin

While rolling out sugar cookie dough, I realized quickly I could make some manipulatives and let my son live out his childhood dream of creating Christmas sugar cookies every day! This may be the easiest sensory bin to put together, and it's one they can use over and over while they work on fine motor skills!
Yield: 1 Kit
Christmas Cookies Play Dough Kit
Let your little one make pretend Christmas cookies over and over again with this Christmas cookie playdough kit! Everything you need to create your own Christmas cookie sensory kit.
Materials
Optional: Cookie Stamps (we found ours in the Bullseye spot)
Optional: Tray from Dollar Tree
Tools
Instructions
Use our Homemade Play Dough Recipe to make a few colors of play dough to work with. Red and green are perfect, but you can do anything you'd like!
Place the Play Dough, rolling pin, cookie cutters, and cookie decorating supplies on a tray for kids to easily find different items to play with.
Encourage them to get creative and roll out the dough and cut out their own cookies. Let them decorate however they wish!
Clean up, discard used sprinkles, and set it up all over again for more Christmas sensory play!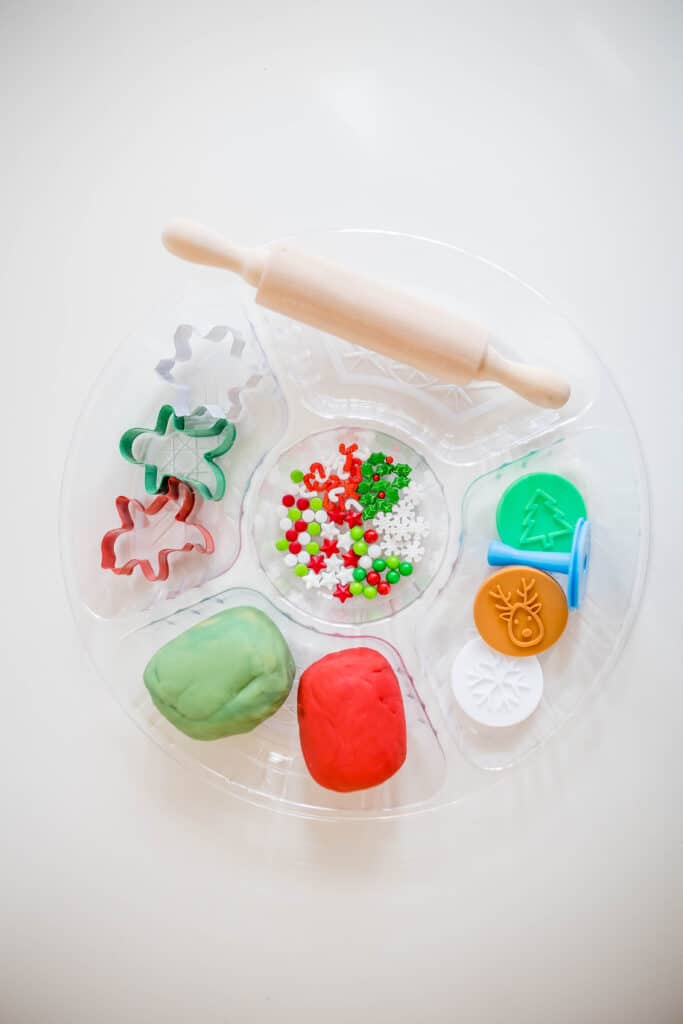 Christmas Tree Sensory Bin
I created my own by purchasing these Christmas tree play dough molds. It was easy to use other colors of play dough as ornaments. But you can grab some small jingle bells, and pompoms, or use sprinkles.
Alternately, many people love to use rice. Dye some green rice and let them use a tree-shaped cookie cutter to make a rough tree outline. You could also grab our Christmas tree template free printable and let kids fill in the tree with rice. It's an easy way to create some hands-on activities without playdough.
Also, let's check with a few cute bins you can purchase that can help with some inspiration and themed bin ideas! If you're feeling overwhelmed at the DIY, here are some places I highly recommend purchasing from!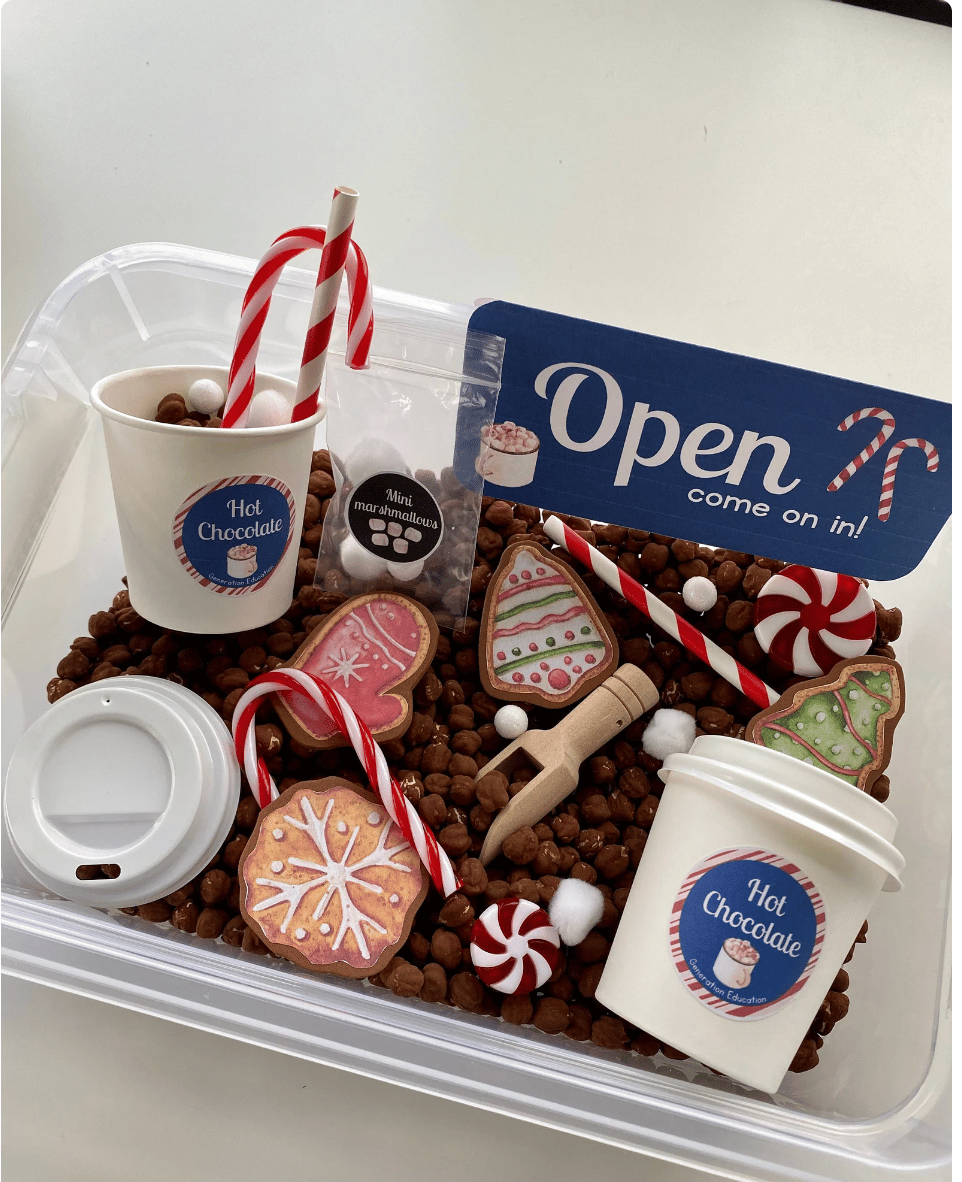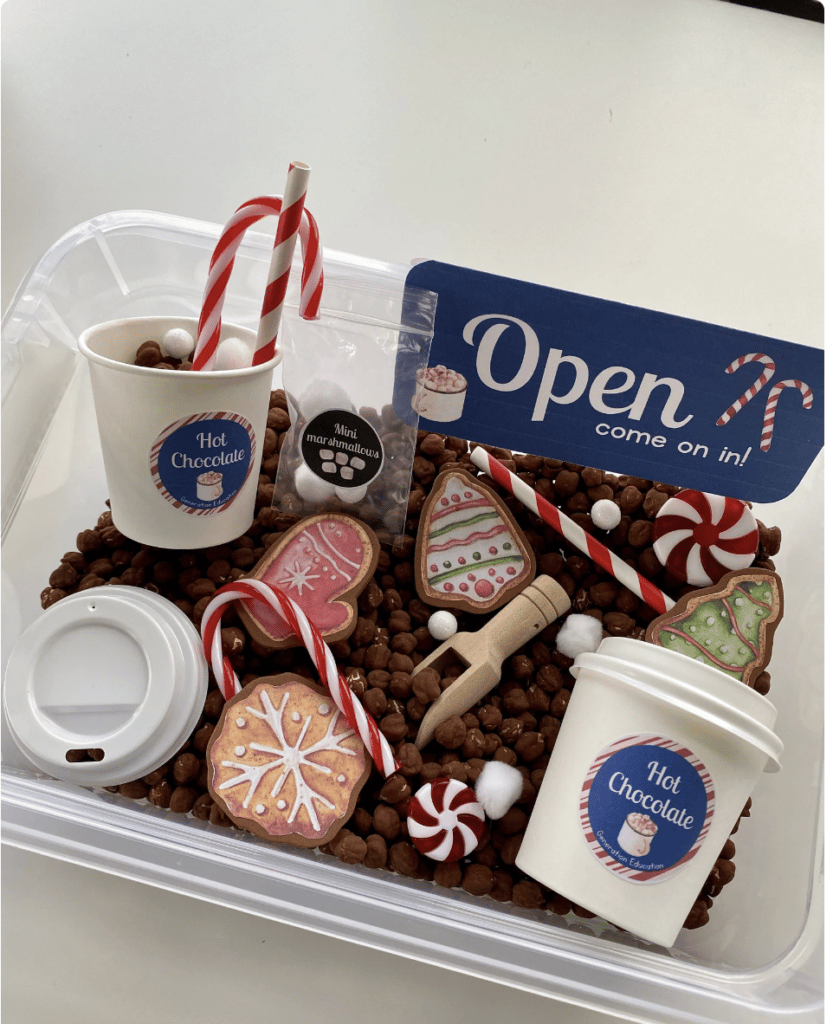 How cute is this hot cocoa sensory bin from this seller?

We ordered a very similar set last year from my friend and often our photographer Chrissy who does Out of the Box Play. After I ordered her hot chocolate kit and I can't believe how much my son played with it! He loved using cocoa puffs as a filler. We also loved the cute sensory play ideas! He loved the mini cups, the peppermint pieces, the plastic candy canes, the cute gingerbread man, and the straws to turn those little hands into a pretend hot cocoa shop. It seriously kept little hands occupied with sensory fun all of December!
She's taking a break this year, but there are a few similar bins on Etsy.
Rudolph the Red-Nosed Reindeer Kit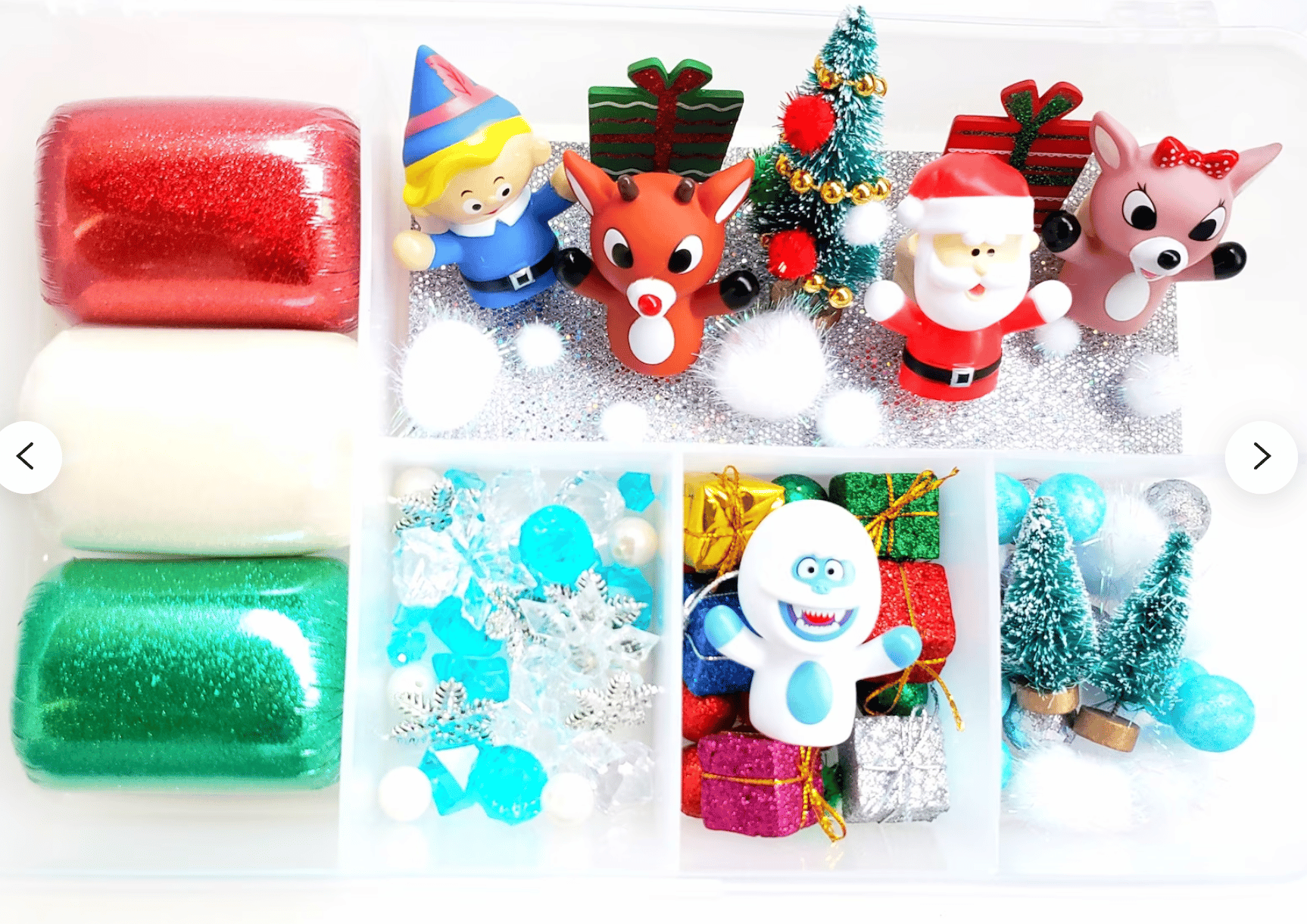 Confession: I've ordered a few kits from this Etsy seller, and can tell you first hand she does excellent work!
This Rudolph the Red-Nosed Reindeer kit is one the cutest I've seen!
I love when characters and play dough or cloud dough coincide. Or rather, I should say my kids really love it! There are so many cute Nativity options on Etsy!
Hopefully, those helped with some inspiration and some great places to order cute sensory bins from some of the top sellers!
And most of all, may it help you have some fun resources to help manage the chaos and excitement of little people this holiday season!
Be sure to check out these fun Christmas activities for kids
Christmas Lights Scavenger Hunt With Free Printable
Free Christmas Dot Painting Project
Christmas Fingerpainting Ideas with Free Template!
Playdough Mats: Free Printable Play doh Mat Templates
Get 365 Date Ideas!
We want to help you have the best date nights ever! Grab this FREE printable with 365 date ideas, a date for every day of the year so you never run out of ideas!