If you need to help kids get the wiggles out or get some exercise when you're stuck inside, you should check out GoNoodle for kids!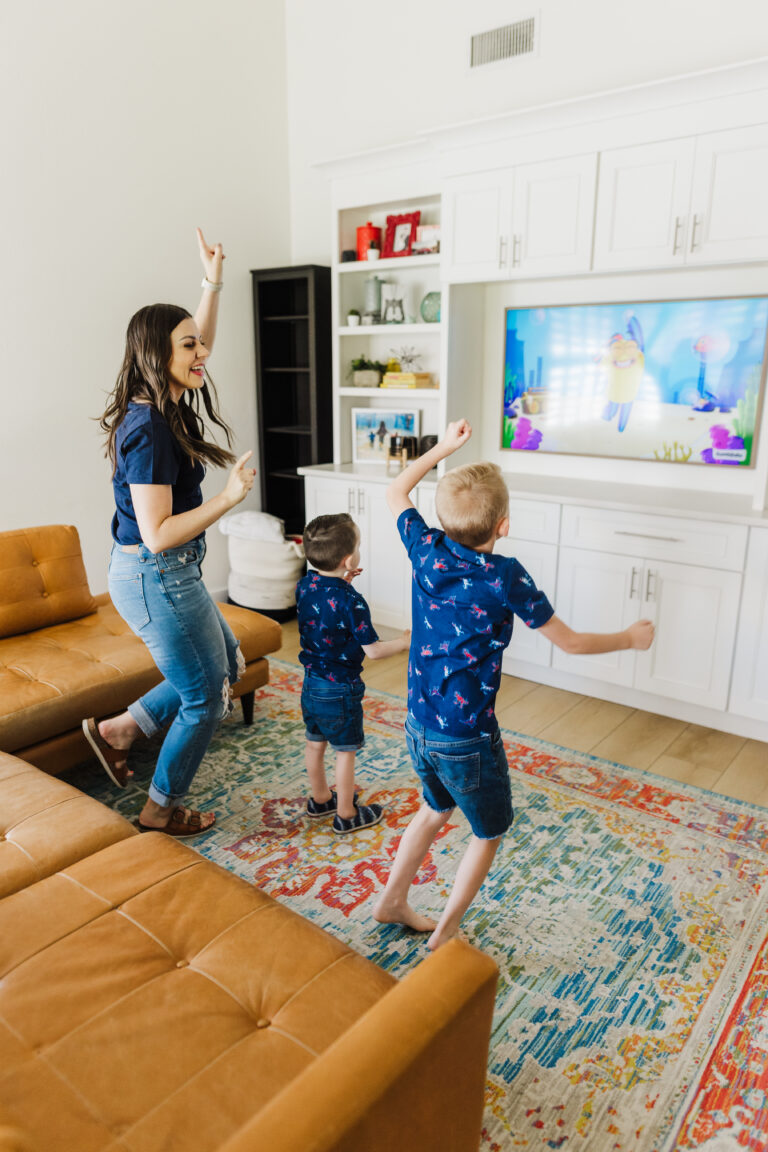 Long before my son entered elementary school, we learned about Go Noodle. We spent time with older cousins and came home with a newfound love of a FREE resource many schools utilize to help kids get moving! Seriously, GoNoodle for kids is one of those things every parent should know about!
It's perfect for indoor recess, a brain break, or just to channel that hyper energy every parent knows all-too-well.
We use it on rainy days, days we're stuck inside, and just as a fun way to get some wiggles out. Naturally, it's part of our Camp Mom summer program summer routine and summer schedule (and even daily schedule) to keep my kids active and mom a lot saner.
What is Go Noodle?
It's an interactive program of short movies kids move and dance to. They have a series of dance activities or guided fun mini-games to help promote physical activity for busy kiddos. Think of it like Just Dance

Schools use it as an alternative to recess or for quick brain break activities. Additionally, parents use their family program to help promote activity.
What is GoNoodle Used for?
It's designed to promote movement and help kids get their wiggles out! They're often known as GoNoodle Brain Breaks. Teachers use GoNoodle for kids in school to help kids get a learning break and be active.
And many a classroom teacher or adult caregiver will swear it helps save their sanity when kids have too much busy energy and need a healthy outlet!
How Teachers Use GoNoodle Brain Break Movies
It's truly a quick break and a good way to help students with some quick physical activity in a way that's tons of fun. It can help kids transition between the next activity, calm anxiety before a big test, or help increase student performance with some physical movement.
Teachers love the free brain break resource. And as a parent, I can tell you my kid really loves that it feels like a fun game or a free dance. When the weather keeps his class out of recess, the Gonoodle style videos feel like a much better way to get a break when outside play isn't possible.
How long are the movies?
They're fairly short! Only about 2-4 minutes. But you can certainly watch several back-to-back. This is a great way to keep kids of all ages moving for as long as you need (or they need)!
How much does the program cost?
It's free! There's a family program and a school program. The family program is available on their website, and also through their YouTube channel.
What are good GoNoodle videos to get started with?
Can't Stop the Feeling GoNoodle Trolls Mashup
This may be their most popular song and video. There are several GoNoodle collaborations with movies, networks, and artists. This is one of those songs that is loved by so many children. Also, it's a great workout to dance along to.
Popping Bubbles
This is a great one if you have younger kids or are just starting out. Even toddlers and preschoolers can follow along, and it's a catchy song!
Freeze Dance
This movie is on many a GoNoodle playlist. This movie features a classic freeze game. Participants do a game start and watch for queues to stop and freeze in place.
Banana Banana Meatball
This was our first GoNoodle movie! Let me tell you, it made my day to see older nieces and nephews show younger cousins the ropes! It's a dance-along movie that's great for all ages! Also, you may get the catchy song stuck in your head for a few days.
GoNoodle Youtube Playlists
If you want to turn it on and let kids get their wiggles out for more than a video, find one of their YouTube playlists and you'll get about 10 in a row with a set theme.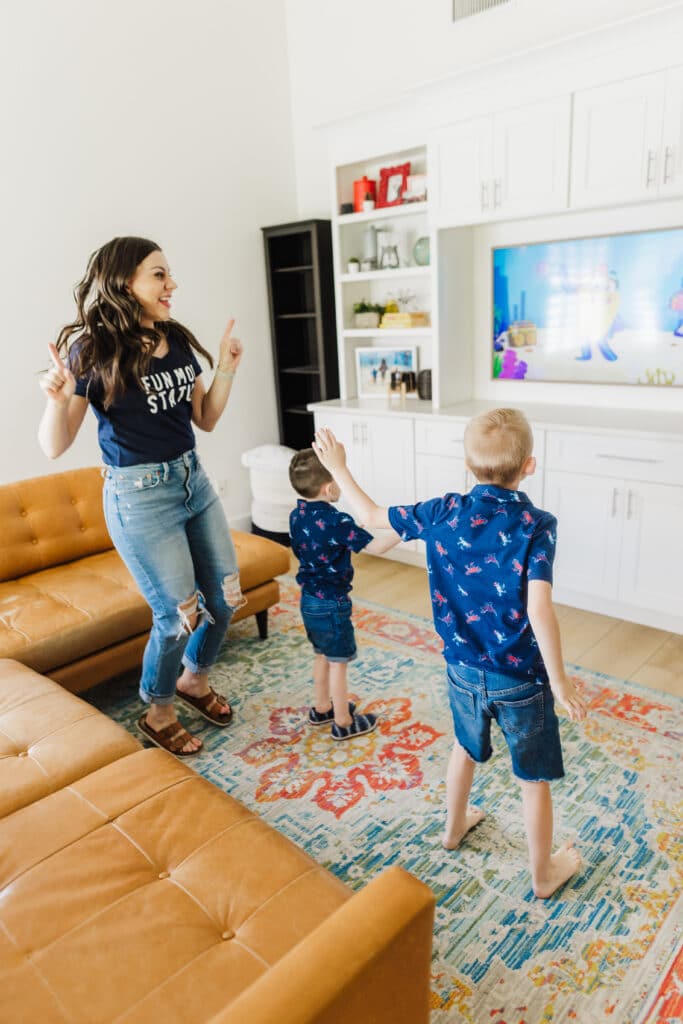 When's a Good Time to Use GoNoodle for Kids?
I use GoNoodle for kids to get us through days that we're stuck inside. The Arizona heat is no joke! When my kids ask to go play outside and I know it's not possible without heat stroke, it's a great time! That's the top moment that we turn on a GoNoodle video!
When my kids are bouncing off the walls with a ton of energy, hello GoNoodle for kids movies!
If my kids are having a hard time focusing and completing simple tasks, it's time for a little Go Noodle!
Truly, there's really not a bad time, and if you're stuck inside with a lot of energetic children, you're going to love this free resource for families!
Like this activity for kids? Be sure to check out these posts too:
150 Summer Activities for Kids
How to Start a Quiet Time Routine
Weekend Children Activities: 105 Fun Activities for Families
Paint By Sticker Books: The Best Mosaic Sticker Book Roundup
Get 365 Date Ideas!
We want to help you have the best date nights ever! Grab this FREE printable with 365 date ideas, a date for every day of the year so you never run out of ideas!