Weekend Children Activities: 105 Fun Family Activities to Do on the Weekend
105-weekend children activities and family fun activities the entire family will love doing together!
We go on a date night every week to connect as a couple. But once a month, we invite our kids and make it a family date. We've found a lot of joy in planning intentional weekend children activities our whole family can enjoy!

There is something about wholesome recreational activities that bond families together. And we'd encourage any family to make fun activities on a designated fun weekend happen with children at least once a month!
If you need some fun ideas of fun things to do, here are 100 excellent weekend children activities.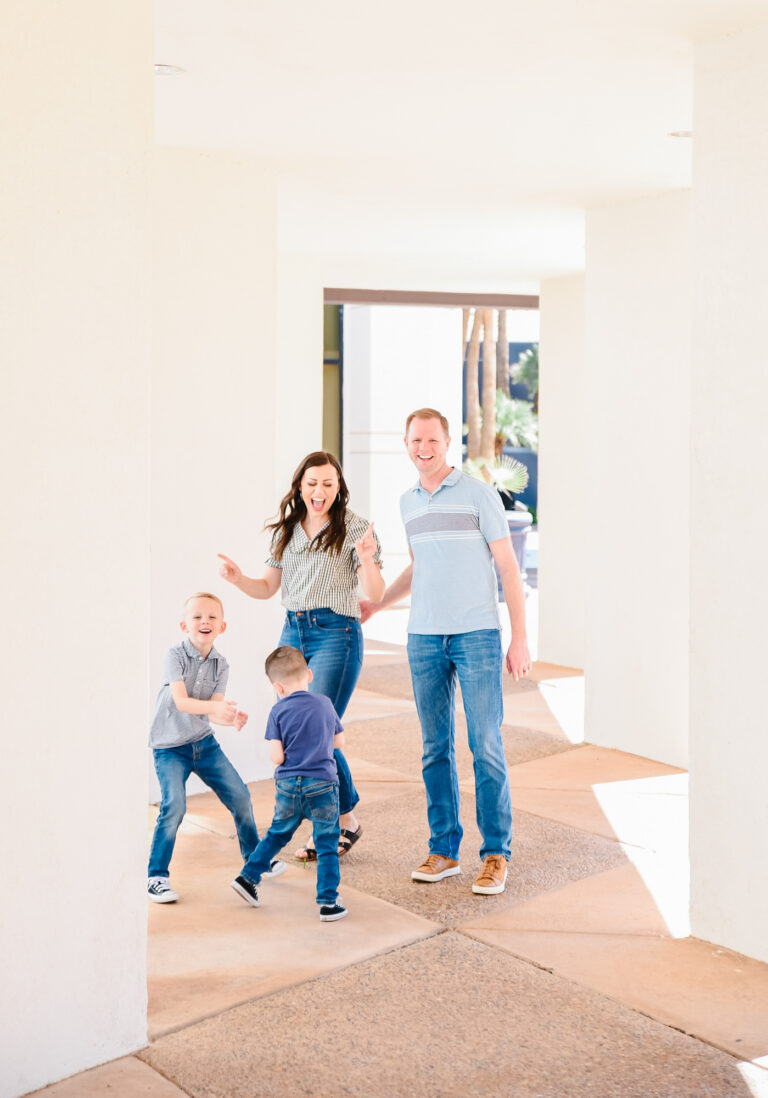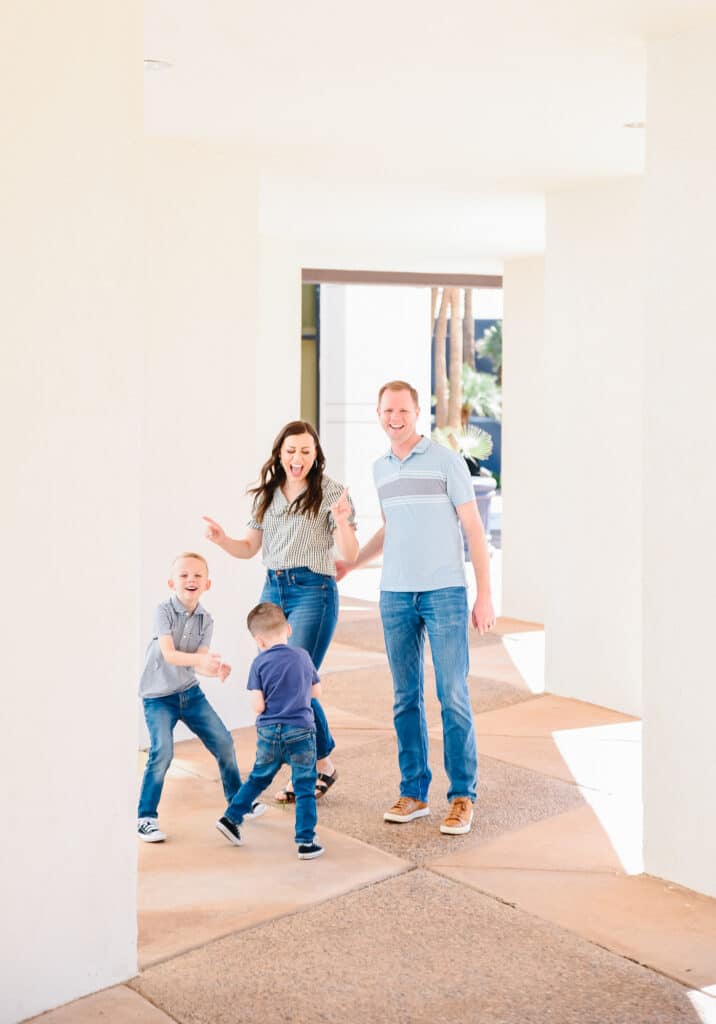 Weekend Children Activities for Family Fun Days
Create a family bucket list and let everyone share their top pick for an activity they'd like to do together this year. You'll come up with your own list of great options!
Plan a Family Movie Night
Have a family game night and play your favorite games
Buy a new board game and learn it together as a family
Have a family pizza night and make person pan pizzas
Complete a jigsaw puzzle together
Bake cookies
Have an Iron Chef competition
Create a stop motion video together
Play video games together
Do science experiments together (try a Kiwi Crate to make it easy and extra exciting!)
Get a bunch of glow sticks and have a glowstick dance party/neon dance party
Create a scavenger hunt for kids to find a fun surprise
Build a huge living room fort and have a living room picnic.
Find a dance challenge to learn and learn it and record it together as a family
Create a family tree and spend some quality time talking about what you know about your ancestors.
Have a family read-a-thon with books and treats ready



Outdoor Activities

Have a family barbecue in the backyard
Invite another family over for a potluck dinner in the backyard
Do a s'mores night and tell stories by a bonfire
Set up a tent and have a backyard campout or an indoor camping in the living room
Set up a car wash/bike wash and pump the music
Have a sidewalk chalk mural competition


Free Things to Do With Kids on the Weekend

Go for a casual bike ride
Ride bikes to a destination and navigate through a bike path
Visit a skate park with scooters and skateboards
Go tour an open houses and see the cool new designs and technology going into homes
Set up a slip 'n slide
Jump on a trampoline with sprinklers
Play glow-in-the-dark games
Water balloon fight
Have a Nerf gun war
Play catch
Have a family kickball tournament
Visit a new park you've never been to
Do a Home Depot run and get kids kits to complete together
Have a park picnic
Plan a formal jump in puddles and play in the rain activity for rainy days
Look for shapes in the clouds
Go for a hike
Visit the local library and find books to read and movies to watch together
Visit the thrift store and choose funny outfits for each other to try on.
Attend a library storytime or a Barnes and Noble family storytime
Do a museum preview day on their free day of the month
Go to a splash pad
Do a drawing lesson online and have a drawing competition
Tour a fire station
Go geocaching
Have an outdoor family movie night
Have a beach day at the beach or a lake
Download our random acts of kindness list and go do a bunch of random acts of kindness
Road trip to historic sites and go learn about local history



Fun Activities for Families to Do on the Weekend

Go get ice cream
Visit the weekend farmer's market together
Go bowling
Visit an old school arcade
Have a swimming day at a local swimming pool
Visit amusement parks in your area
Go miniature golfing
Visit a family fun center/entertainment center
Do an escape room
Visit a water park
Do train rides at a train park
Take some road trips to nearby destinations
Go to the science center
Visit a dinosaur museum/museum of natural history
Spend a day exploring art at your local art museum



Some of the Best Places to Go for Family Fun

Go rock climbing
Attend a basketball game
Go to a baseball game
Attend a football game
Go to a soccer game
Have a family zoo date
Try horseback riding and book a guided tour on horseback (many summer camps offer weekend outings you can book)
Play laser tag
Visit the movie theater
Go to the children's museums in your area
Go ice skating
Try roller skating
Visit a petting zoo
Do a Saturday morning donut run
Go out to brunch as a family
Have dinner downtown where you can listen to some live music while you eat
Visit the botanical gardens
Watch for special events your city/town put on and make sure to attend one together
Visit a local bakery and choose treats to enjoy
Go to a candy shop and let everyone choose their favorite candy


Seasonal Weekend Children Activities

Make some family New Year's resolutions together. Be sure to turn it into a fun family party and let all family members have a say!
Do Valentine's fondue night dinner and share something you love about each other.
Go see the Easter Bunny
Do an Easter Egg Hunt
Have a glow-in-the-dark Easter egg hunt adding glowsticks pieces to eggs and hunt at night.
Plant a tree or do some community service for Earth Day
Attend a 4th of July parade
Visit the state fair or summer carnival
Go back to school shopping and let everyone choose a new piece of clothing.
Have a big back-to-school family dinner and set goals and celebrate the start of the school year.
Do our Halloween Scavenger Hunt for families. Grab the free printable here.
Plan a family-themed Halloween costume and go thrifting to find items.
Do a family service project to give thanks around Thanksgiving.
Explore your neighborhood Christmas lights scene with our Christmas Light Scavenger Hunt.
Go visit Santa at the mall and look into photo packages for some cute or silly family special photo opportunities.
Go caroling and treat others to some live music
Create graham cracker houses or gingerbread houses
These family activities are a great way to get the whole family, and kids of all ages involved in some family bonding! We hope family adventures and intentional weekend children activities together become some of your favorite things and favorite memories!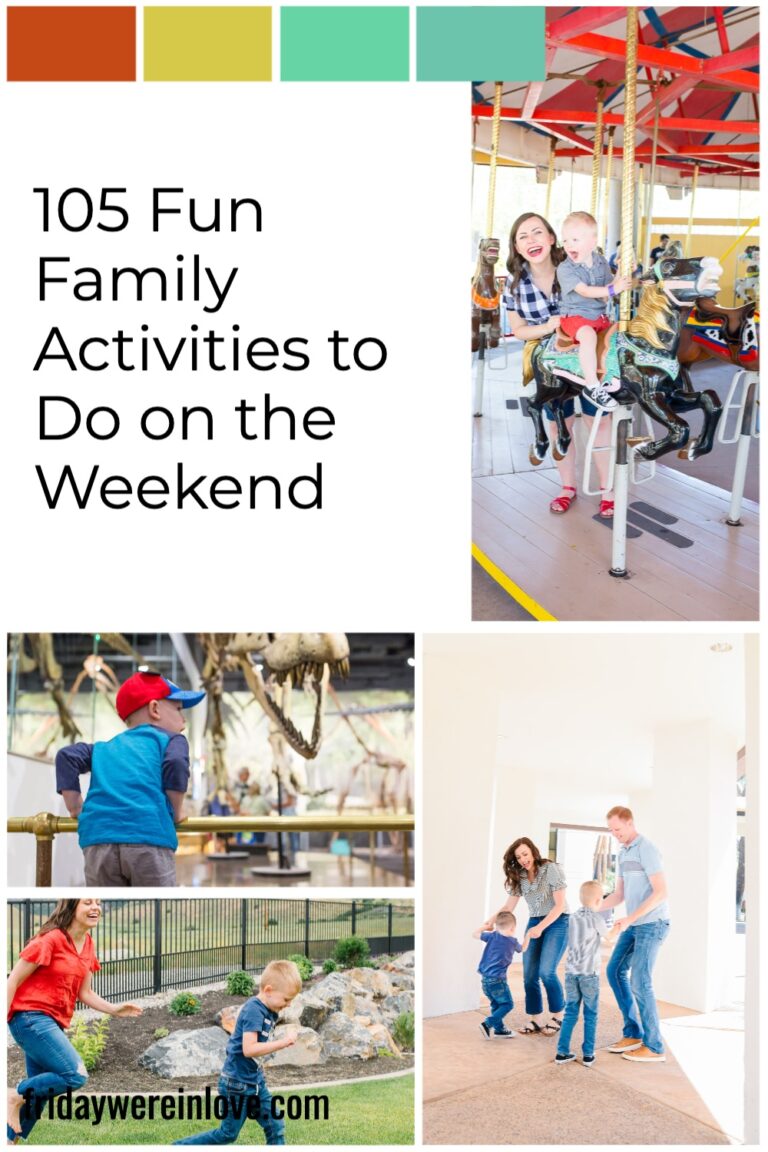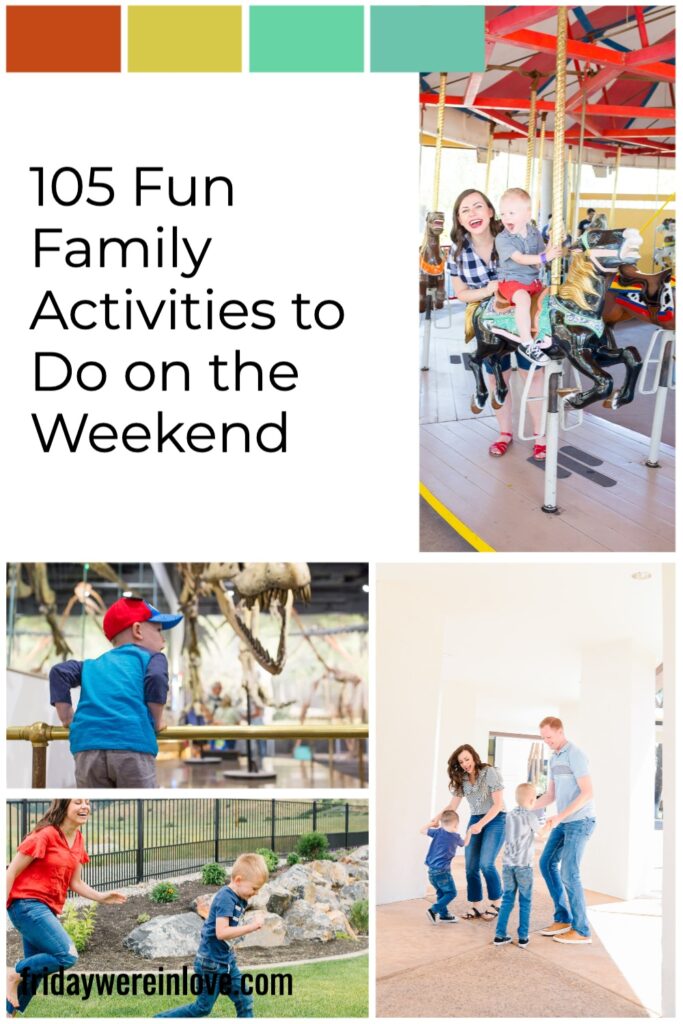 Like these weekend activities for families? Be sure to check out these posts too:
150+ Summer Activities for Kids with Free Activity List Download!
Fun Family Activities: 52 Family Date Ideas to Do This Year
Halloween Activities: 50 Ways to Celebrate and Have a Fun Halloween
Christmas Activities: 50 Fun Christmas Activities with Free Printable
Get 365 Date Ideas!
We want to help you have the best date nights ever! Grab this FREE printable with 365 date ideas, a date for every day of the year so you never run out of ideas!