Summer Bucket List Printable
Get ready for summer break with this free summer bucket list printable! It's full of fun ideas and great ways to have the best summer! Grab your free printable download here!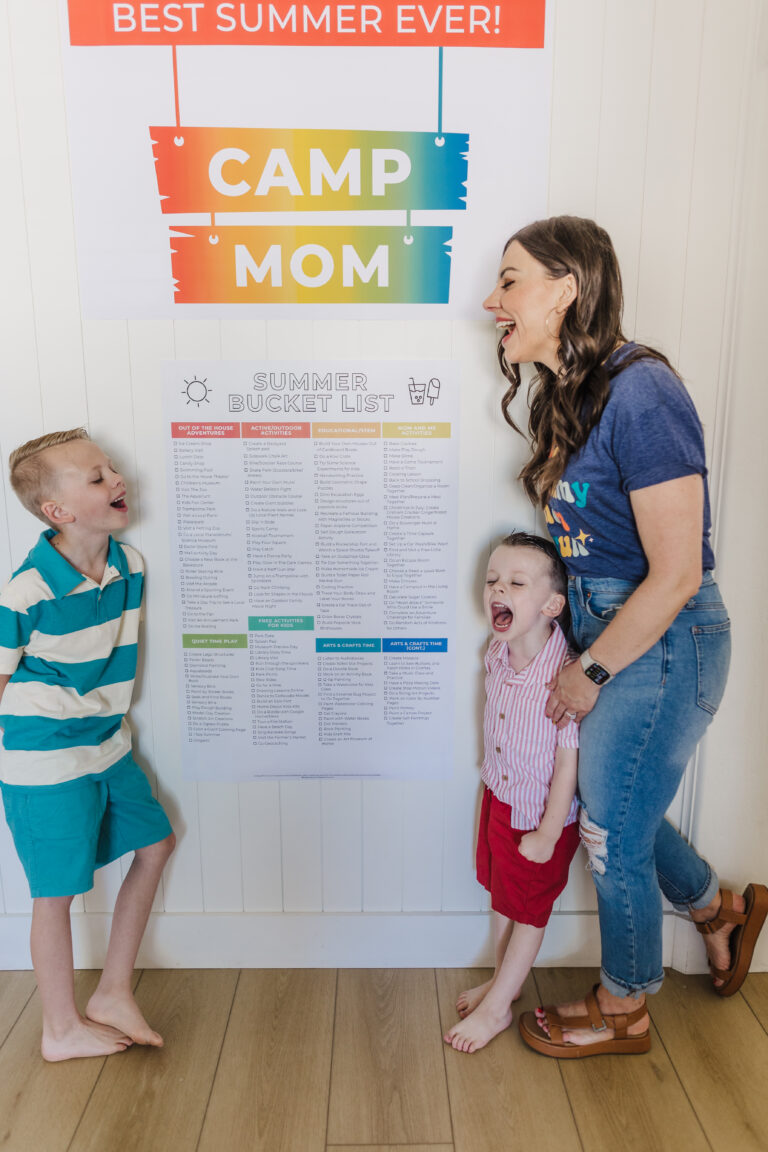 Summer is just around the corner, and we couldn't be more excited! The warm weather, the longer days, and all the great ideas for outdoor activities all make summer one of the most beloved seasons of the year! There are so many fun summer activities, and finding different ideas and new experiences can help the entire family enjoy the summer months together!
To make the most of this summer season, we have a free printable summer bucket list ready for you and your family to use and enjoy! It's not only full of fun summer bucket list ideas, but it will help you keep track of all the fun things you want to do before the season ends. 
Why You Need a Summer Bucket List Printable
Summer is a busy time of year, and it can be easy to let the days slip away without taking advantage of all the fun activities that are available. That's why a summer bucket list printable is such a valuable tool. It allows you to set goals for the summer and gives you a way to track your progress as you work your way through your list.
Grabbing your own bucket list printable sets you up with a better way to ensure you're making the most of your summer.
Also, it's a great motivator! Having a list of fun and exciting activities can inspire you to get out and do more. You may find that you're more willing to try new things or push yourself outside of your comfort zone when you have a clear plan in place.
But best of all, a summer bucket list printable can be a fun way to connect with friends and family. You can use your list as a great way to find the next good idea or something fun the whole family can enjoy. It's also a great way to plan group activities. This can help you build stronger relationships and create lasting memories. And at the end of summer, we hope you have a list of things you had so much fun doing and tons of great memories of summer vacation!
Grab the Free Printable Bucket List Here!
We have two free printables ready to download! Each is full of great bucket list items, sorted by category so you can find the perfect way to plan a great summer activity. One is bright and colorful, and the other is black and white so you can easily print, or save money in an engineer print. You'll find typical things like a water fight, planning some day trips, visiting museums, doing a science experiment, or some fun crafts and free activities. But you'll find plenty of out-of-the-box new places and activities that are very doable, and very fun!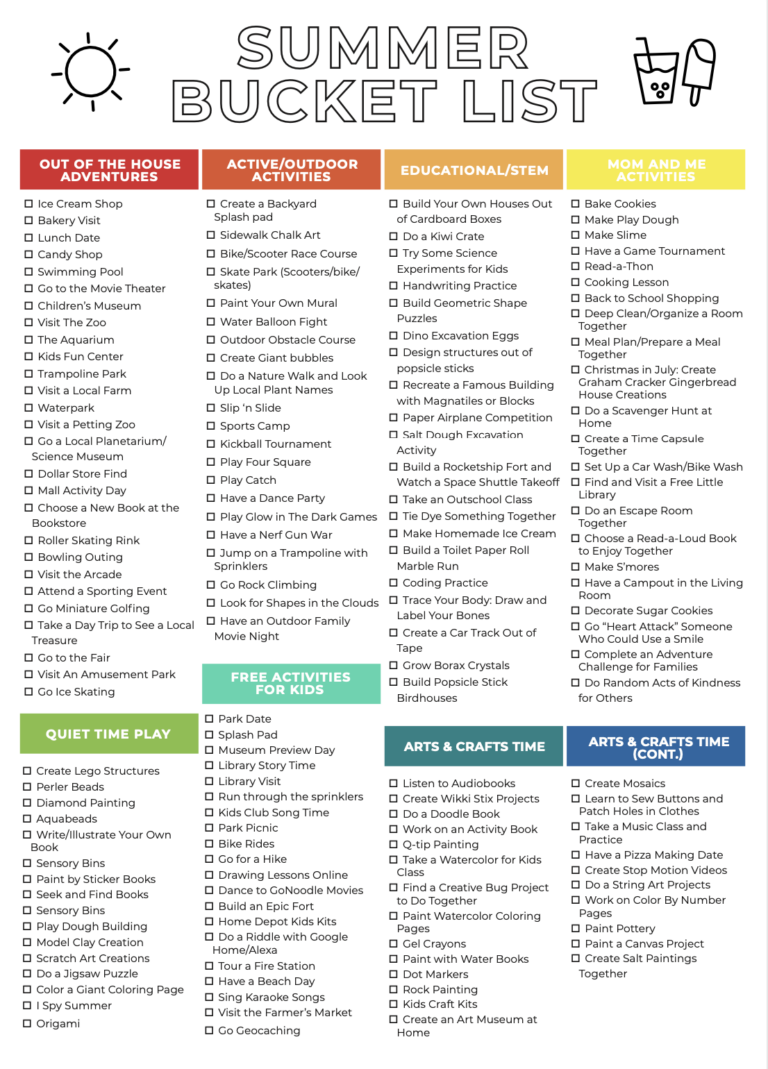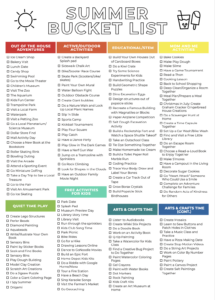 Grab the Color Version right here!
Grab the Black and White Summer Bucket List printable here!
Just input your email address so we know where to send the free printable.
*Note: many email clients auto-download the pages after you confirm your email. Be sure to check your Downloads folder for the summer bucket list pages.
*This free download is for personal use only.
How to Use the Summer Bucket List Printable
Using the summer bucket list printable is easy. Simply print out a copy of the list. It works great with a standard printer, but here's how to print an oversized engineer print if you want to make a larger poster as we did! We love printing it larger and putting the free printable bucket list in a place we can all see it.

Next, start choosing which of the fun activities you want to do this summer. Be sure to include a mix of big goals and smaller, more achievable tasks. Essentially, choose your top priorities so you make your own list of fun ideas you want to do most, and plan those first!
Once you have your list, start working your way through it. You can use the list to plan out your weekends or to schedule in specific activities during the week. Be sure to check out our post about planning a summer routine with recommendations and more free printable resources!
As you complete each activity, check it off the list. This will give you a sense of accomplishment and help you stay motivated to keep going on making summer memories.
If you want to check out these ideas in a different format, check out our 150+ Summer Activities for Kids. Last year thousands of families downloaded this resource, and told us it helped them plan an amazing summer full of fun together! They're both excellent resources to add to your summer planner!
And make sure you're signed up for our Camp Mom email series so you never miss a fun free printable, activity, or idea to help moms and kids have the best summer!
Summer Bucket List FAQs
How can I have the most fun in the summer?
Start by making a summer bucket list. Plan the things you want to do the most, and make sure you get them on the calendar so you make sure they happen.
What are some good summer bucket list ideas?
Plan some fun places to go, fun things to do at home, some outdoor activities, and a few things you've always wanted to do. Some good summer list ideas include: visiting an amusement park, read a book you've been putting off, take a road trip, have a pool party, and have a movie marathon.
How can I make my summer unforgettable?
Plan a few intentional fun activities to do with people you love. Make sure you take pictures, include a few new experiences, and spend quality time with those you enjoy being with.
Like this summer bucket list printable? We think you'll like these posts too:
Summer Schedule + Summer Routine Planner and Organizer
Free Things to Do With Kids This Summer
Nature Scavenger Hunt + Free Printable!
Board Games for Kids: The best board games for 5-10 Years Old
Get 365 Date Ideas!
We want to help you have the best date nights ever! Grab this FREE printable with 365 date ideas, a date for every day of the year so you never run out of ideas!