Nature Scavenger Hunt + Free Printable!
Grab our FREE Outdoor Scavenger Hunt printable to help kids get outdoors and enjoy nature! It's a fun activity and a perfect way to connect with nature!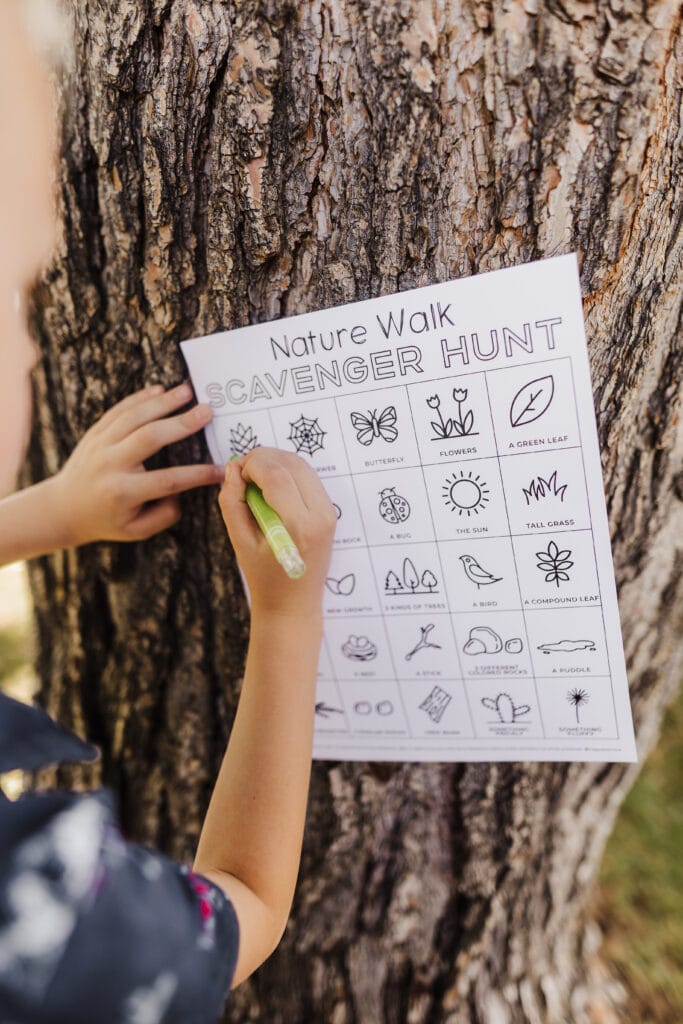 Outdoor Scavenger Hunt Ideas for Kids
There's something about fresh air and a great scavenger hunt that belong together! One of my favorite ways to help kids burn off some energy and appreciate nature is to do a free nature scavenger hunt!

It's one of those activities kids of any age can enjoy, and it's fun to do a nature hunt in your own backyard, at the park, during a nature walk in your area, or while you're camping. If you live in the city, you may need to walk to a nearby park. But a backyard scavenger hunt is an easy way to contain younger kids and still find plenty of nature right outside your door!
So let us get children of all ages to back off screen time and enjoy the outdoors when good weather is in full swing! Here's a fun way to spend a little more time outside, and the good news is it's all completely free!
How Does a Nature Scavenger Hunt Work?
Essentially, you're going to get nature scavenger hunt ideas from a list of items from a printable outdoor scavenger hunt. Kids will look for specific items found in nature, and cross off the list of things as they uncover each item.

It's an easy activity that only takes the free printable and either pens or coloring utensils (if you want to turn it into a color scavenger hunt) to cross off different items you'd find from the outdoor scavenger hunt list.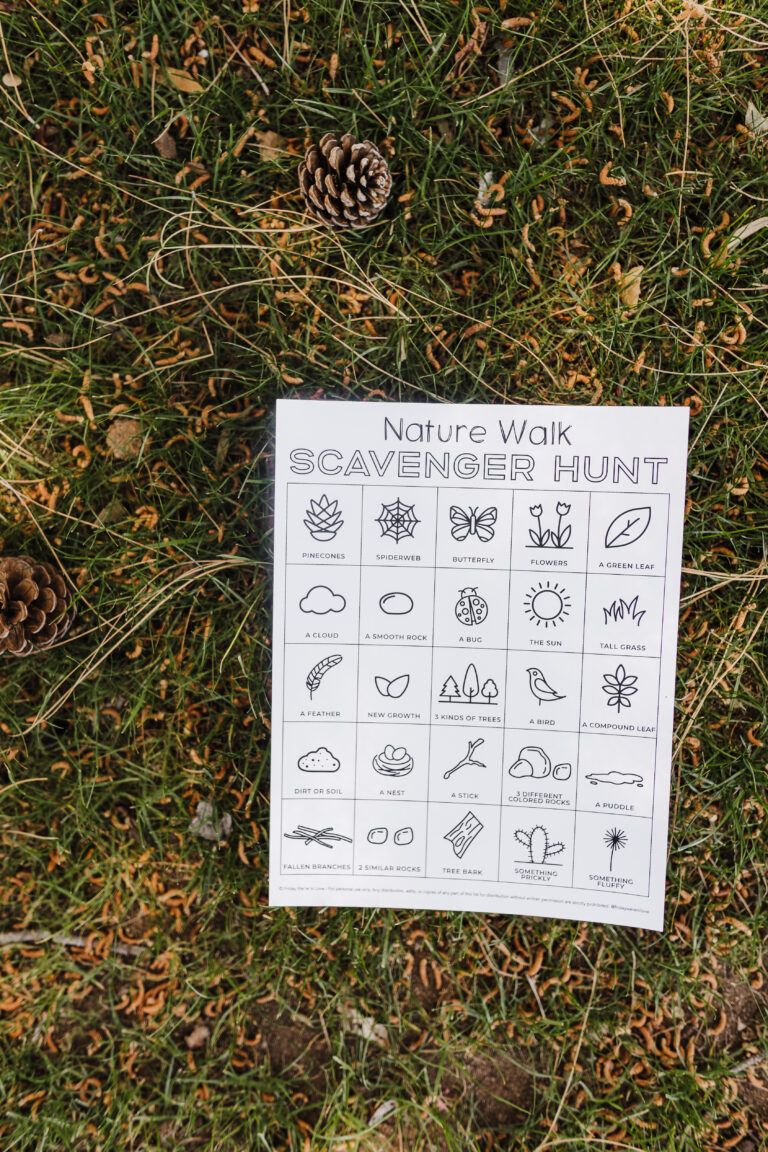 What are the Different Types of Items I'll Find on the Outdoor Scavenger Hunt Free Printables?
Our scavenger hunt includes common outdoor objects. They will all be items you can find outside and in nature. I've worked hard to make sure it's a great activity no matter where you are: so long as it's part of the great outdoors! For example, you may find a spider web or pine cones both in your backyard or at a campsite.

You may look for animal tracks like deer tracks camping, or animal tracks like dog paw prints in the local park. The free pdf is full of great clues and it's a good scavenger hunt for kids of all ages.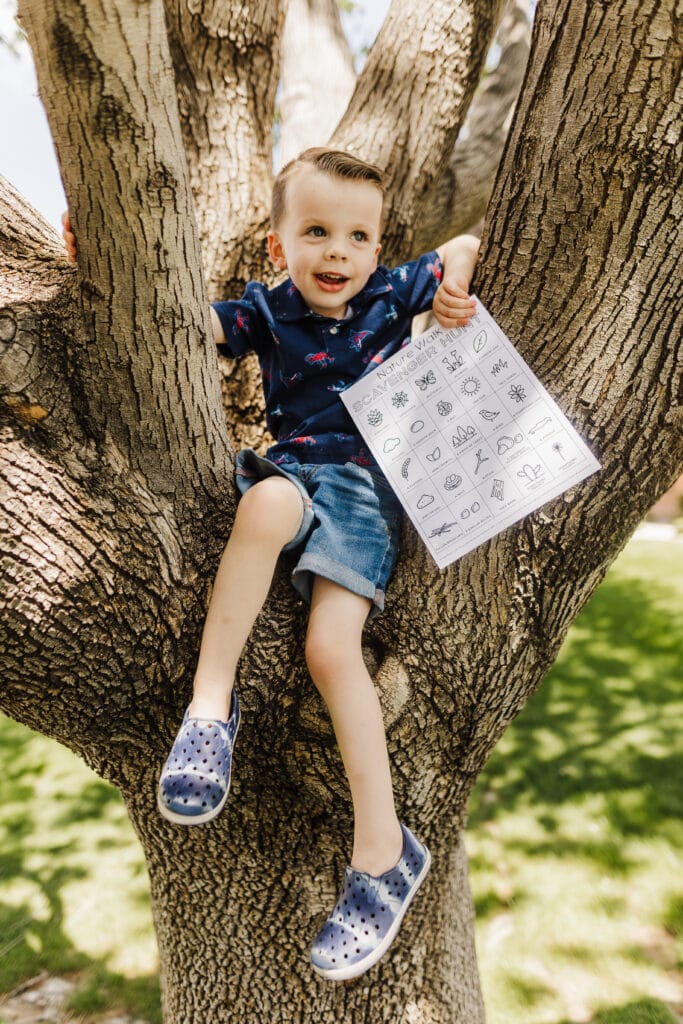 Do We Need to Go to New Places? Where Would Recommend Using This?
The great thing is we've made sure it's a fun scavenger hunt with items included in most areas outdoors! I mentioned several above, but anywhere that plants grow, dirt resides, and insects may get into with open sky is a great place!

We did ours on an outdoor walk around our neighborhood. So essentially, a nature walk scavenger hunt for kids in an area they're very familiar with. For reference, I live in a well-established and populated suburb with plenty of yards, parks, and walking paths. It was the perfect place to have a good time looking for the items on the list!
Grab Your Free Printable Scavenger Hunts
All you need to do is pop in your email and we will send you the free scavenger hunt printables as a pdf file to print and use.
Grab it right here!
A few Fun Ideas to Make it Even More Fun:
Go on a road trip to a new area. It's a great way to mix up clue-finding!
Turn it into a photo scavenger hunt. Take pictures of each of the items
Take the scavenger hunt clues and free printable to nature preserves to see a lot more variety
End the hunt with fun outdoor activities like games or a picnic with the whole family
Turn the outdoor scavenger hunt into a spring scavenger hunt when trees and flowers are blooming and baby animals may be easier to track
Include small prizes to win to add a little friendly competition
Set a time limit and see who can find the most items in a short amount of time
Divide into teams with a good mixture of older children and younger children. See which team can get a little bit aggressive and find all the items first!
Do the outdoor scavenger hunt on a rainy day. You'll see different types of nature in a new light, even if you're only hunting in back yards or your local neighborhood!
So next time you have a gorgeous day, and you're ready for some simple ways to do fun things outside, make sure to grab our nature scavenger hunt and go explore!
Like this Post? Be Sure to Check Out Our collection of scavenger hunts:
Get 365 Date Ideas!
We want to help you have the best date nights ever! Grab this FREE printable with 365 date ideas, a date for every day of the year so you never run out of ideas!