Audiobooks for Kids: How to Get Kids Addicted to Audiobooks
Try Audible and Get 2 Free Audiobooks Here! + Grab some of our favorite kids audiobooks with Audible SALE favorites HERE!
Why audiobooks for kids are so beneficial and how to get kids addicted to audiobooks as young as preschool age!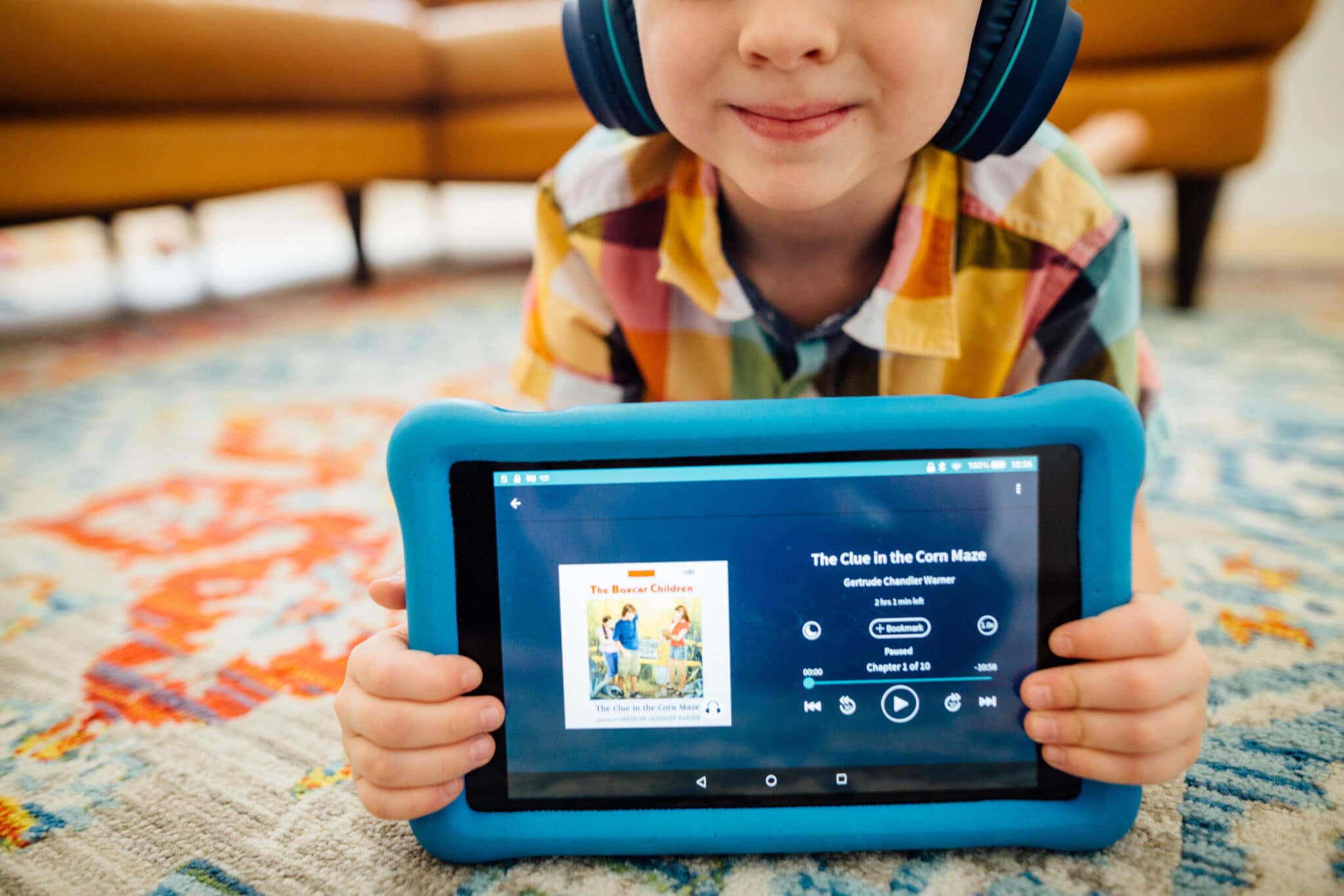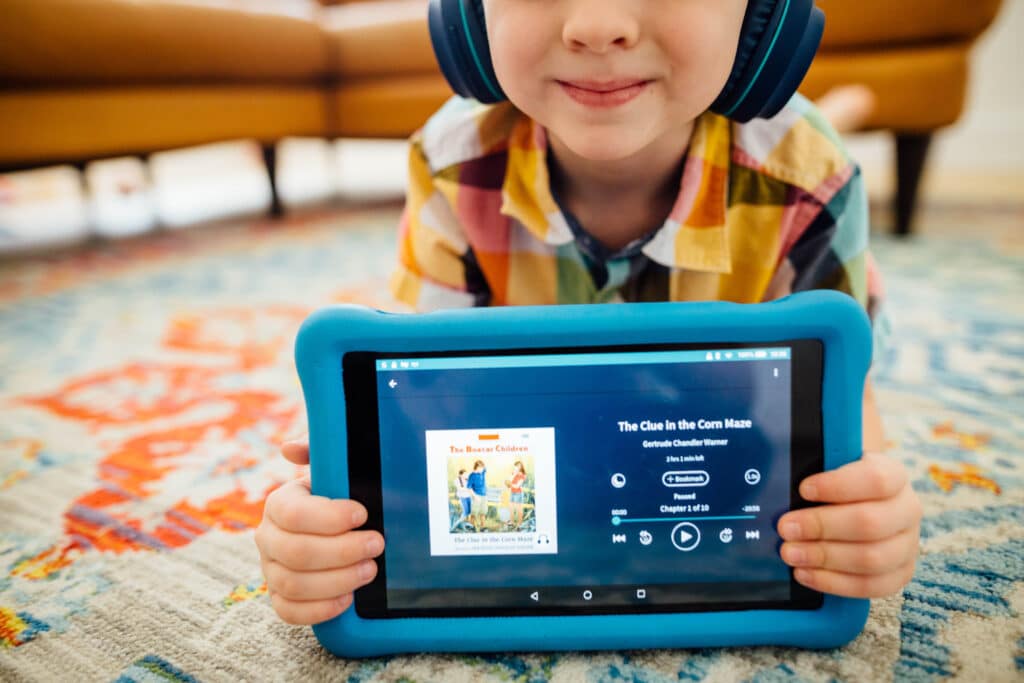 Every time I mention we do 2-3 hours of quiet time for kids every day, people seem to have their jaw drop. Yes, I have boys, yes they are hyper. And also yes, they LOVE quiet time and do it every day.
My secret weapon? My son is addicted to audiobooks for kids. And I've loved and encouraged an audiobook addiction because it's a screen-free way to promote learning and quiet time. Seriously, kids audiobooks have been a game-changer in our home!
How we Listen to Audiobooks
For those wondering, we listen on the Amazon Fire HD Kid's Edition Tablet. We love it because it has parental controls to block out movies and games and basically anything aside from books. I can review what he listens to and restrict and add content.
We also love these Bluetooth headphones. They are wireless so he can move around while he listens to audiobooks for kids. But they also connect to the tablet easily, as well as any other wifi device. I love that we can stream books from our phones or computers and he can listen from anywhere.
We also have an Audible Subscription and use the Amazon Freetime audiobooks app.

How do you get a preschooler to listen to audiobooks for kids for hours a day?
It wasn't something that happened overnight. Kids need to learn listening skills, and thus learn how to listen to audiobooks. The good news is practice makes perfect, and it's not hard to get them addicted to audiobooks and wanting to listen daily.
So if you have younger children who are just starting learning how to pay attention and fall in love with audiobooks, these tips are for you!
But first, the former English teacher in me feels the need to reassure you this is great for their education! I promise the brain development is worth every minute of audiobook time. Here's a bunch of educational skills kids learn by reading:
Why You'll Want to Get Your Kids Addicted to Audiobooks
Promotes Listening Skills
Helps with language development
Increases vocabulary
Get them off screens
Builds reading comprehension skills
Increases imagination
A better understanding of sentence structure
Increased memory
Increased ability to focus
Trust me, all these things help in a classroom setting. They'll also set kids up to be better learners in other subjects and as they read more physical books.
Benefits of Kids Audiobooks
Aside from the benefits listed above, I'm a firm believer that kids audiobooks increase social skills and communication skills too! There's nothing like overhearing your child speak like a narrator with perfect syntax while they play with their toys! My son speaks like an adult and has made so many deeper relationships because of his language skills.
Also, the amount of learning and knowledge is unbelievable! My son will tell us historical facts I've never learned. I'm in constantly awe of the benefits of audiobooks for kids!
Okay, hopefully, I've helped sell you on the why audiobooks for kids and daily listening is so important. But now, let's talk about the how.

How to Help Kids Learn to Listen to and Love Audiobooks for Kids
Begin With a Book They Already Know and Love

My son loved a Christmas book that took about 20 minutes to read. He made us read it year-round, multiple times a day. When I discovered it's on Audible, I bought it immediately! It's the book we started with.
He already loved it, he already knew most it, and he already had an attention span for it.
We bought a few shorter picture books on Audible that he graduated to. Between these few books, he was so used to listening and loving them whenever he wanted (not just when mom or dad had 20 minutes) he was interested!

Allow Them to Listen to the Same Book on Repeat

We spent a solid couple of weeks listening to those same books on repeat. Repetition creates familiarity and increases vocabulary. If they want the same book every day for a year, roll with it!

Start With Shorter Books

I wouldn't expect a preschooler or toddler to listen for more than 15-20 minutes their first time. It takes some practice! Go for shorter books, particularly as you introduce new books.

Get Audiobooks To Listen To Based on Something They Love

When we expanded beyond books he already owned and loved, we went to something else he loves: Disney. Our two-year-old would have moved to Disneyland if he could have! He particularly loved Lightning McQueen. (See our Disney page for more evidence)

When I found a Pixar storybook full of Cars stories and other familiar characters, I knew it was a great idea. I was right! He listened to the entire series and even included new stories he'd never heard of before.
Disney does a great job with this, there are so many audiobooks with Disney characters.
But even if they aren't a Disney fans, you can easily find books by themes they love (aka princesses or vehicles). Pivot to these loves after they're used to listening to their familiar stories.

Listen to Audiobooks for Kids with Them the First Time

I would get on the floor and color with my son while he listened some days. Just being with him, and pausing to ask him he if understood, made a huge difference!
We'd also listen on car rides where he'd be bored anyway. Somehow having a parent with them for the new experience really helps endear them.

Gradually Add More Listening TIme

Once my son got the 20-minute holiday book down, I added a 5-minute story too. When I could tell he was ready for more, I had him listen to the 20-minute book twice. Magically, I had 40 minutes of independent listening time!
From there, I found books that were under an hour. We slowly stretched him to two hours of listening time.
I knew he loved audiobooks for kids and had an addiction when two hours flew by and he'd ask for more!
Slowly build up the time. I promise they adapt and become more skilled at listening.

Find a Series They Love

I'll forever thank The Magic Treehouse series for hooking my toddler's attention! He wanted to know what Jack and Annie were up to every day! He listened to every book in the series at least three times when he was three. It was the series that hooked him!
I'd highly recommend The Magic Treehouse, The Boxcar Children, or the My Father's Dragon books to help hook kids!

Talk About Plot and Characters as They Expand Books

They may need help understanding new books. It never hurts to introduce them to a book you know and talk about them. Make sure they understand the main characters. You can also ask them for elements of the plot. I.E. what the conflict is or what's the main issue the characters are trying to resolve.
I learned Spanish in an immersive program in college, and when we started reading fictional literature I often felt overwhelmed. I found a friend or tutor just talking me through the characters and main issues helped me personally understand when I felt lost. Kids can be the same way. Sometimes they just need a little help setting a foundation for better understanding.

Help Create Play Time Around Audiobooks They're Listening To

My son gave me this on his own, so I deserve zero credit. But once he loved Jack and Annie from the Magic Treehouse like they were his best friends, he started integrating them into pretend playtime. One of his babysitters loved the books when she was a kid and was happy to be Annie while he was Jack in pretend play games.
It helped him feel even more connected to the story. It also fostered a greater audiobook addiction and a love of reading!


Ask Them To Tell You About the Books They're Listening To

I loved helping my son recount and explain what he was listening to. It also taught him to pick up more details and increase his listening comprehension skills.
One warning, don't grill them or make it a quiz. Just make it fun and ask them to tell you their favorite parts.

Be Excited for Them and Model a Love for Listening to Audiobooks

Whenever we go to the library, I act like we're in for the best most fun experience! Your attitude rubs off, so let them know how fun and exciting this can be!
And if you listen to audiobooks too, be sure to model it and tell them you love listening as well.

Give Them Activities to Do While They Listen

I have an entire post on quiet time for kids, as well as one on indoor activities for kids they can easily do during quiet time. We really love paint by sticker books and have a quiet time stash! These are game-changers in helping keep hands and bodies busy while they listen.

Don't Force Them to Listen To Something They Aren't Enjoying

If they don't like it, move on. Even if you spent money on it. Even if it's your favorite childhood book. Sometimes books don't jive with kids at certain times and seasons. I've learned to just move on and help my son find what he loves so audiobooks continue to be something he loves.

Give New Audiobooks as a Reward

Guess what we like to give every birthday/Christmas/big accomplishment milestone? A new audiobook we know our kid will love. I have spent a small fortune over several years (although there are tons of cheap and free options out there) just rewarding my son with a new audiobook.
He does quiet time a billion times better when he loves what he's listening to. And once they get hooked, new books help keep them hooked and expand their skills.

Decrease Screen Time

I don't think many parents love hearing this, but if you're always giving screen time viewing time, audiobooks aren't going to feel as exciting. I'm not saying you have to cut it, I certainly don't! However, I highly recommend clearly setting boundaries and time limits.
My kids get one (sometimes two) shows a day while I shower and get ready for the day once their rooms are clean and they are dressed. They know that's the limit, and they know we turn off the tv when we're done.
Since TV time isn't an option during certain hours of the day, an audiobook feels like a great tool for fun and entertainment to them.
I promise any kid can fall in love with audiobooks, particularly at a young age. It does take some prep and some work up-front. But the rewards of raising a kid who loves to read and has amazing listening skills are so worth it!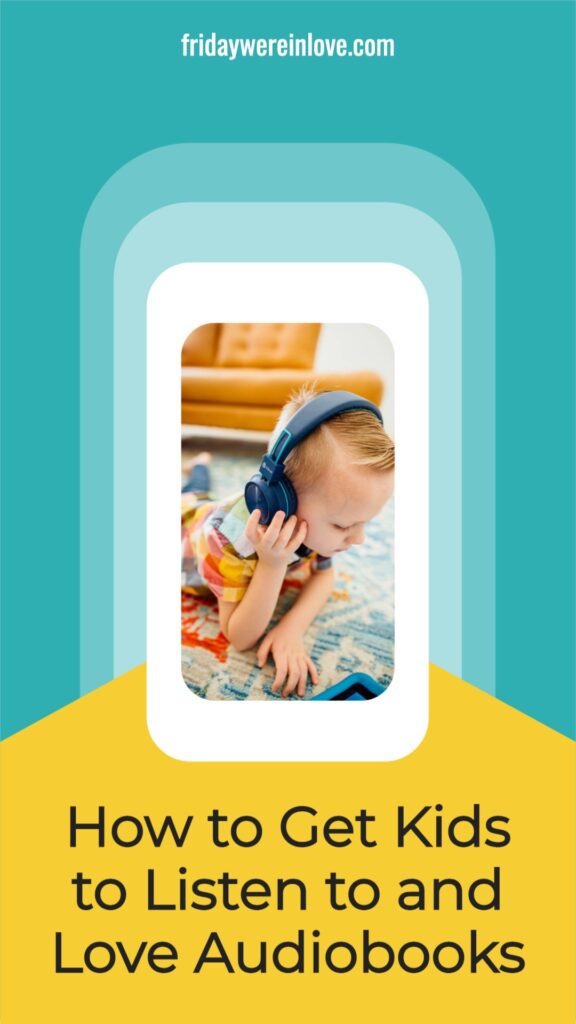 Photos: Chrissy Blake
Like these tips to help get your kids addicted to audiobooks? You may like these posts too:
Activities for Kids at Home (Quiet Time Activities so You Can Get Some Work Done)
Toddler Gift Guide: The Best Toys for Toddlers and Preschoolers
150 Summer Activities for Kids
Get 365 Date Ideas!
We want to help you have the best date nights ever! Grab this FREE printable with 365 date ideas, a date for every day of the year so you never run out of ideas!