Easter Books for Preschoolers
A roundup of the best Easter Books for kids (and Easter books for toddlers) and springtime stories for kids perfect for Easter baskets or Easter storytime.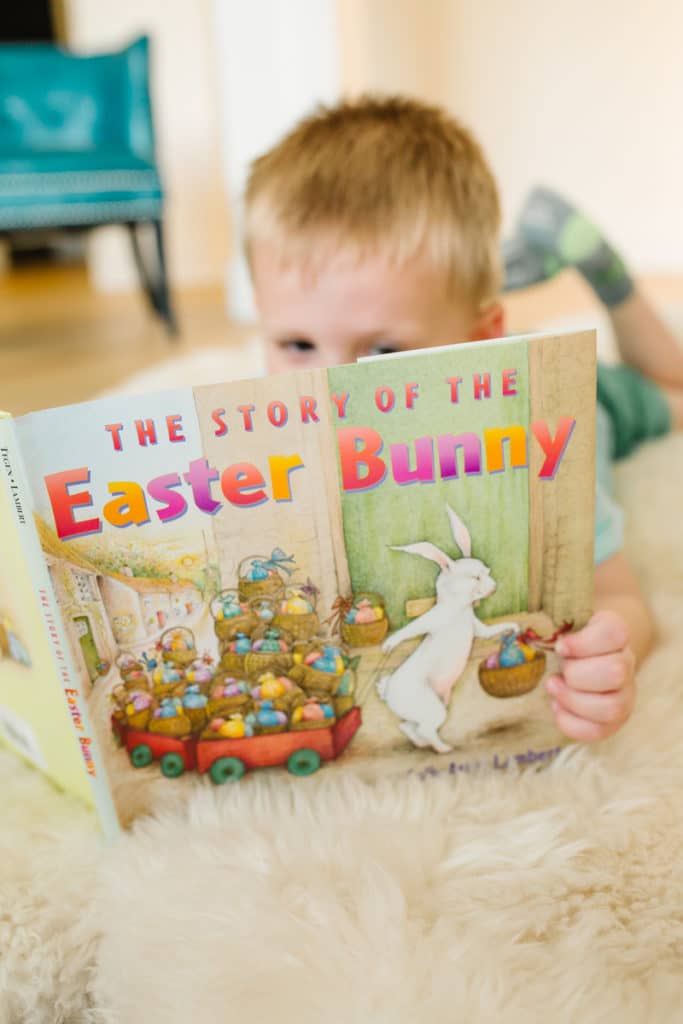 We're in a glorious season of life with a preschooler who adores each and every holiday. We have a huge library of Halloween Books for Kids and really spent time building our Christmas picture books this year too. Consequently, my preschooler looks forward to every holiday. And, every holiday book in our collection.
I'm pretty picky about what books we let into our home. There's just so much great literature for children, it's hard to waste time on books that aren't fun for all of us to read. As a former English teacher, I pay attention to the plot, the message, and the characters. We're suckers for good illustrations too!
With all that in mind, there are always several books that make me and my preschooler smile and earn a place in our holiday book libraries. Here's a list of our favorite Easter books for preschoolers.

Easter Books for Kids
The Easter Egg by Jan Brett
If Hoppi the bunny can make the most beautiful Easter egg, he can help the Easter rabbit make deliveries. But it's harder than he thinks, and he ends up on a quest to find beauty in nature and in helping others. A beautiful tale with some of the prettiest illustrations of spring!
The Great Eggscape by Jory John and Pete Oswald
Our current favorite brings the characters from The Good Egg out for some Easter fun! Shel's egg-mates go out for a dying party and send him on an egg hunt to find the dozen. Clever, funny, heart-warming, and full of Easter fun!

The Story of the Easter Bunny by Catherine Tegen
Perhaps the cutest story of how the Easter bunny came to be. A story of a kind couple who served and gave chocolate eggs to children, and had their bunny slowly start to help and take over as they age. It's a heart-warming tale of the importance of service and kindness.
Too Many Carrots by Katy Hudson
Rabbit loves carrots, perhaps a little too much! The hoarding problem starts to take over his life. When his friends offer to help, it becomes even more of a tale! Funny, sweet, and with darling illustrations, it's one springtime book kids and adults love!
Don't Push the Button: An Easter Surprise by Bill Cotter
If your kids love Press Here or interactive books of any kind, they will love this Easter-themed book!
The Easter Witch by D. Melhoff
When a witch accidentally eats the Easter Bunny, she must assume the role of delivering chocolate to kids this Easter with some Halloween magic mixed in. This silly Halloween meets Easter crossover is wickedly entertaining!

Easter Read Alouds from Book Series

Happy Easter Mouse (If You Give a Mouse a Cookies by Laura Numeroff
The beloved character from If You Give a Mouse a Cookie takes on Easter! This fun book helps with color identification and counting skills.
Happy Easter Curious George by R.P. Anderson
The beloved monkey always finding trouble finds it again at the park! He can't help but join in the egg-dying and finds an Easter-themed adventure on the way.
It's Not Easy Being a Bunny by Marilyn Sadler
What's a bunny to do when they question if being a bunny is for them? Go try living with other animals of course! A funny book that been loved for decades!
Click, Clack, Peep! by Doreen Cronin
The farm is having a hard time sleeping due to a baby chick who loves to peep! This all too relatable tale of getting kids to bed is perfect for springtime and Easter!
Where's the Chick? by Nosy Crow
If you're looking for an Easter book for toddlers (or Easter Book for babies) this is one they will love! This entire series of felt lift-a-flap books will leave babies smiling and older kids entertained too.

Non-Easter Specific Books That Are Perfect for Easter

Little Blue Truck's Springtime by Alice Schertle
There's a lot to love about The Little Blue Truck books: sing-song rhyme, great characters, and interactive elements. Kids love this lift-a-flap book welcoming all the baby animals on the farm.
The Good Egg by Jory John and Pete Oswald
It's hard being a good egg who lives in a carton of rotten eggs! Shel decides he needs a break after he starts to crack.

The Rabbit Listened by Cori Doerrfeld
Taylor is pretty distraught after something bad happens. Every animal tries to offer their solution, but sometimes what you need is someone to just be with you and listen when you're ready. The rabbit has the loving support Taylor needs and reminds kids that empathy and support are so important!
The Bold, Brave Bunny by Beth Ferry
A tale of the excitement of seeing the world. And also the beauty of coming back home.
The Little Rabbit by Nicola Killen
A modern adventure of exploring spring with a friend.
The Runaway Bunny by Margaret Wise Brown
Another great toddler Easter book idea. It's the tale of a mother's love, and how she'll follow her little bunny wherever it goes.
Like these children's book ideas? You may like these posts too:
Easter Outfits for Kids: Where to Find the Cutest Easter Outfits
Parenting Goals: My Simple Mom Resolution That Changed My Relationship With My Kids
20 Books Every New Parent Should Have In Their Home Library
The Best Christmas Picture Books for Kids
Get 365 Date Ideas!
We want to help you have the best date nights ever! Grab this FREE printable with 365 date ideas, a date for every day of the year so you never run out of ideas!