Graham Cracker Gingerbread House Family Party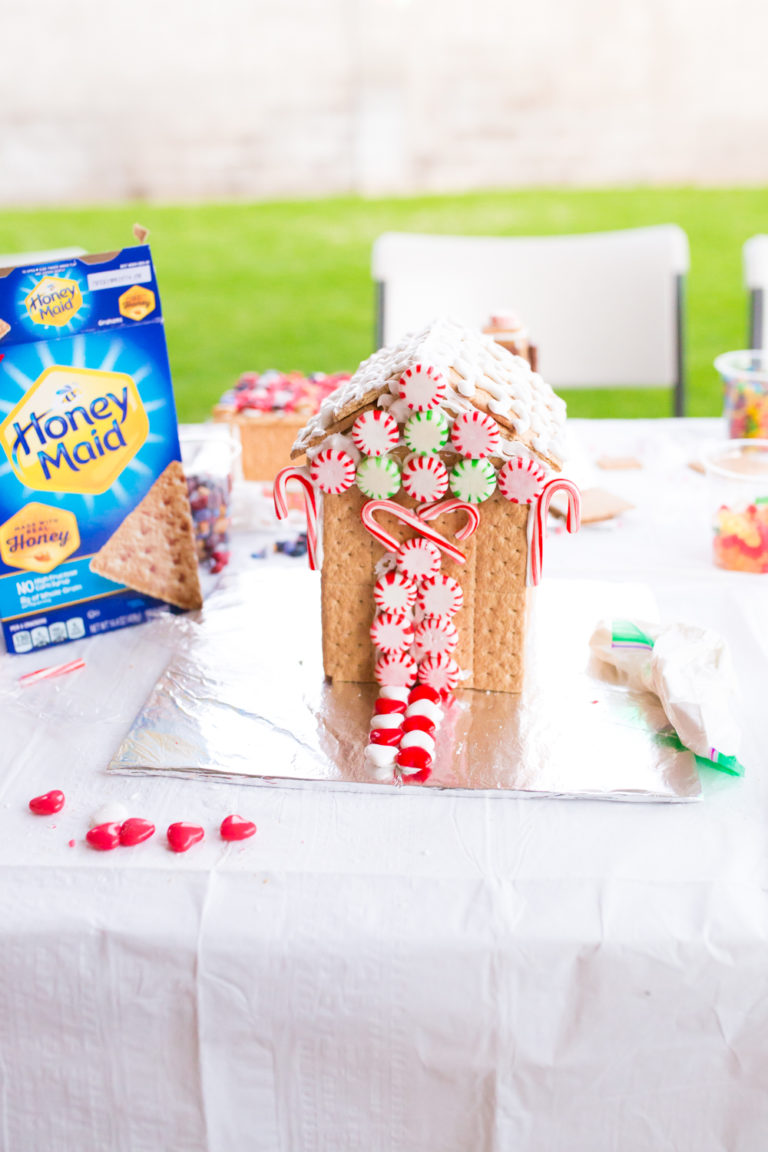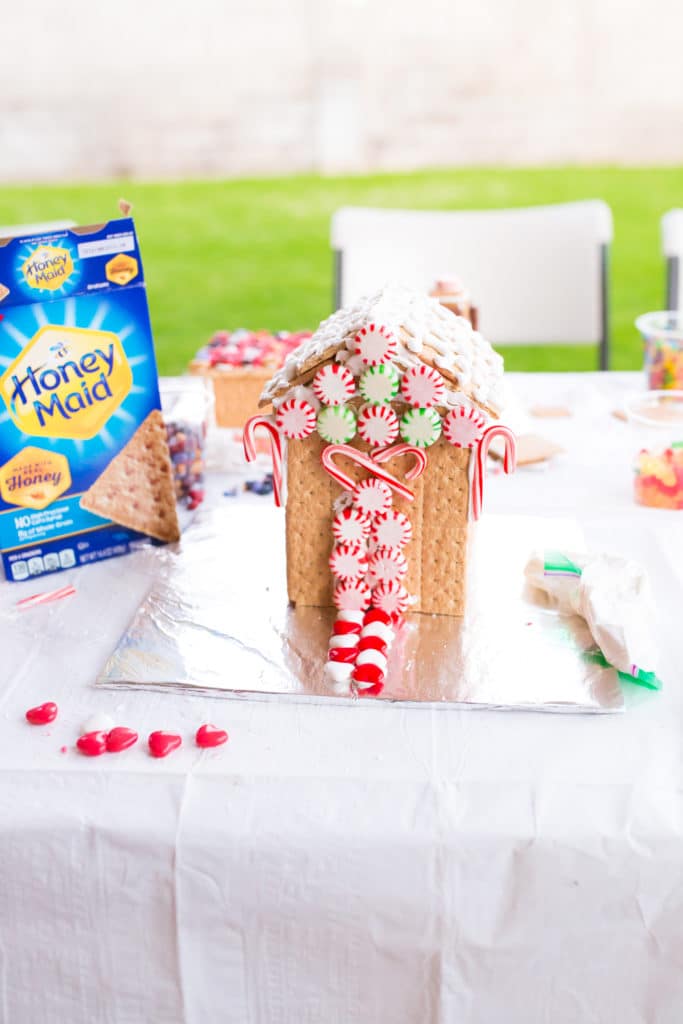 This post is sponsored by Honey Maid Graham Crackers. But our longstanding tradition of love of graham cracker gingerbread house making parties is our own!

One of our favorite holiday traditions comes from the Whiting side of the family. Each year we meet together for a graham cracker "gingerbread" house decorating party. This is a winter holiday tradition we love as a date night for two, but we love it even more as a family party or a group date!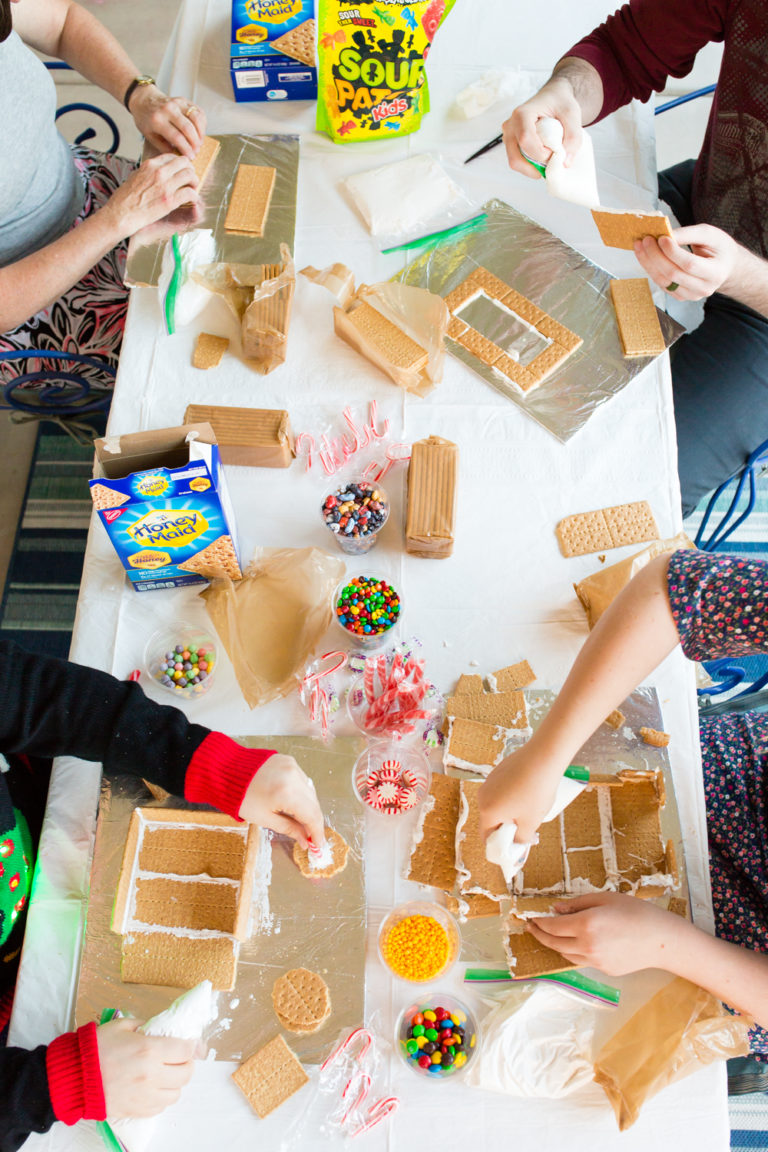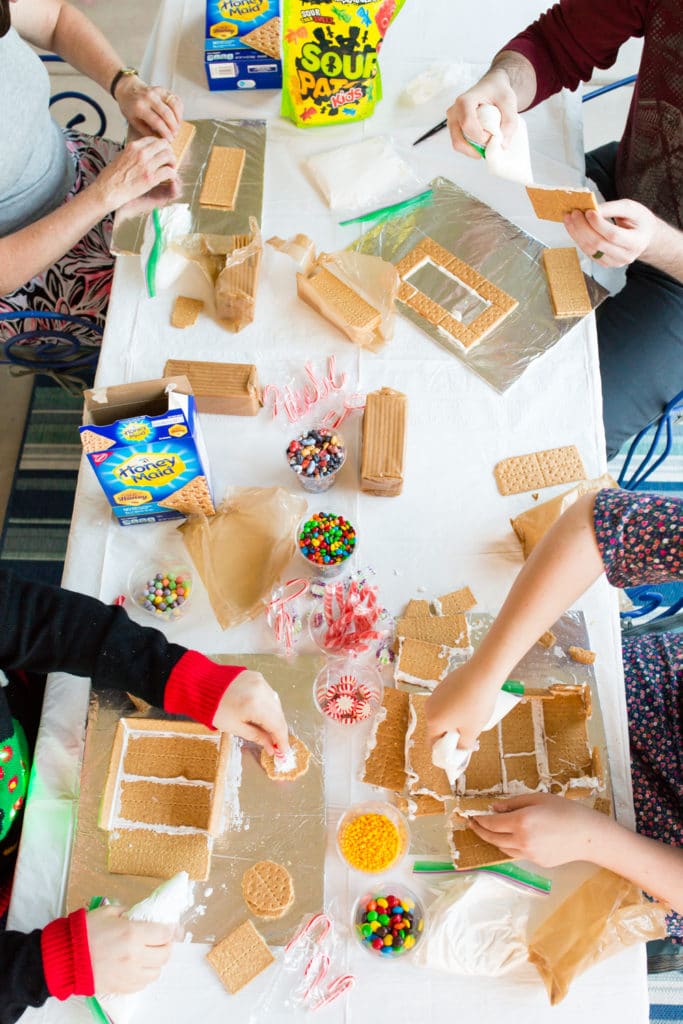 When everyone comes together creativity seems to blossom! And when you use Honey Maid Graham Crackers as the base for your holiday house it makes putting this party together such a breeze!
Graham Cracker House Supply List
Here's what you'll need to create your own gingerbread house out of graham crackers: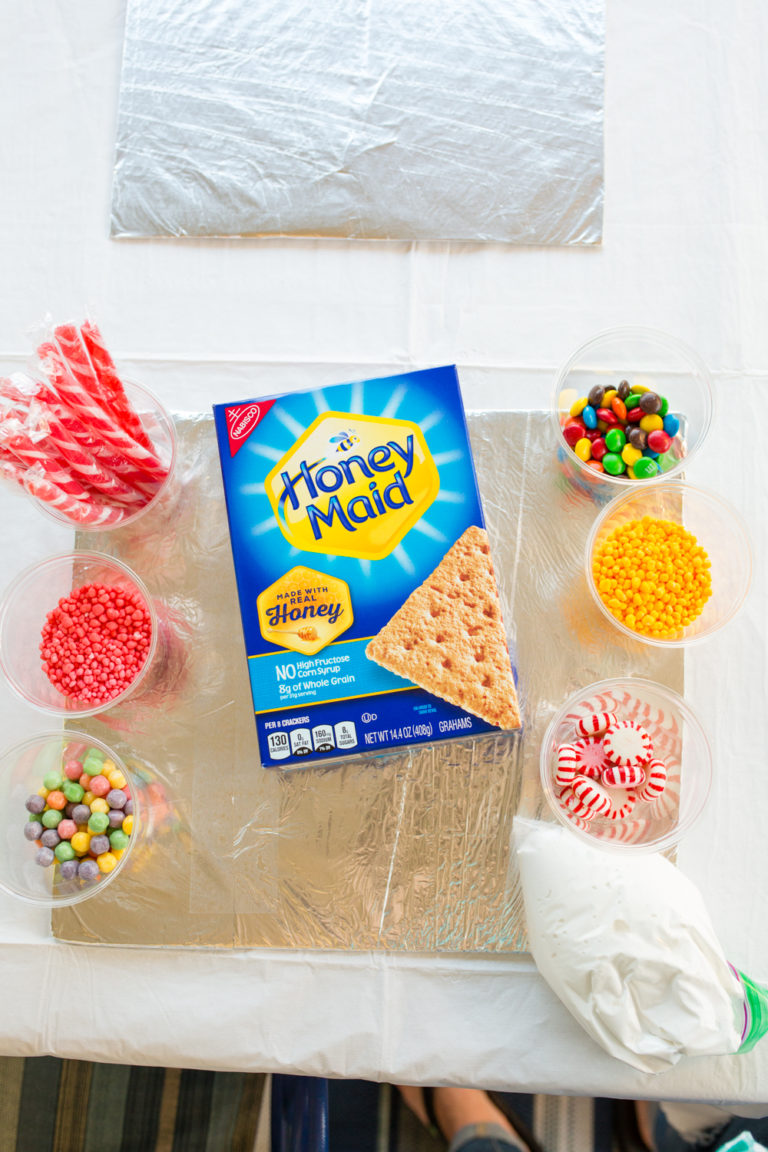 Honey Maid Graham Crackers
I'd plan on at least one box for every two people at your party. You may want extra if you have extra creative or construction engineers in the family like I do! Plus, Honey Maid makes the most delicious graham crackers, and you may find both the children and the adults eating a few samples while they build.
They are a great price at Walmart, and it's easy to stock up for a big group!
Frosting
We love to get a large amount and fill half a sandwich bag per person. It tends to be just about the perfect amount. Plus you can cut a small hole in a corner and be set for decorating with ease!
Also, Wilton makes a fantastic frosting that you can buy in-store! It's a great way to make the party set up even easier.
Candy
Be sure to grab some holiday candy like peppermints and candy canes for those who love a traditional holiday house. We've also learned Sour Patch Kids are a crowd favorite: people love adding personality and characters to their gingerbread creations. Here's our big secret to making candy options fun and creative: this is what we do with leftover Halloween candy! A few surprise items in different shapes and sizes lend to a lot of creativity!
Cardboard Wrapped in Tin Foil
We've tried paper plates, and they aren't quite the same as recycling a cardboard box into tiny trays and wrapping them in tin foil. The steady structure makes them very easy to take home. The flat surface helps the Honey Maid Graham Crackers set up a strong foundation.
Graham cracker gingerbread ideas seem to flourish when there's a little extra building space on a flat surface. Plus, it's fun to have a yard those die-hard graham cracker gingerbread house creators who like to go all out!
That's all you really need, but some napkins and wet wipes can help with messes. We're also huge fans of bowls/cups to organize candy and make it easier for decorating. We also like using tablecloths that are easy to clean or dispose of for quick clean up after!
We'd also highly recommend a holiday playlist with your favorite songs to set the mood for the party.
How to make a gingerbread house with graham crackers
This is the fun part! There isn't a perfect answer, you can get so creative with your house! But if you want a classic looking house, it only takes eight graham crackers to build the base of the house. Use frosting and put together a square structure.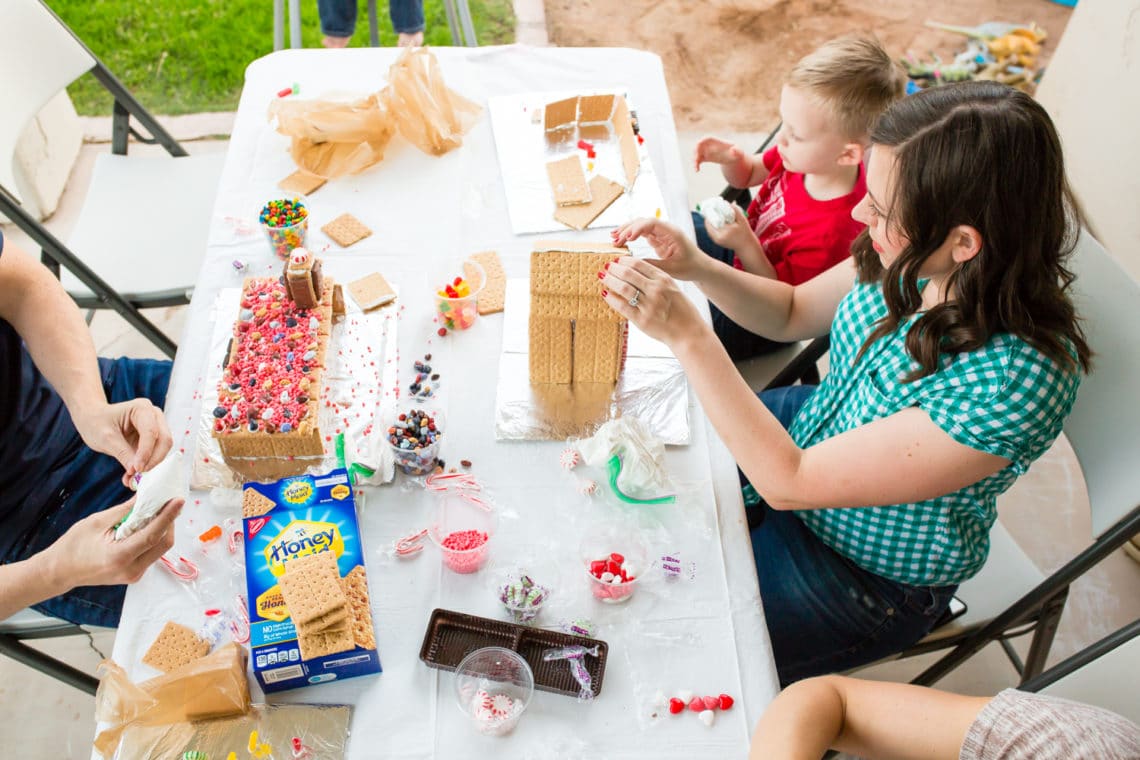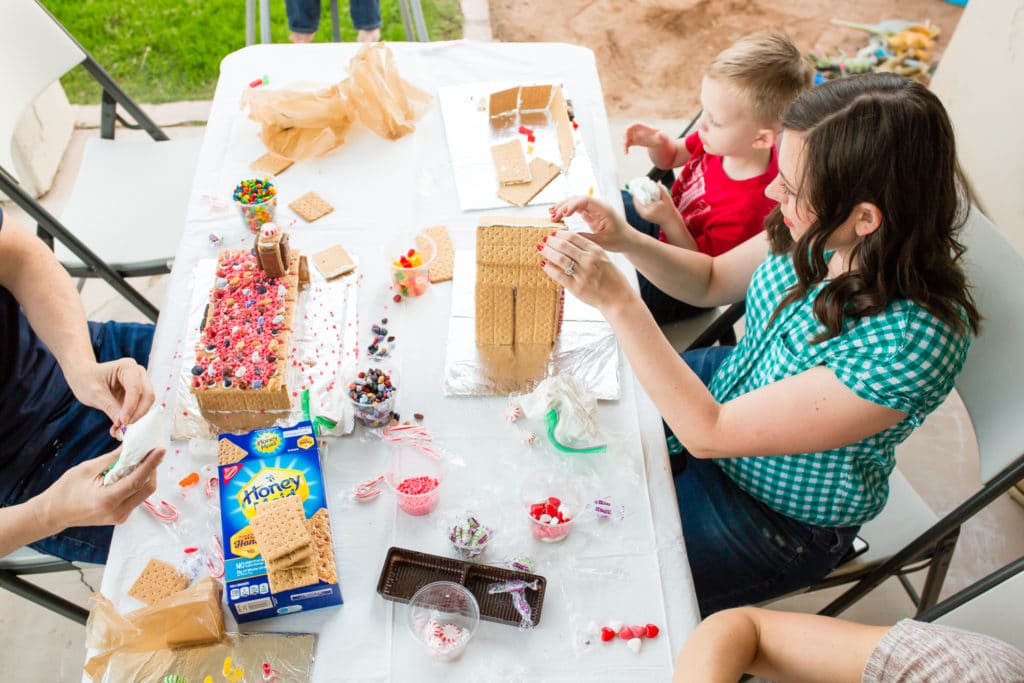 From there, you can choose to do a flat roof for easy decorating, or a pitched roof. The easiest way to do a pitched roof is to layer two graham crackers together with about an inch overlapping. They will look like shingles on the roof. You can also create a triangle shape with frosting to fit two sides of your square, and wait for the frosting to dry and harden. From there it's easy to make a pitched roof!
Why we love this holiday tradition
This is one of the easiest ways to create some fun family time during the holiday season!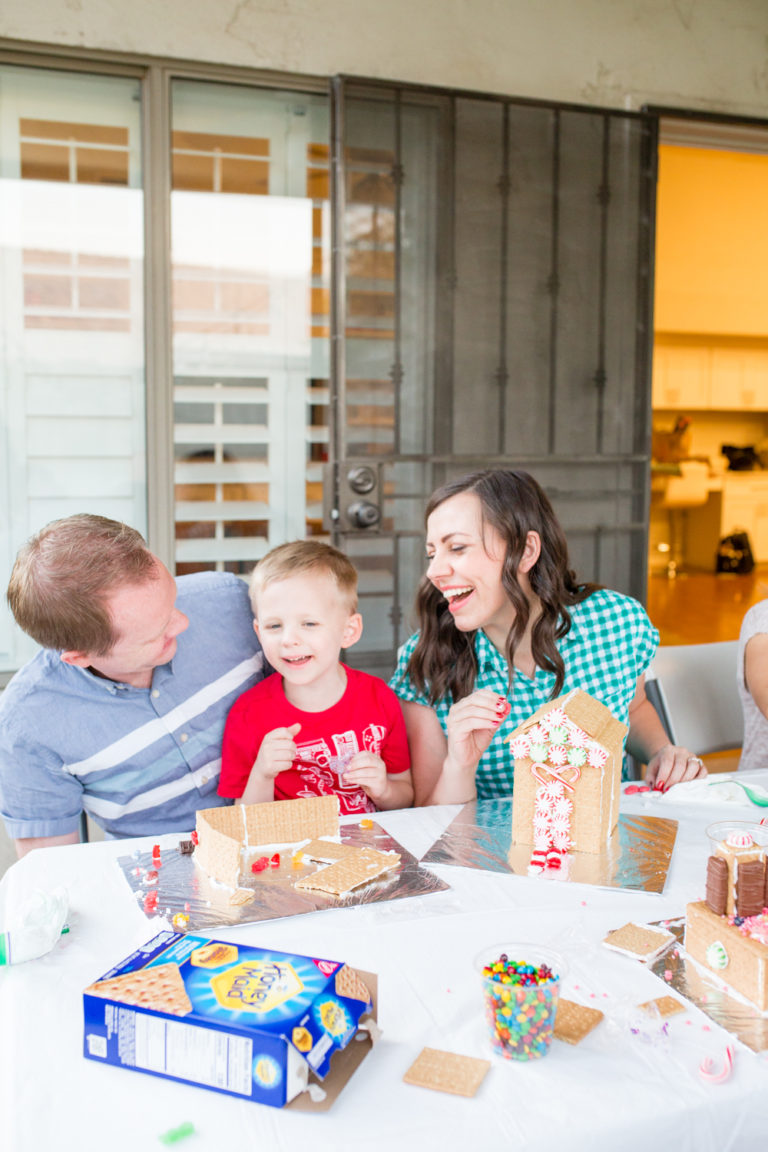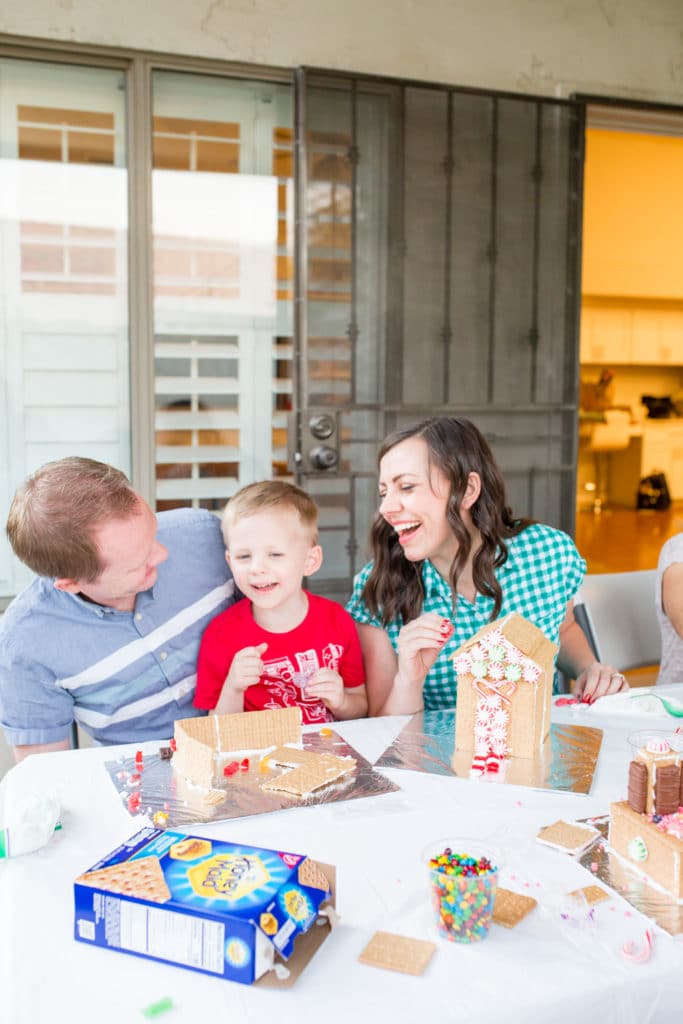 It is so fun to see how creative some family members are! I loved seeing my land acquisition manager brother-in-law make a state-of-the-art midcentury modern holiday house! My construction management brother-in-law built his graham cracker gingerbread home with perfect shingles (thank you Sour Patch kids) and a design we all agreed we'd like to move into.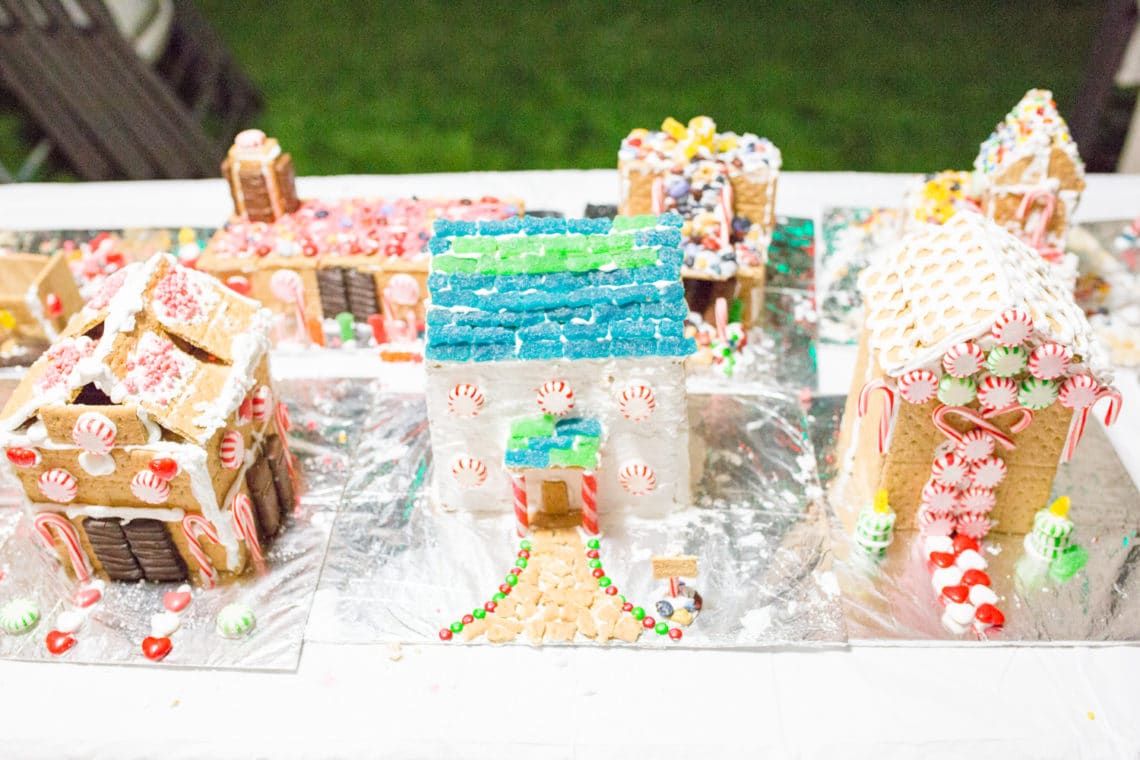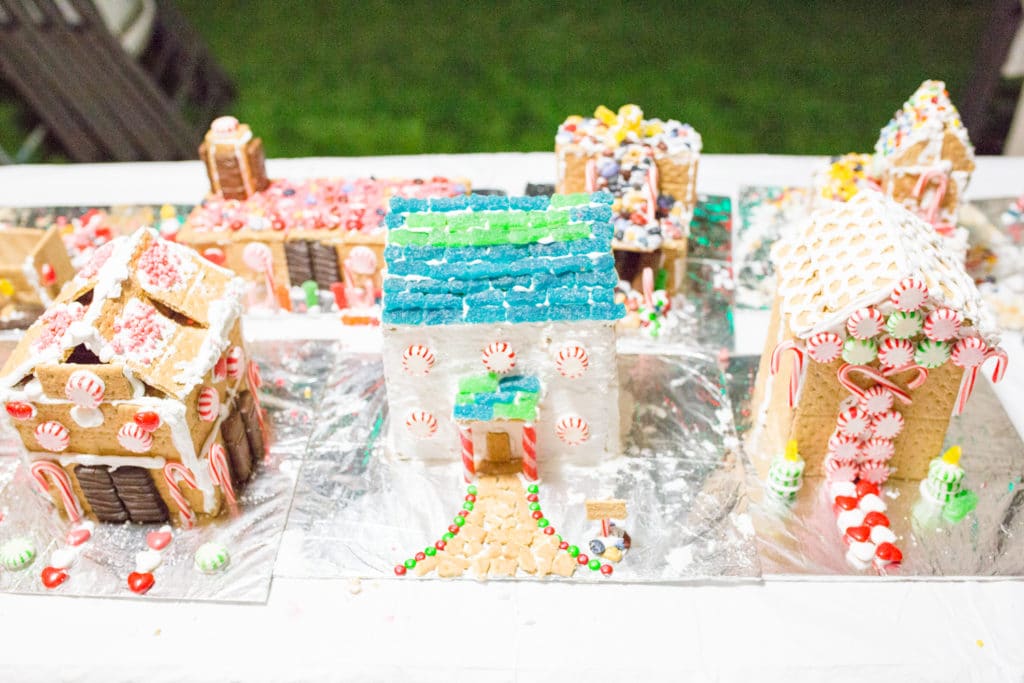 My mom's Spanish style home won most creative. One year Jacob and I turned our home into a castle. We used graham crackers and licorice rope to build a working drawbridge. Being married to an engineer is so fun at these creating moments!
It only takes about an hour to two hours, but there are always loads of laughs. It's always a family favorite, and it creates an easy family tradition we all look forward to each year!
Like these easy gingerbread house ideas? You may like these posts too:
Get 365 Date Ideas!
We want to help you have the best date nights ever! Grab this FREE printable with 365 date ideas, a date for every day of the year so you never run out of ideas!