Holiday Coloring Pages: An Oversized Christmas Coloring Page Printable
Lots of holiday coloring pages in one! A free giant Christmas color page printable that works as a Christmas playmat for hours of holiday entertainment!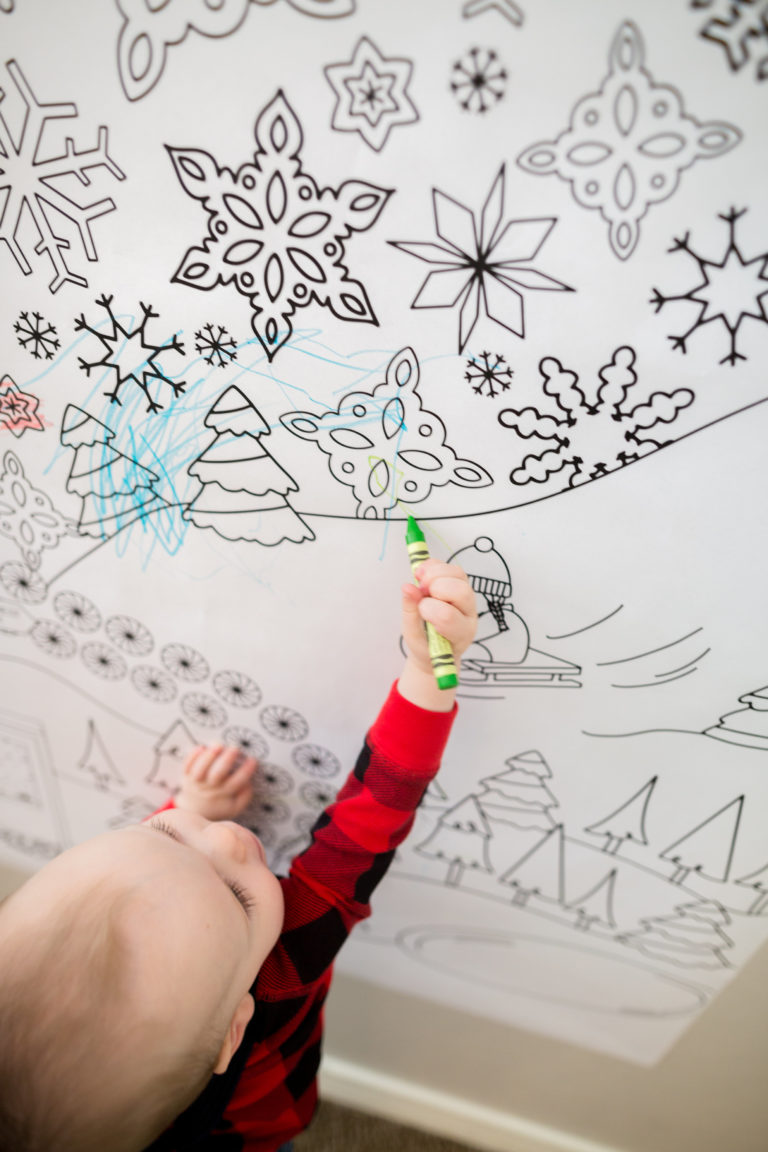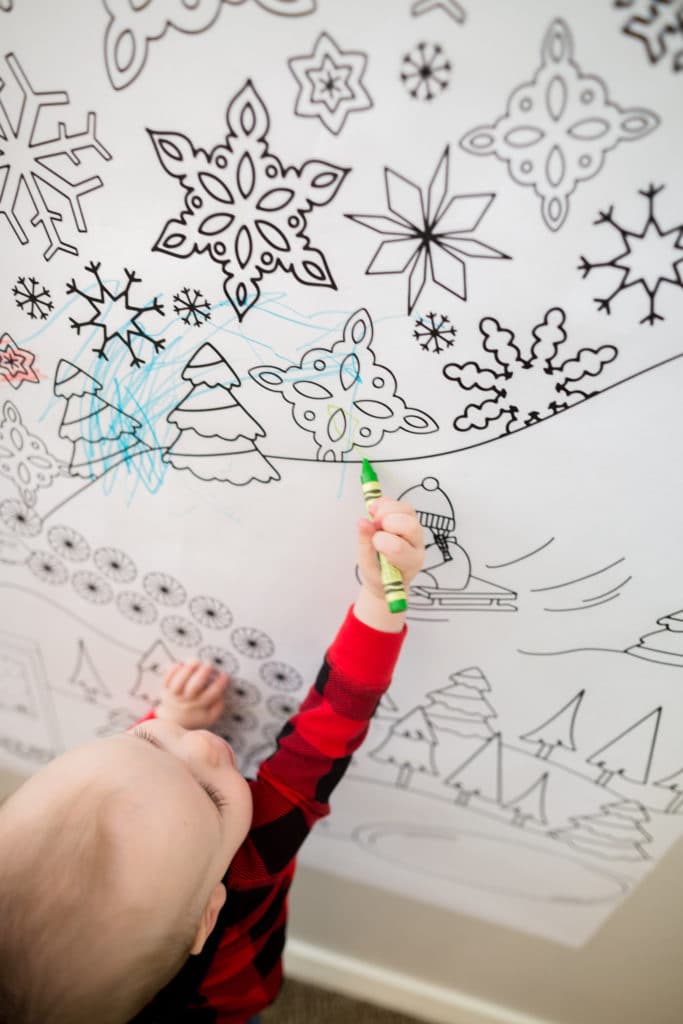 It's the most wonderful time of the year, which means there's plenty of opportunities to fit in some holiday fun! The day after Thanksgiving means full steam ahead to get in all the Christmas fun!
I've found the best to really make the most of the holidays is to find a balance of some fun outings, and some downtime at home. It really is all about balance! If my kids stay out too late every night they start to meltdown and ruin the holiday fun. So we really are all about some fun, festive activities they can do at home. Perhaps the easiest way to accomplish this is with holiday coloring pages kids can enjoy at home!
Christmas Printable Activities
Both my kids have fallen in love with coloring this year! My oldest child has become quite the artist and his ability to stay in the lines, shade, and find imaginative scenarios with what he's coloring has floored me. I've watched him pull toys into coloring page scenes, which lead to an idea I just couldn't shake. What if we created a giant coloring sheet play mat that would keep kids busy for hours? It's several Christmas printable activities in one!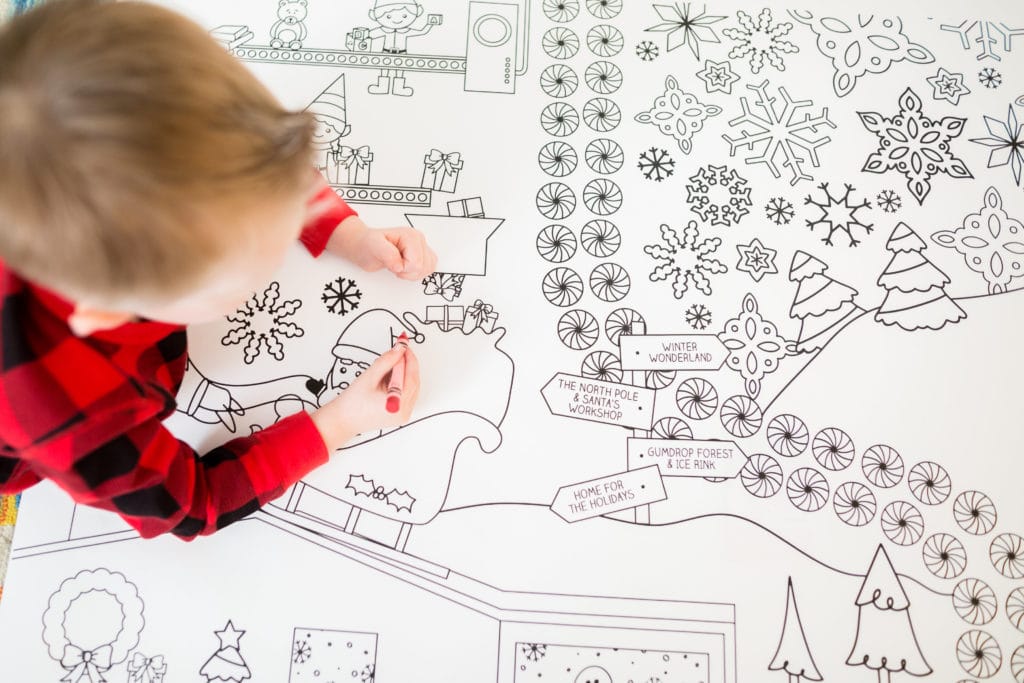 I'm so excited to share holiday coloring pages you can enjoy as a placemat for dinner or print as an engineer print for only a few dollars!
How to Print Engineer Prints Cheaply
We love ordering one of the large prints from Office Max or Office Max. Just choose the engineer prints/ blueprints service and select black and white. Upload your coloring mat printable, and choose the right size. The max size 36″ x 48″ and prints crystal clear with the file.
A Christmas Playmat for Hours of Christmas Activity Play Time
It creates something our kids can spend hours coloring and enjoying together. And once they're done, it's a play mat with lots of holiday scenes their toys can play in. It's really four holiday color pages in one! From a Santa's Workshop coloring sheet to a holiday at home scene, to a Christmas tree farm, to ice skating pond for toys or friends to play in.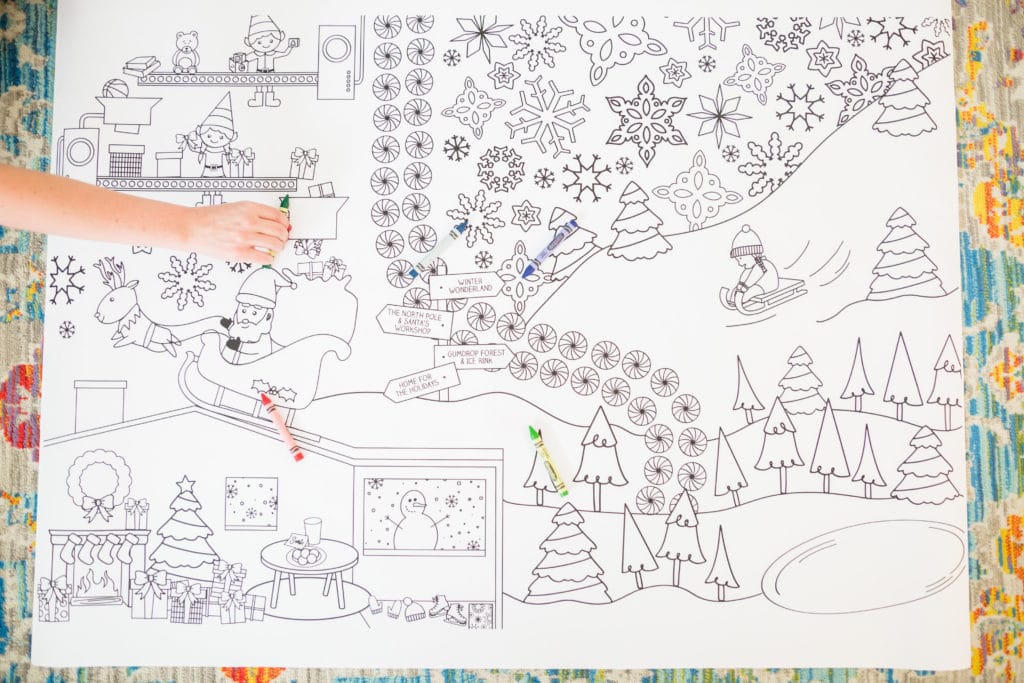 It's not just a Christmas coloring page, it's a play mat kids can enjoy for hours after. Here are some of the uses I'm so excited for with some ideas about how you can incorporate this Christmas coloring sheet into your holiday fun.
Christmas Coloring Printable Activities and Ideas
First of all, it's something you can easily print and gift your kids as a fun night in! It's a great family activity,
It's fun way to keep kids entertained if you need some time to create other holiday cheer. Hello checking things off the to-list while kids have a fun activity to enjoy

Date Night in just became a lot more doable! You can enjoy the date and give the kids something to do in their rooms. Hours of fun coloring and time to play equals lots of time to enjoy some at-home date ideas.
Babysitter fun to enjoy while you're out on a Christmas date idea. We had a babysitter test this out, and we came home to a holiday coloring sheet only halfway complete with a very happy kid ready to continue the next morning. Our teenager babysitter said she enjoyed coloring too! It's really fun for all ages, and it lets your kids have a fun night at home while you enjoy your night out.


Holiday Coloring Pages Printable Uses

It works well for a Christmas activity kids can do together. Give four kids their own quadrant and let them learn some teamwork!
Preschool and elementary teachers can use this as a fun class activity! Let students spend time coloring and adding their own ideas to the play mat. It works well as a collaborative activity, but it's also a fun art project for each to enjoy individually.
It makes a fun Christmas party activity for kids. Set up a table with a giant engineer print coloring sheet, and watch them enjoy their party time too!
It prints wonderfully as a placemat (18″x24″) each kid can enjoy it at a holiday party or gathering.
But perhaps my favorite plan for the large holiday If you're looking for your own at-home date night and are wondering how to keep the kids occupied until bedtime, this giant coloring play mat is guaranteed to keep them busy!
We'll be offering it free for a limited time, so be sure to snag your download and get your holiday printables ready for the fun today!
GRAB YOU FREE Holiday Coloring Pages PRINTABLE HERE
Photos by Chrissy Blake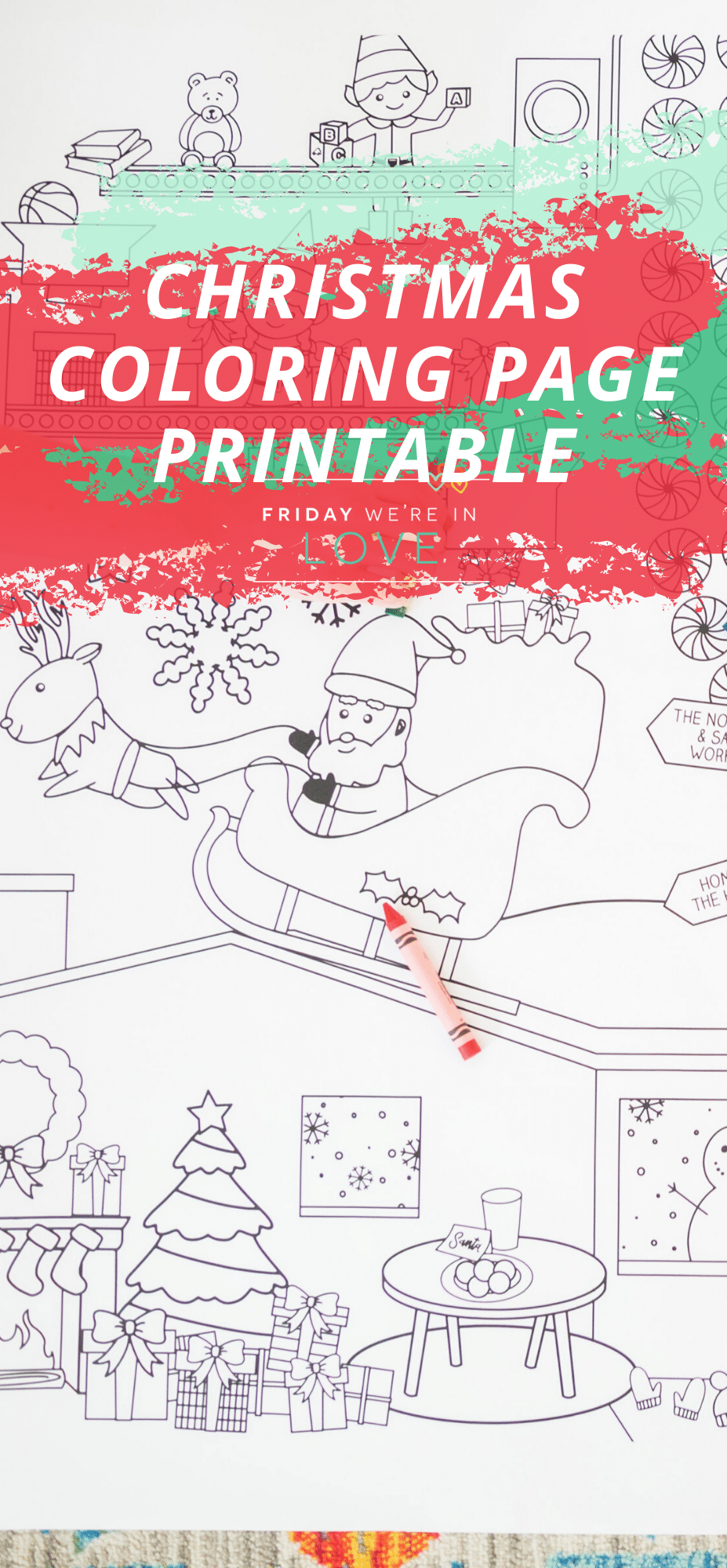 Like this holiday coloring pages post? You may like these posts too:
Quality Family Time During the Busy Holiday Season
Experience Gifts for Kids: A Year of Experiences Free Printable
Get 365 Date Ideas!
We want to help you have the best date nights ever! Grab this FREE printable with 365 date ideas, a date for every day of the year so you never run out of ideas!