Christmas Charades + Free Printable Game Cards!
Get ready for a fun Christmas game night with this Christmas charades FREE printable download perfect for your next family gathering or holiday party!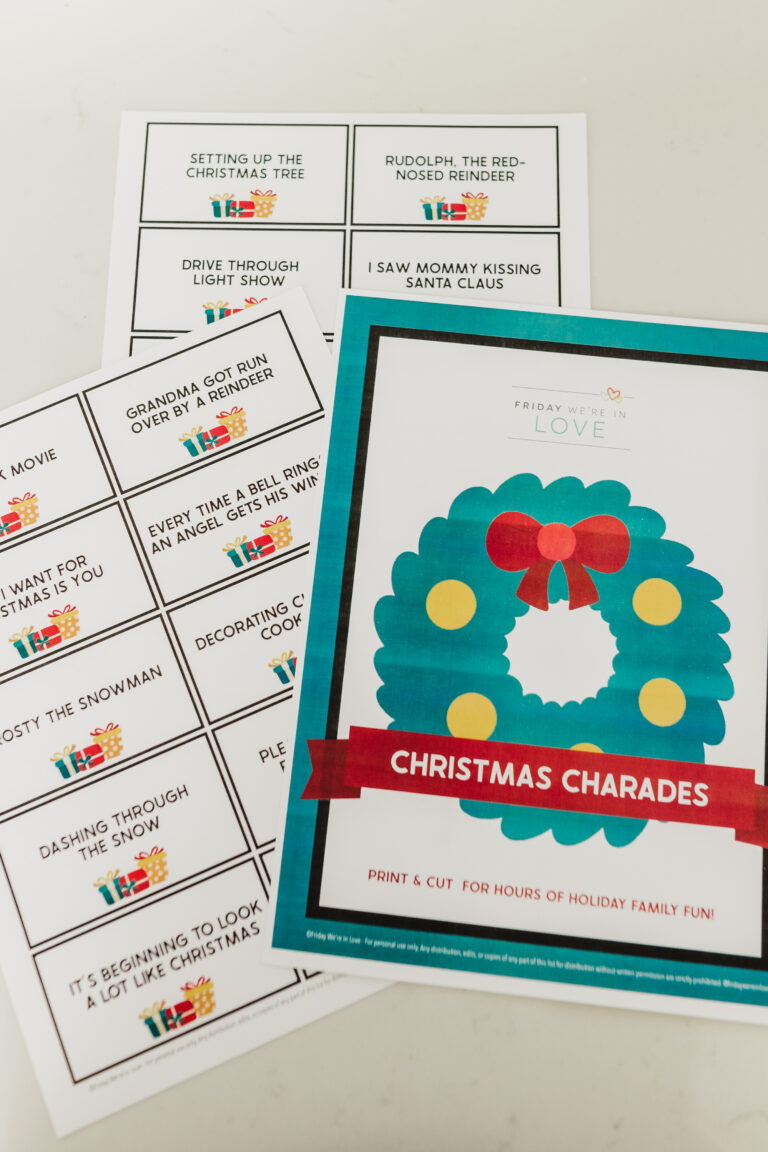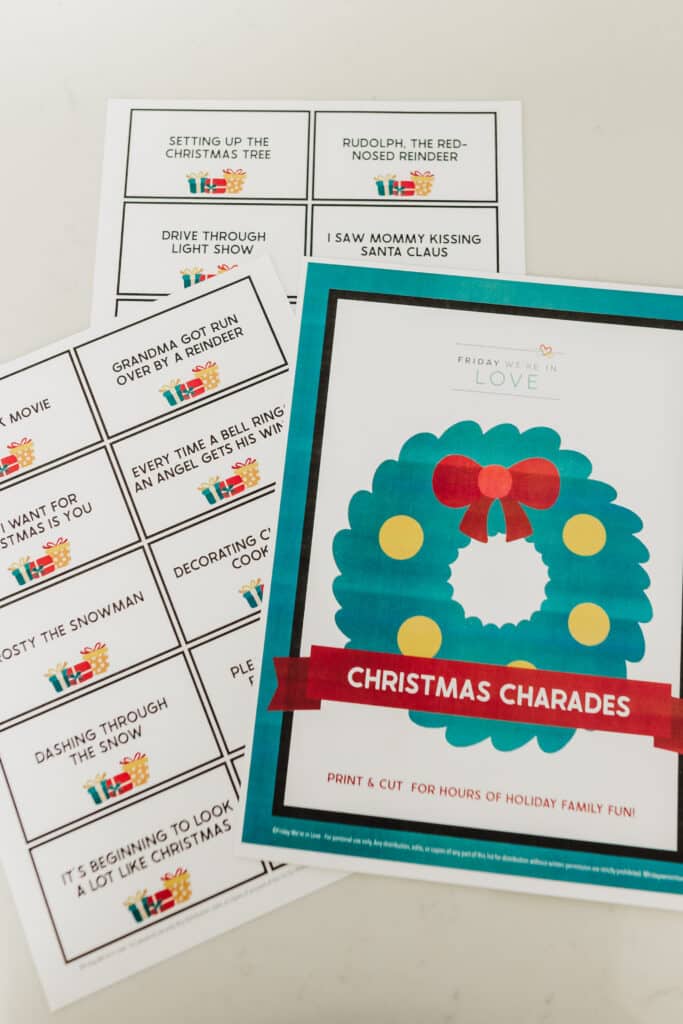 One of the best party games is a classic game of charades! And it may be even more fun when you include Christmas words and turn them into a Christmas charades game! It's just a simple thing to pull together and play, and everyone from kids to grandma can enjoy the fun!
We've made it even easier with a Christmas charades list you can grab as a free printable download. You'll find our charades word list professionally designed into Christmas charades cards in PDF file free printables.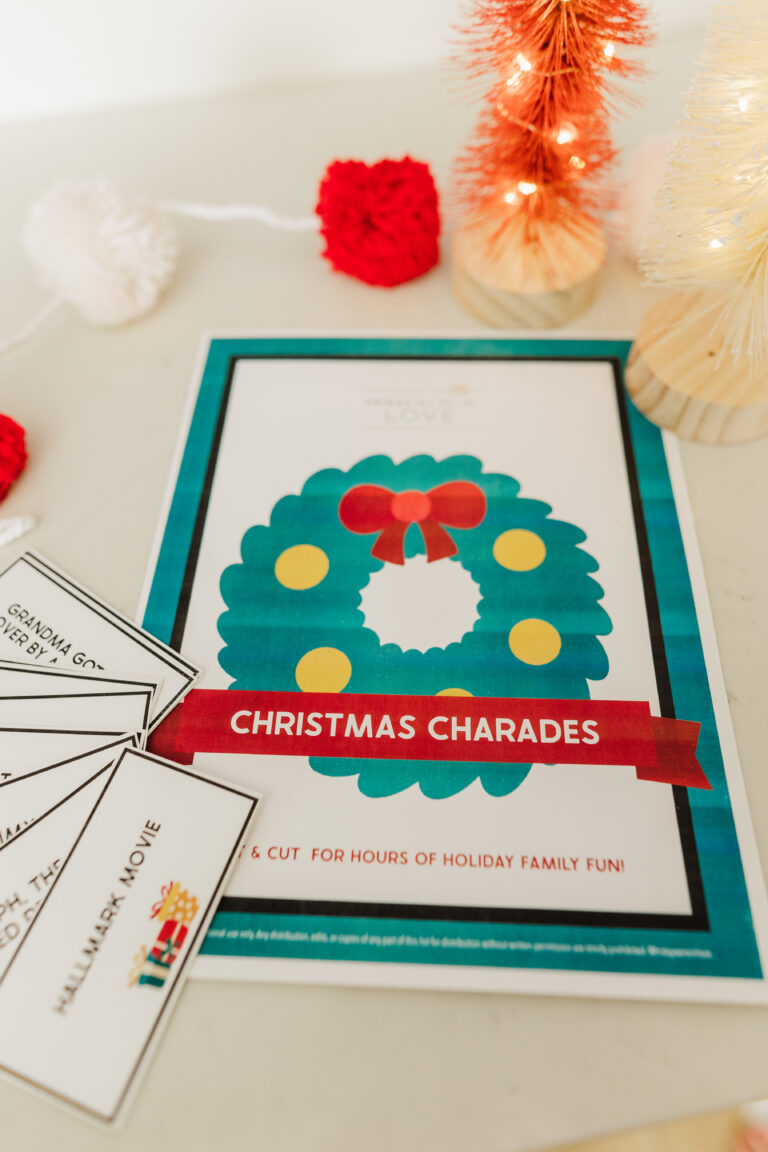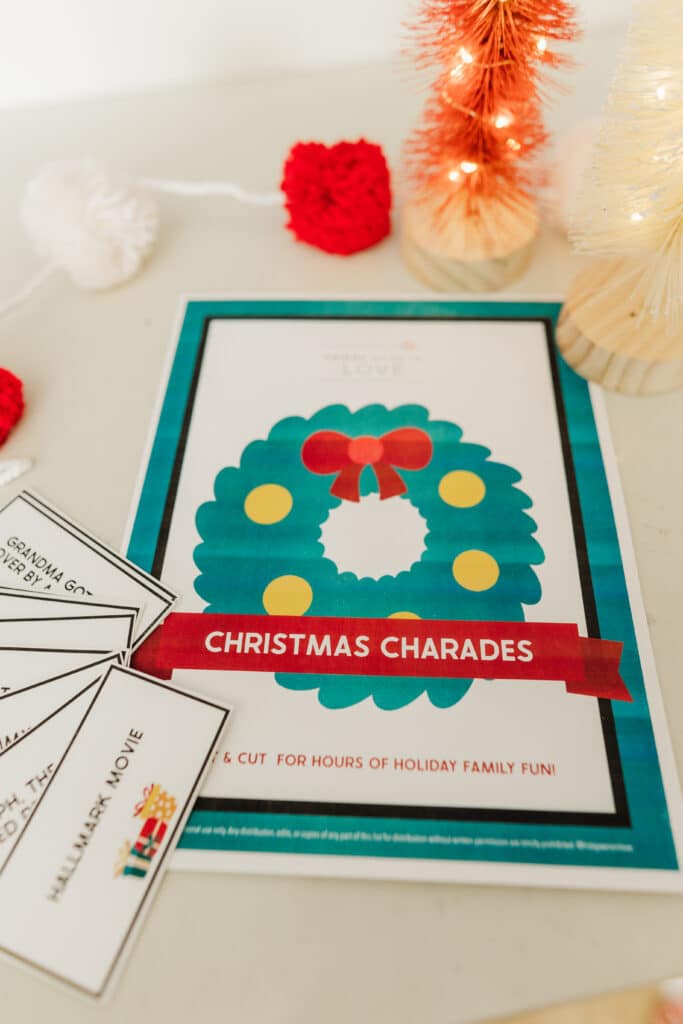 Just download, print, cut along the lines on the slip of paper, and get ready for the game! You may also want to use a laminator if you have one handy to keep the cards sturdy and you can reuse them again and again.
Grab the Free Printable Download HERE!
Grab the free Christmas charades starter pack completely free! You'll get 20 fun Christmas phrases perfect for a game of charades at Christmas time!
Grab the Upgrade Bundle
20 Words work well to get the party started, but you may find the end of the game comes quicker than you'd like. At a small additional cost, you can grab our complete Christmas holiday Charades bundle with 100 favorite Christmas terms. You'll get a high-resolution PDF file in a zip file sent straight to your inbox once you purchase and provide your email address.
How to play a game of charades
Divide into two equal teams.
Teams will alternate playing every-other round.
Have the list of charades words (in this case, Christmas charades words) ready to draw from a stack or a container.
One player from the team will be the actor, and it's their job to pantomime act out the word or phrase in a set time so their team can try to earn a point by guessing the word. Each player has 1-minute to act out the word or phrase.
While the acting participant tries to get the correct words out of their team, they are encouraged to do a few hand gestures to help move the game along:
Use hand gestures to clue in the number of words and which word they are acting out.
Actors are allowed to clue in their team to the number of words in the phrase teammates will be guessing by holding up the number of fingers to represent each word in the phrase. So for example, if the phrase is "Rudolph the Red-Nosed Reindeer" the moment the timer starts, they can hold up 5 fingers to indicate 5 words. And they may also hold up the number of fingers of the word they are about to act out.
So if they want to act out Rudolph, they'd hold up one finger to indicate they are acting out the first word.
Use hand gestures to indicate the team is close! Wave the hand in a small circle toward the person guessing to indicate they are close but need to keep guessing similar words or tenses to get the exact word.
Use a hand gesture to indicate if it "sounds like" another word you're about to act out. Put the hand up to your ear until your team says "Sounds like" so you can confirm they know how to guess. You can act out rhyming words, similar words, etc. to help your team get the phrase.
The team with the highest number of points wins!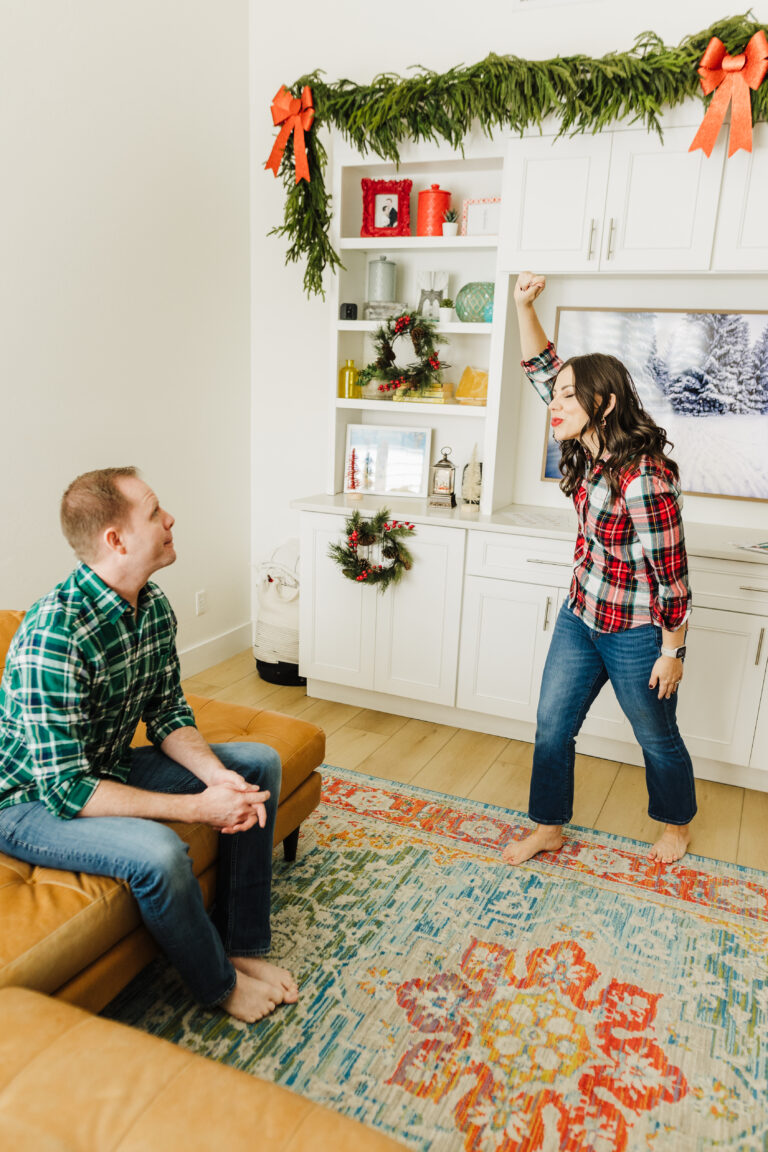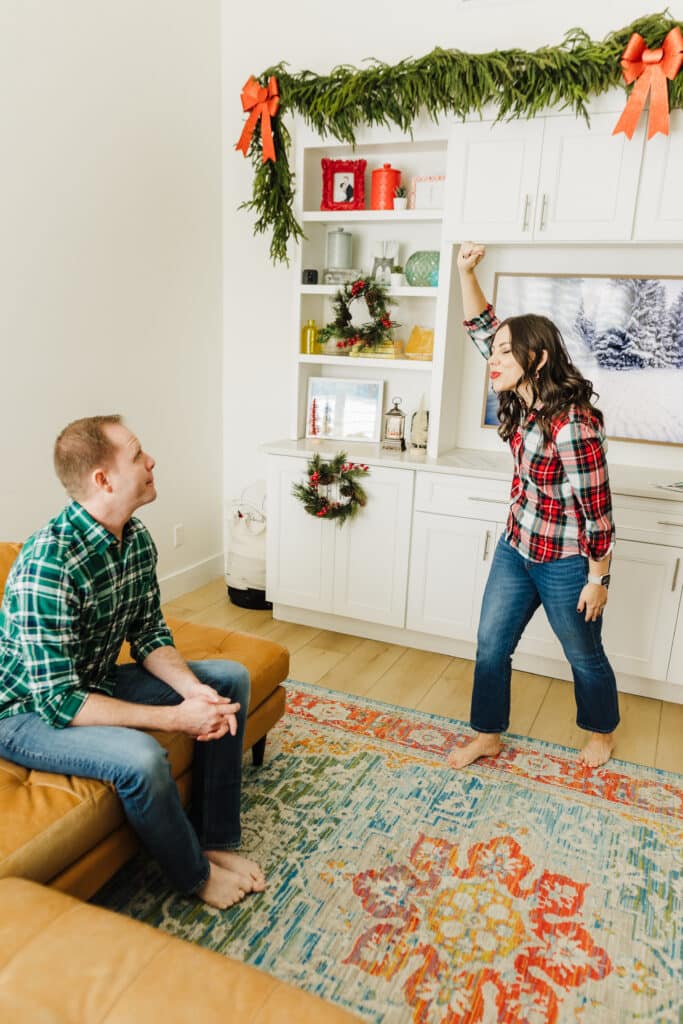 Alternate Ways to Play
You can also play as an entire group and whoever guesses the word gets to act out the next one. Whoever guesses the most words wins the game. This can be a great to include everyone, and in full disclaimer, you often get lots of laughs when everyone feels like they're participating together.
We also love playing a game for two for date night! We don't really keep score, but still have a blast with the Christmas charades theme!
Also, the printable cards give some of the best Christmas charades ideas that make it such a great December date night!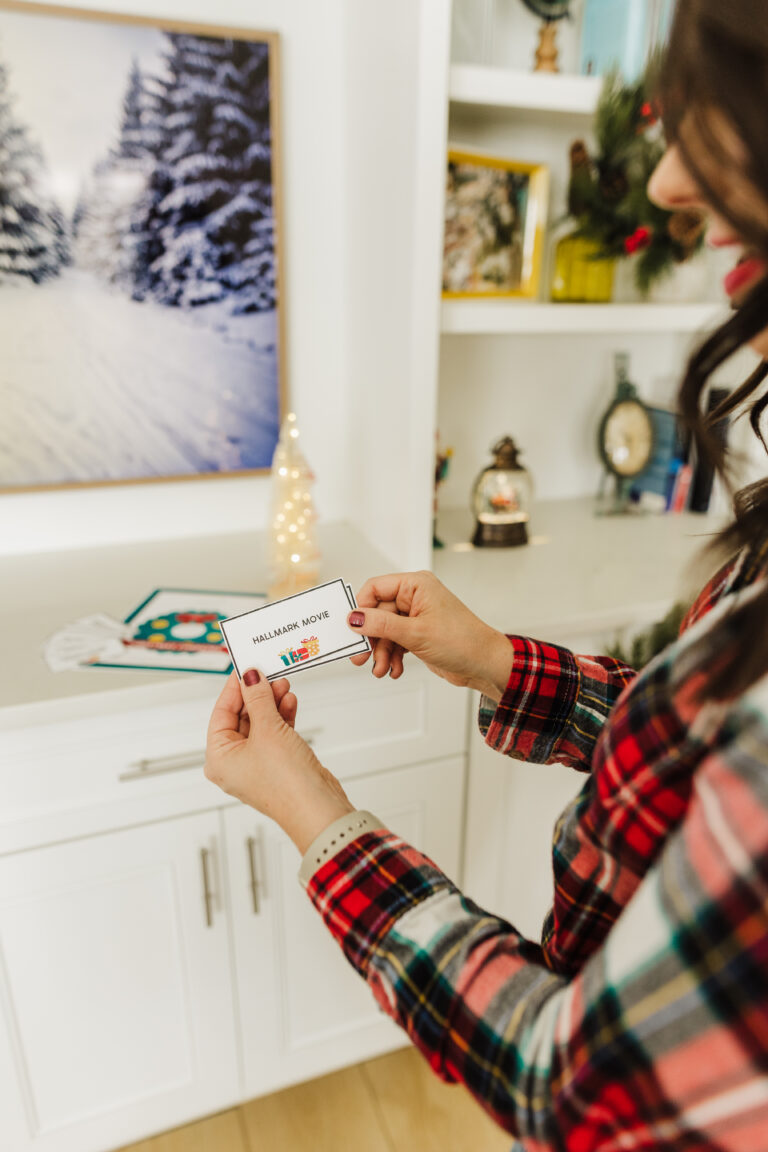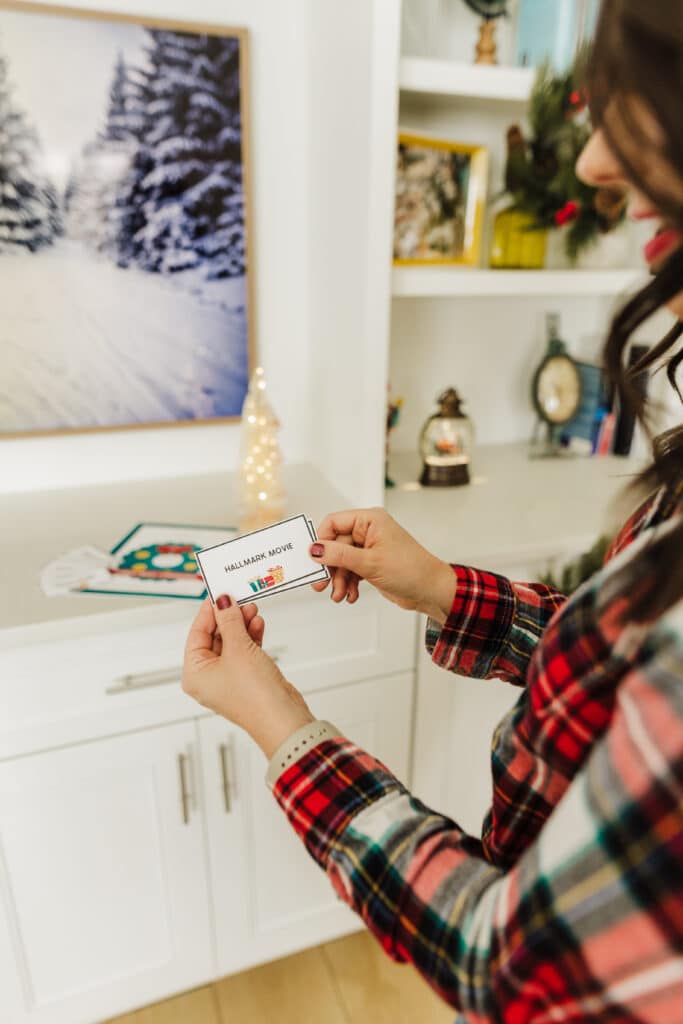 Christmas Charades Word List
We took phrases and titles from Christmas movies, a lyric from Christmas pop music, and also classic Christmas Carol lines. You'll also find popular Christmas activities that we thought would be extra fun to act out. Here are a few samples:
I Saw Mommy Kissing Santa Claus
Licking a Candy Cane
Building a Snowman
The Twelve Days of Christmas
Kissing Under the Mistletoe
Angles We Have Heard on High
All I Want for Christmas is Two Front Teeth
Cookies and Milk for Santa Claus
Santa Coming Down the Chimney
Hanging Christmas Lights
Be sure to download the free printable, or grab the upgrade for your next Christmas party or Christmas date night!
If you like this Christmas charades game, be sure to check out these posts and resources too:
Christmas Pictionary Printable
Christmas List: Free Printable Christmas Gift Planning Worksheet
A Year of Dates Gift + Free Printable
Get 365 Date Ideas!
We want to help you have the best date nights ever! Grab this FREE printable with 365 date ideas, a date for every day of the year so you never run out of ideas!