Christmas Lights Scavenger Hunt
Take Christmas light drives up a notch with this free Christmas Lights Scavenger Hunt: A Christmas decoration and Christmas light scavenger hunt list for kids and adults alike!
At first, I told myself Christmas wouldn't look all that different this year. But when one of our favorite Arizona Christmas Light events was canceled, things instantly felt different. We'll miss the Tempe Boat Parade this year, but I knew we'd still find a lot of joy in driving through local neighborhoods, looking at lights.
Neighborhood Christmas Lights Game
The joy of neighborhood Christmas lights is that they yield a lot of magic. It's magic even on a simple walk or drive through the neighborhood. We tend to do a lot of walking to look at the lights since the weather is so lovely in Arizona.
We took a family walk in early November. I instantly noticed a few lights and Christmas trees were emerging.
I started to play a game with my son. We spent our walk counting how many Christmas trees we could see lit up in neighbor's windows. He asked at least once a week to go play "Spot the Christmas Trees in the Windows." It always made me smile knowing how much joy and how much fun this simple game brought our family this holiday season.
Creating Some Christmas Magic
I kept thinking how much he'd enjoy a Christmas lights scavenger hunt with a little more thought and design. So I pulled out my phone and notepad and started designing one for him. And something inside of me knew that this magic I was creating for my son needed to be something much bigger. It was magic so many families disappointed by the cancellation of their version of the Tempe Boat Parade could use this holiday season.
I contacted our very talented designer. She brings life so many of my ideas and visions! As soon as I shared the idea, she was 100% thrilled! We got to work creating a visual Christmas lights scavenger hunt. We set out to create one that would be equally fun for small children who can't quite read, and adults who need a Christmas date night they can do safely from their car.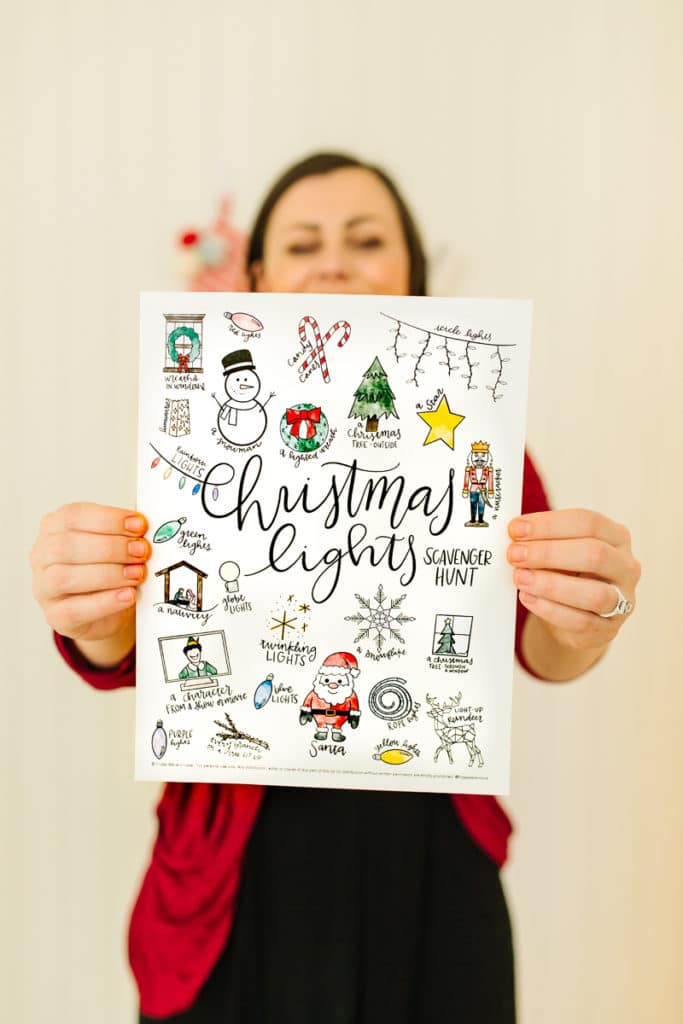 Christmas Lights Scavenger Hunt
And friends, that's how the Christmas Lights Scavenger Hunt was born. There are about 30 different types of Christmas lights or Christmas decorations that accompany lights to find. We made sure to go through several neighborhoods to ensure the items were common enough to be found, but still quest worthy enough to keep adults and kids looking for at least an hour.
I almost teared up as I watched my five-year-old excited to find each item on the scavenger hunt list. He decided to color in the pictures as he hunted. Each item found yielded a shriek of delight. And truly, there was a little bit of Christmas magic restored to a kid who has had so many family adventures and magical moments canceled this year.
He made creating this holiday scavenger hunt 100% worth it! But I sincerely hope your kids, and those looking for a Christmas lights date night find some free Christmas magic with this download we're giving away for free as our Christmas gift to you this year.
Grab Your Christmas Scavenger Hunt Printable
Please enjoy! And if you use it, we'd love to have you share and tag us on Instagram (@FridayWereInLove) so we can see the Christmas magic too!
Help us spread the fun, pin this idea!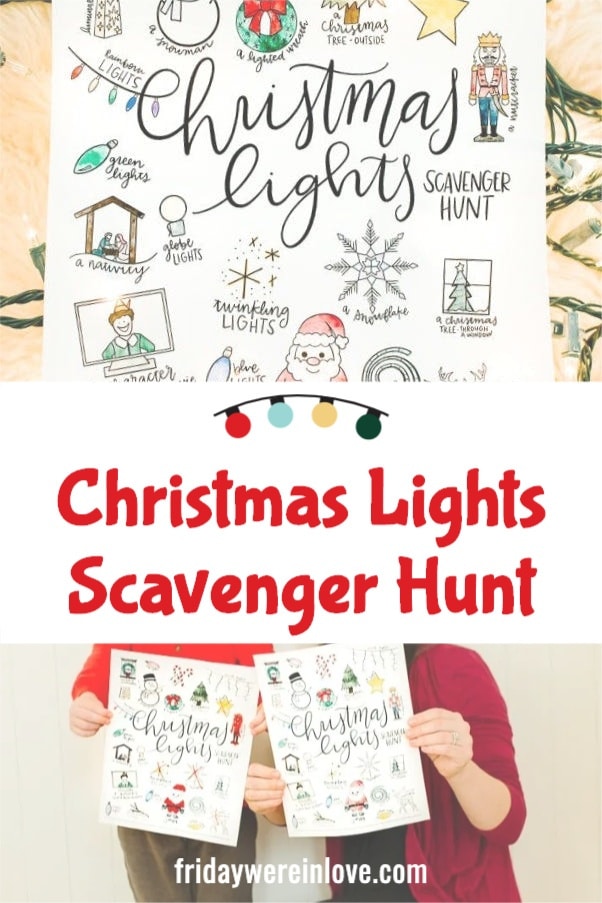 Need some more holiday fun? You may like these ideas too:
50 Holiday Activities for Families + Free Printable
Scavenger Hunt for Kids + Free Printable!
Get 365 Date Ideas!
We want to help you have the best date nights ever! Grab this FREE printable with 365 date ideas, a date for every day of the year so you never run out of ideas!