Christmas Pictionary Printable
Get ready for a Christmas game night or holiday party with our printable Christmas Pictionary game! Grab the Christmas Pictionary printable files for free for the perfect party game!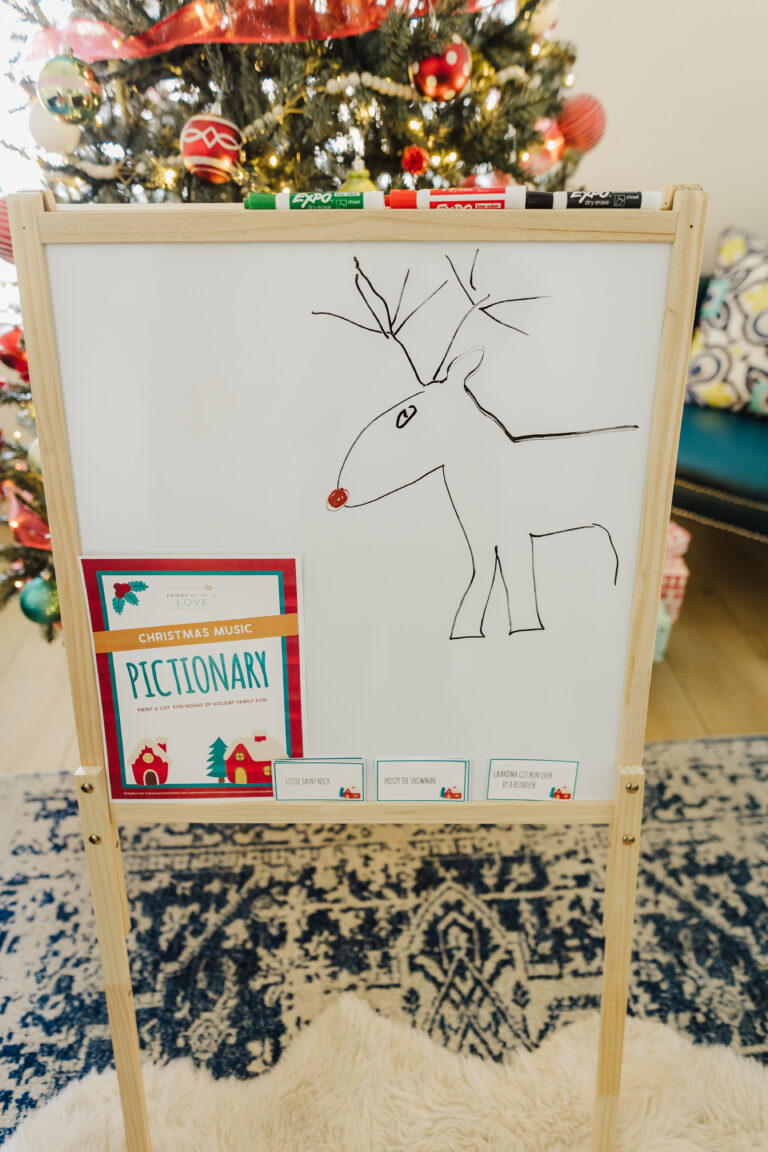 'Tis the season to gather for holiday parties, family get-togethers, and family game nights. These occasions often call for Christmas party games, and we have a fun game with free printables to let help you have a great time playing Christmas Pictionary!
Christmas Pictionary Game
Grab our Christmas Pictionary Cards digital files. These printable games are ready to grab at the download link below!
After you download the files, print, and cut out the printable game cards so you're all ready to play!
We have Free printable Christmas games for use that provide 20 cards in the free PDF files ready for download! And we also have an upgrade with 200 printable Christmas Pictionary game cards so you're set for a party! This bundle deal is a great way to keep the game going with the whole family, a larger group,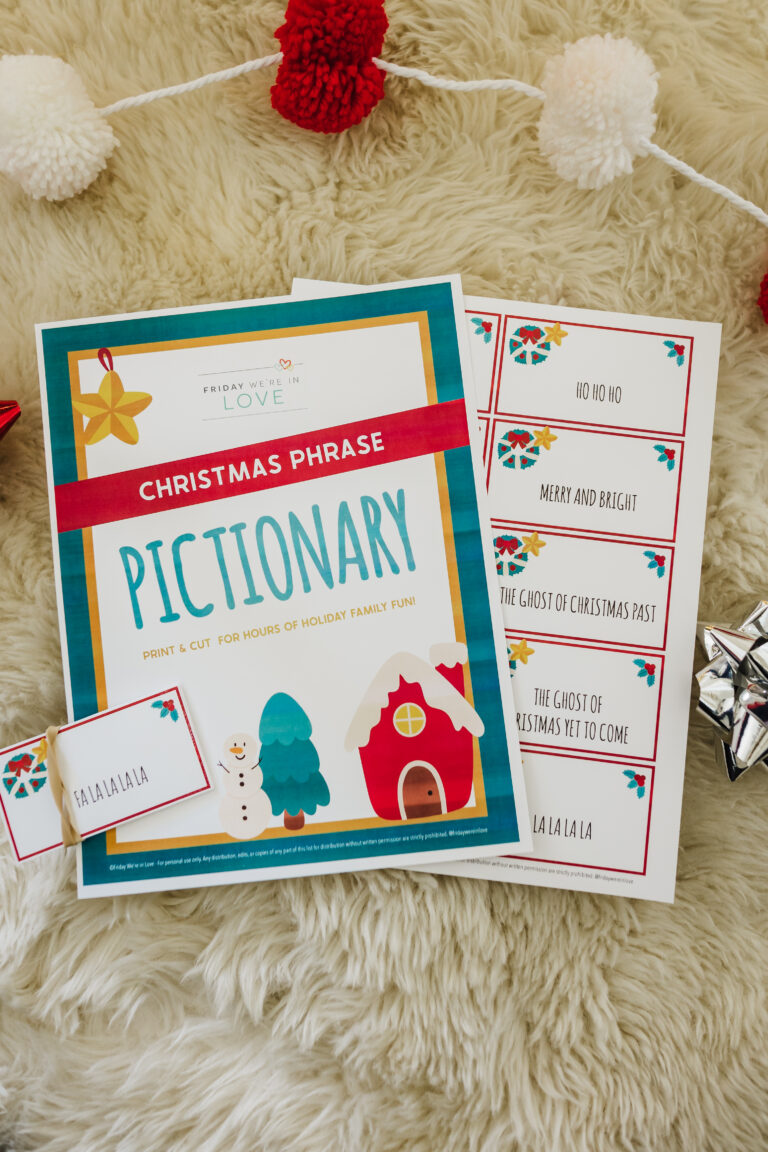 Free Christmas Pictionary Printable
There are two versions of the free printable Christmas games:
Christmas Words/Christmas Phrases.
Christmas Carols and Christmas Music
You can download a Christmas Pictionary word list to help you play the game at no extra cost!
Each comes with family-friendly phrases and saying appropriate for a family game night, youth groups, and people including younger kids. You'll need at least one of these free Christmas Pictionary printable downloads to get the party started!
*This free resource is for personal use only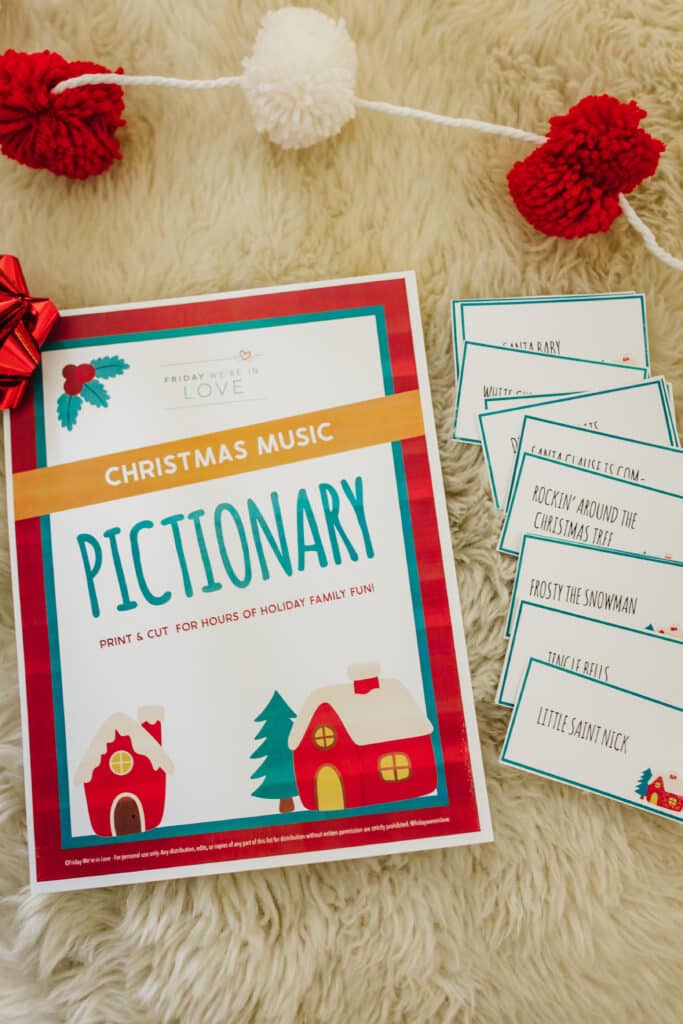 Christmas Songs /Christmas Carols
Grab 20 popular Christmas song titles you'll hear and know if you listen to Christmas music during the holiday season. They're common Christmas Carols. And they're the perfect way to get the holiday spirit!
Christmas Words/Christmas Phrases
Grab 20 popular Christmas words or Christmas phrases to draw for game night. You'll find phrases like Christmas lights or Christmas tree. They're a lot of common sayings and Christmas movie sayings most people will easily know!
Grab the Upgrade Bundle
20 Words work well to get the party started, but you may find the end of the game comes quicker than you'd like. At a small additional cost, you can grab our complete Christmas holiday Pictionary bundle with 200 favorite Christmas terms. You'll get a high-resolution PDF file in a zip file sent straight to your inbox once you purchase and provide your email address. There are two packs included, one includes Christmas phrases to draw.
Please note, these are sent as a digital download file and not a physical product. Due to the nature of digital downloads, no refunds are offered.
Grab the 200 Printable Cards to keep the Pictionary games going! Grab the upgrade set of cards for a lot of fun that will last for your next holiday party!
Buy the 200-Card Christmas Pictionary Upgrade Bundle Here!
What You Need to Play
Christmas Pictionary words (That you grabbed above with the Christmas Pictionary PDF download). Download the digital download file and either print at home, or send to your local print shop. Card stock works best, but you can use classic printer paper if that's what you have on hand.
A drawing board for each team. This can be a whiteboard, a chalkboard, or a piece of paper. You can certainly use standard printer paper, but I'd go for a giant piece of paper or these giant sticky notes. A larger size can be the best thing to move to the next person quickly and keep the game going with all team members able to see with ease.
Markers for each person drawing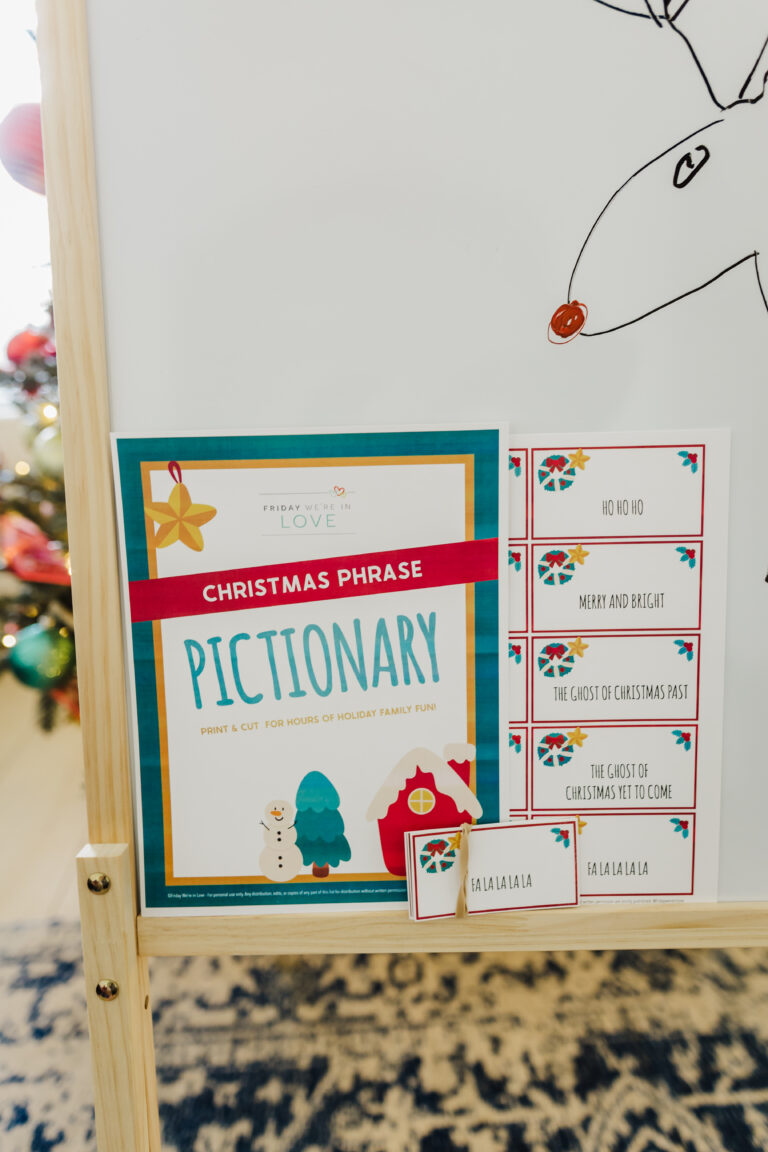 How to Play a Game of Christmas Pictionary: Detailed Instructions
The game of Pictionary is a type of drawing game where participants draw a term or phrase from a card. The rest of their team has a goal to guess what is being drawn before the other team guesses it first.
This is known as the "All Play" version, but I'll share the alternative option after the full instructions.
Game Setup
Divide into teams of two. You'll ideally have at least three people on each team, but you can certainly have more!
Set up two drawing boards, one for each team. Make sure they face in different directions so the opposing team can't see each other's drawings.
Select a drawer from each team. Each person needs to take a team drawing to keep the game fun and everyone included. But for each round, only one person drawing is needed.
The two drawers will select a single card from the pile. They will each draw the same Christmas words for phrases for the guessing game. They are the only ones who should see the card.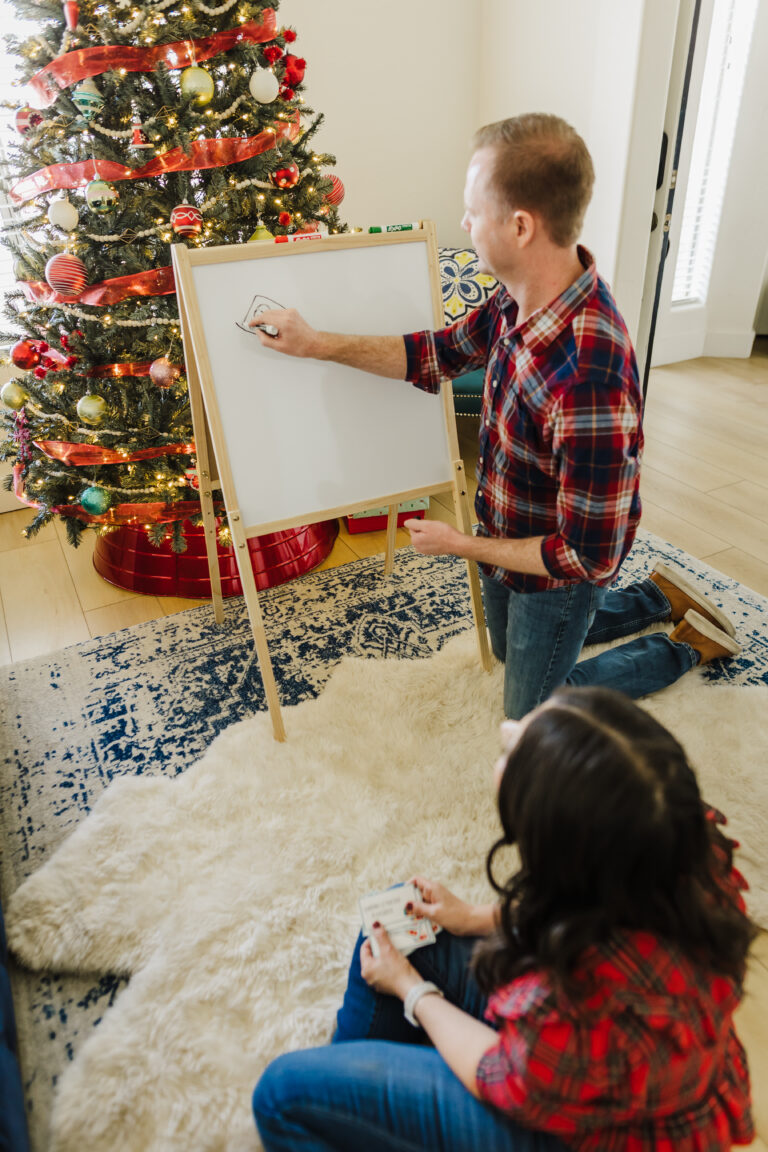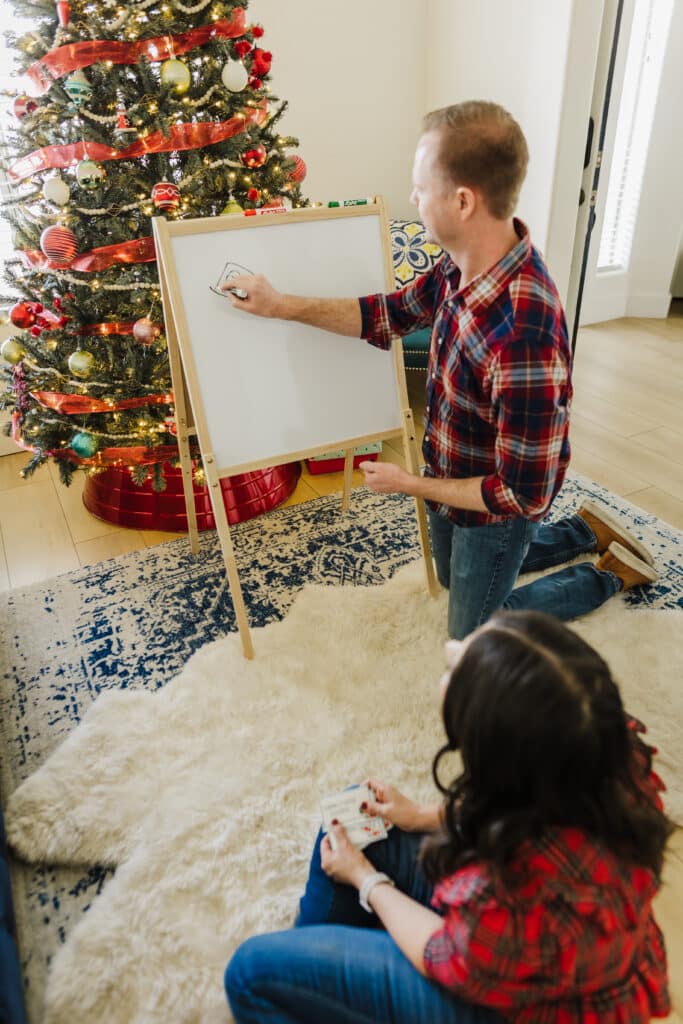 Rules for Drawers:
You can draw anything related to the prompt that you'd like to help your team guess the word as quickly as possible. Also, you can even use homophones as well as rhyming words, such as drawing a piece of tail for the word "tale."
You may not use letters or symbols or communicate with your teammates. No words or symbols are allowed!
Avoid drawing "sounds like" clues, or putting dashes or numbers to indicate the number of letters in the word or words in the phrase.
How to Play Pictionary
Set a timer for one minute and let each drawer attempt to draw the word or phrase while family members/teammates attempt to guess.
The first team to guess the correct answer and get the catch phrase or word exactly within the time limit wins a point.
Teams swap to the next picture drawer and start the round again.
The first team to get the most points when the cards run out, or within a set time, win the game!
Additional Ways to Play Christmas Pictionary:
Single Play:
Instead of All play against each other, have teams take turns guessing a phrase from a card. You'll only need one drawing board, and all family members can enjoy the shenanigans. The goal will be the first team to get to a set number of points, or whoever has the most points within a set time frame. This version comes from Pictionary board games where players advance on a board when they guess. You can still play this way without the board. You'll just need to keep track of correct guesses and points a little more accurately. It's a fun way to play if you have kids of all ages, even little kids playing along.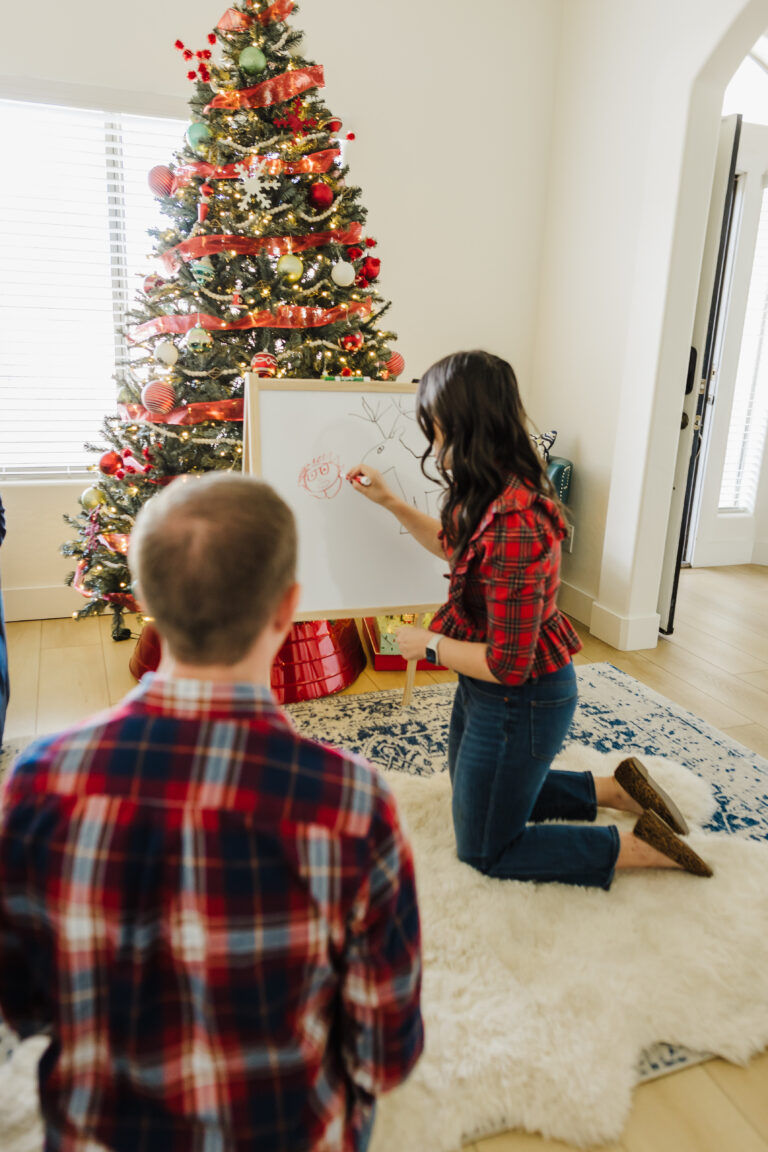 Pictionary Date Night for Two
Clearly, you could play these fun Christmas games as a group date, but it can also be a super fun holiday activity for two! In this game, you'll need a digital timer and a notepad to keep track of time. In this version you're both playing together, taking turns alternating who draws and who guesses. But the object is to see who can guess the quickest. Once the phrase is guessed, stop the clock and add your seconds to your tally. The person with the lower number at the end wins. Of course, you'll need some integrity to still draw quickly and actually try to help each other out. It's actually so much fun to play this Christmas charades game for two. You can add in a lot of inside jokes, laugh, and enjoy this version of Christmas Pictionary for two as a great Christmas date idea!
No matter how you choose to play this classic game, it's extra fun during the Christmas season with the holiday games you'll use for your next Christmas party or family gatherings. It's a great game that moves quickly, and works well as family fun for all ages! It truly is a favorite thing for families to enjoy together during the holidays!
We hope you enjoy many fun family game hours with this Christmas Pictionary game! Happy Holidays!
Like this fun Christmas Game? Be sure to check out these resources too:
Christmas Lights Scavenger Hunt
Christmas Bingo
50+ Christmas Activities for Families
50 Holiday Date Ideas: Christmas Date Ideas for the Holiday Season!
Christmas Activities: 50 Fun Christmas Ideas with Free Printable
Get 365 Date Ideas!
We want to help you have the best date nights ever! Grab this FREE printable with 365 date ideas, a date for every day of the year so you never run out of ideas!