Kid's Christmas Tree: Why We Said Yes to A Christmas Tree in Our Kids Bedrooms
Why we let our kids have a Kid's Christmas Tree in their bedroom: and tips for finding a super affordable tree and decorations to help create this childhood memory of Christmas magic with Christmas trees in bedrooms.

A Christmas Tree in Kids' Bedrooms
When my son was only four-years-old, and as we packed up Christmas tree decorations, he turned to me and something that seemingly came out of nowhere.
"Mom, can I have a Christmas tree in my bedroom next year?"
It caught me off guard! We'd never discussed this, I don't believe he's ever seen a kid's Christmas tree in a bedroom before. So of course the first thing that every parent says came out of my mouth:
"Maybe we can see about it next year!"
I didn't think he'd remember the next year. But apparently, this was a dream he held onto all year! Because we have a big Halloween obsession in our house, but as Halloween decor emerged, he asked about the Christmas tree. And I instantly knew this may be something he wasn't going to easily forget.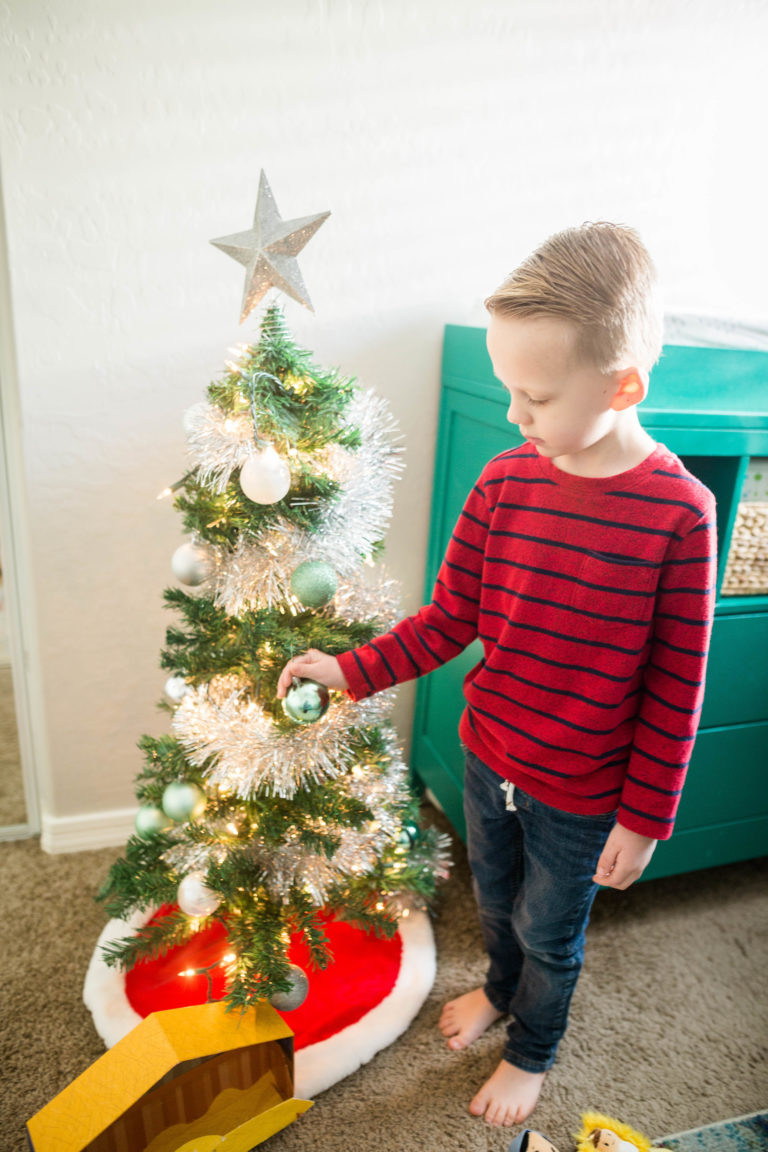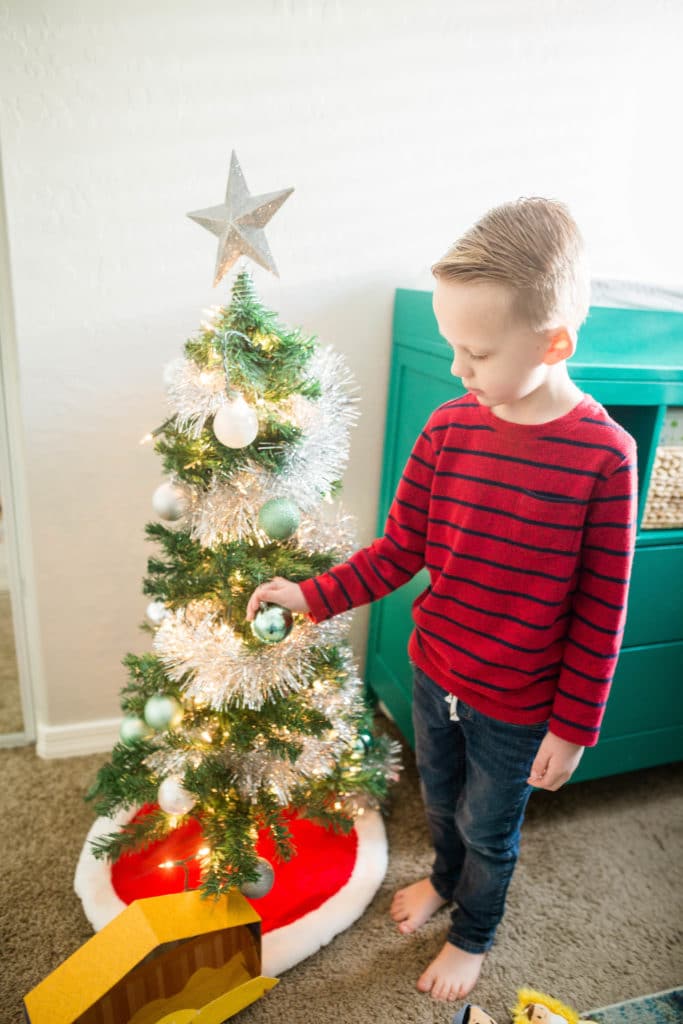 My First Thoughts and Response
My first thought went to I don't want to spend that much! And shortly after, I wondered if I'd set some precedent or expectation I didn't think I could maintain throughout his childhood.
But one day a TikTok crafter shared how easy it was to find a tree for $5-$10 and I instantly perked up. Apparently, there were all kinds of creative ways to find a kid's Christmas tree without a huge budget.
I don't say that to shame, anyone who doesn't mind dropping some cash on a Christmas tree for kids! I've seen people splurge on full-sized trees for kids' rooms. I just knew that wasn't in our budget. and I'm glad I found some for a great deal!
But I'm already eying a nicer tree like this one now that my kids are a little older and less likely to damage it.
Finding a Great Deal on a Kid's Christmas Tree
If you want a great deal, I'd recommend looking early in the season (like early November) at discount stores. We found ours at Five Below, which is a sister company to Big Lots. Here's a link to our $5 tree– they do sell out quickly so grab one early!
Also, the 5 Below decorations are quite the deal and will save you tons of money too!
These are often cleaned out and donated to thrift stores, sold on online marketplaces, and you can commonly clip coupons at major retailers to get half off a tree.
If you're looking to buy new, we've rounded up several inexpensive options, many with coupons and offers to save even more.

Creating Christmas Magic
When I realized there were so many affordable tree options, I dropped all my worries that I'd create some precedent. That's when I instantly went to thinking about how I'd help create some magic!
I kept thinking about how quickly their childhood passes. I can hardly believe that my son I prayed for through so many years of infertility is already in school! My husband and I may only have a few more years with a little believer on my hands. Particularly in such a difficult year, I couldn't stop thinking how if I could find an affordable tree and decor, it would add an extra amount of joy to his life.
And the day I found those five-dollar trees, and a handful of discount decorations to go with some old lights we had on hand, my heart screamed it was time to be the fun mom. It was time to spoil my little guys and let them have a tree.
Benefits of Having a Christmas Tree in a Kid's Bedroom
I've been surprised by how much we've loved having a tree in each of our boy's bedrooms. Let me share a few more reasons it's been wonderful in ways I didn't expect:
Extra joy and excitement for the holidays
A magical glow
A night light
Holiday decor extension that feels extra special
A place to put ornaments you may not want on the family Christmas tree
Our toddler rearranges his own tree instead of the family's tree
A sense of opinion and control
A creative outlet for kids
Extra light during the darkest time of the year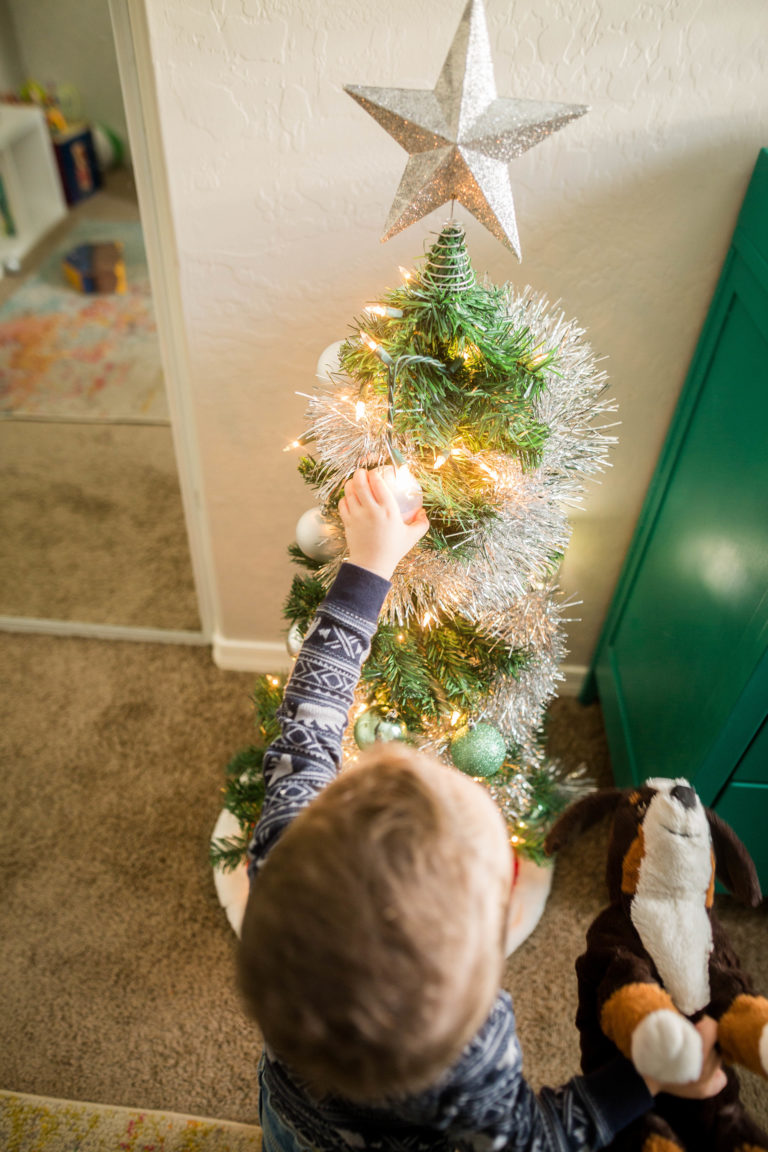 I shared a few behind-the-scenes when I found the trees over on Instagram. What I didn't expect that helped confirm I'd made a great choice was the comments from so many seasoned moms and grandmas.
I had many tell me this would be a gift they'd remember all their lives. Many mothers told the story of their children growing up and taking their tiny trees to college. So many stated they wished they'd caved earlier and told me the magic is worth creating as soon as you can. I had several grandmothers inform me they'd wished it was a cultural norm when their children were small.
And so many other moms went and found those inexpensive trees, or others online or from discount stores. They shared their smiling children's faces. It honestly made me cry!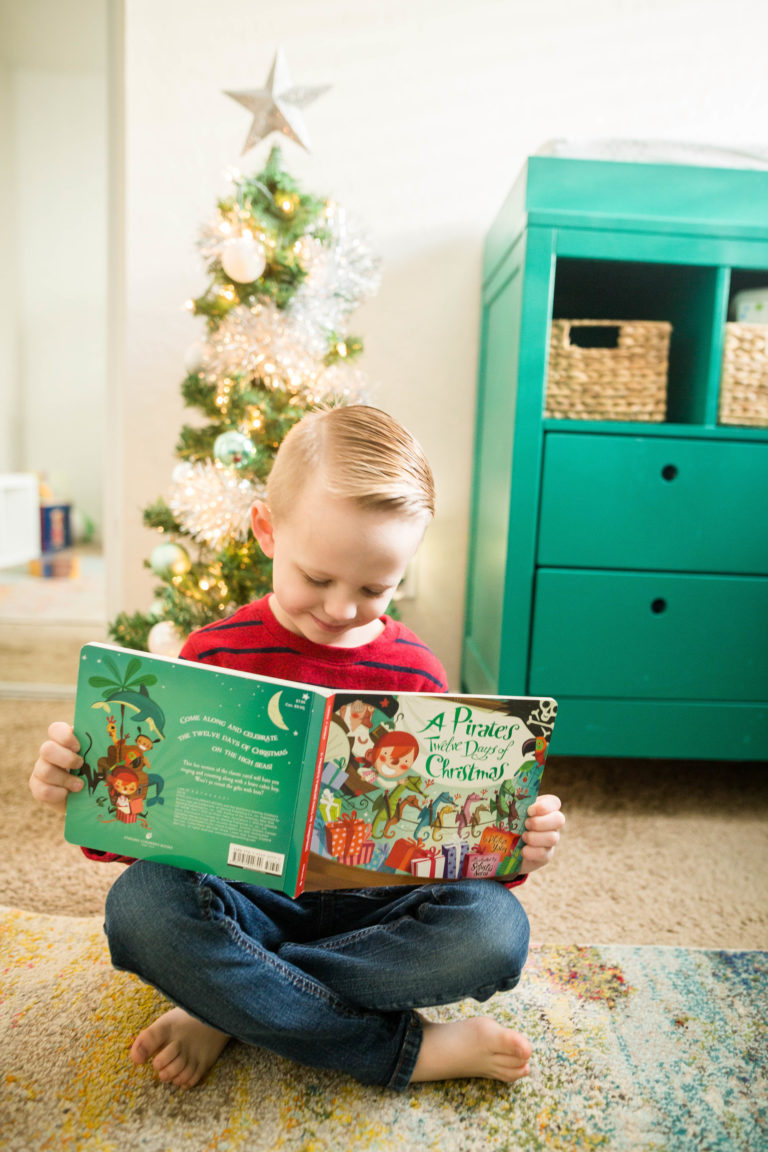 So to anyone on the fence on a Kid's Christmas tree, and if it's worth it put a Christmas tree in a kid's bedroom, I can't tell you the difference one year of saying yes has made! My kids are so happy, so proud of their trees, and I can only hope one day they'll pack them up and take them to college with them too!
Photos by: Chrissy Blake
Like this Christmas tradition idea? You may like these posts too:
50 Christmas Activities for Families + Free Printable
Best Rated Christmas Trees Under $250
25 Excellent Christmas Books for Kids
Get 365 Date Ideas!
We want to help you have the best date nights ever! Grab this FREE printable with 365 date ideas, a date for every day of the year so you never run out of ideas!