Christmas Box: How to Make a December Box + Tons of Christmas Box Ideas
The Christmas Box is a family tradition your family will always remember! How to make a December Box + tons of Christmas Box ideas to create this fun holiday gift!
I know many families have a tradition of a Christmas Eve Box for kids, for their spouse, or even for themselves. If you're wondering what this is, let's talk about the concept and how we do it in our family.
What is a Christmas Eve Box?
If you've never heard of this, it's a box to help get ready for and celebrate Christmas. It typically includes Christmas pajamas and some fun gifts to help with the anticipation of Christmas. They often have activities to do on Christmas Eve, and perhaps a few small presents to play with and keep kids busy.
I've always loved the Christmas Eve Box tradition! My family did a version of it off and on depending on my mom's energy level with six children. It's such a fun idea to get kids excited about their new Christmas pajamas and keep them busy channeling Christmas Eve energic joy! If you want to use these Christmas box ideas for a Christmas Eve box, I think it's a fantastic way to go!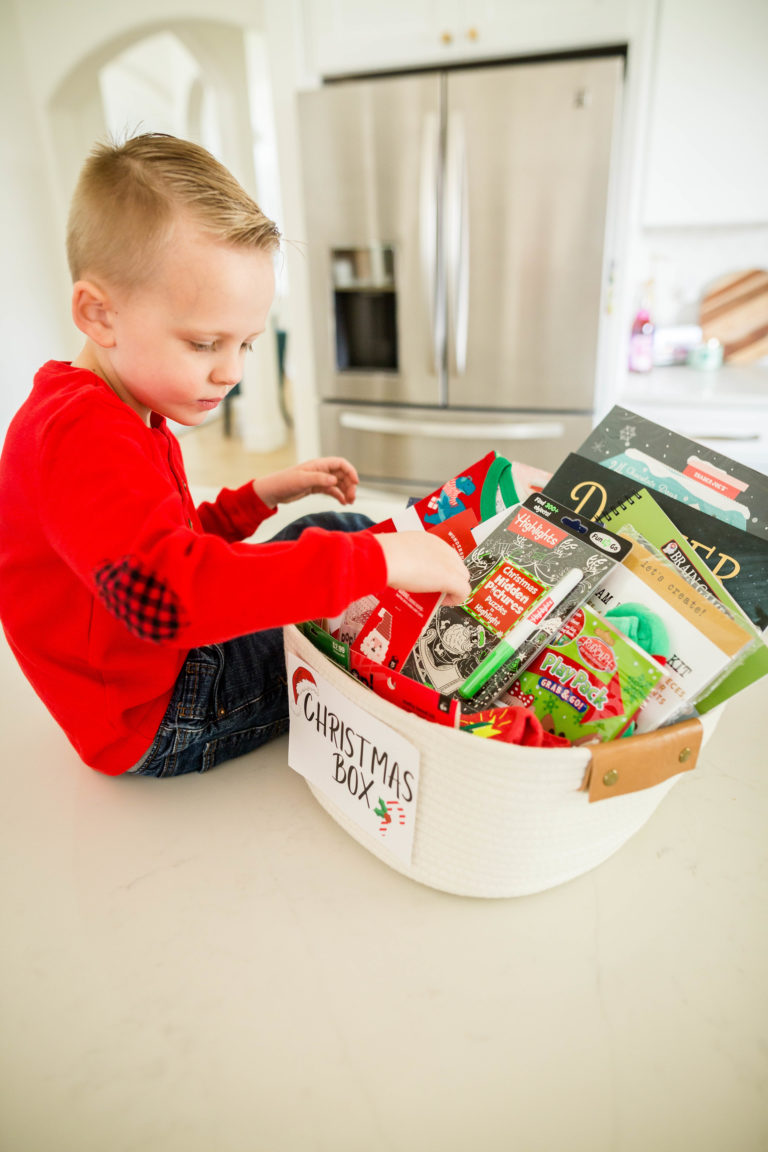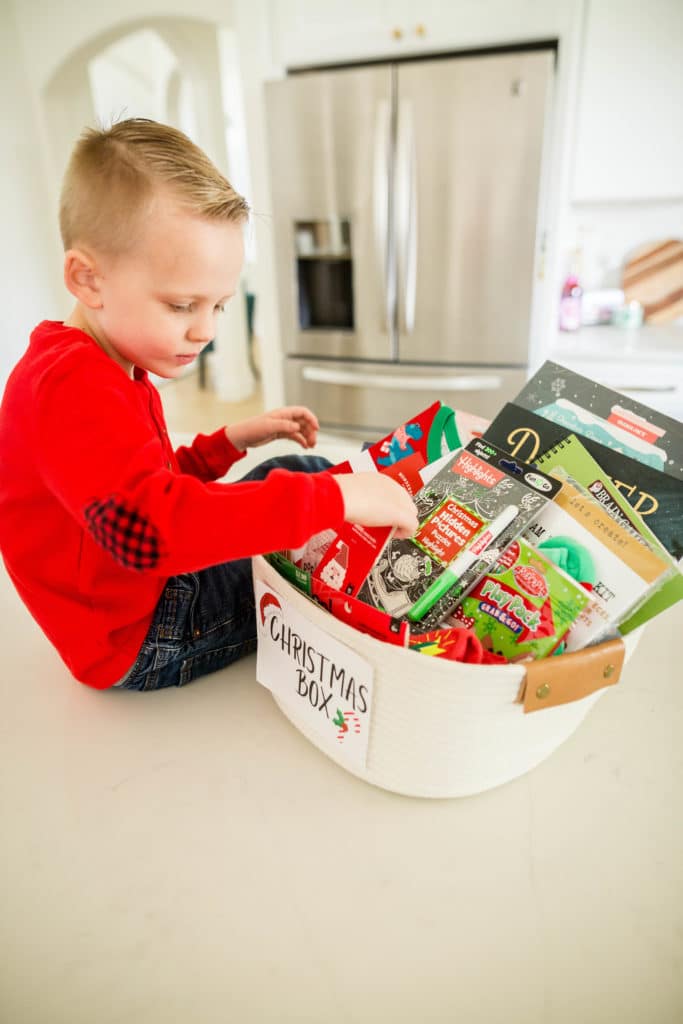 Celebrate all Month with a Christmas Box
I really have fallen hard for the concept of a holiday box. It's the same concept, but instead of waiting for the holiday, it's gifted at the start of the month to celebrate the season. We've already shared our Halloween Box and Thanksgiving Box ideas. It's time for the big one I'm most excited about, the Christmas Box!
Instead of gifting these items on Christmas Eve as a Christmas Eve box, we decided it's more fun to wear those holiday pajamas all season long! While we're spending a lot more time at home this year, a box of fun Christmas activities and traditions is something I'm happy to kick off on December 1st! My kids got a sneak peek of their December 1st Box so we could share the fun and help with some Christmas Box ideas for everyone else ready to celebrate the season all month long!

Christmas Gift Box Ideas
You can truly do anything that fits your family and budget!
I have an entire section of ideas with direction links on MY AMAZON STOREFRONT to make your shopping experience easier!
But let me share a bunch of our favorites and what we included in our Christmas Boxes this year!
SOMETHING FESTIVE TO WEAR
I am a huge fan of Christmas pajamas! I think most people are, there's a reason they are a common tradition for millions of families! Of course, I love the idea of a new pair for Christmas Eve, but we've enjoyed watching our kids wear them for Christmas movie night, out to go caroling, and at a myriad of other holiday activities.
If you're looking for some great holiday pajamas, we have several in our Family Christmas Pajamas roundup.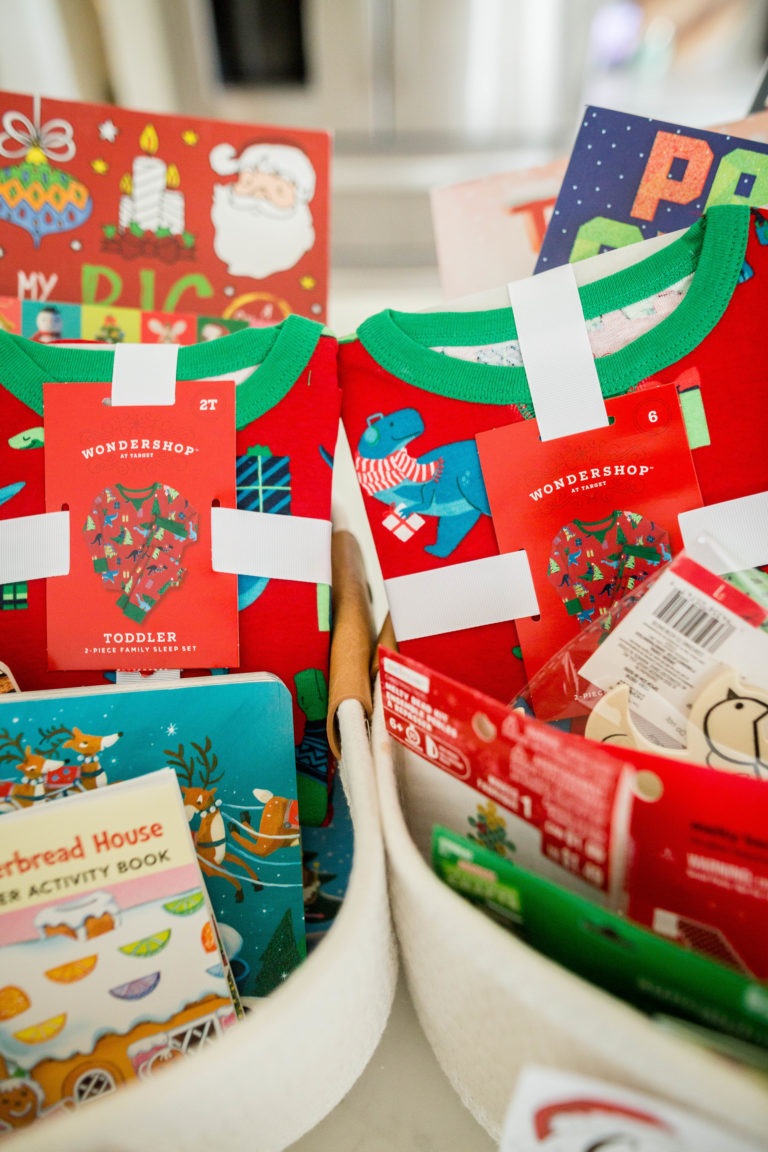 Festive Outfit/Holiday Shirt
We like to get our boys a new church outfit for Christmas Sunday. Our kid is exciting finding the outfit or at least a new bowtie in the box! It's a fun way to make new clothes feel so exciting!
I also love a good festive shirt to enjoy for holiday events and parties. There's nothing like a red or green festive shirt to wear to a preschool Christmas program! A sweater or family picture outfit is a great option too. Or you can go for the printed t-shirts with some fun holiday-themed pictures or messages.
If your kids need new clothes you're planning on buying anyway, it's a great time to drum up some excitement and include them in a Christmas box!
Holiday Socks
We found some fun pairs for a dollar at the Target Spot. It's easy to include a pair of Christmas socks they can enjoy all season.
Christmas ACTIVITIES AND Christmas CRAFTS
Christmas Books
We have a full list of the best Christmas Picture Books you can find in this post. I love adding a new release or a classic we don't own to our Christmas book collection. We bought several this year instead of just one since we know we'll be home more. My oldest son will add Dasher, The Polar Express, and Tough Cookie to our book collection.
For my baby, we included Christmas in the Manager, Merry Christmas Little Elliott, and Santa and the Goodnight Train board books to our collection.
We have so many other fun and new titles in our Christmas Picture Books list that we think make great gifts!
Christmas Activity Books
I love keeping my kids occupied with fun learning, art, and activity books. When you can find a festive Christmas themed activity book that provides some screen-free fun, we're all in!
Here are some of our favorites:
Christmas Crafts
I start looking for these easy items at the Target Spot early in the season. It's a great place to grab several items for about $3 a piece. But I've also found amazing stuff for better deals at Joann. You can shop online and find tons of cute, simple Christmas crafts/projects for kids to do!
I'll also share several cheap, easy Halloween crafts for kids in the coming week, so stay tuned!
Christmas Family Fun EXPERIENCES
Christmas Movie Night
Feel free to gift an actual DVD your recipient will love. However, there are so many great Christmas movies for kids on Disney+, Amazon, Netflix, etc. You could also do an Amazon gift card or Fandango gift card to cover the cost of a rental.
That bonding time together is something kids just cherish, and it's so easy to give some popcorn or a movie to enjoy!
Festive Treats/Holiday Baking
Every year we love to bake our favorite chocolate chip cookie recipe. I added a bag of Christmas M&Ms to my kid's Christmas boxes ready to make an easy and favorite festive treat. If you have something you love making together, give the special ingredient (like sprinkles or candy cane) and plan a baking night.
You could add a recipe card, an ingredient, or a printed picture to a Christmas box letting your kids know a festive item will be created together.
This is by no means an exhaustive list. And please don't feel pressured to add more than a few items in a single Christmas Box! However you want to celebrate and create some excitement for your kids or significant other is up to you! Feel free to go all out, but you can also pull one of these together for only a few dollars.
Want our FREE PRINTABLE? Grab it right here!
Photos by: Chrissy Blake
Like this Christmas Box Ideas post? We'd love it if you pinned it and helped others find some Christmas magic!
You may like these posts too:
Oversized Christmas Coloring Printable to Keep Kids Busy for Hours
Graham Cracker Gingerbread House Framily Party
Get 365 Date Ideas!
We want to help you have the best date nights ever! Grab this FREE printable with 365 date ideas, a date for every day of the year so you never run out of ideas!