12 Entertaining Hacks to Help You Enjoy Your Own Party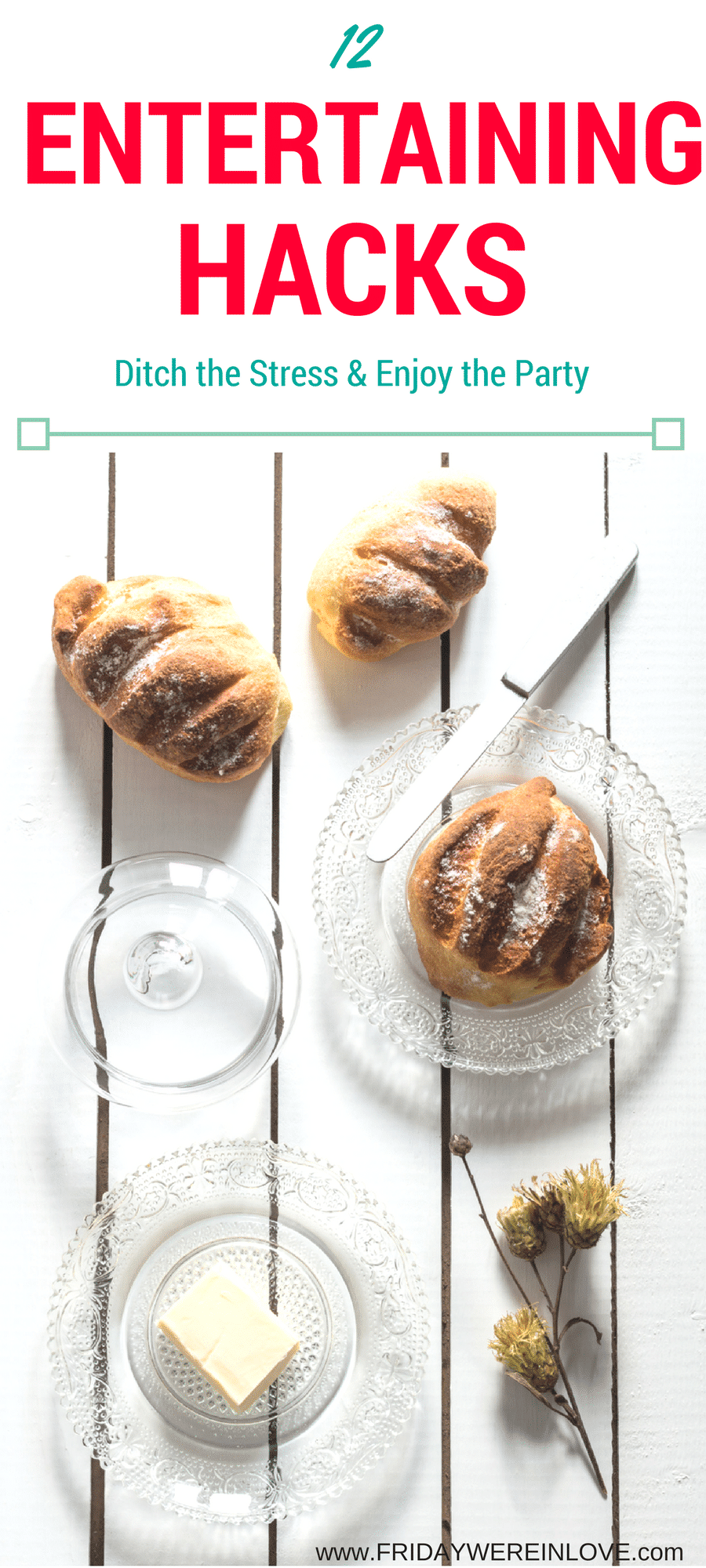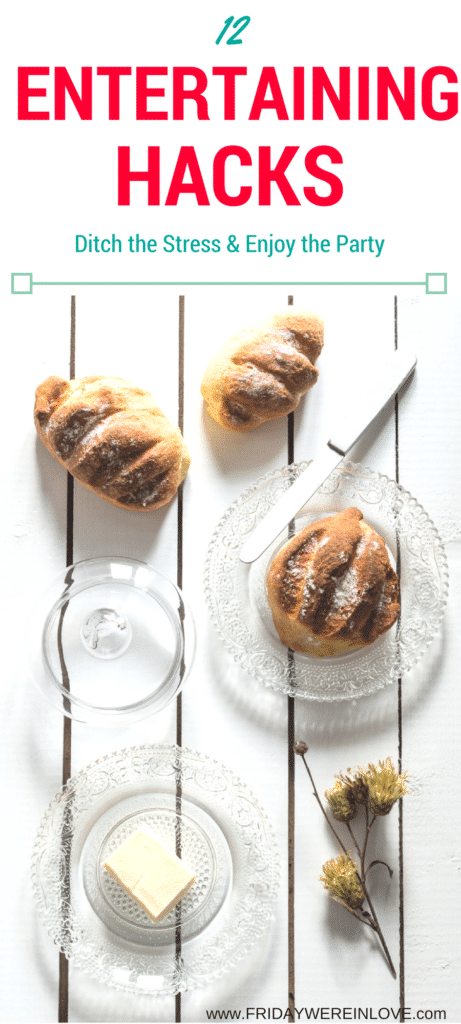 Jacob was given some sage advice by a church leader years before he met me, "You know someone is really your friend when you've had them over for a meal in your home." We've talked about this often, and we always try to set goals to invite more people over for dinner, have more quality time at our home, and feel that deep friendship connection that only comes from opening up your home to someone else.
I'm probably writing this post more for myself than anyone, but I figured while I'm talking myself into getting over the stress and anxiety of hosting, When I really stop to think about it, I think it's silly to over think and to over stress hosting. My idea of perfect isn't everyone's, and it doesn't have to be an extravagant feast that takes a lot of time and/or money to be something wonderful. I thought through my own list of things I just need to get over and do to make entertaining easy and I decided I should share the hacks and plans I'm working through so others can also get over their perfectionism and have more quality time and food with friends.
So here we go, 12 Entertaining Hacks to make your next dinner party a big success!
Don't look on Pinterest. Just don't, can we all agree that we don't need to make napkins shaped like the Easter bunny for Easter dinner? If you really want to by all means be my guest, but I think when we start to look at these ideal and super creative ideas we feel like we're less than if we don't execute them. If you are giving someone food you are winning and they will be grateful, so stay away and just stick to old-fashioned food and plans and don't stress the small details that aren't necessary.
Prep whatever food items you can well in advance. I'll never forget my mom making cheesecake for her fancy book club because she could do it the day before and still have this amazingly fancy dessert to entertain with. I watched another brilliant soul pull out pre-scooped ice cream with scoops frozen on a cookie sheet for easy serving at a party. If you can make it ahead of time do! Find at least one piece of the meal to do this and give yourself some breathing room.
Plan a simple menu. There's a reason buffets are a thing, but when you're the host it's not your job to create one unless it's a simple buffet and that's the theme of the party. For a sit-down meal it's okay to keep it to only a few items, one item in each category (i.e. one salad is fine), and serve just a few simple items well instead of stressing over or spending a lot of time on multiple items that aren't really needed.
Ask in advance if anyone has any food allergies or aversions. There's nothing like planning a pasta dinner to learn a guest has celiac disease, or a roast to learn you have vegetarians coming over. Jacob doesn't like seafood, and we always feel awful at a dinner when salmon is the main course. If you're the host you can quickly ask over a phone call or email invite and save yourself the stress and awkward moments in advance.
Buy at least one item that's pre-made. It's okay to not bake the bread yourself, or order dessert. But my favorite may be buying the main course when it's something I know is high quality, delicious, and going to make my life super easy while still being impressive! An awesome option is serving a CUREMASTER RESERVE® Ham. We are talking amazingly high quality, the convenience of having it delivered right to your door, a history of people who know what they're doing with flavors and quality, and so many flavors and unique options to choose from! Like campfire sugar rub with a pineapple ginger glaze- there are so many options you just won't find anywhere else! It's perfect for Easter or any time of the year, and I love that you can order online and have it shipped a day in advance where it's fresh and flash frozen, and defrost to cook for the perfect main dish. It's one huge hack that makes entertaining easy and delicious! And you can get your Easter ham for $20 off with this Curemaster promo code: TRYCUREMASTERHAM20

Clean the area the guests will be and don't stress the rest. I always want to deep clean my whole house and talk myself out of having people because I never get around to this. But, I've learned it's fine to keep guests contained and just pick up the entertaining area and let myself relax about the rest of the house.
Remember your friends aren't judging you! I've never gone to a home and pulled out my white glove to check the state of dust on blinds. Anyone who is my friend knows I moved when I was eight months pregnant, had my AC break in 118-degree heat for two weeks, and I just didn't get to move in before motherhood. I still work and try to be a present mom to a busy toddler, and they all love and support me for what I did do, not judge me for the clutter in the corner. Your friends will be happy to get a meal they didn't have to make, and they aren't going to judge you if something burns and you have to order pizza last-minute.
Ask guests to bring something. It's pretty normal to offer to bring something when you're invited over, and when a guest offers take them up on it! Find something that's easy to outsource and will alleviate some stress, and go ahead and assign a piece of the meal for your friends.
If you choose to decorate, keep it simple. I love a simple bouquet of flowers, but I've learned sometimes any centerpiece blocks views and conversations. It's not the most crucial thing, but if you want to feel festive or fancy limit yourself to something very easy that won't take much time or effort to put out or clean up.
Plan ahead for cleanup. One of my biggest stressors is the fact that I'll cook for hours, enjoy my friends, and then spend hours cleaning. I've learned that there are very nice disposable plates/utensils/cups if needs be. I've learned washable tablecloths I can throw in the washer immediately save hours of scrubbing. I've learned an empty dishwasher I can quickly throw plates and cups in save a lot of time. If I plan a little bit in advance for cleanup I can make it go much smoother and easier.
If someone offers to help clean up, take them up on it! My parents fell in love with Jacob the night he came over for dinner and just started doing the dishes. I have a sister-in-law who is amazing at this. I never expect my guests to help, but if they offer to, I'll gladly let them load the dishes or clean a big pot or pan!
If anything doesn't go perfect, let it go and focus on what did go right. I've laughed about burnt items or eating ice cream with forks. Most people can laugh off these things pretty easily, and they will enjoy the effort and things that go right. Plan ahead the best you can, and let go the imperfections of the big day.
Get 365 Date Ideas!
We want to help you have the best date nights ever! Grab this FREE printable with 365 date ideas, a date for every day of the year so you never run out of ideas!