Protein Packed Savory and Sweet Breakfast Bowl Recipe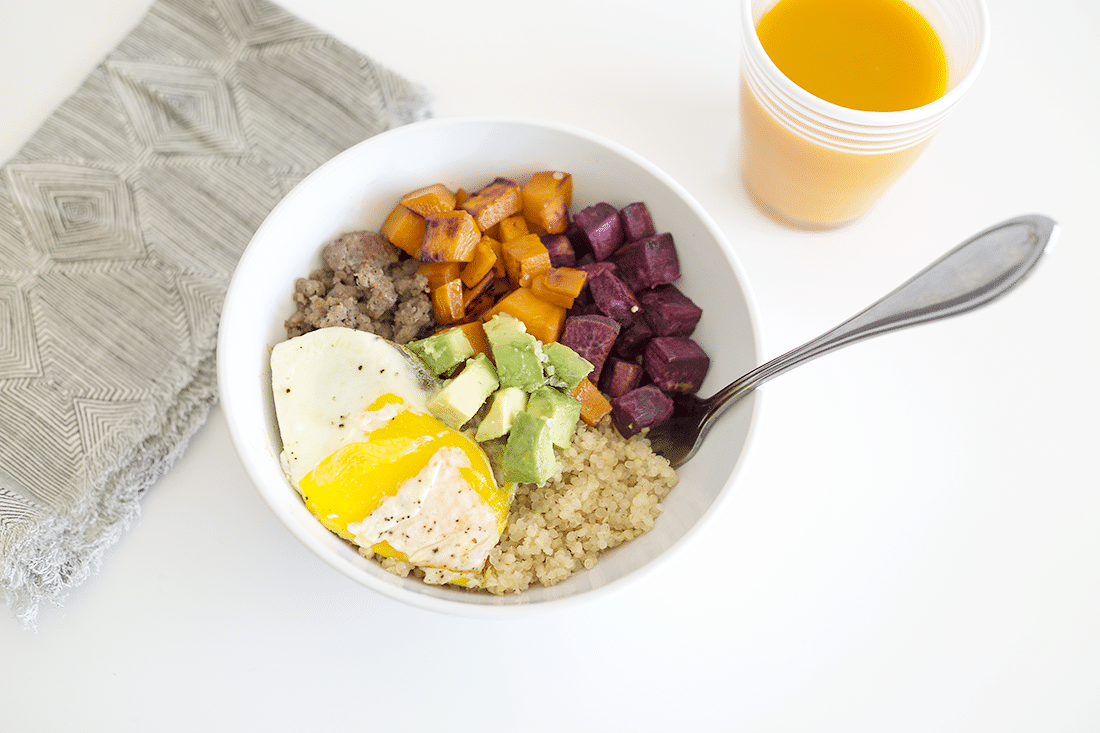 We love brunch, and we love making brunch at home for any meal of the day- thanks to Smithfield Breakfast Sausage for teaming up with us on this post and inspiring this recipe creation so we could share a delicious protein-packed brunch bowl you can feel good about! It's one that tastes amazing and works great as a leftover to enjoy again and again. There's a lot of superfoods to enjoy and a lot of natural protein, so it's one you know will fill your family up and leave you feeling good about what you ate!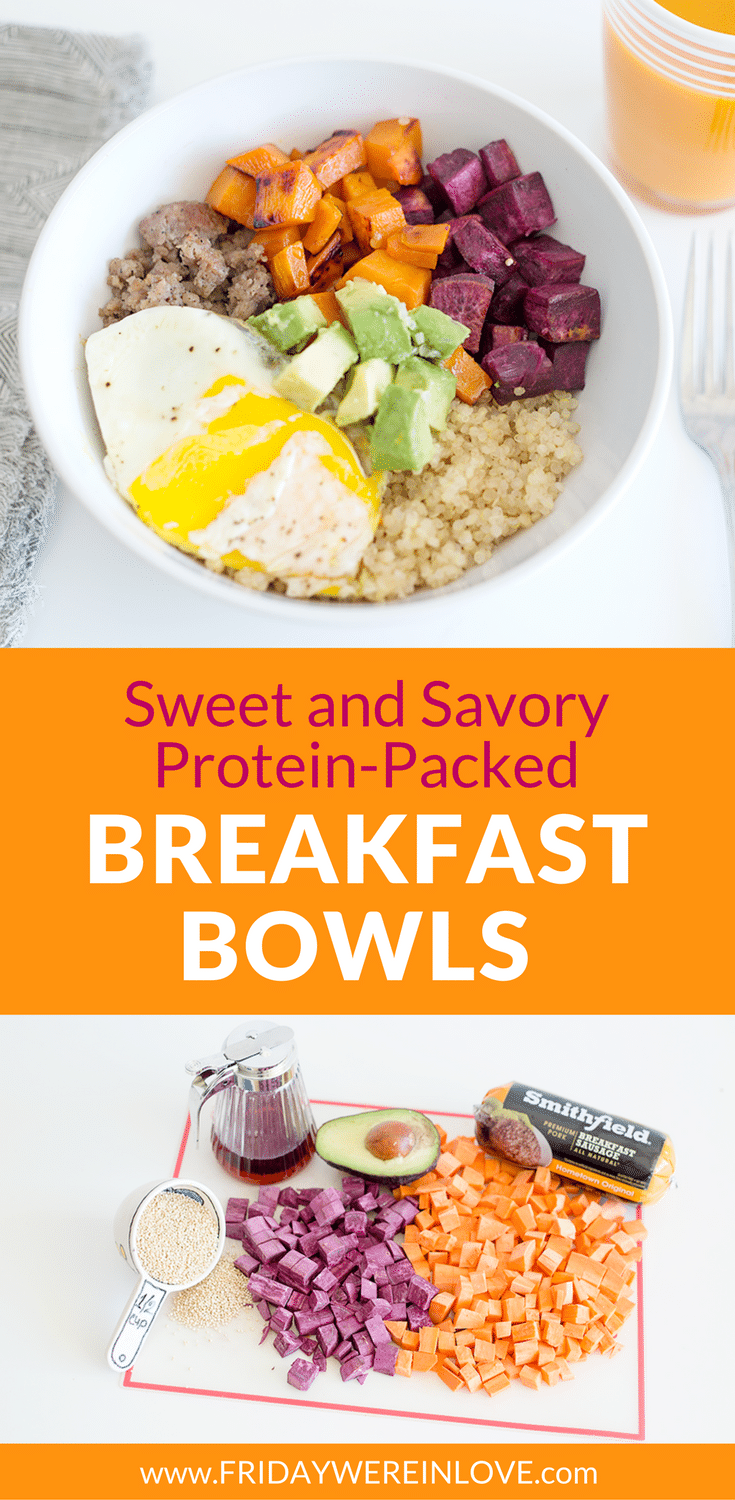 PROTEIN PACKED SAVORY AND SWEET BREAKFAST BOWL RECIPE
Ingredients:
1 cup uncooked quinoa, with 2 cups water for cooking
1 sweet potato
1 purple sweet potato (or just buy a 2nd regular one)
salt and pepper for seasoning
1 pack Smithfield Hometown Original Fresh Sausage Roll
2-3 eggs
1 avocado
A drizzle of real maple syrup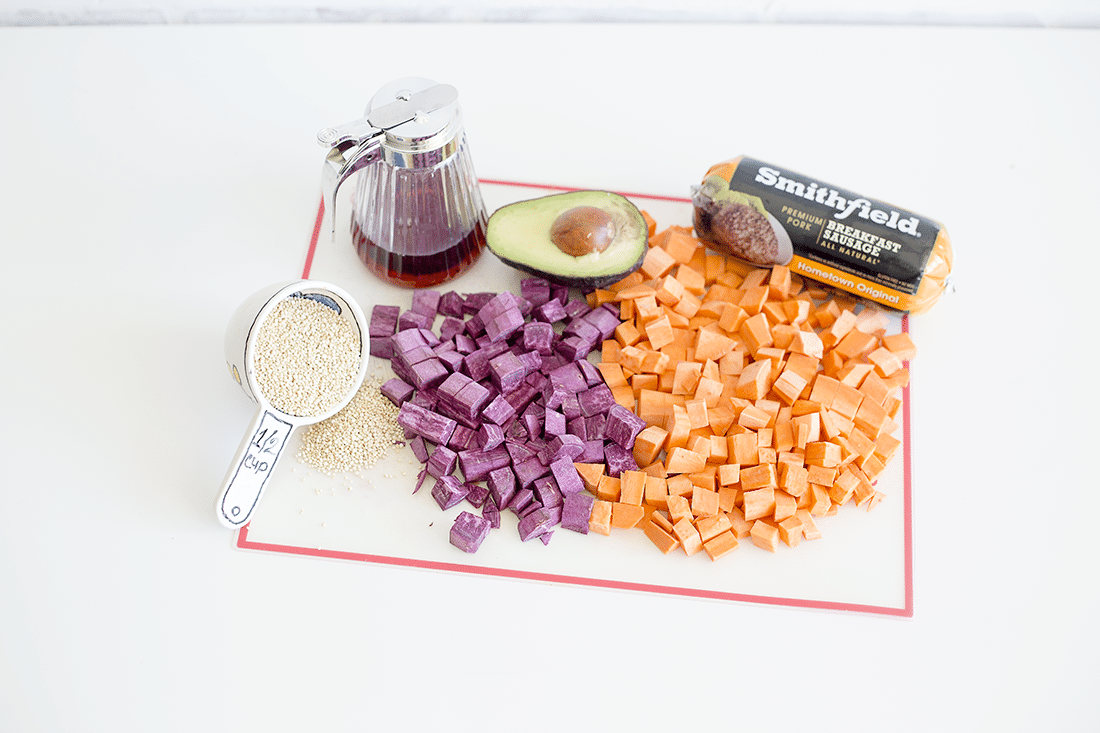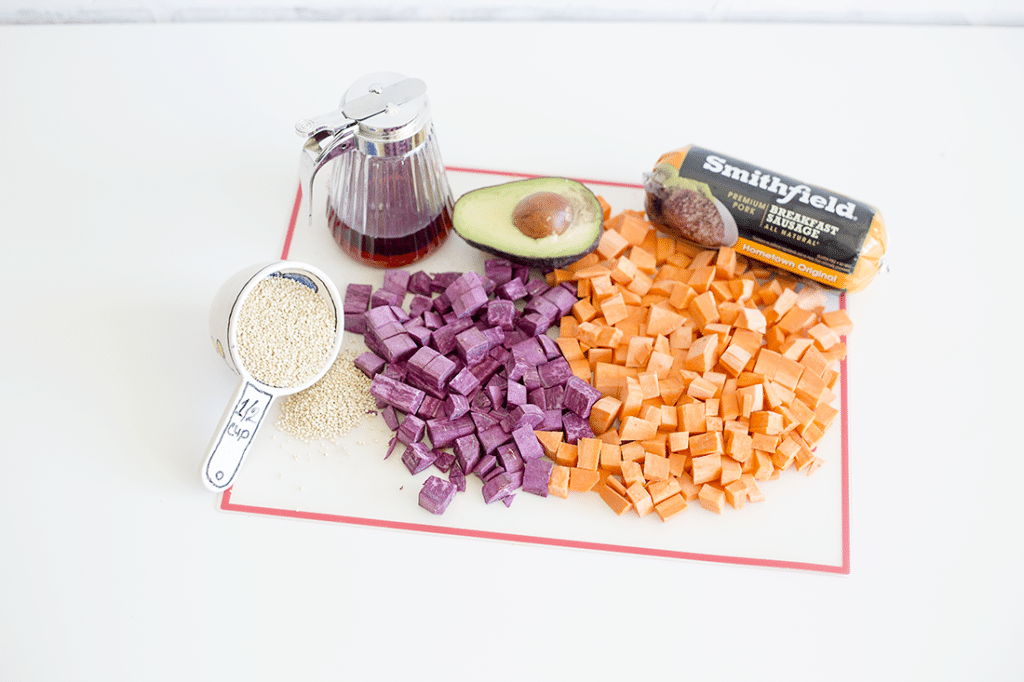 Breakfast Bowl Directions:
Rinse the quinoa, add to a saucepan with the water and turn to high. When the water starts to boil turn to low and cover. Cook for 20 minutes on low. You'll want to prep and cook your quinoa, so it's ready to go but still warm when you're ready to plate, so start it first and get everything else going while it cooks.
Peel the sweet potatoes, dice into bite-sized pieces. Heat olive oil in a skillet, and saute the sweet potatoes for about 5 minutes until mostly cooked. Season with salt and pepper to taste. Turn on low and cover. It will finish cooking and be tender when everything else is prepped.
Cook Smithfield Pork Sausage in a frying pan. Smithfield Sausage is made with premium quality pork that has such a great natural flavor that brings the bowl to life! It's gluten-free and contains no MSG so you can feel good about this breakfast staple. There's also variety, I love the Hometown Original, but there are Bacon and Maple flavors too so you can really play with this recipe and appeal to everyone's breakfast palate. Smithfield Breakfast Sausage is great incorporated into your favorite brunch recipe or on its own as a side dish- in link, rolls, or patties.
When it's no longer pink go ahead and prep a plate with a paper towel to absorb any extra grease and pour the sausage on the plate. While the frying pan in still hot and oiled add your eggs and cook over-easy or over-hard- whatever you prefer!
Dice the avocado into bite-sized pieces and set aside for plating on your savory breakfast bowl.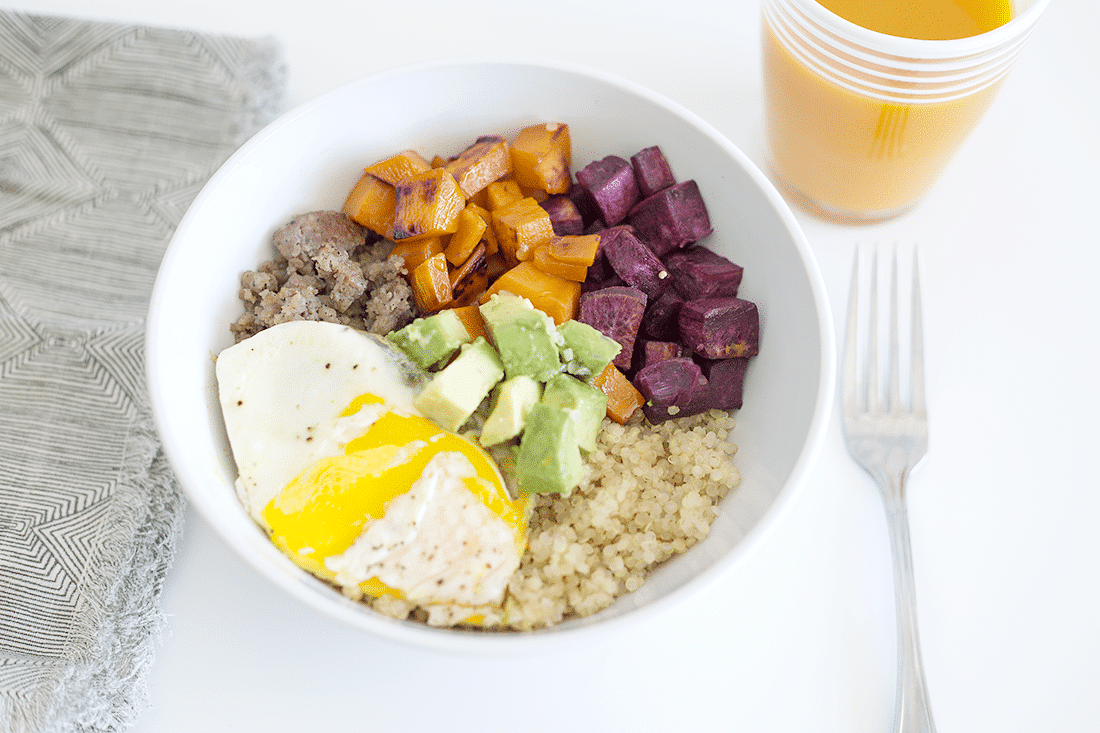 In a bowl add the cooked quinoa, the tender sweet potato, the Smithfield Pork Breakfast Sausage, and top with the egg and the avocado. This is great on its own, but even more flavor comes into play when you add a little bit of sweet by drizzling the bowl with real maple syrup. This makes it a savory and sweet protein-packed breakfast bowl with a great flavor and superfood ingredients you can feel good about.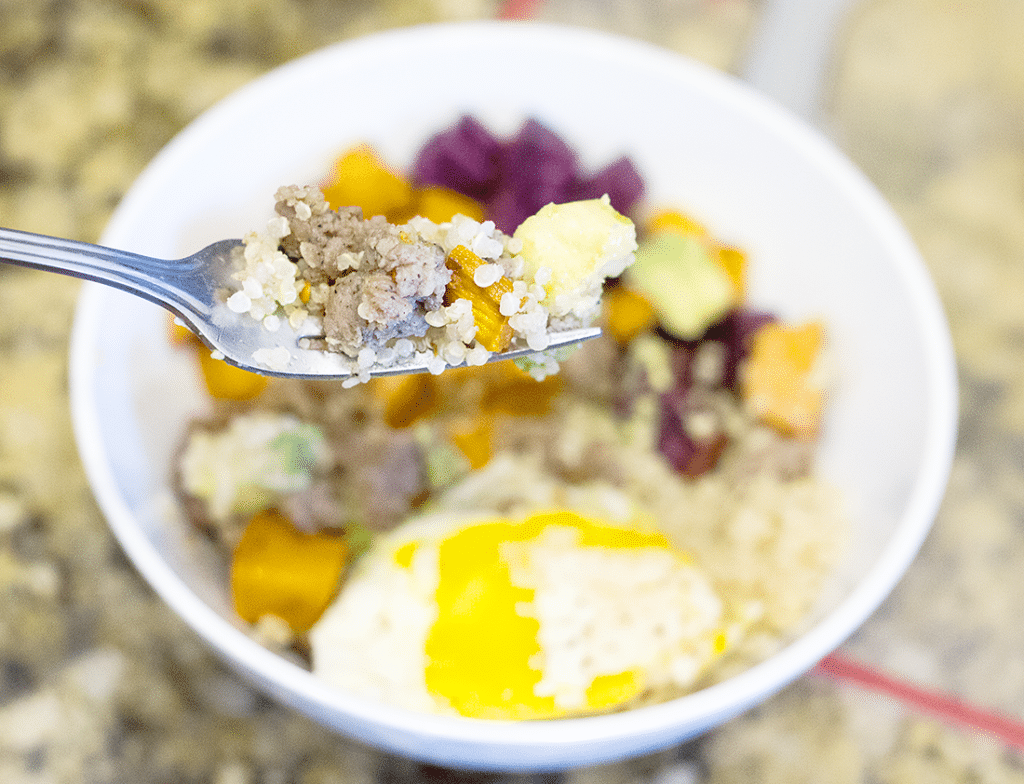 This is a sponsored post written by me on behalf of Smithfield.
Get 365 Date Ideas!
We want to help you have the best date nights ever! Grab this FREE printable with 365 date ideas, a date for every day of the year so you never run out of ideas!