One Meal Now One Meal Later: Crock Pot Beefy Taco Pasta
I love good food, but I hate spending all my day in the kitchen. I started trying freezer meals when I had my first child, and found some are amazing time savers, and some, well, taste like the freezer.
In the One Meal Now, one Meal Later series I share my tried-and-true freezer meals that taste as good the second time around as they do the first!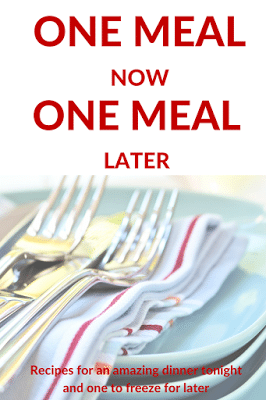 Slow Cooker Beefy Taco Pasta
(Adapted from Betty Crocker)
1lb ground beef
1cup water
1/4 cup taco seasoning (of one package works too)
1 (14.5 oz) can diced tomatoes
1 (4.5 oz) can diced green chilies
1 tsp cumin
1/2 of a large or 1 small white onion, finely diced
1 TBSP diced garlic
1/2 package cream cheese softened
8 oz medium shell pasta (from 16-oz box)
2 cups cheddar cheese freshly grated
Directions:
Cook your ground beef in a pan until no longer pink, and then drain any excess fat. Add to the bottom of the slow cooker. Dump water, taco seasoning, green chilies, cumin, onion, and garlic on top of beef and stir until all seasonings are well mixed with beef.
If you're doubling this, go ahead and put the double amount in your freezer bag, this is the portion you'll freeze.
Cook the mixture on low about 3 hours.
When the cook time is up go ahead and add the cream cheese to the top and let it start melting. Cook the pasta shells as directed on the package, and drain. Mix the melted cream cheese after you drain your pasta, then add the cooked pasta and the cheese. Feel free to let it sit for a few minutes so the cheddar cheese melts and the flavors set into the pasta. It's about 10 minutes, so just enough time to clean up the rest of the dishes and set the table!
If you're freezing this don't forget to write the directions on your bag to cook for 3-4 hours on low and then add 1/2 a block of cream cheese, 8 oz cooked pasta, and 2 cups cheddar cheese after cooking.
Enjoy this one! I know there's a little prep at the end, but it helps it taste like a fresh meal and not a freezer meal 🙂
Get 365 Date Ideas!
We want to help you have the best date nights ever! Grab this FREE printable with 365 date ideas, a date for every day of the year so you never run out of ideas!