The All-The-Things Printed Shirtdress on the Cheap
There are a few things that make my head turn when I'm shopping for the perfect mom life to date night pieces these days:
An interesting piece with a fun print, trend, embellishment, or texture. I like to feel like things are special and stand out, particularly for date nights. When I see something I know will grab a little attention, it ranks high on the likely-to-buy scale.
Flattering cuts. I love a-line anything. I love button-up shirts and shirt dresses because no matter the chest size body type, a shirt that fits looks good on all bodies. I personally love pieces the nip in at the waist and flatter a curvy lower half since that's my body type. If I feel good in it, I know I'll look good with more confidence.
Price. I'm at a stage of life where I do look for quality over quantity, but when a great item is on sale that I know will be an investment piece, or a trend pops up at a price I can't believe, I often jump at fun pieces or investment pieces because the price is right.
Functionality. I've nodded vertically a few times because a skirt or dress has pockets and know as a mom who has at least one hand holding a child at all times I usually need a place for my phone or keys when I'm on the go. When I was a nursing mom I knew the shirt had to button or stretch to work for that lifestyle. Right now I'm all about machine washable because my toddler loves to hug and he really loves to hug me right after he's had something messy to eat.
I can easily order online or find in a store and purchase quickly and have it arrive quickly. Online shopping, you are a gift to busy moms and busy working-long-hours people everywhere!
When I find something that fits one of these things I'm often a fan, but two or more usually include a "definitely going to buy" in my book. When I find something that fits all of the above, I'm totally sold, I make sure I tell others about it, and it makes its way into a blog post for sure! You guys, this dress, it had me at hello for all these reasons.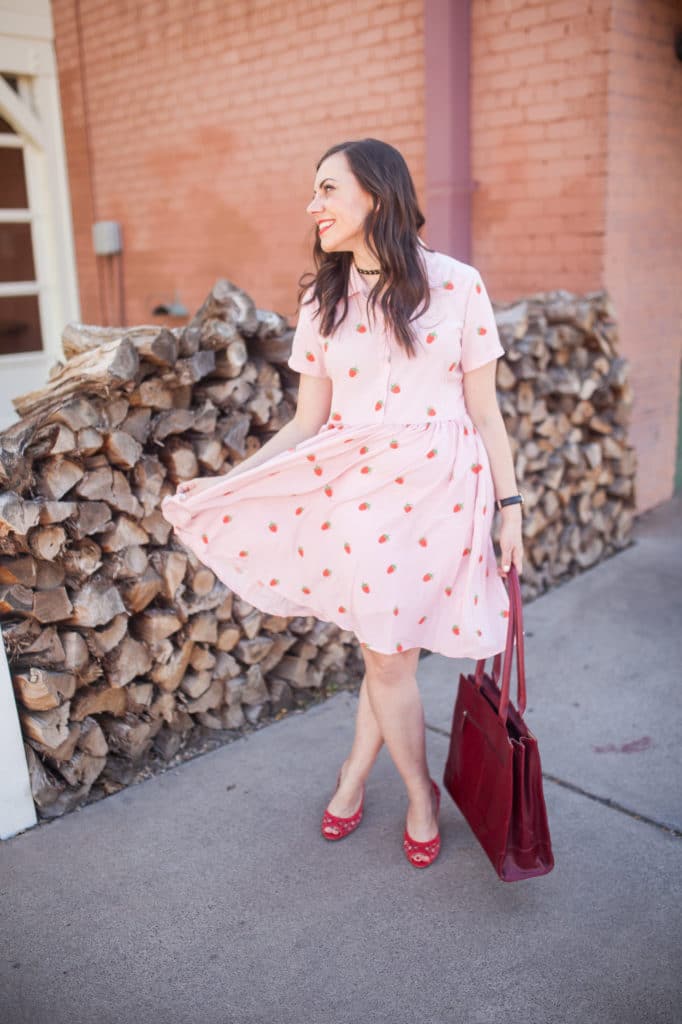 Dress (c/o) / Shoes / Bag / Choker (c/o) / Watch (c/o) / Lipstick / Nail Stickers 
Can you believe this dress is this price on Amazon?!? I love that fashion is becoming more and more prevalent on Amazon and that I can have something shipped with Prime in 2 days!
Plus the pockets are really deep, and the functionality makes it perfect for mom time. Print to hide messy hugs and easy to wash, you had me at hello.
But mostly, I'm excited for a fun dress I can wear on dates this summer. I'm seeing carnivals, nights on the town, walks around the lake, and patio dinners in its future.

Photos by: Chrissy of Let Me See You Sparkle Photo
*This post contains affiliate links 
Get 365 Date Ideas!
We want to help you have the best date nights ever! Grab this FREE printable with 365 date ideas, a date for every day of the year so you never run out of ideas!