Kitchen Backsplash with White Cabinets: Our Contemporary Backsplash Tile Reveal
This is a sponsored post written by me on behalf of Floor & Decor. All opinions are 100% mine.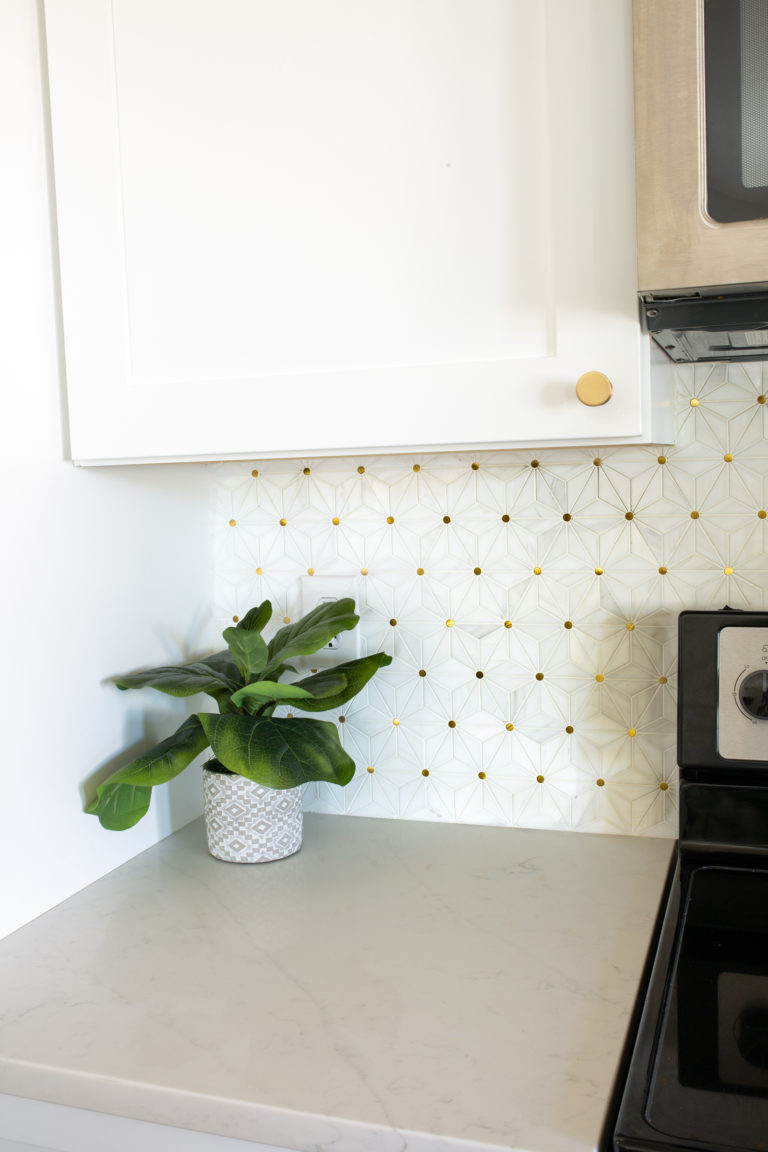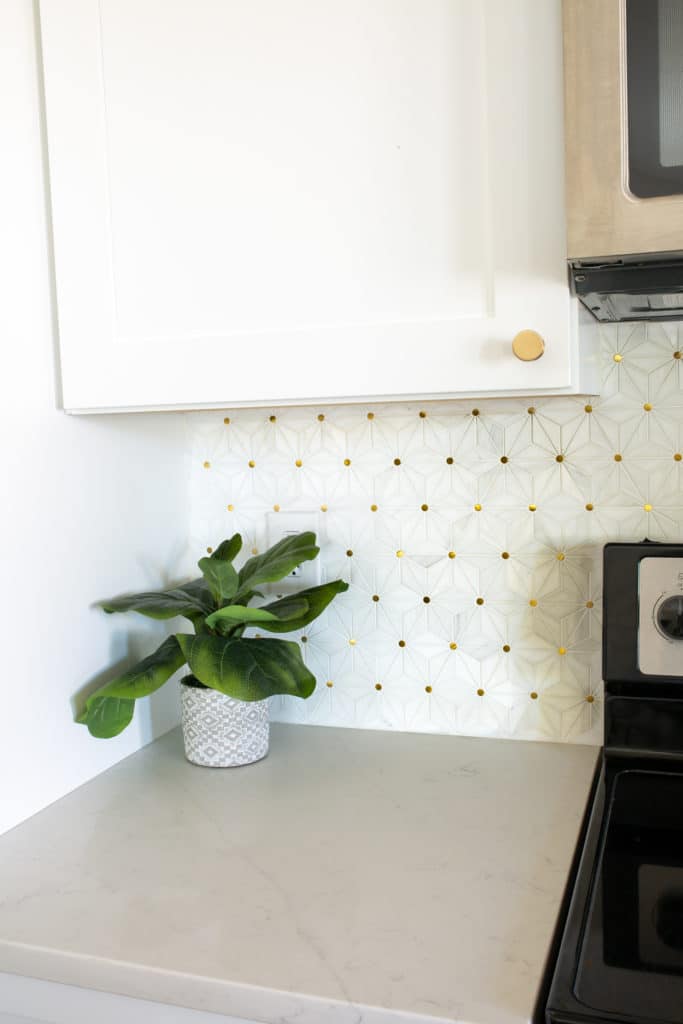 I had a friend warn me when we started our kitchen remodel: most people spend at least a year waiting to finish the last 20% and the final details. I laughed, and swore that would never be us! Oh how 2020 played a fun trick on us turning us into this exact statistic. But friends, I have to tell you the last 20% is my favorite part of my entire kitchen!
Choosing a Kitchen Backsplash with White Cabinets
Figuring out our kitchen backsplash with white cabinets was a bit of a feat! I wanted our floors and cabinets installed so I could get a feel for our new space before I made the final backsplash decision. I love classic elements that don't go out of style. That's why we opted for white cabinets in the first place, even with all the fun color options trending right now. In my heart, I knew a bright white kitchen is still my favorite thing. I'm also a sucker for a mid-century modern style. Yes, I love mid-century modern kitchens! On top of this, I really do love color! I worried neutral floors with white cabinets would be too neutral for me, and I was 100% open to a fun pop of color or unique design for a modern backsplash in our new kitchen.
Our Kitchen Remodel Delay
We had every intention of choosing backsplash tile within a week of our cabinets and floors being installed. And then a pandemic happened, and my plan to go find the perfect tile came to a screeching halt. We had no idea the world would shut down and stores would have to close for several months. At first, this felt so overwhelming as we lived with walls that needed drywall repair and were screaming for a backsplash.
Stores only offered online purchasing options, which I so appreciate the innovation in an unprecedented time! But the way I'd planned to remodel, I truly needed to step foot in-store to see which style would best work for our kitchen backsplash with white cabinets framing it. The day Floor & Decor opened was such a joyful day! It felt like fate happened! We discovered that waiting brought the perfect mid-century modern backsplash tile into our lives! It was love at first sight and just screamed "I'm perfect for your kitchen!"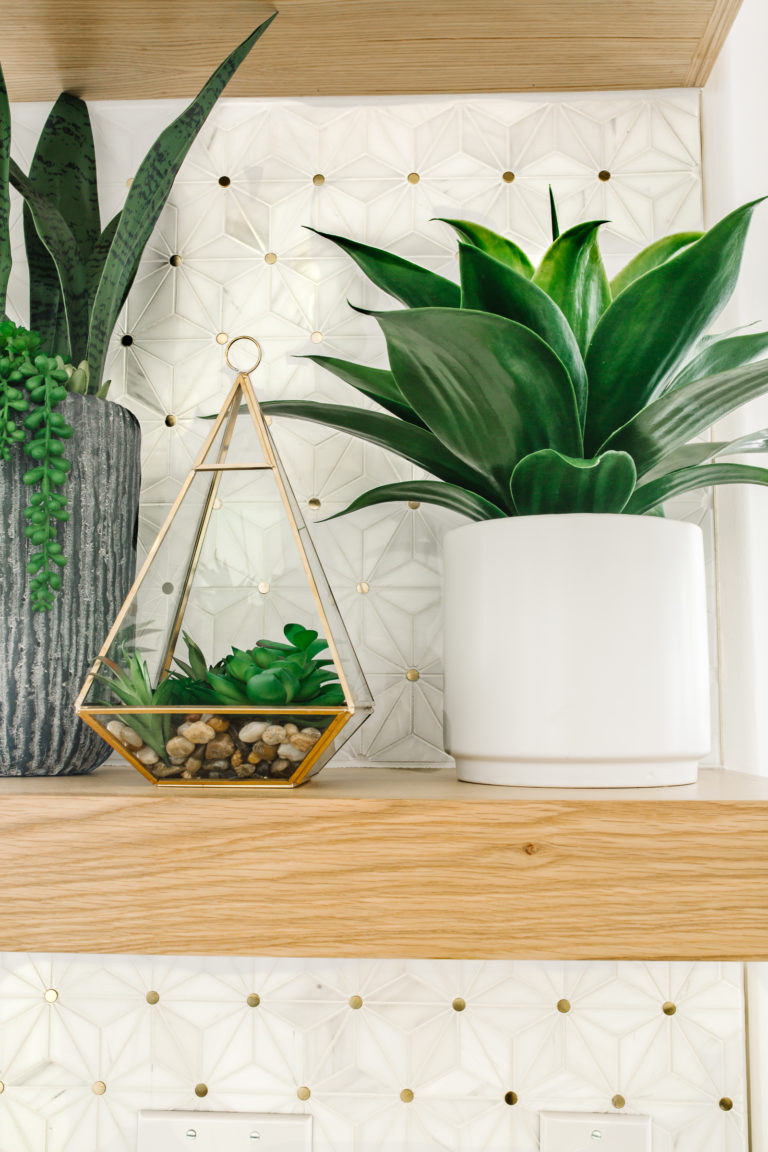 I have to tell you that we've used tile from Floor & Decor for all of our tiling projects throughout our remodel! They have so many products to choose from at amazing prices! When it came time to find the perfect backsplash that would fit our mid-century modern kitchen meets a contemporary modern vibe, it would be Floor & Decor. We found several options that would work, but when we walked by the Viviano MarmoNova Dolomite Brass Polished Marble Mosaic tile, both our hearts skipped a beat! It was truly love at first sight!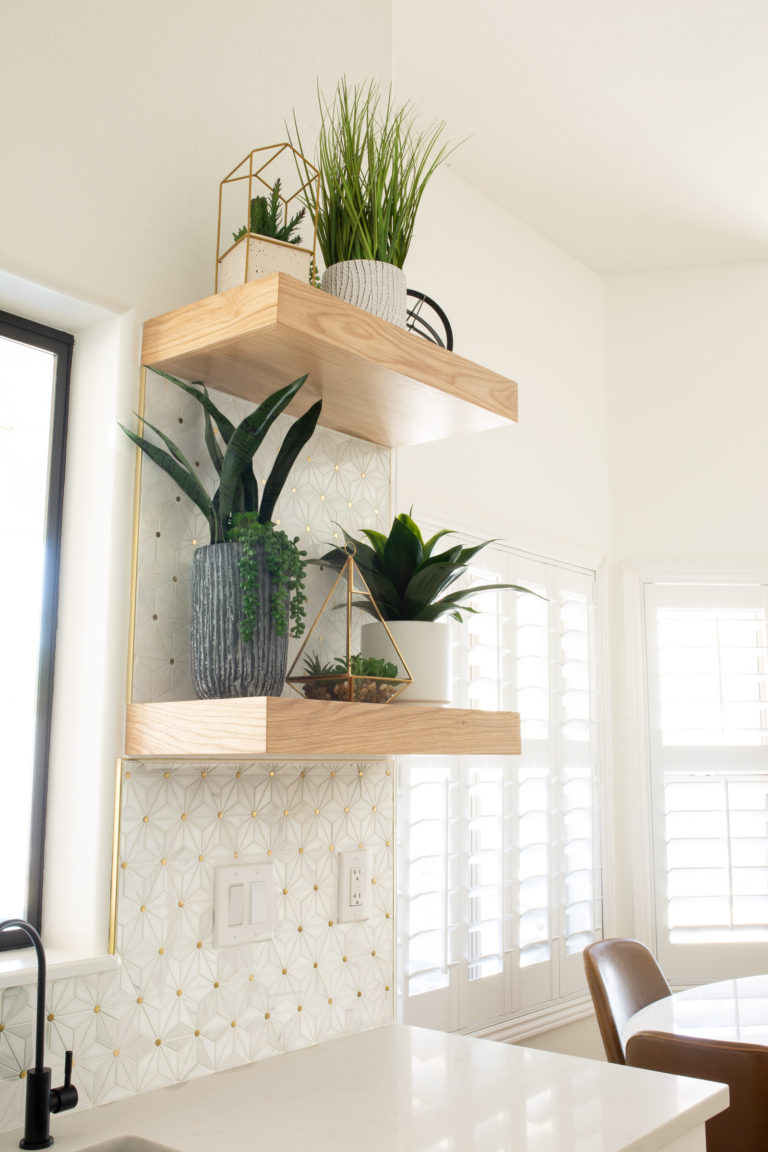 Modern Glam Tile Perfect for A Kitchen Backsplash
First of all, it's just stunning! It's made of marble and brings so much dimension to a white kitchen while still feeling neutral. It was also at least half the price of every other marble pattern tile I found on the market. I am always so impressed with the style, quality, and price of the tile we find at Floor & Decor!
Grout Options
Can I tell you another favorite thing we love about Floor & Decor? They have so many grout options! And due to the nature of this tile and the time to line up the starburst pattern, we had two nights to sit on the final grout decision. I went back and forth, thanks to lots of good options we found at Floor & Decor. We thought a white grout would be so classic, but we worried we'd lose some of the pretty pattern. A dark grout would give a farmhouse backsplash vibe, which wasn't quite what we were going for. But it would also really make that pattern pop! And finally, we found a lovely gold (yes really! Gold grout!) that would bring out the midcentury modern vibes and truly be one-of-a-kind. I think it's pretty amazing that only two trips to Floor & Decor to look at our dream tile yielded so many fun options!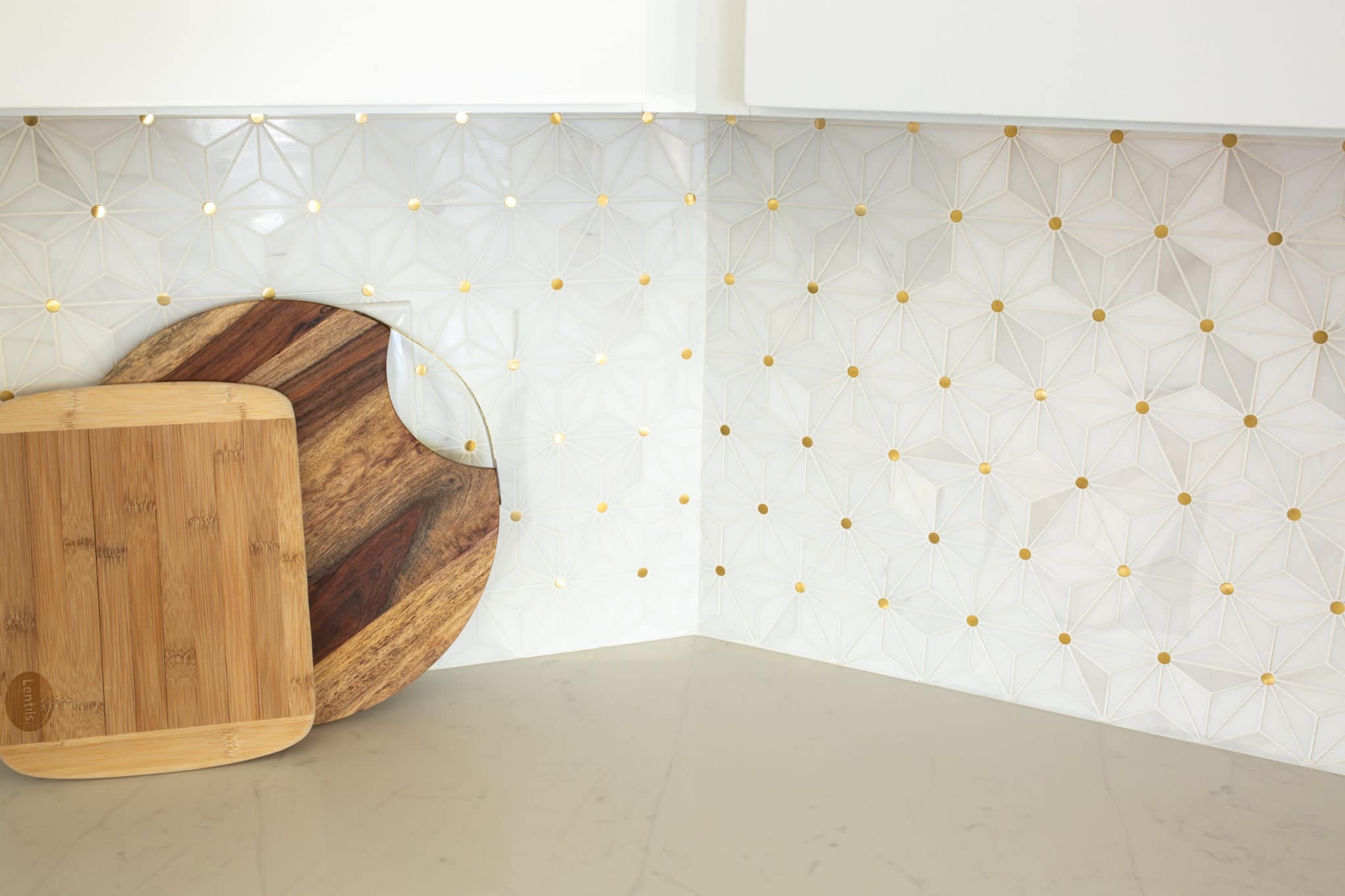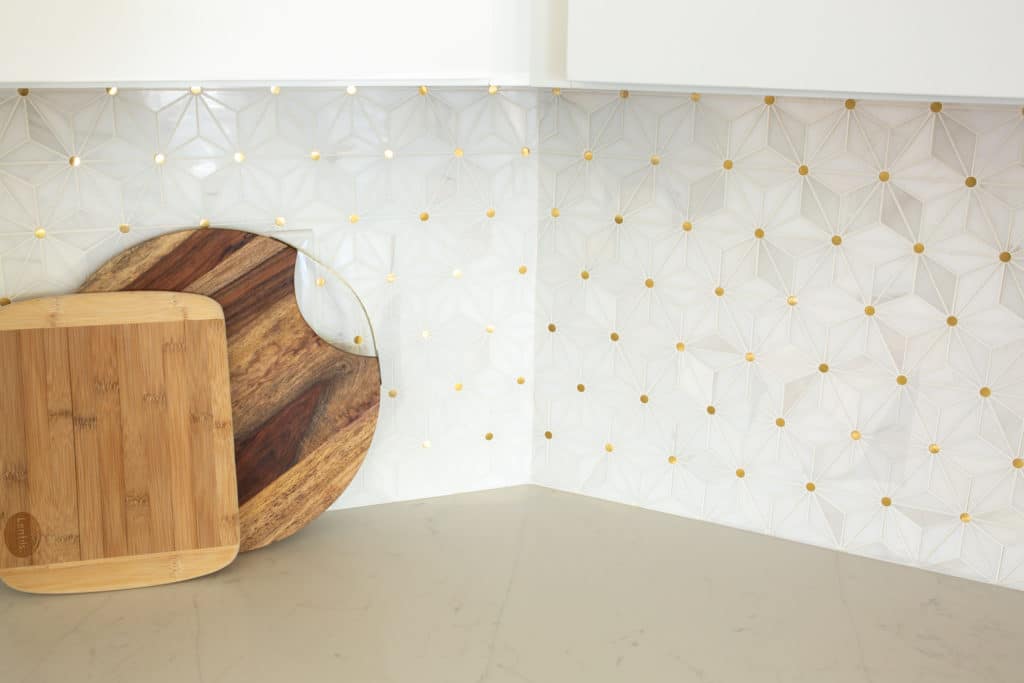 We ended up going with a darker white, it's more of an off-white shade that helps bring out the dimension of the beautiful mosaic backsplash pattern. But it helps the stone feel more neutral, and really makes the white hues of the stone feel bright and higher contrast. It was the best of everything, and I'm so glad we had choices and ultimately made this one. It was clearly worth the wait!
That last 20% is truly the most beautiful part of our kitchen! If we would have started any sooner this wouldn't have been an option quite yet. I'm forever grateful that we had a few months of waiting to help our dream mid century modern kitchen backsplash become a reality in our home!
Get 365 Date Ideas!
We want to help you have the best date nights ever! Grab this FREE printable with 365 date ideas, a date for every day of the year so you never run out of ideas!