Mid Century Modern Kitchen Reveal
Our Mid Century Modern Kitchen meets a contemporary glam vibe is complete after surviving months of remodeling during a pandemic! Here's the big reveal!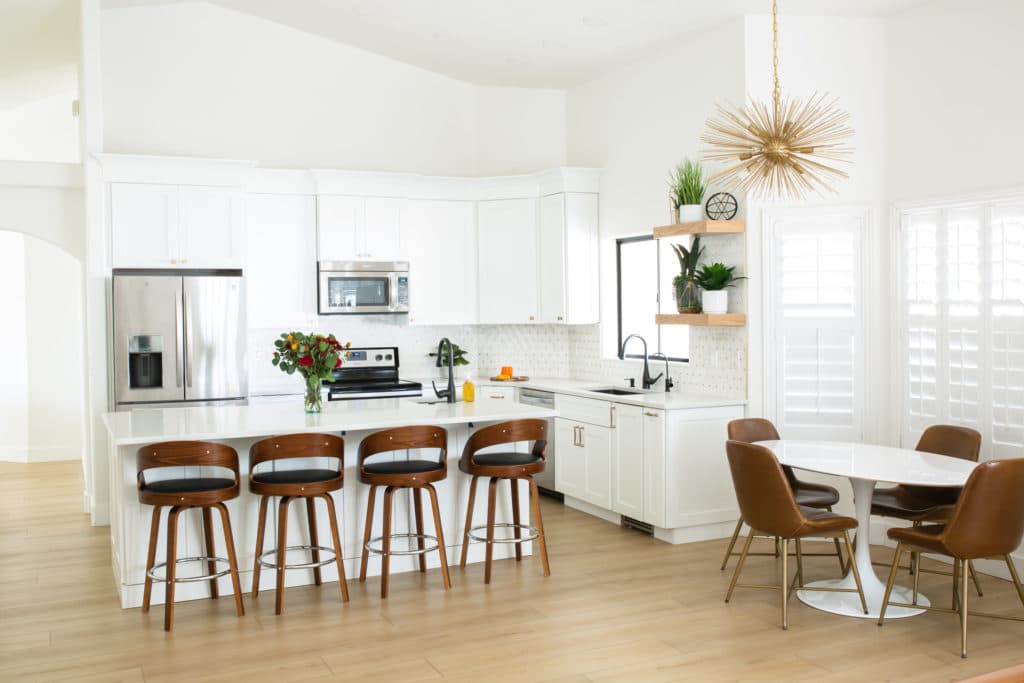 Kitchen Remodel Plan
Two years ago we had an opportunity to quickly redo the flooring in our kitchen with a sponsor. We aren't super impulsive people, but almost pulled the trigger for a fun change! It didn't quite work out with timing so we didn't move forward with the contract. However, I'll forever be grateful it almost happened, because Jacob and I couldn't stop talking about floor updates! We'd been saving for new cabinets since we moved into our home five years ago. After this, we decided to keep saving and do a full kitchen remodel!
We knew we wanted a white contemporary kitchen to brighten up our space. But I knew I always wanted some style and personality too! It took us a little while to figure out the exact style and elements we wanted in our kitchen. And when 2020 hit we decided to pull the trigger! We went ahead and ordered the cabinets and flooring, and decided we'd figure out the rest as we installed.
Kitchen Before
I had several people ask me why we would fully gut a kitchen that seemed great! I admit, I half chose this house because the kitchen layout was amazing and it seemed photogenic. But let our kitchen be a reminder that what you see zoomed out or zoomed in online never tells the full story!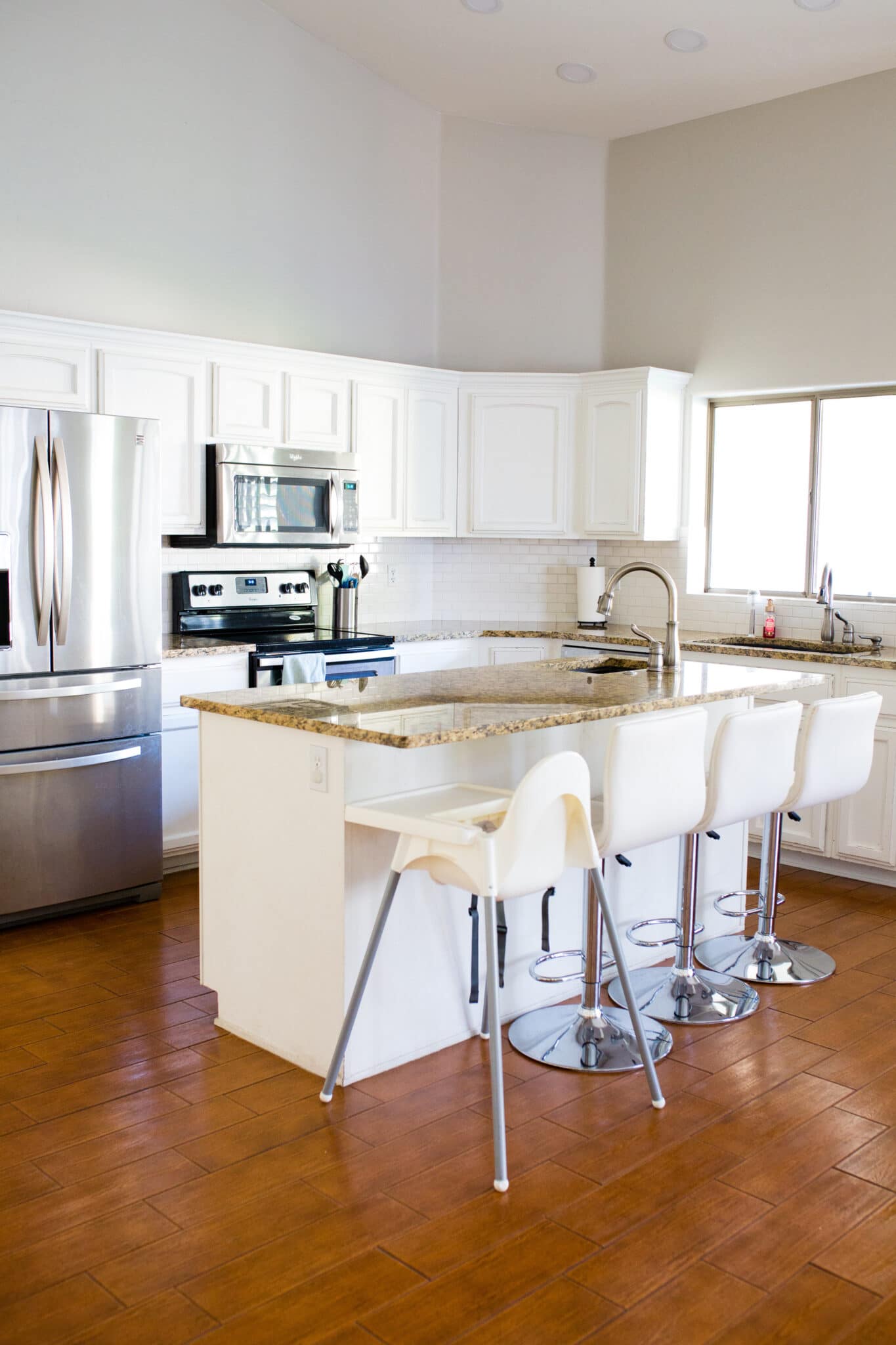 Our cabinets were clearly refinished in hopes to dress up the home for a resale. They used chalk paint and a finish that flakes off. This definitely isn't ideal for a kitchen! We were constantly rewashing dishes before use just to be sure there wasn't a paint chip. The cabinets were older, and not up to standard size. They also had strange hardware rollers installed which cut off about 4 inches of space in each one. The moment we closed, we started saving money for cabinet replacement. We knew it would have to happen in a few years.
There were a few more issues aside from paint chips to address. The island didn't meet modern codes. Our garbage disposal was installed backward that lead to frequent clogs and even flooding. The previous owners flooded the home while we were under contract, and there were a few signs of damage and wear from that mistake. Mostly, under the main kitchen sink desperately needed to be replaced due to warped wood and a long history of flooding.
I give a full before tour in this video:
So although it looked good zoomed out in pictures, we knew a few upgrades for safety and in case we ever resale were in order. It's been on our radar as we've saved up for years to make these changes happen! And while we were at it, why not include a few more upgrades to make the dream kitchen happen?
Necessary Kitchen Remodel Updates
Aside from the needs mentioned above, we were ready for some cosmetic updates! I'm not a designer, and we've always chosen to spend more money on travel and dates instead of a lot of money decorating our home decor. I love a gorgeous home and appreciate them! Deep down I knew one day I'd feel more passionate about it, and in the meantime, we just kept saving.
It took me a decade of being a homeowner to settle into my style and know what I wanted! The passion and vision struck and it was easy once we knew what we love! As much as I tried to convince myself white kitchens are on their way out, I really wanted a bright, happy space! Also, I love Midcentury Modern design. I'm also a practical and classic style girl who looks to the long-term. So we cut the trends and opted for a Midcentury modern kitchen with a lot of classic white touches.
Kitchen Remodel Layout Changes:
An island upgrade! We doubled out island size for better-utilized storage space. Also, we eat at our kitchen counters for at least one meal a day. With four people, it was time to upgrade to a space that could hold four adults. Also, we moved garbage and recycle space to the island for easy food prep and disposal access.
Minor layout changes. We had a strange rounded edge that was designed to hold some cookbooks or decor. With toddlers in our home, it was a disaster to put anything there! It always sat empty. So our designer extended our space to accommodate a pull-out pan cabinet and an ice machine. We have loved both!
A space for our Roomba custom built-in so it's hidden under our island. I love this little feature and love that I wake up to a vacuumed kitchen each morning!
Floating shelves added. I love the look of floating shelves, I also love hiding my dishes and not having to present them. We found a great in-between with side floating shelves. Currently, we're using them for decor only. Also, they add a lot of the natural wood element that belongs in a mid-century modern kitchen.
Cosmetic Kitchen Remodel Changes included:
Granite removed, quartz installed. I love quartz, and I think I always will! We almost went with a black top. But many warned me it's harder to keep clean. My practical side won over, and we went with a white quartz. The change instantly modernized our home!
Hardware added, for some reason, we never had it on our old cabinets. We opted for gold pulls and minimal conical knobs. It felt like the right choice to fit our modern vibe.
A Midcentury Modern backsplash was installed. We have a post just about this tile! It was meant to be finding it five months into our remodel after mandatory store closures.
Backsplash update. I love a classic subway tile as much as the next person. But after going with so many classic choices, I knew our backsplash could use a little flare. We wanted it to be beautiful, unique, but not too overwhelming. Also, a midcentury modern kitchen backsplash can be a tall order, but we found the perfect thing! It was five months in the making to even find the tile. Then, it was another two to finish the install.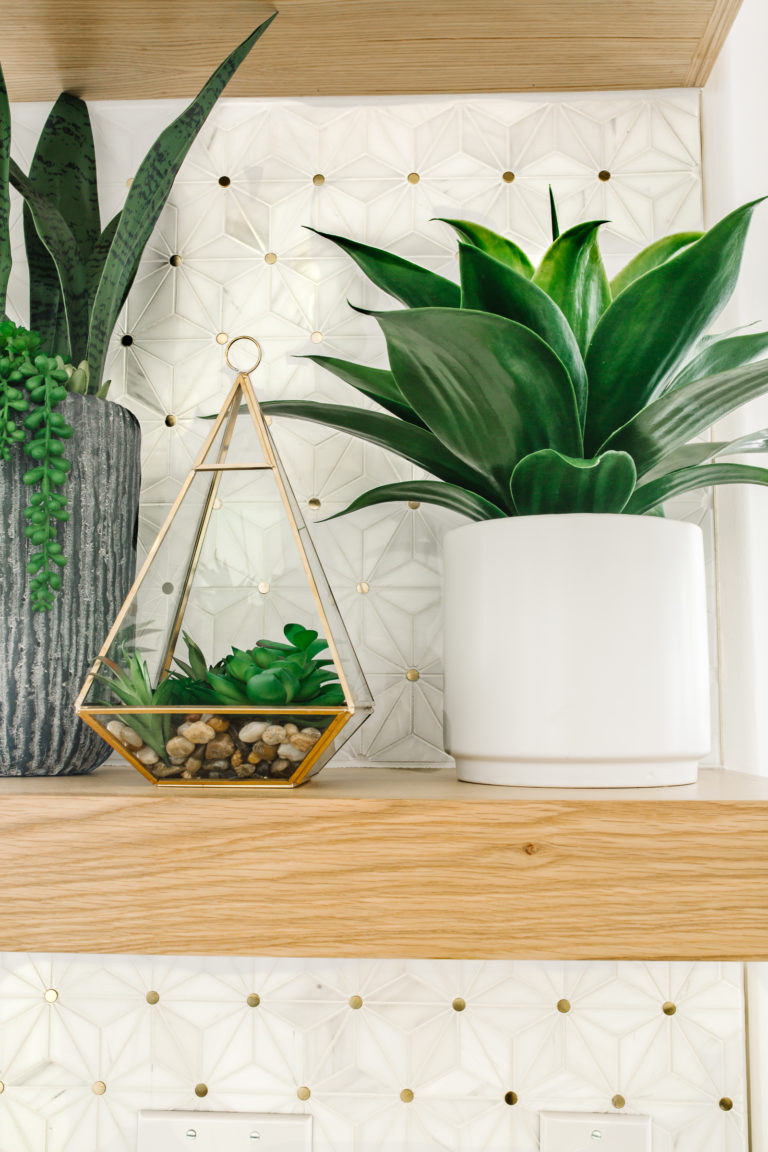 The long wait time for our Mid century Modern kitchen
We had no idea the world would shut down and stores would have to close for several months. At first, this felt so overwhelming as we lived with walls that needed drywall repair and were screaming for a backsplash. Also, hardware was back ordered with a several-month wait time. We lived for about four months with flooring, cabinets, and counters only.
I wrote a full post about what a wild time this was to remodel. See: What It's Like Home Remodeling During a Pandemic
But you know what, I'll take it! After spending a month with concrete floors, dust everywhere, and literally nowhere to go as a pandemic hit and restaurants were completely closed, we were thrilled to be functional.
It felt like fate when Floor & Decor reopened and my parents offered to watch our children so we could have some solid time to go choose a backsplash tile. The moment we saw it, we knew it was just what our kitchen was begging for!
We found several options that would work, but when we walked by the Viviano MarmoNova Dolomite Brass Polished Marble Mosaic tile, both our hearts skipped a beat! It was truly love at first sight!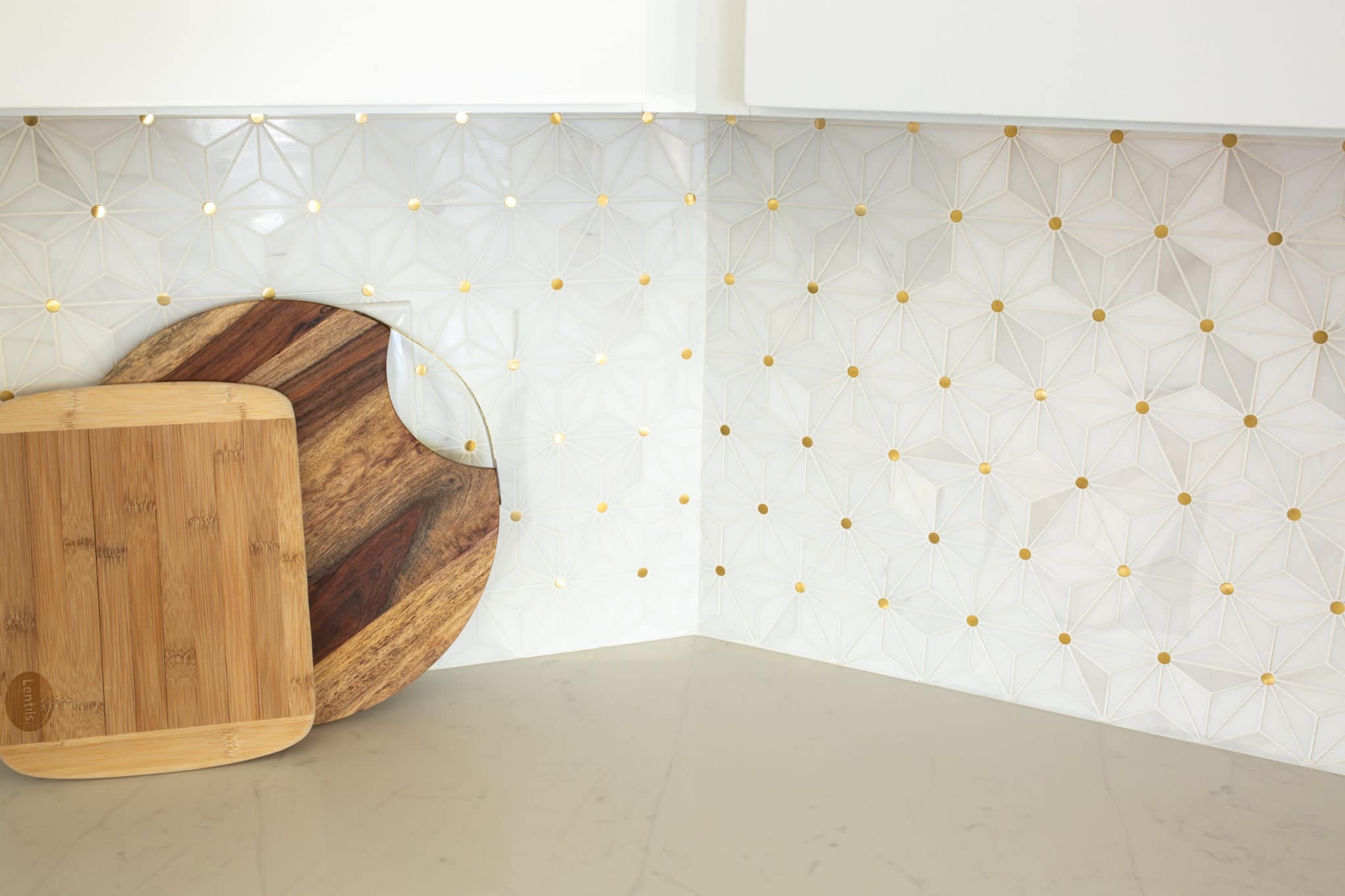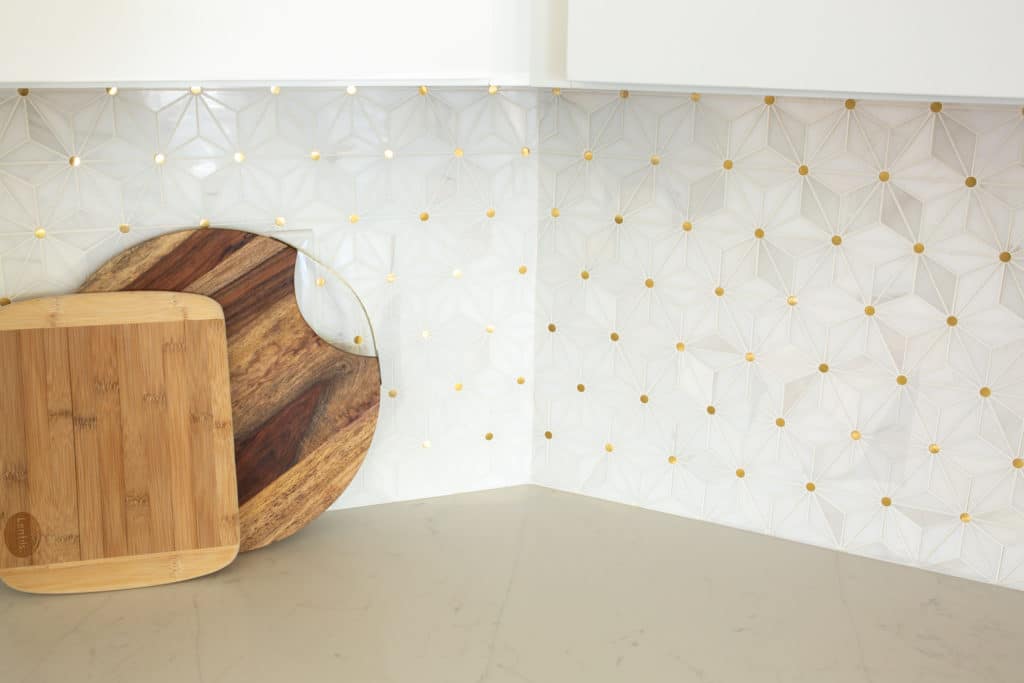 Mid-century Modern Elements
I love how a geometric tile, some open shelving, and crisp lines can make a kitchen feel so modern! Once we added our barstools I was grinning from ear to ear! We're set with some easy updates, should we decide to change our style in the future. Our cabinets are easy-to-paint should we choose to update them. Our backsplash space isn't too large, and we can swap out tile fairly inexpensively if we ever grow tired of this gorgeous design or want more color. But most of all, we can swap out our barstools, table, chairs, and light fixture, and get a completely different look.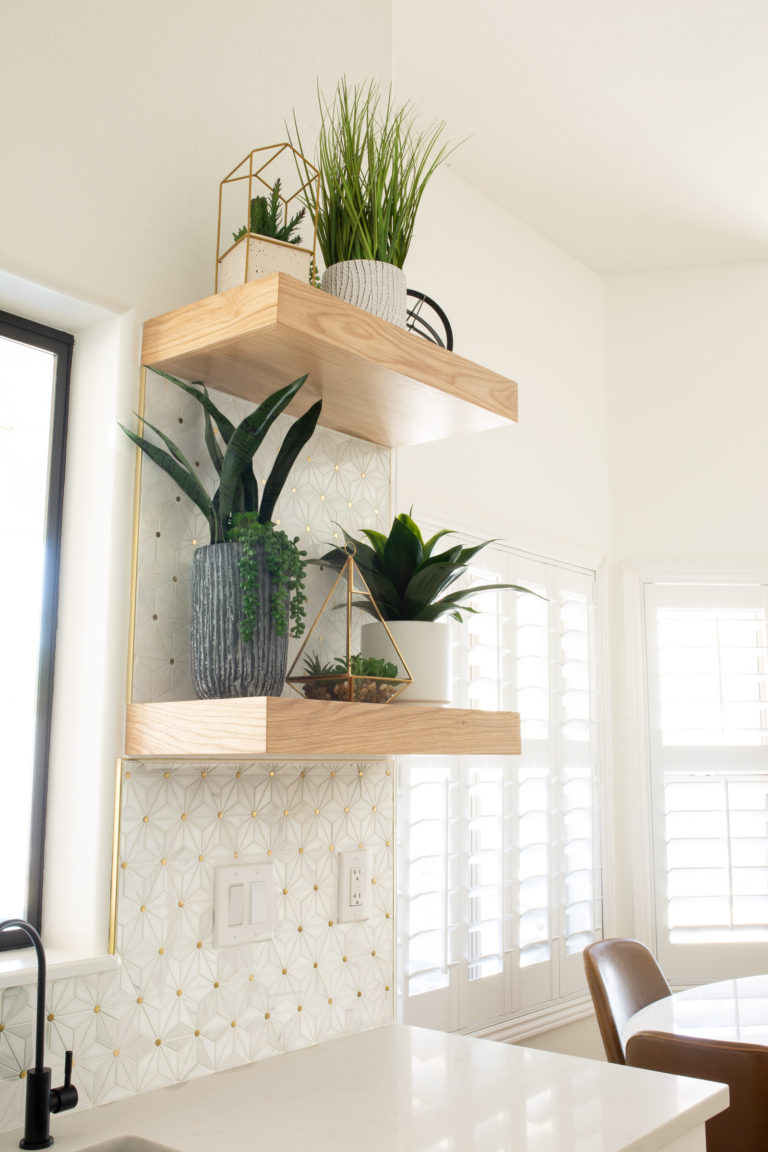 There were some delays with tile and finding a talented contractor who could install this complex pattern perfectly. But when we found him, he was worth the wait! Even when we added another section to the project and had to wait for another month to complete it. He was amazing, and made our final touches for tile and shelving perfect!
Mid Century Modern White Kitchen Reveal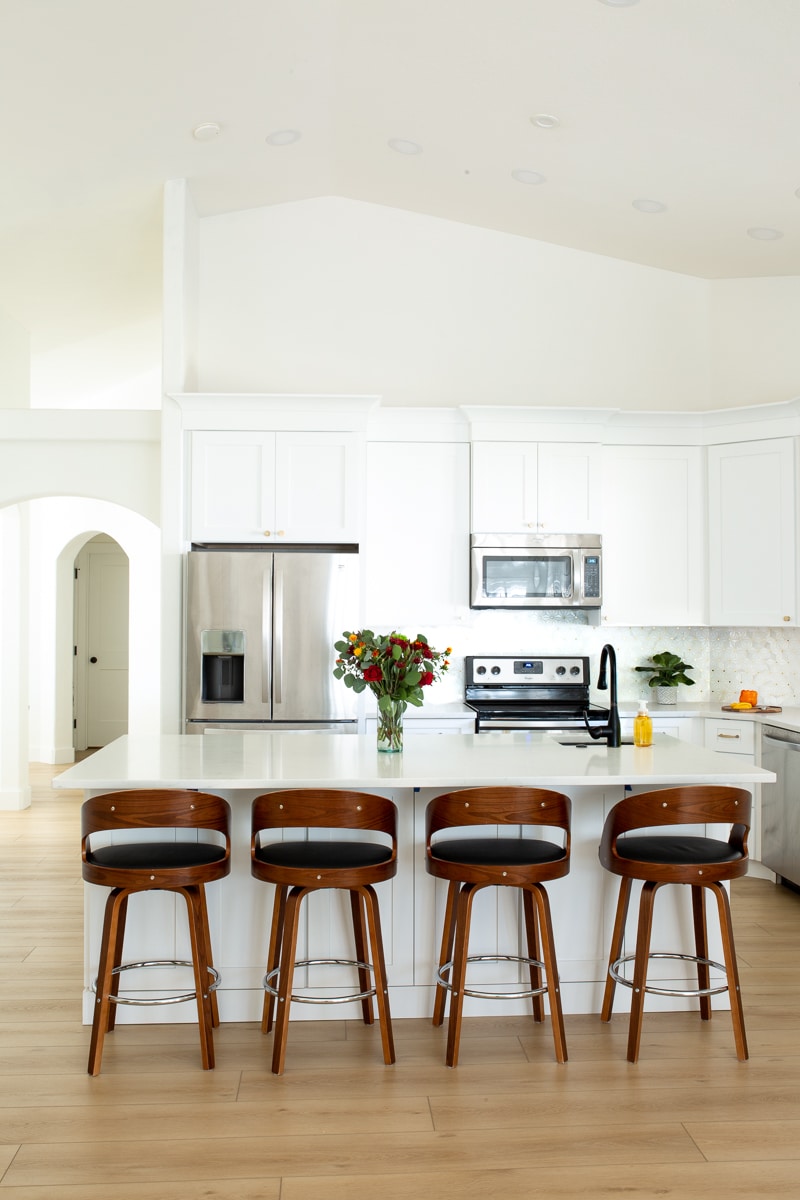 When we added our gold starburst sputnik chandelier I was beyond thrilled with how it all came together! It's living proof a blank slate white kitchen can form to any style with a few elements. The Mid Century Modern kitchen backsplash, gold hardware, sputnik light, shelving, and modern plants completed the look we'd been hoping for all along.
It's was a long eight months in the making (thanks pandemic), but I have to admit, it was 100% worth the wait for this view every day!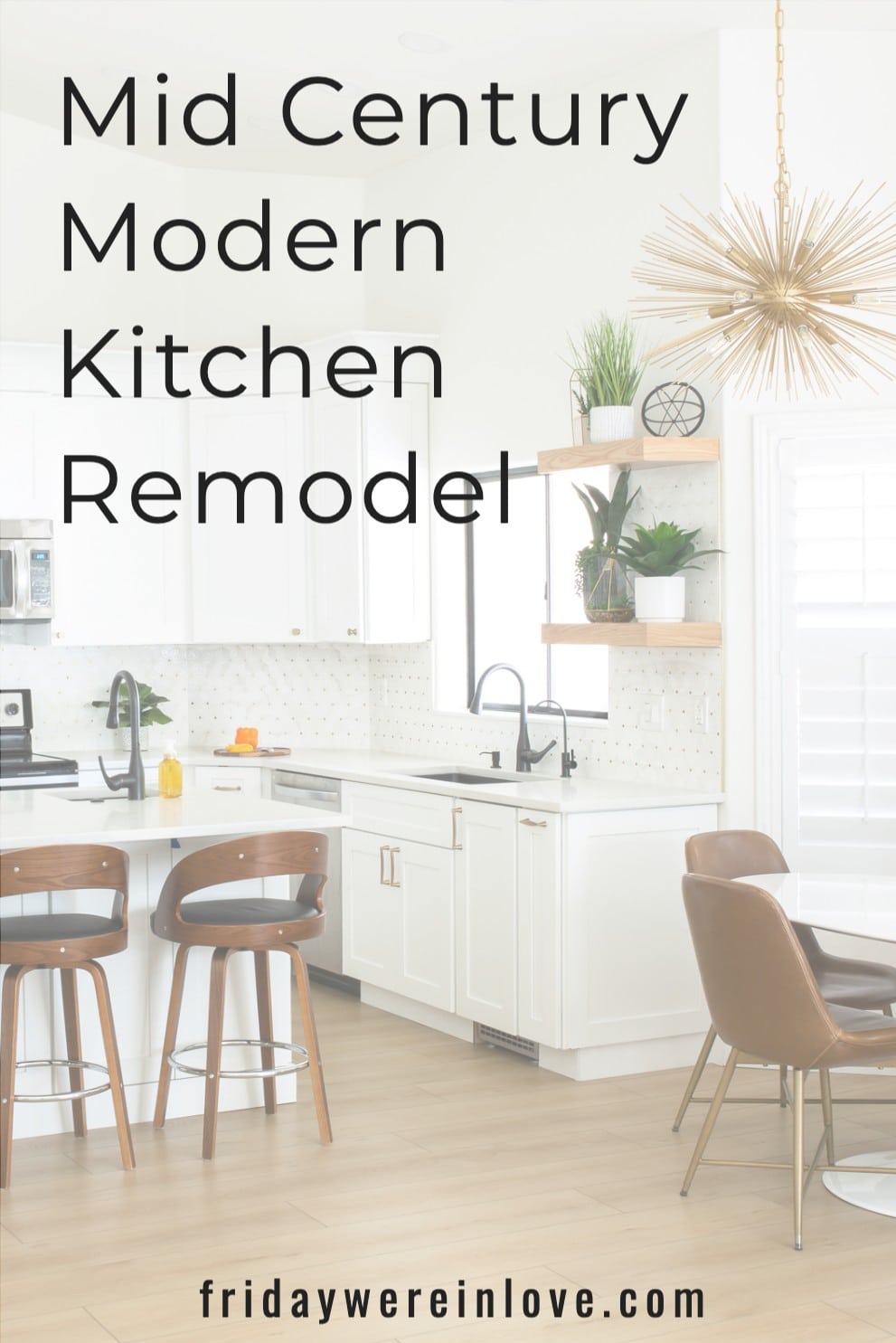 Get 365 Date Ideas!
We want to help you have the best date nights ever! Grab this FREE printable with 365 date ideas, a date for every day of the year so you never run out of ideas!