Laundry Room Cabinet Reveal: Best Paint for Cabinets
The exciting laundry room cabinet makeover reveal: including the mystery color we chose! Plus, a guide to the best paint for cabinets if you're ready to tackle your own makeover.

Laundry Room Cabinet Makeover
If you're one of our friends over on Instagram you may have spent the last two weeks watching us spend each and every night redoing our laundry room cabinets. They were sad. Bless their old souls, they have been through five paint colors, a flood, possibly up to 35 years, and lots of wear and tear. I honestly thought it would be one area we'd have to save for years to redo.
It's a very custom area, with very hacked together cabinet elements. Every idea I came up with ended in a weird geometry problem (thanks to random angles in walls). Ultimately, we decided we'd need a professional to do a new custom build. And let me tell you, those are never cheap!
Changing Our Remodel Plans
This was not in the original remodel plans. But once Jacob opened up and admitted he hated the random vanity cabinet in the laundry room/bathroom and I added I hate the strange tiered wall divider, the whole room suddenly hit our radar. So we started with some demo, pricing a vanity addition, and added new quartz. The more we accomplished, the more we knew the ugly laundry room cabinets needed a makeover. The new pretty pieces were making them look even worse.
So we ripped off the doors and sanded and fixed and primed everywhere.
Choosing a Paint Color
I love white cabinets. We redid most of our home white and bright. And as I looked at those beat up old cabinets who I know we'll likely only have a few years, I decided it was time to spice things up. Maybe not too spicy like some people hoped. Yes, everyone who guessed fuchsia and hot pink, you're about to be let down.
I kept looking to the trends. Green is so having a moment right now, and it's everywhere! Shades of emerald and evergreen are so on-trend and have been for several years. I love it, it's so fun, but it's never felt like me.
Navy blue is also having a huge moment right now. But with enough black elements and modern vibes in our kitchen, I wasn't sure it was ideal for this space that's just around the corner. I wanted something more colorful, and although many guessed black or navy, they just weren't the right fit.
A Blue Green Paint Color
For a minute I settled on mint. I was certain mint cabinets would be just the ticket! I planned and prepared and researched a billion shades. Thank you stores closing down, I couldn't get samples to test easily. It became a decision I decided I'd make later when I would visually see mint options. And then one day it hit me that maybe something else was meant to be.
The Color Inspiration
As I thought through colors, I really wanted something that would be a stark contrast to all the white. But I also wanted something that felt fun and somewhat neutral. This all seemed like a tall order- does stark, fun, colorful, and neutral exist in one place? Then one day on Pinterest I found an image from an old Fixer Upper Episode that I couldn't stop staring at. The Fixer Upper Plain Jane House just called to me.
The lower kitchen cabinets with a pop of color next to white spaces somehow felt neutral and seemed perfect! It was called Joanna Gaines' "wild side" project that went more colorful and modern than her normal designs. And as I read reviews and praises of that "wild" colorful project, I just knew that was the color for me! I mean it's the perfect blend of a blue-green paint color that leans a little blue and thus a little more neutral.
The Color Reveal
So I searched and searched and couldn't really find other projects with that exact shade. So we played around a little, and eventually found a designer who commented that maybe Benjamin Moore Dark Harbor paint would be about the same color as the custom color Joanna chose.
I dove headfirst into Dark Harbor paint and decided to buy a full can before we even tested it. And friends, I have never looked back!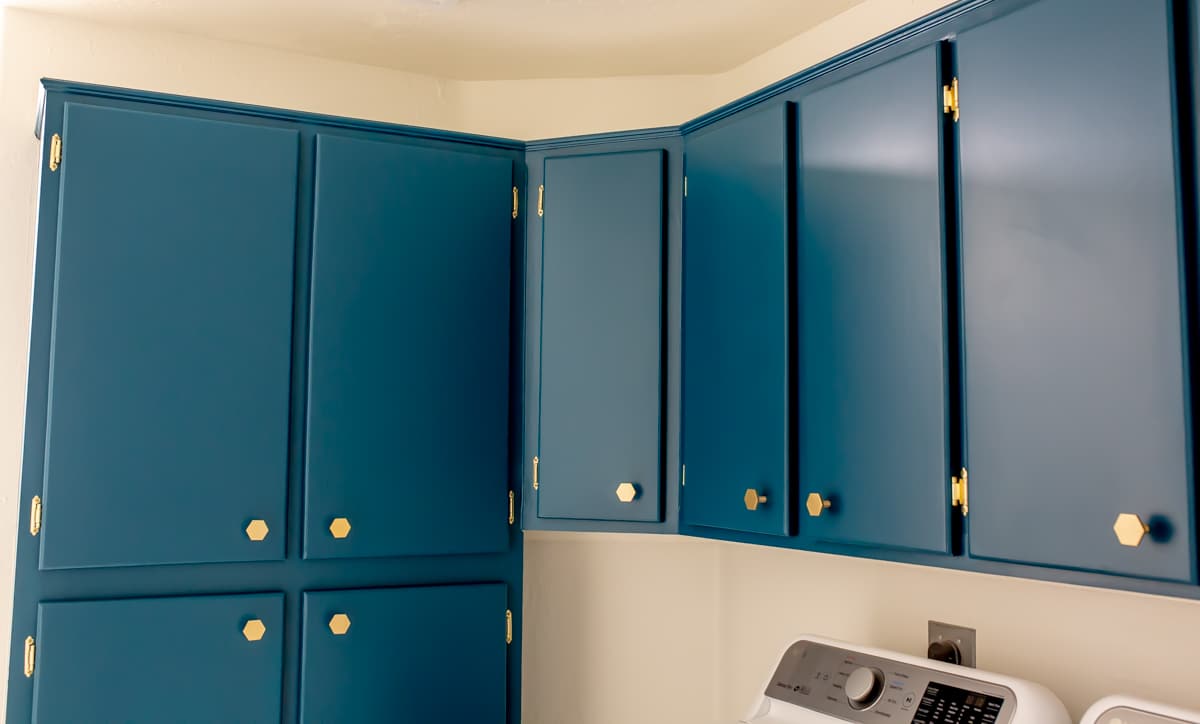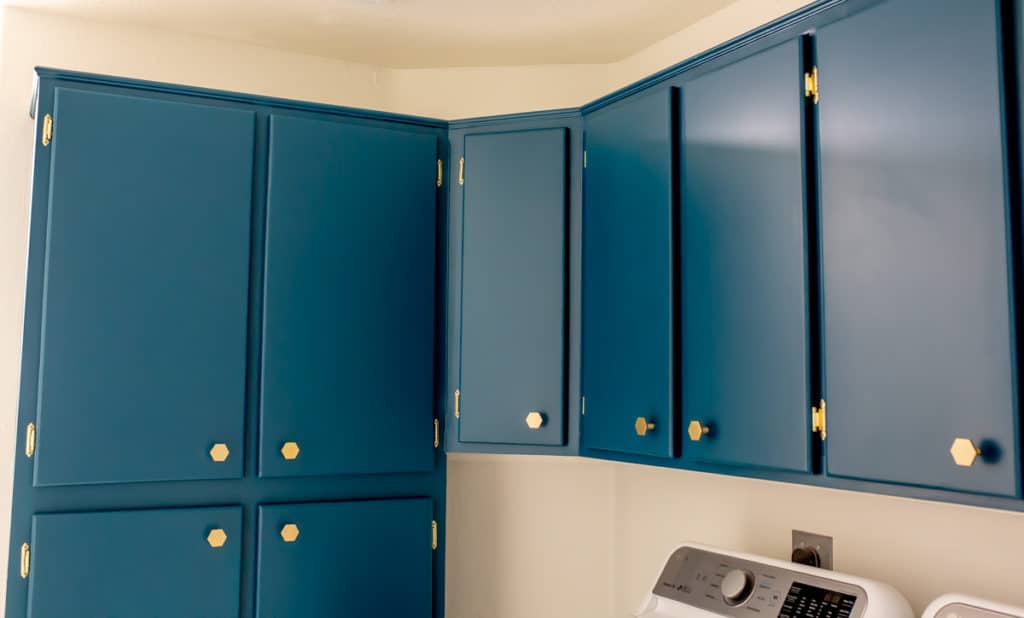 The Best Paint for Cabinets
Can we talk about the best paint for cabinets? I'm going to write a whole tutorial one of these days when I'm not up until 2:00 doing projects. But let me tell you for anyone finding this and thinking they'd love to do this same color. Or anyone thinking you're feeling inspired to paint old cabinets, let me tell you the best paint for cabinets so you can price it out and plan.
The best paint for cabinets is found at Sherwin William and is called the Emerland Urethane Trim Enamel. It's made for doors and trim, and designed for wear and tear! The beauty of it is you may need a primer, but you won't need a topcoat. And without a topcoat, you can easily touch up any dings or issues in the future. It's a high-quality paint and truly is the best paint for cabinets out of the many we've tried!
And if you weren't aware, you can have colors matched by Sherwin Williams, so choose any color from any store without fear!
Like this laundry room cabinet reveal? You may like these posts too:
Toddler Bedroom Ideas and Amazing Kids Room Design
Front Door Makeover: DIY Spring Porch Refresh
DIY Renovation Projects: A List of Projects We've Tackled (And You Can Too!)
The Wonderful Things You Will Be Nursery Ideas and Room Reveal!
Affordable Gold Picture Frame Hack
Where the Wild Things Are Nursery
Get 365 Date Ideas!
We want to help you have the best date nights ever! Grab this FREE printable with 365 date ideas, a date for every day of the year so you never run out of ideas!