Indoor Camping Ideas for an Indoor Camping Date
This post is sponsored by Rockit™ apple, but all opinions are my own.
We've been spending a lot more time with date nights at home the past few months. I love how it's forced us to get really creative! We're learning that whether our plans may have been out on the town or with travel adventures, we can find a way to recreate them at home.
Our oldest son has been looking forward to a father and son camping trip that unfortunately has been canceled. While we tried to help him experience some of the fun elements of camping, it hit us that this would not only be fun for him, but we could turn this into a date night at home too! It would be so fun and so easy to pull off an indoor camping date night with a few simple things!
This is perfect for a family date with the kids, or as a romantic camping date for two without the mosquitos! Plus, there are so many fun indoor camping ideas to choose from that work best for you.
Indoor Camping Date:
What you need:
A tent or least a fort that resembles a tent. We loved pulling out our actual camping tent and setting it up in our living room. It makes it really feel like a campout!
Blankets
Air mattress (optional but makes things comfortable if you're planning to sleep in the tent or stay for a movie night).
I also added a few strands of lights for date night to make it feel a little more romantic and special.
CAmping Snacks
Camping means easy foods you can enjoy with minimal effort. I am a firm believer in starting with healthy snacks first to enjoy throughout the camping experience. And our current favorite works so well not only for actual camping trips, but for family outings, as a portable snack, or just to have on hand. However, it does fit perfectly in the camping cooler to enjoy in the tent together.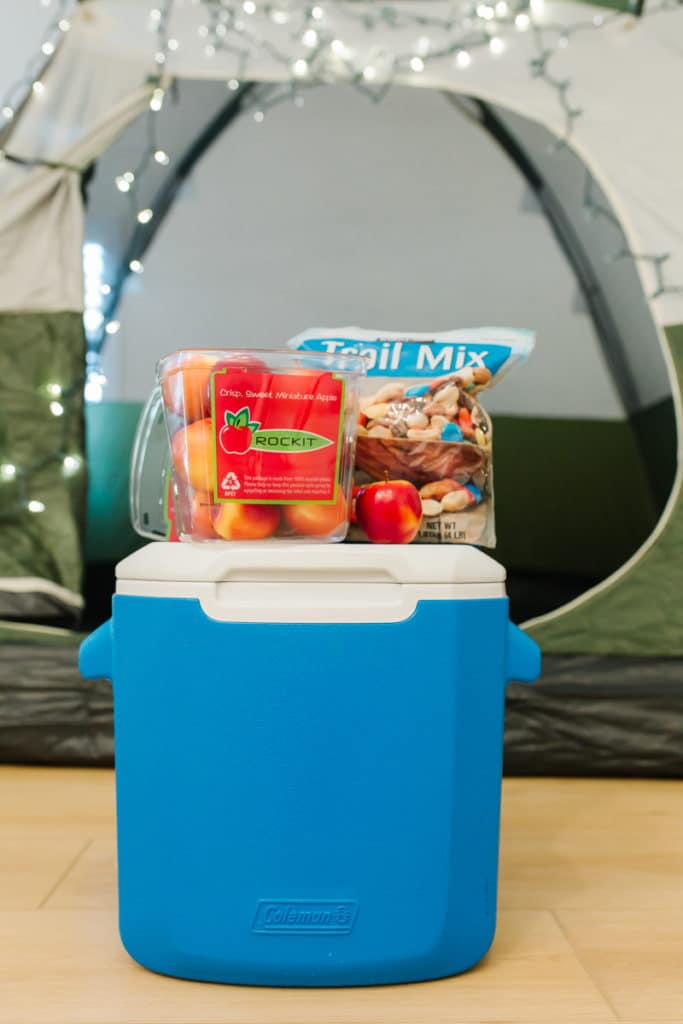 Our new favorite healthy snack is a new miniature apple variety that our entire family is obsessed with! Rockit™ Apples from Chelan Fresh are a new apple variety that are so good!
Rockit™ Apples are the cutest pocket-sized apples that are deliciously sweet! I'm a sucker for a sweet apple and they fit the bill perfectly! They're the perfect size for kids, and I love watching my tiny handed humans enjoy the perfect size. But it's definitely an adult favorite too with a great portion size! They are the perfect on-the-go snack. When sweet, crispy and healthy all fit into a snack you can sign me right up! Obviously, they fit the bill for an all-natural camping themed snack!
You can definitely eat a cute Rockit™ Apple for a snack- but there are so many other fun ways to eat one!
Want to know an easy way we make our snacks feel a little more romantic for a camping date night? I like to make a camping style charcuterie plate. I started with Rockit™ Apples, cheese, peanut butter, and chocolate chips. Mine is simple, but still effective and a little more romantic picnic feeling for our date.
The sky is the limit with what you can add! But anything you'd see on a candy apple makes a great topping! For sweet charcuterie toppings try: miniature marshmallows, chocolate candies, a crushed toffee bar, caramel dip, chopped nuts, or sprinkles.
For "a" nostalgia, a big bag of trail mix and the traditional s'mores (made in the oven) are good options too (hint also great with sweet crunchy apple pieces)!
So for those keeping track:
Indoor Camping Date Activities:
Camping always meant card games in my family. A pack of cards or your favorite game are always a good idea!
You could also include:
Stargazing- learn about constellations via online sites and videos.
Share ghost stories- the cheesy camp stories you'd tell as a kid are just as fun as adults.
Watch a movie on a laptop. You can also move the tent to face your tv if you're in the mood for a big screen.
Share camping memories from your childhood
Enjoy takeout and have a romantic dinner date in the tent
Bring a cheesy camp craft (like a making plastic lanyards), that you would have done at a summer camp
Whatever you do, we hope it brings the same fun feelings of a camping trip while you stay at home! And we hope you'll love bringing Rockit™ Apples to all of your indoor family or date adventures this summer!
Like this indoor camping date night? You may like these posts too:
Easy Romantic Gourmet Cooking Date Night At Home
Escape Room the Game Amazingly Fun Date Night At Home
Family Camping Trip Made Easy
The Best Romantic Comedies for a Movie Date at Home
Get 365 Date Ideas!
We want to help you have the best date nights ever! Grab this FREE printable with 365 date ideas, a date for every day of the year so you never run out of ideas!