Christmas date ideas are always the right choice! If you're ready for some romance on Christmas Eve, these Christmas Eve date ideas are for you!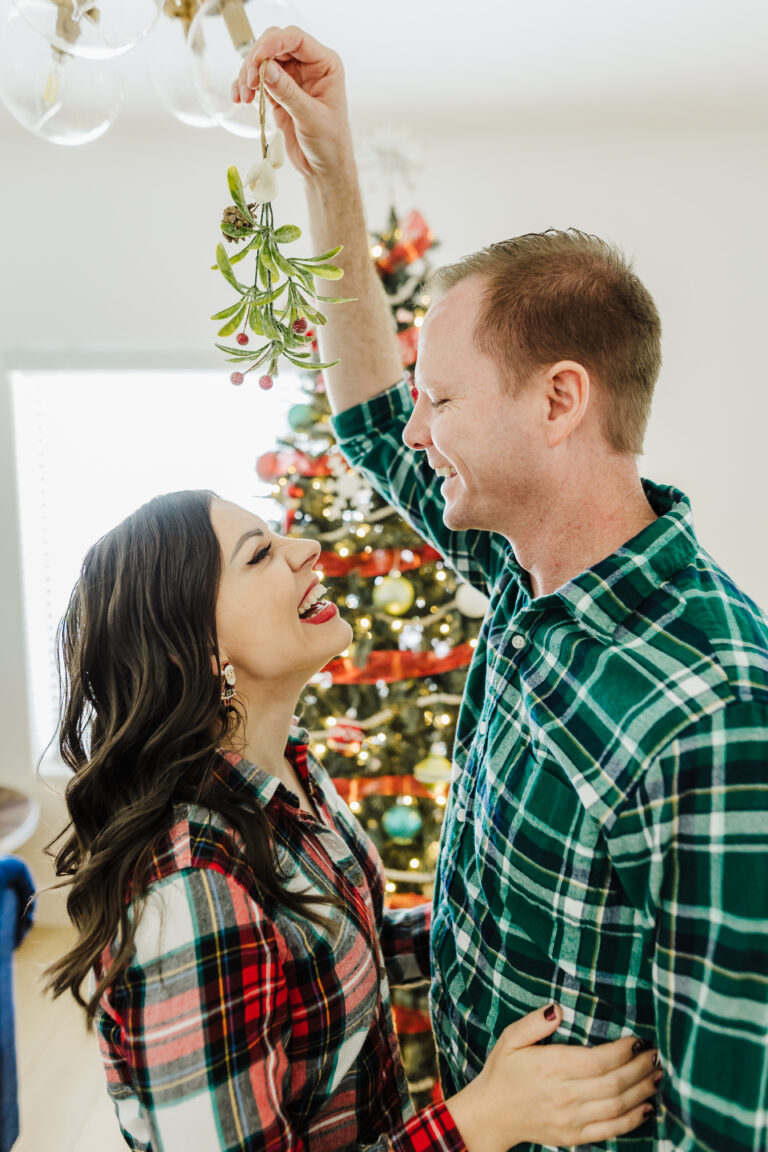 We love doing fun Christmas Eve activities for families, but we equally love a great Christmas Eve date!
Make a Christmas Date Happen!
Before we had kids, Christmas Eve was always the day we had time off from work, and it was a great time to fit in a fun date! After kids, we've found we often have family in town, and many are happy to keep our kids for a few hours while we prep for Christmas, or fit in a date night.
This year a lot of winter storms forced many Christmas Eve plans to be changed, or canceled. I had many friends go from a big family party to a Christmas Eve for two. It made me realize how we often have these pockets of time we can fit in a holiday date night and we may not even realize it! And we'll always recommend fun date ideas, whenever you have a few hours!
Fun Christmas Eve Date Ideas
Christmas Movie Date.
Host a festive holiday movie night with your favorite Christmas movies and snacks. A classic Christmas movie is always a win. But there are so many modern movies for couples to enjoy, and sometimes a new movie is one of the best Christmas activities! Rock your couple's Christmas pajamas and plan a holiday movie marathon! Need some inspiration? Check out our list of the best Christmas movies for date night.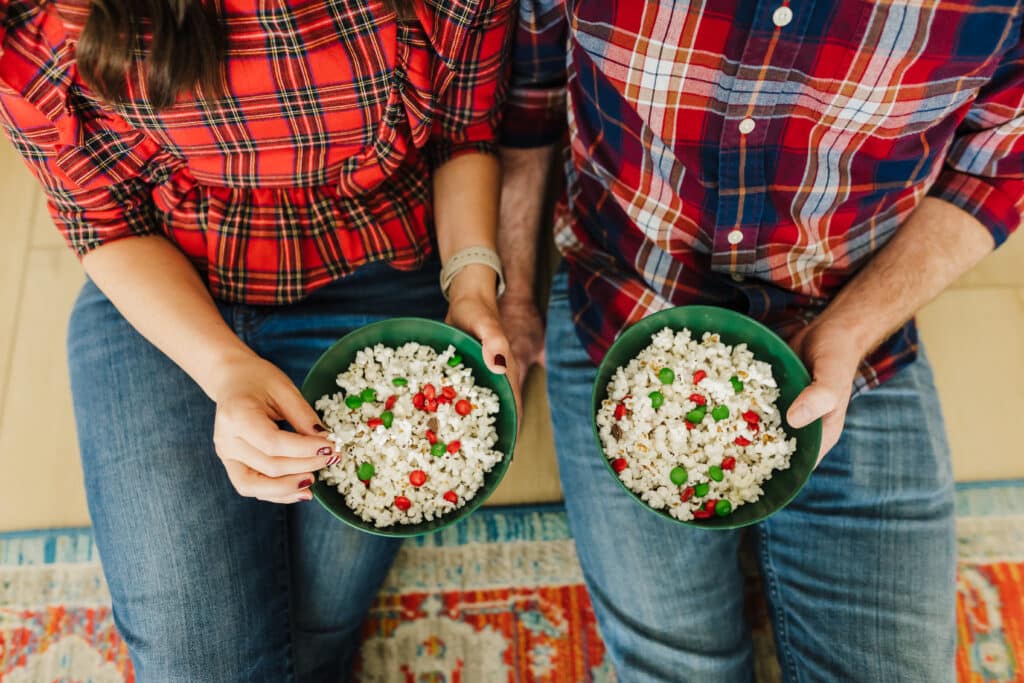 Visit a Christmas tree farm
You can grab a fresh tree for Christmas Day, or you can enjoy the Christmas market smells and sights. It's actually one of the most romantic Christmas date ideas, and can be completely free!
Exchange Gifts
If you are spending Christmas morning with family or other visitors, taking a minute to exchange gifts in a private setting can be the best thing! Take a minute to exchange gifts and isolate the moment in a more intimate way.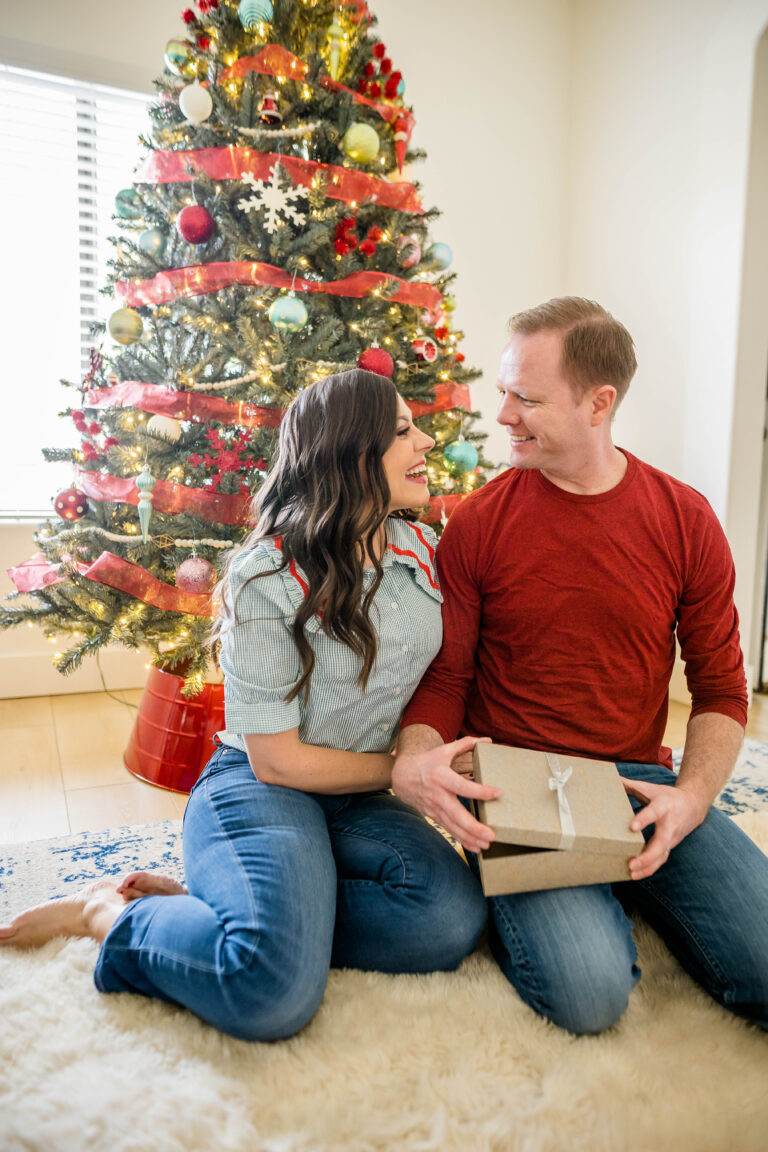 Visit a Holiday Market
Visit a local Christmas market/holiday market to check out the holiday decorations, treats, and trinkets. It's one of the best holiday events, and you may just feel like you've stepped into a holiday romantic comedy.
Exchange ornaments.
This is a great opportunity to choose an ornament that reminds you of each other, or something you experienced this year. Make this fun tradition into a date night! It's a good way to share some sentiment and connection. Also, if you're broke of short on storage, you could window shop or digitally choose one to share.
Watch a tree lighting ceremony together
Most city trees have a tree-lighting ceremony at a set time. Make a fun evening of it and go watch the tree light up.
Drive around and look at Christmas decorations.
You are going to see the best light displays and holiday decor this week with Hanukka and Christmas Eve celebrations. Go enjoy the view!
Admire the Lights
Take a romantic stroll in your neighborhood to admire all of the holiday lights and decorations.
Do a Christmas Lights Scavenger Hunt
We happen to have a free printable Christmas Lights Scavenger Hunt that makes the traditional Christmas light stroll into a much more fun and interactive activity the whole family can enjoy! But also, it's a fun way for couples to have a free Christmas Eve Date night too!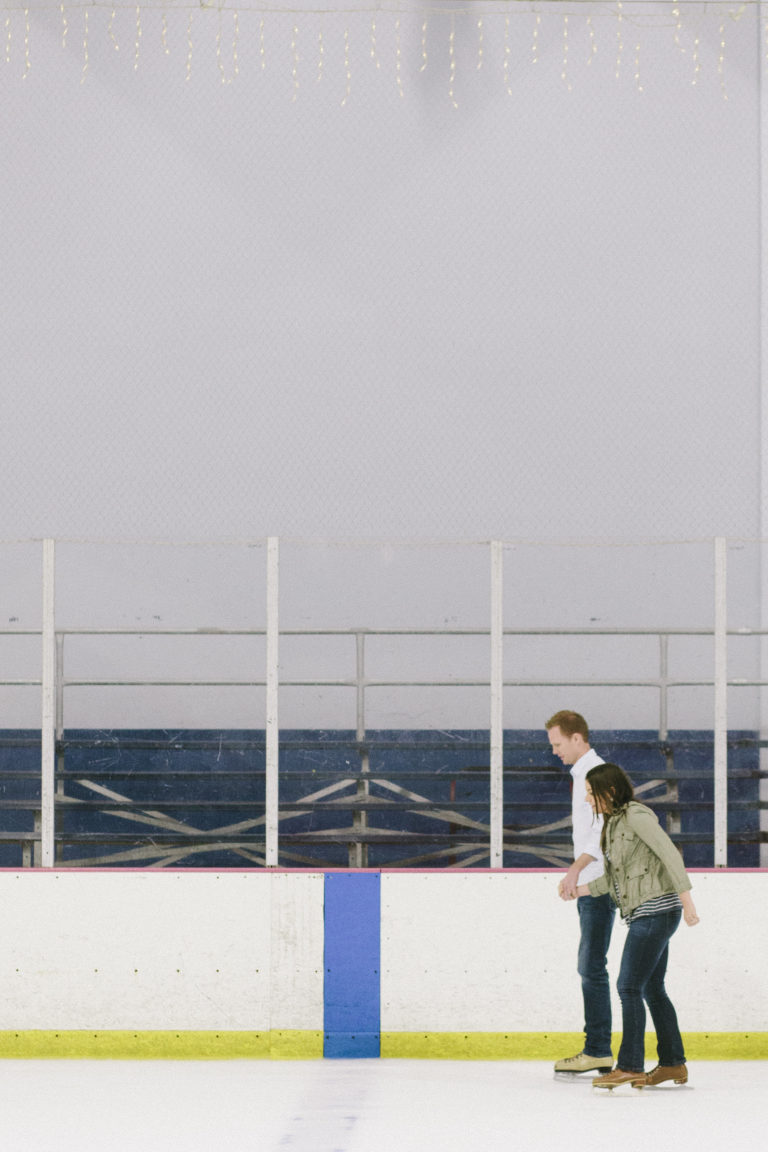 Go ice skating at your local rink.
Lace up those ice skates, and get ready to feel like you entered your own Hallmark movie together! An ice skating date night holding hands around the skating rink is such a romantic way to spend Christmas Eve!
Hit the Slopes
A day at the ski resort is a classic Christmas Eve activity for many families, and it also makes a great date! There's no better way to wear yourself out while you have a great time being active together!
Decorate your own Christmas tree
Sure you may already feel set up for the holiday season, but there's something about having your own tree together that's super connecting! It can be a cheap tiny tree. But take some time to thoughtfully decorate a little tree with meaningful items.
Enjoy the Festive Season at Theme Parks.
The year we went to Disneyland for Christmas was such a magical year! Most theme parks have their own Christmas traditions and you can enjoy them while you have the perfect time feeling like a kid again! Also, check out how to get discount Disney tickets, and how we use Getaway Today to save a ton on packages to Disneyland and Disney World!
If you live near Disneyland or Walt Disney World, it's its own magic of Christmas experience that makes for some of the best holiday date ideas! I mean a walk down Main Street with snow, music, and smells is just pure magic- particularly during the holidays. Plan a date at Disneyland, Magic Kingdom, Hollywood Studios, or Animal Kingdom to enjoy the best Christmas lights and some rides.
Universal Studios also rocks the holiday season, particularly in Harry Potter World.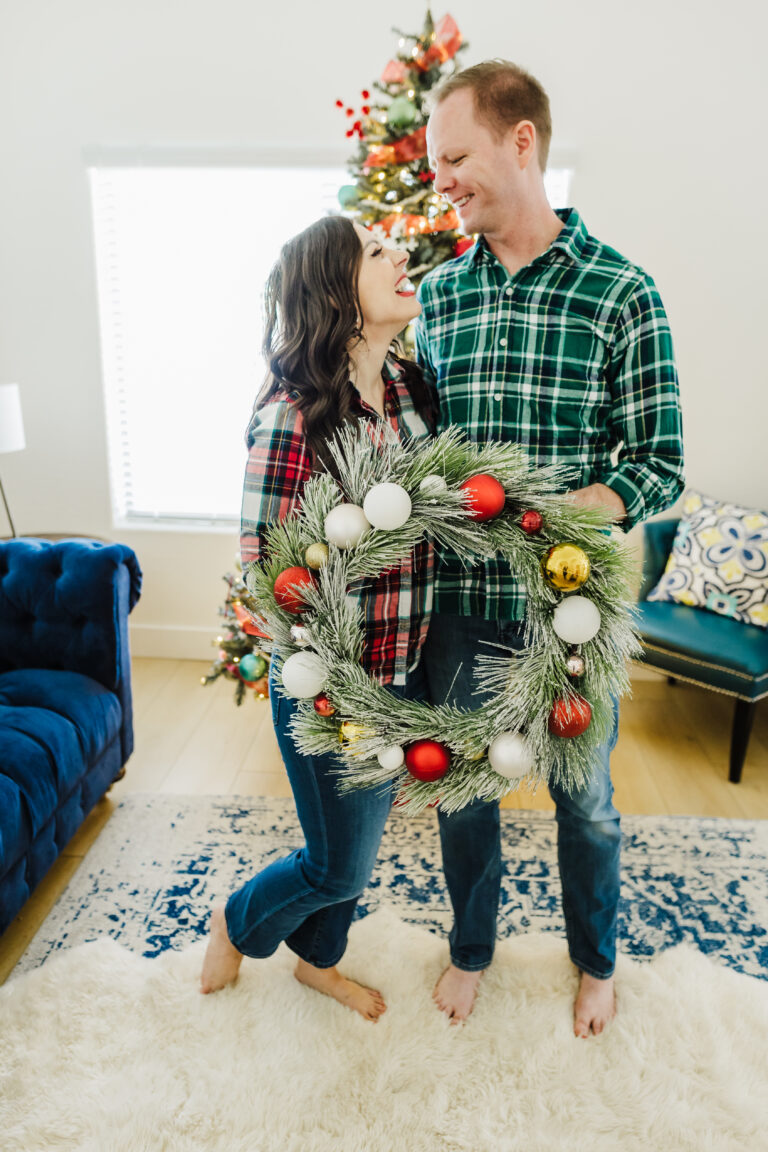 Christmas Dinner Date
Cook a special Christmas Eve dinner at home, complete with your favorite holiday dishes. Who said you need a crowd to enjoy a nice meal? Make a candlelit dinner for two with your favorite Christmas foods.
Fast Food on Christmas Eve
Did you know several fast food chains stay open for Christmas Eve? We go to In N Out for a late lunch almost every Christmas Eve, and their festive cups and paper wraps kind of make my day every time! Go quick and easy, go against the norm, and grab fast food on Christmas Eve for a quick lunch date or low-key dinner.
Christmas Game Night
Have a board game night with your favorite Christmas-themed games. If you need some great games, check out our couples games post with over 100 excellent games for two!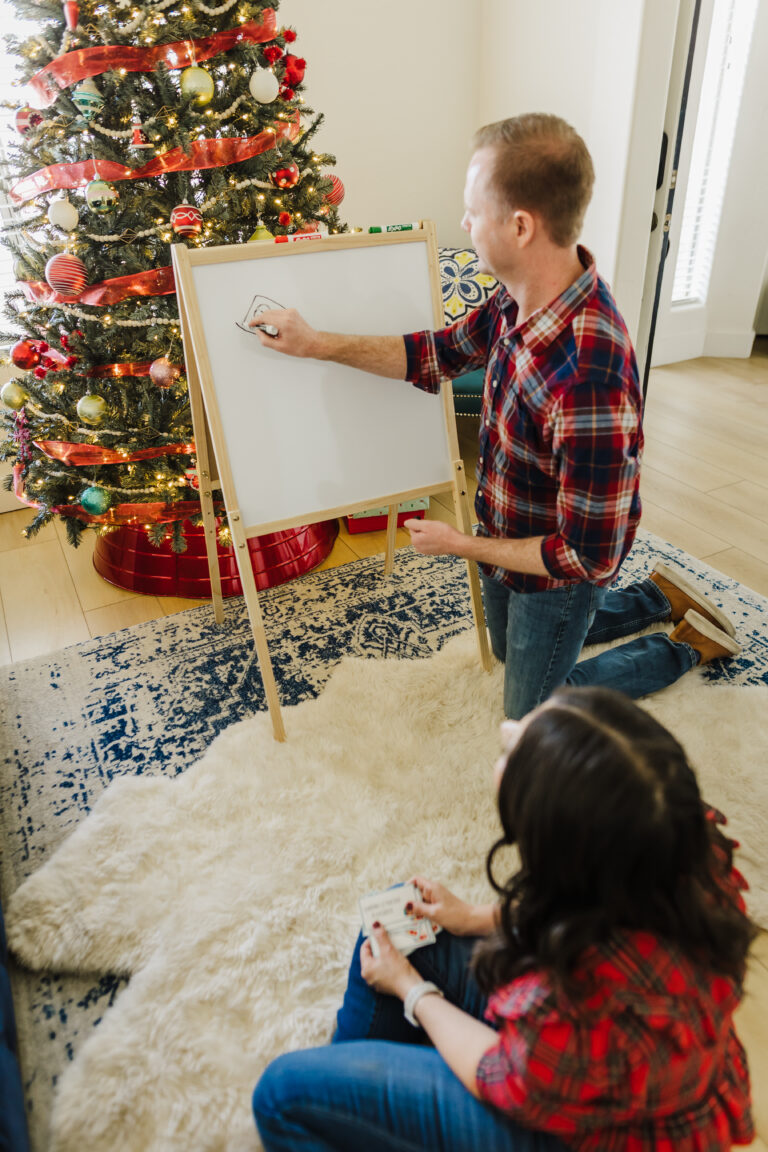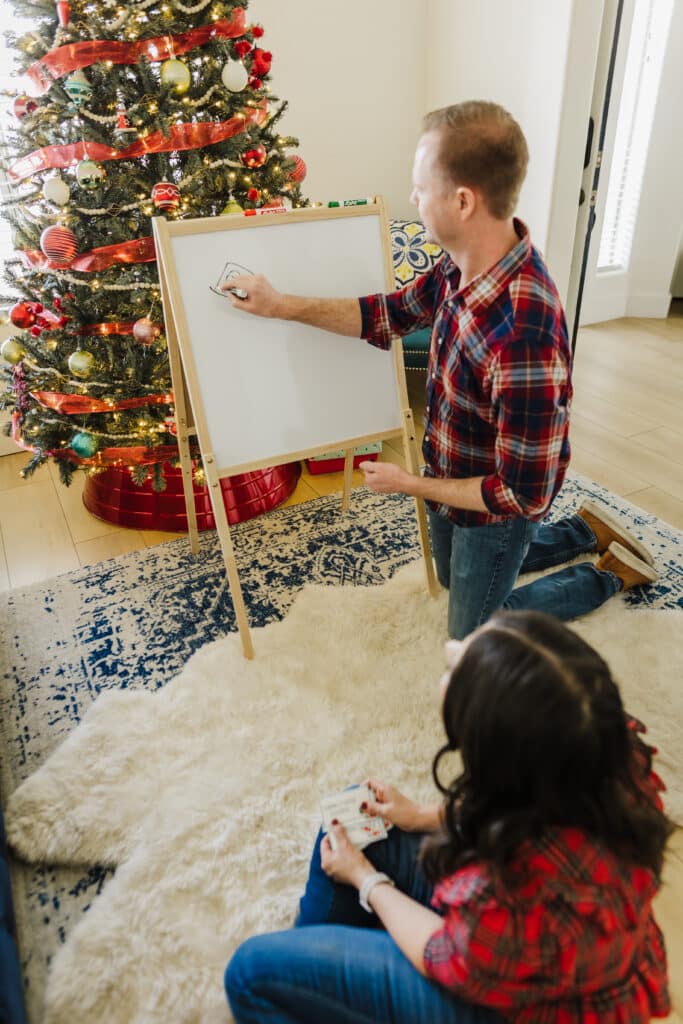 Play Christmas Pictionary
Grab our FREE Christmas Pictionary Printable with a world list to make this game so easy, and so fun!
Play Christmas Charades
We have you covered with tons of charades to act out themed around Christmas time. Grab the Christmas charades printable here!
Bake Christmas Cookies.
This is often at the top of every holiday bucket list! Holiday baking and holiday treats are always a win! Plus, Christmas Eve is the perfect time to bake cookies for Santa!
Take a Christmas Cooking Class Online.
This is such a romantic date night, and one of the best times to up your culinary game! Many cooking schools are closed, but you can still do plenty of cooking classes online. Find one that's themed around some Christmas cheer (and recipes) and have fun learning together!
Indoor Christmas Picnic.
Grab those charcuterie boards, snack plates, and grab-and-go items. Set out a blanket and have a picnic in the living room for a great Christmas Eve date idea!
Christmas Eve Church Service
Attend a Christmas Eve service for a unique and meaningful experience. This is extra easy to do when Christmas Eve falls on Saturdays or Sundays!
Related: What to Wear to Church on Christmas
Christmas Caroling
Go caroling and spread the holiday cheer.
Volunteer!
Help at the Food Bank, it's one of their busiest days of the year!
Go for a romantic Sleigh Ride.
Bundle up and take a horse-drawn carriage ride.
Make festive food and enjoy a holiday meal together.
This is one of those fun holiday activities couples love to do together! Whether you're cooking for the day, or preparing for Christmas morning breakfast, some time in the kitchen together is a great Christmas Eve Date!
Decorate a Gingerbread house.
You can easily do a graham cracker gingerbread house party for tow, or as a group date. It's one of those fun ideas everyone enjoys whether they're super artistic, or just enjoy a good laugh at their attempts.
Set up a Hot Chocolate Bar.
Hot cocoa and Christmas just belong together! A hot chocolate date night is a great way to spend some quality time with a low-key activity that won't add to the holiday stress!
Coffee Shop Date
Go to a local coffee shop and select a seasonal treat. That can be a drink that's only offered during the winter season, a favorite cookie, or a pastry item. But a low-key coffee shop date is always a good idea. And it's always a good time for people watching and guess what they're up to as they wrap up the Christmas season.
Get Pictures with Santa Claus
No, this isn't only for children. Yes, you will laugh about this picture, and the cute memory throughout the coming year! Enjoy the winter wonderland and get Santa pictures at the mall, or look up North Pole experiences many cities put on even on Christmas Eve. You can even book a free picture with the Bass Pro Shop Santa
Ride the Polar Express
No, it's not just for kids, adults enjoy these specially chartered trains too! Check out all the details in our Polar Express Arizona experience.
See A Christmas Carol play.
Nothing brings in the holiday spirit quite like this play! We try to see a Christmas Carol play about every other year. It's a wonderful way to spend Christmas Eve, and one of our favorite Christmas date night ideas!
Enjoy Live Performances of Christmas Music.
There's something about live music that's good for the soul. And listening during the holidays is the best way to get in the Christmas spirit! Find a Christmas concert performing on December 24th. There are so many special events at churches, concert halls, and performing arts centers. Many enjoy these performances as Christmas Eve Traditions they wouldn't want to miss!
See the Nutcracker
Many ballet companies perform from November through January. Book tickets early, and enjoy this quintessential fun Christmas date idea!
Have an Ugly Sweater Party for Two.
On Christmas Eve, it's a great time to enjoy time for two without the crowds. Why not dress up in Ugly Sweaters for couples, and have one of those festive dates in the comfort of your own home?
No matter what you decide to do, make sure to have fun, be merry, and enjoy the time spent together!
Like these Christmas Eve Date Ideas? Be sure to check out these posts too!
Christmas Eve Family Activities
50 Holiday Date Ideas: Christmas Date Ideas for the Holiday Season!
Get 365 Date Ideas!
We want to help you have the best date nights ever! Grab this FREE printable with 365 date ideas, a date for every day of the year so you never run out of ideas!