Join the fun holiday tradition and gift a Christmas Eve Box (also called a December Box)! A roundup of tons of fun Christmas Eve Box Ideas!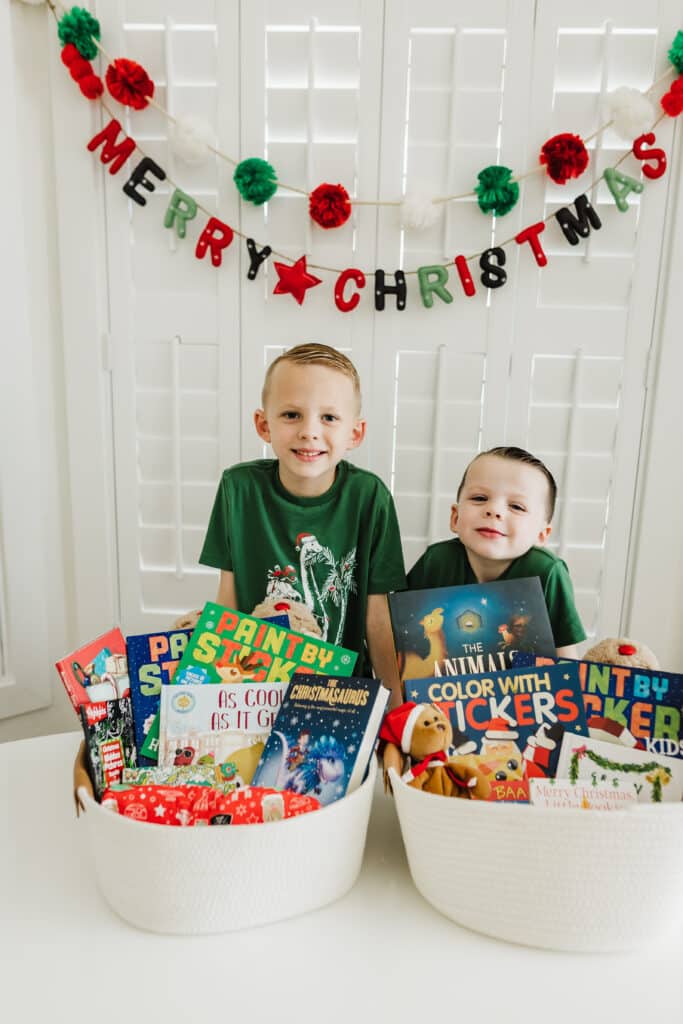 What is a Christmas Eve Box?
It's a fun way to gift a few small gifts that are useful for Christmas Day. Many are adapting at as a new family tradition because it's just a fun way to present items you would likely buy and use in preparation for Christmas.
It gets its name from the tradition to open a gift on Christmas Eve that includes new pajamas to wear for Christmas morning. Many families include treats, Christmas activities, or a fun tradition.

We do this tradition it as a December Box or a Christmas Box gifting it earlier in the season. I have a lot of small items like a Christmas craft, holiday snacks, and clothes I buy for our holiday festivities and quiet time at home anyway. It's just made sense for us to convert the Xmas Eve Box into a Christmas Box to enjoy all season.
The good news is there's no right or wrong way to do it, you can make it as simple or as elaborate that works for your family and budget!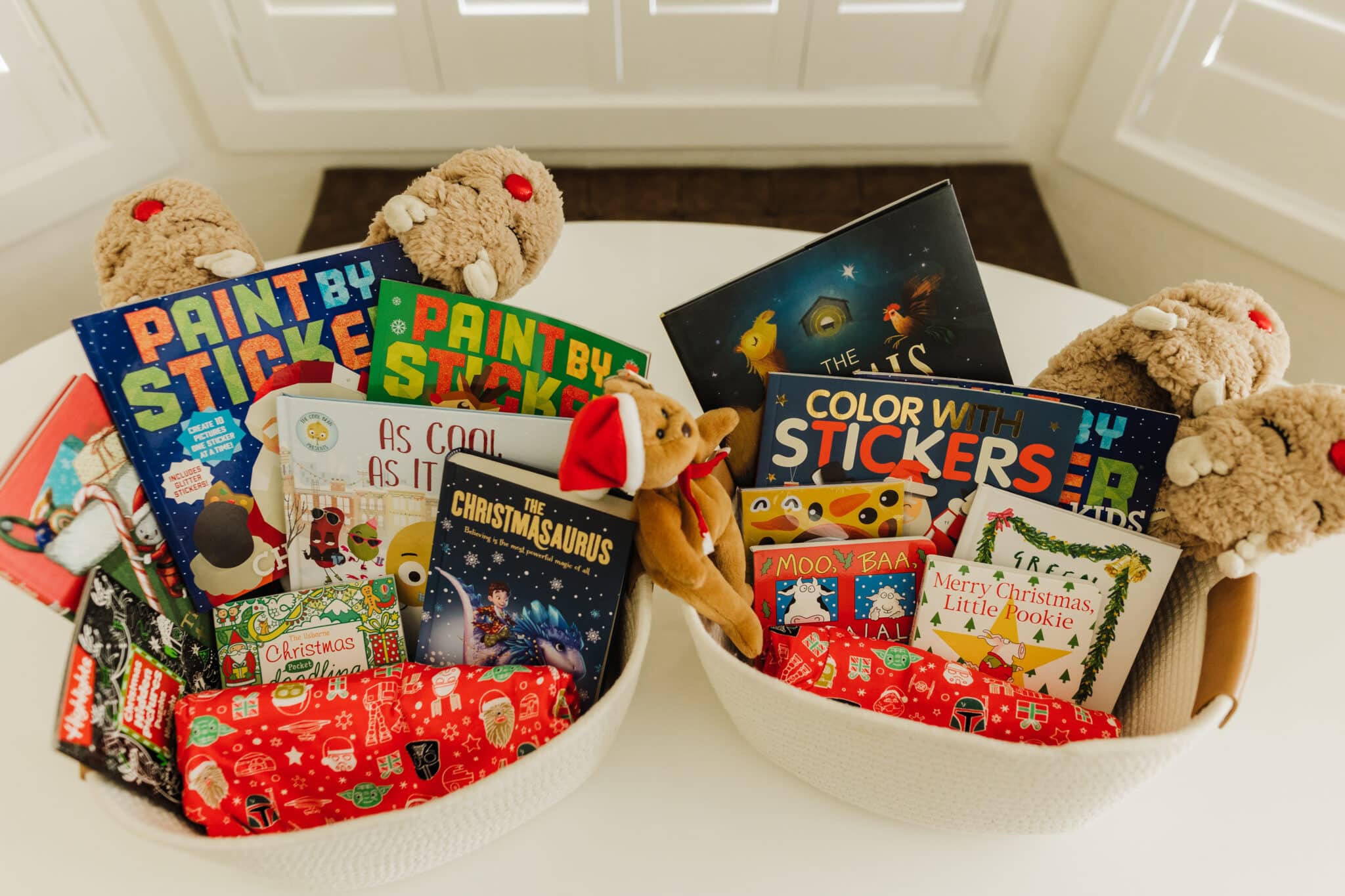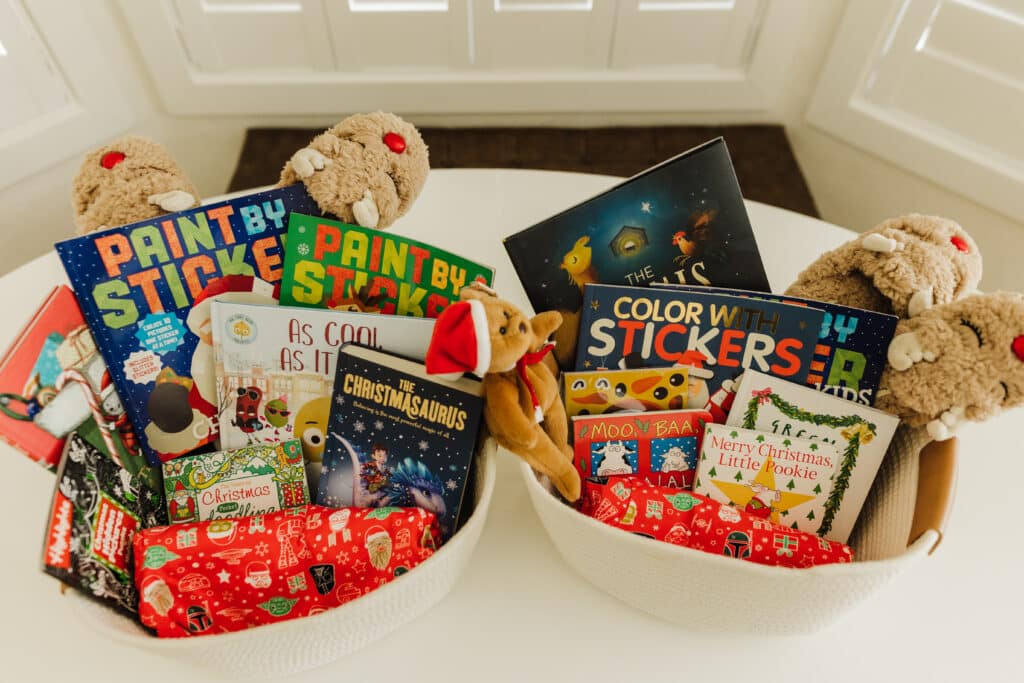 Christmas Box Ideas
I'd start with the box and decide how much you want to spend/fill. Fair warning: it can be completely free or get pricy, depending on when you're gifting this Christmas gift.
Find a cardboard box, and grab some wrapping paper to wrap it up. You could also use a small wooden crate, or get a simple basket like we use and get ready for the big Day!
Christmas Eve Box Ideas
Once again, do what works for you and please don't feel like you need to create Christmas with this pre-Christmas gift. But a few items help create all kinds of holiday magic! Here are some fun ideas to DIY your own Christmas Eve Box.
Something to Wear
Most families keep this simple with only one item, so don't let this roundup overwhelm you! Most people do pajamas, but if you're gifting it early in the season (say early December), here are some other things to consider.
New Pajamas
Most families love to gift Christmas pajamas or new pajamas to wear on Christmas morning. That's why matching family Christmas pajamas are a thing! I've seen families grab a solid Christmas PJ and gift this as a December Box at the beginning of the season to enjoy all holiday season. But I love that my brother's family gifts a new pair of winter pyjamas as a Christmas Even gift. They're usually fun cozy fleece pajamas with their favorite characters or colors, and it's a gift their kids enjoy all year!
Slippers
We've fallen in love with Christmas slippers this year. I mean a fluffy Rudolph pair for the whole family felt like a great choice for us!
But my parents used to gift us some solid sheepskin slippers that adults through younger kids enjoyed wearing all winter. It's a great practical and fun item and the perfect December/Christmas Eve gift!
Socks
If slippers feel overkill, a great pair of fuzzy or festive socks are fantastic and useful Christmas Eve box fillers!
A Christmas Shirt
My kids love a cute Christmas shirt, or shirt in a festive color to wear to school and holiday events. When we gift a December Box early, I try to grab one!
Something Festive to Wear to Church
If you attend Christmas services, there's a good chance you dress up a bit and also enjoy looking festive for the event. If I had a daughter, I'd be gifting a new dress or hair bow to wear for the event. Since I have boys, a festive tie or a nicer sweater works great!
Christmas Eve/Christmas Season Activity
Christmas Movie
Grab a Christmas movie and set up a formal Christmas movie night! In full disclosure, we stream nearly every movie and spend zero dollars on this. But toddlers through teens find it extra fun to know there's a designated movie night, or a new movie you get to enjoy as a family.
Christmas Puzzle
We love doing a Christmas puzzle as a family through the season, or even on Christmas Eve. In fact, we love it so much we have a post all about Christmas puzzles to help you find some great puzzles (mostly very affordable and with free shipping on Amazon).
Game Night
If you have a tradition to play board games on Christmas Eve (or during the season) it's a great time to gift a board game!
If you need some game ideas, check out these posts:
Board Games for Kids: The best board games for 5-10 Years Old
100 Couple Games for Your Next Game Night Date Night In
Holiday Sticker/Activity Book
Check out our roundup of fun holiday sticker books and activity books on my Amazon storefront. We have tons of fun ideas there!
Food Items
Hot Chocolate
Grab a fresh hot chocolate mix, make your own, or give some fun additions. A candy cane, mini marshmallows, or flavored syrups can really make a mug of hot cocoa feel special and festive fast!

Some people get creative and make a snowman soup hot chocolate kit. My kids love hot cocoa bombs, so we've been known to grab one and include it.
However you do it, hot chocolate in some form is one of my favorite Christmas Eve Box Ideas because it's one of those goodies that feels so special, and you'd likely buy it anyway!

Popcorn
We love this gourmet popcorn kit, it makes every movie night even more fun! Pair it with a silicone popcorn popper and you're set
Candy Cane
Keep it classy, go gourmet, or get something colorful and fun!
Cookie Decorating Kit
Is there anything better than a food item that doubles as a family activity or even a Christmas date night?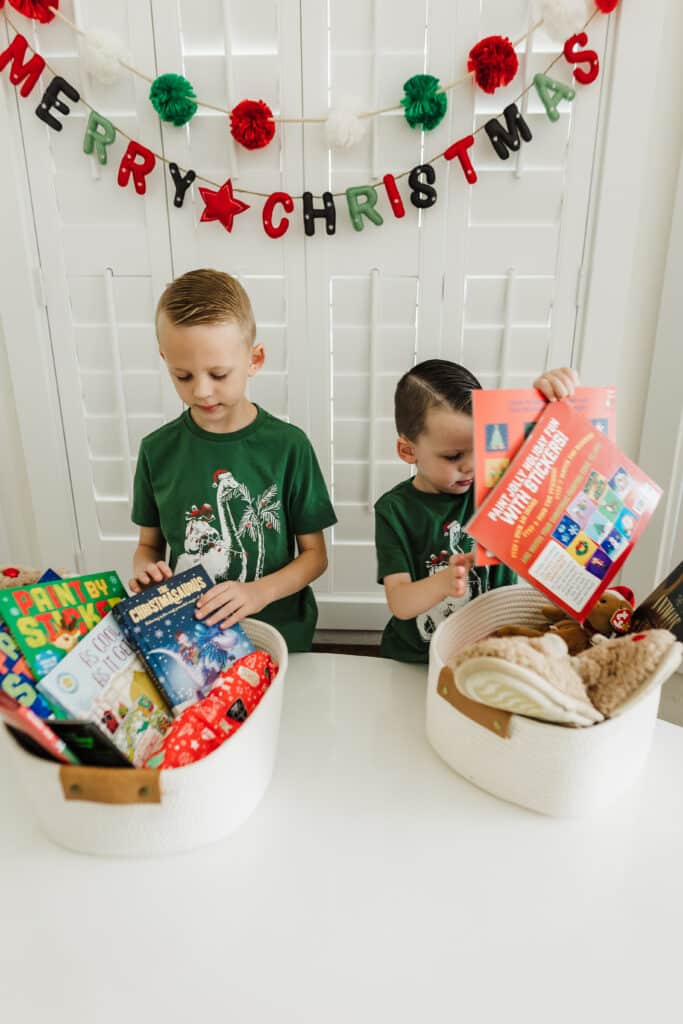 Traditions
Elf on the Shelf
Include our free Elf on the Shelf Arrival Letter printable and kick off elf season with a December basket!
Christmas Ornament
If you do a new ornament every year, now's a great time to gift it!
A Christmas Book to Read
This is my favorite thing to include in a Christmas Eve Box! Whether it's a holiday chapter book or one of the best Christmas books for kids, it's always fun to add a new read to the collection!
Items for Santa
Do you make reindeer food, frost cookies for Santa, or leave a carrot for the reindeers? Add a kit ready to go for the big night!
A Few Other Quick Ideas
Holiday Bath Toys
Small toys for little hands to play with
A Felt Christmas Tree
Scented Candle
Bath Bombs
Like these Christmas Eve Box Ideas? Be sure to check out these posts too:
50 Holiday Date Ideas: Christmas Date Ideas for the Holiday Season!
Christmas Pictionary Printable
Best Christmas Gifts for a 4-Year-Old
Get 365 Date Ideas!
We want to help you have the best date nights ever! Grab this FREE printable with 365 date ideas, a date for every day of the year so you never run out of ideas!