A roundup of Boys Christmas pajamas with tons of great holiday pajamas and great deals for Christmas pajamas for boys.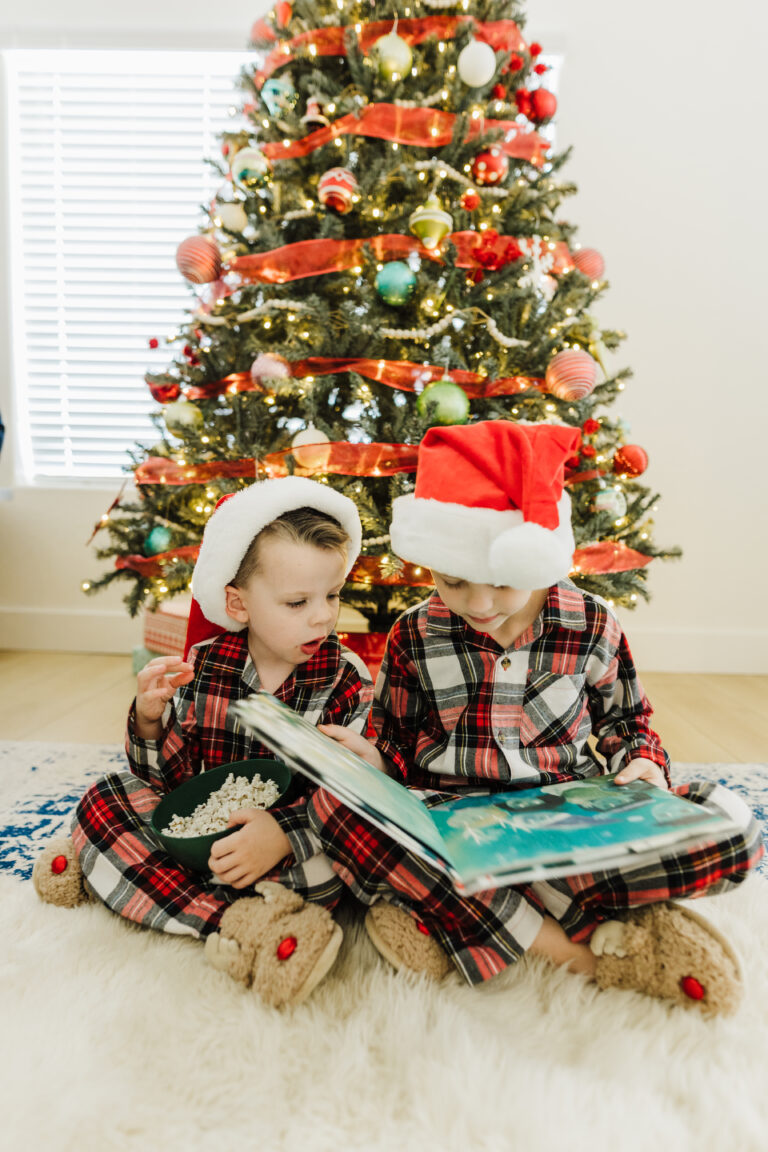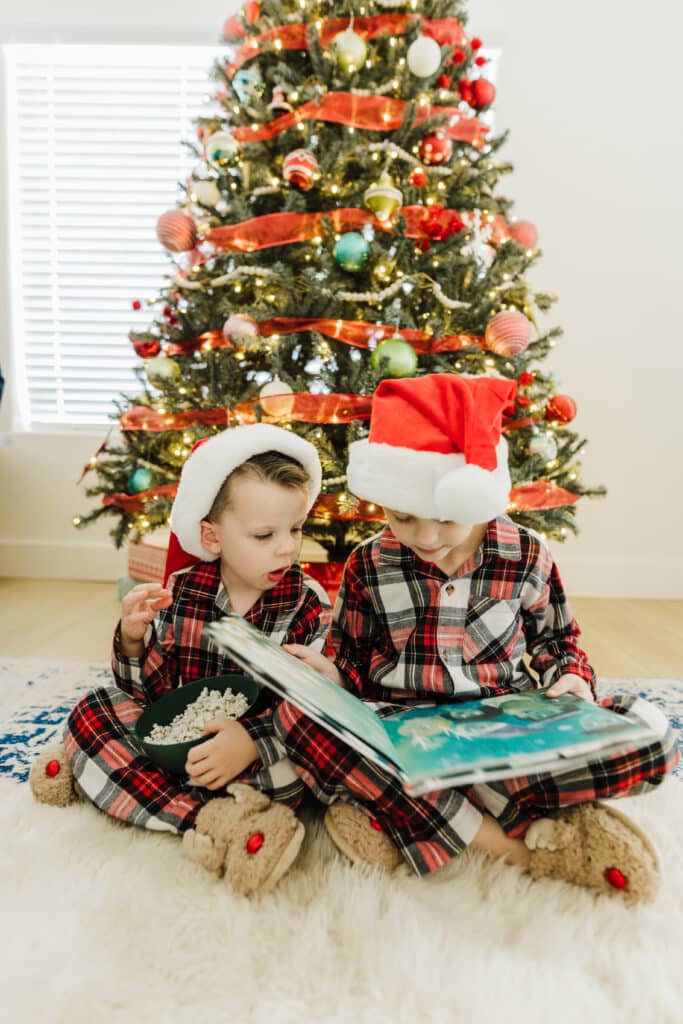 One of my favorite holiday season traditions is gifting Christmas pjs for my boys. In fact, we love to grab matching Christmas pajamas for the entire family!

There's something magical about waking up Christmas morning and seeing my boys in festive kids' pajamas that coordinate with our matching family Christmas pajamas. We have a round-up of family Christmas pajamas to help you find Christmas sleepwear for the whole family!
But we love finding boys Christmas pajamas for more than just Christmas Eve and Christmas morning. I often include them in our December Box and give my boys a second pair of boys' Christmas pajamas to enjoy throughout the season! And trust me, Christmas kids pajamas get a ton of use and are so worth it!
If you're in the market for some great Boy's Christmas pajamas, we have you covered with a roundup of the best places to buy boys Christmas pjs.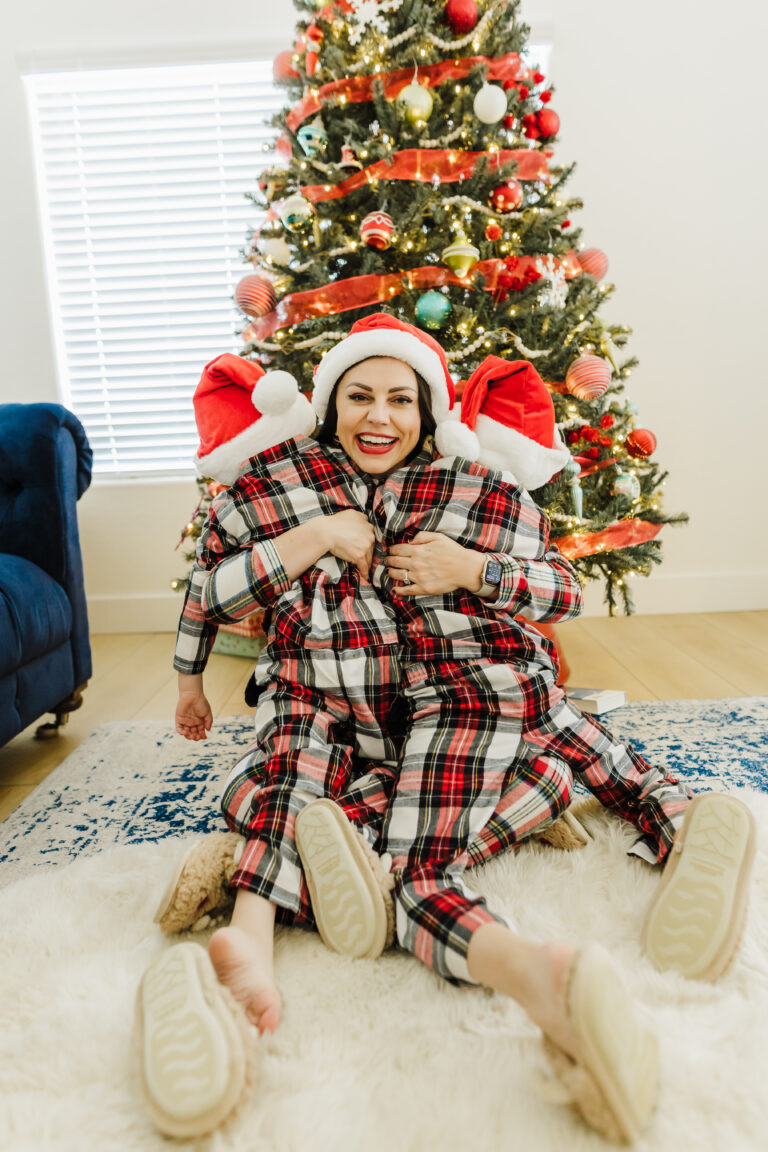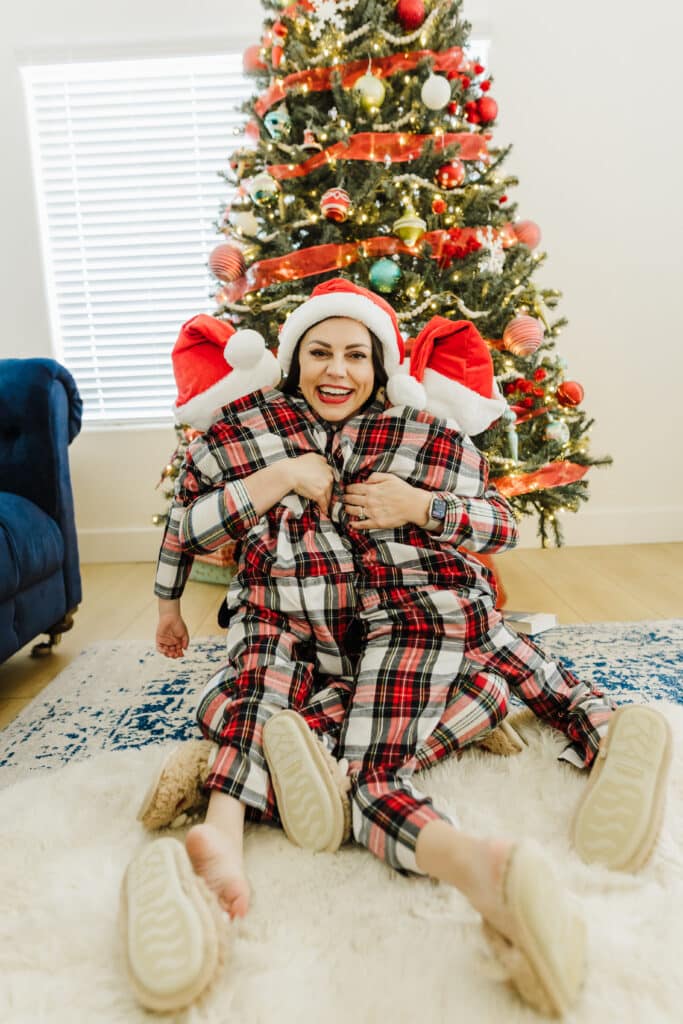 Where to Buy Christmas Pajamas for Boys
Old Navy Christmas Pajamas

First of all, you can always bank on awesome coupons and daily deals at Old Navy! We love the affordability, and that they do a Match the Fam line so you can tack on dad and mom pajamas, or even sister options with nightgowns. And I'm an extra big fan of the size-inclusive options so kids of all ages and body types can get a pair.
Also, we love that you can get pajama bottoms only. It's easy to buy a coordinating short-sleeved shirt or shirts with long sleeves. If you have older boys, you know sometimes bottoms are all they want and are willing to wear.

They have tons of great styles, affordability, and even accessories to add to a Christmas pajama party!


I first learned about Hannah Andersson's striped pajamas from a friend. She just absolutely raved and raved about them for her kids! I have to admit at first I thought the price was a bit steep. However, I couldn't resist getting a cute pair of toddlers pajamas and also one-piece pajamas that matched for baby brother. Admittedly, we fell in love almost immediately! They are the best quality I have ever experienced!
We ordered our Polar Express Pajamas for our Polar Express AZ Experience, and I still get asked about them often!

My kiddo will wear them several times a week, and years later, they still look brand new! They are so soft and the comfort level is fantastic!
Also, they always have a pajama collection of boys' Christmas pajamas kids just love! We're talking great character-based pajamas, classic colors and stripes, Mickey Mouse, Grinch pajamas, and even Star Wars Christmas pajamas for the whole family!

Two years ago we did flannel-matching pajamas from Target! They are some of the most affordable options with tons of different styles! If you are on a budget or have a large family this a great option to get matching holiday jammies for the whole clan at a great price point!


But we love them for Boys Christmas pajamas because Target always has fun prints. We've had Christmas dinosaur pajamas, penguin pajamas, Santa riding hot air balloon pajamas, and classic striped pajamas for holiday pajamas. Also, they often run excellent promos on their pajamas plus the shopping experience to buy in-store, have it shipped, or get the quick in-store pickup to make shopping a lot easier!

We love Carter's pajamas for our kids! It's safe to say you'll find our little guy in Carter's pajamas more than any other brand. They are affordable, super soft, and have tons of cute styles!
What's really great is the fact that Carters now does big kid sizes. Also, they've added family holiday pajamas with sizes for teens and adults to match kids! We almost always buy a few boys Christmas pajamas on clearance every year to stash for the next year so our kids can enjoy a few Christmas pajamas during the holiday season. But even in season, they do really great deals!


You can find literally every color, style, print, and size available on Amazon. From classic plaid to Santa heads, from solid colors to fun holiday prints: they have options!
Plus, it's pretty amazing to have one or two-day shipping for last-minute orders should you find yourself in need before a party or event. Or maybe even a giant hot cocoa stain (speaking from personal experience). Amazon is a great place to find options!
This is an Amazon seller that deserves its own spotlight! If you're into Christmas aesthetics and pajamas that are more solid, plain stripes, neutral, or classic, you need this shop in your life! We bought their solid-colored tie-dye pajamas to wear as Thanksgiving pajamas one year, and they still looked new years later when my boys outgrew them! They have great quality, great style, and you can get soft cotton, solid-colored Christmas pajamas that are gender-neutral.

Burts Bees started with baby gear, and they've quickly expanded to toddler, kid, and family matching pajama sets. They are incredibly soft and are so affordable for their quality!
Our first order of Boy's Christmas pajamas for our oldest was a striped set from Burts Bees. I've since bought so many Burts Bees jammies for bedtime and the holidays. They are the most breathable soft cotton fabric, and one kids will love wearing all year!
And be sure to check out their Hanukkah, Valentine's Day, and other holiday lines too!
My oldest child just told me if I could only shop at one place, he'd like it to be Gap kids! I was a bit surprised to hear this, but he loves Star Wars and they always have new arrivals with great Disney lines. They often have video game characters too. The fabric is so soft, and it's easy to find promotion codes to save even more money.
I have loved watching all the design changes and range of styles Walmart has added to its fashion lines! Even their Christmas pajamas have changed in such a cute way!
They have many classic and cute options for boys. You can also get flannel plaid pants in all sizes. And if your boys are into rocking the onesie and union suits you'll find some cute and silly holiday pajamas! Plus, you can get free shipping when you buy more than $35 is a great perk! And Walmart makes in-store pickup orders to easy for guests so you can get them in a pinch!



Kohl's has their own lines of family Christmas pajamas, as well as some licensed brands and options. I am always impressed by the cute prints and options! You'll find excellent options for every family member, but the kids' Christmas pajamas really shine! Plus, it's pretty great to pick up Kohl's cash holiday earnings when you're shopping for gifts and pajamas.


Like this Christmas pajama roundup? Be sure to check out these posts too:
Christmas Pictionary Printable Game with Free Download
Get 365 Date Ideas!
We want to help you have the best date nights ever! Grab this FREE printable with 365 date ideas, a date for every day of the year so you never run out of ideas!