The cutest Polar Express pajamas (including kid and adult pajama options) that are perfect for book and movie-loving families!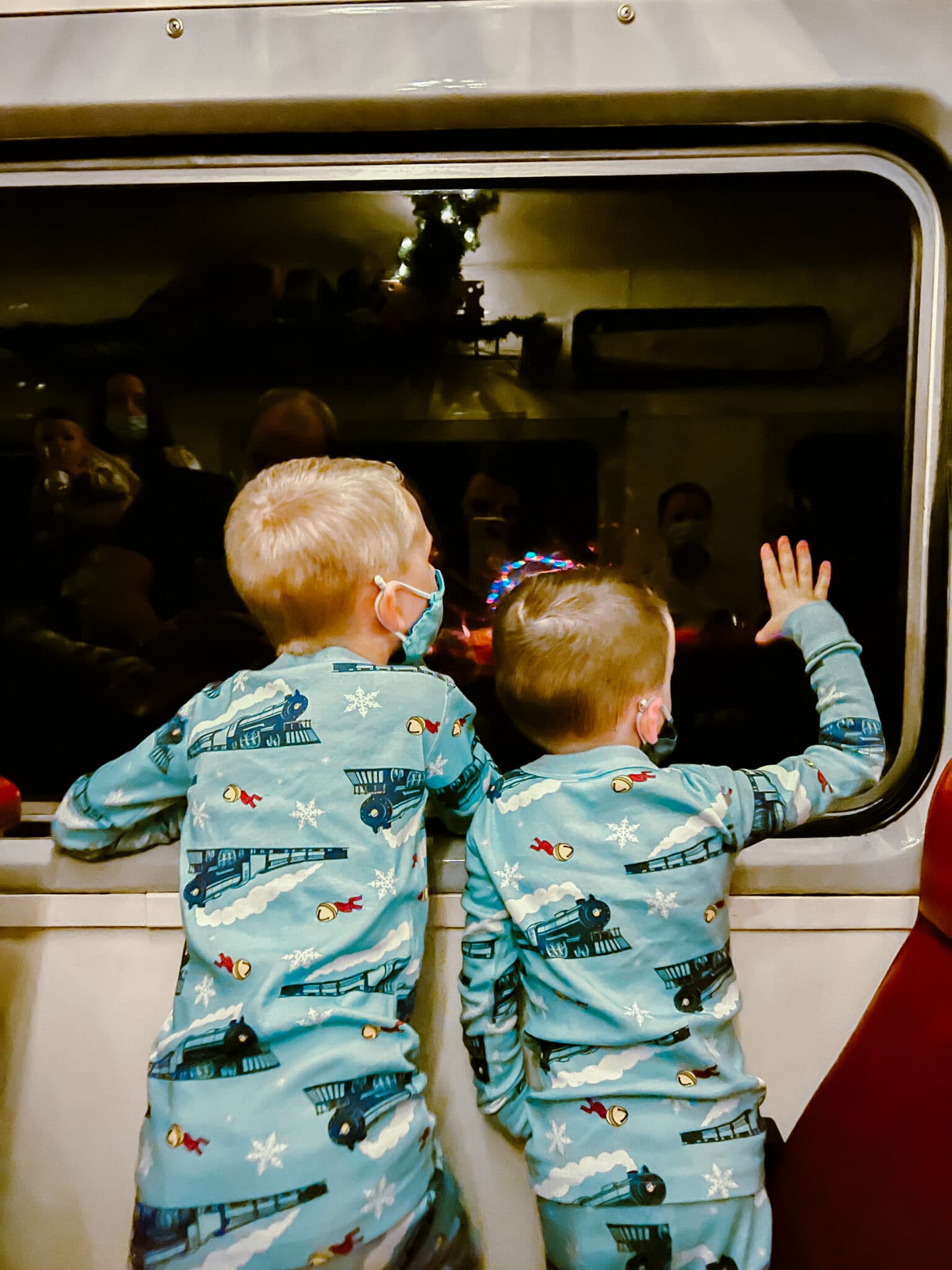 Grab our Polar Express Kid Pajamas: CLICK HERE!
I have two kids obsessed with the Polar Express! In fact, I read it so many times last holiday season I nearly have it memorized! Also, did you know Liam Nisson reads an audiobook version? I have never had more conflicted feelings about whether someone is being taken or if I should feel all the calm Christmas vibes. But I digress.
At the height of their Polar Express book and movie obsession, I found these Polar Express pajamas and nearly fell out of my chair! I knew my boys would love them! However, I had already purchased holiday pajamas. I talked myself out of them and lived to regret it when they sold out a few weeks later. 
Polar Express Family Pajamas
This year, I was ELATED to see them not only come back but with family pajama options too! They have Polar Express Pajamas for adults that match the children's pajamas perfectly! If you want a fun twist on family Christmas pajamas, these are really fun! I love the light blue and dark blue options that still feel really festive! 
But if you're looking just for kids jammies, they are fantastic! I know they are a bit more than a lot of children's pajamas. But I have to tell you they are the highest quality out there! They also stretch a bit as kids grow!
We bought my oldest a size 4 when he was only three. It was a bit big that year, but it fit and looked brand new the next year too. He's six now, and those skeleton pajamas still fit and still look new. Seriously, the most amazing quality, and organic cotton that stretches a bit as kids grow. I really think you'll get at least two years out of a pair, and they hand-me-down so well!
Boys Polar Express Pajamas
I love the striped train version, but we opted for the trains with and bells. And they've added more style options too!
Last year, our family decided to do a Polar Express Experience and I knew these jammies would be perfect! And let me tell you, they totally were! Not only did we use them to reveal the surprise train ride tickets, but our kids wore them on the train.
We have had so many people stop us to ask us about them! They truly were perfect for the experience! But also, they're going to be so fun through the holiday season and beyond! My train-loving boys are so thrilled, and they aren't too Christmasy that they won't work long beyond! We will be enjoying their boys Polar Express pajamas for years to come! 
That's why we just purchased another pair in the updated style. My kids are going to lose it over these darling favorite holiday movie pajamas!
Like this Polar Express Pajamas post? Be sure to check out these ideas too:
Christmas Lights Scavenger Hunt with Free Printable!
Get 365 Date Ideas!
We want to help you have the best date nights ever! Grab this FREE printable with 365 date ideas, a date for every day of the year so you never run out of ideas!