Best Family Christmas Movies + Christmas Movie List Printable
A Christmas movie night is a favorite family tradition- and here are 35 of the best family Christmas movies with a FREE Christmas movie list printable download.
There's nothing like a Christmas movie night to celebrate the holiday season! My kids ask for one almost nightly during the holiday season, which is impressive since we typically only watching one movie a week for family movie night!

If you're ready to get in the Christmas spirit, a family movie night watching some of your favorite Christmas movies is a great way to honor the most wonderful time of the year! Grab those family Christmas pajamas, pop some Christmas popcorn, make some Christmas puppy chow, and get ready for a family Christmas movie night!
Make your way through the best Christmas movies with some classic movie options and new movies we have you covered with a Christmas Movie List printable ready to download and work your way through Christmas family movie night with the ultimate Christmas movie list! It's a printable list of movies that are family-friendly holiday favorites. You can use this as your Christmas movie bucket list, and try to get through as many great holiday movies as you can with this family Christmas movie checklist!
It's one fun way to celebrate the Christmas season, have a movie marathon, or enjoy a favorite holiday tradition!
Grab the FREE Printable Christmas Movie List HERE!
Grab our FREE PDF file download, make some hot chocolate, pop some Christmas popcorn, and get ready for several days of Christmas movies to enjoy together this holiday season!
Family Friendly Christmas Movie List (with Free Printable)
A roundup of holiday classic movies and family favorites new movies to help you get in the Christmas spirit!
Animated Christmas Movies
The Polar Express
A doubting boy takes a magical train ride to the North Pole on Christmas Eve to learn the magic of believing.
Rudolph the Red-nosed Reindeer
This claymation classic Christmas film tells the story of the underdog reindeer who becomes best friends with others who feel like outcasts. They learn to support each other through hard times and learn the value of being different to save Christmas.
Santa Clause is Coming to Town
If you want a closer look at the Santa origin story, this is a great way watch and learn! It's a claymation animation story of Santa Claus that young kids have adored for generations!
Dr. Seuss's The Grinch (How the Grinch Stole Christmas)
I'd highly recommend the 2018 animated version that offers a few fresh perspectives and some diverse characters for the first time. It still follows the classic book with a Grinch who attempts to destroy Christmas by stealing Christmas presents, Christmas trees, and the holiday spirit. It is a reminder that Christmas is about so much more than presents, with a great message for the holiday time of year!
Mickey's Christmas Carol
A the classic Charles Dickens Christmas Story gets a Disney update with Mickey and the gang.
Charlie Brown Christmas
This 1965 movie based on the Peanuts was a televised favorite people tuned into tv channels to watch and enjoy! It's made its way into a holiday classic category with the tale of Charlie Brown feeling depressed during Christmas, and trying to find joy and heart in the holiday season.
Klaus
A simple act of kindness always seems to always spark another. In a frozen faraway place, Smeerensburg's new postman, Jesper, befriends toymaker Klaus, their gifts melt an age-old feud and deliver a sleigh full of holiday traditions.
Arthur Christmas
Arthur is Santa's clumsy son. He sets out on a mission with Grandsanta to give out a present they misplaced to a young girl in less than two hours.
Mariah Carey's All I Want for Christmas is You
Young Mariah Carey wishes for a puppy in time for Christmas, and naturally makes an easy reference to the most popular Christmas song she made famous.
Frosty the Snowman
This classic animation brings the story of Frosty to life, including all the music and magic of the holiday snowman!
The Star
If you want a more Christian-based Christmas movie for kids, The Star is a great choice! A small but brave donkey and his animal friends become the unsung heroes of the first Christmas.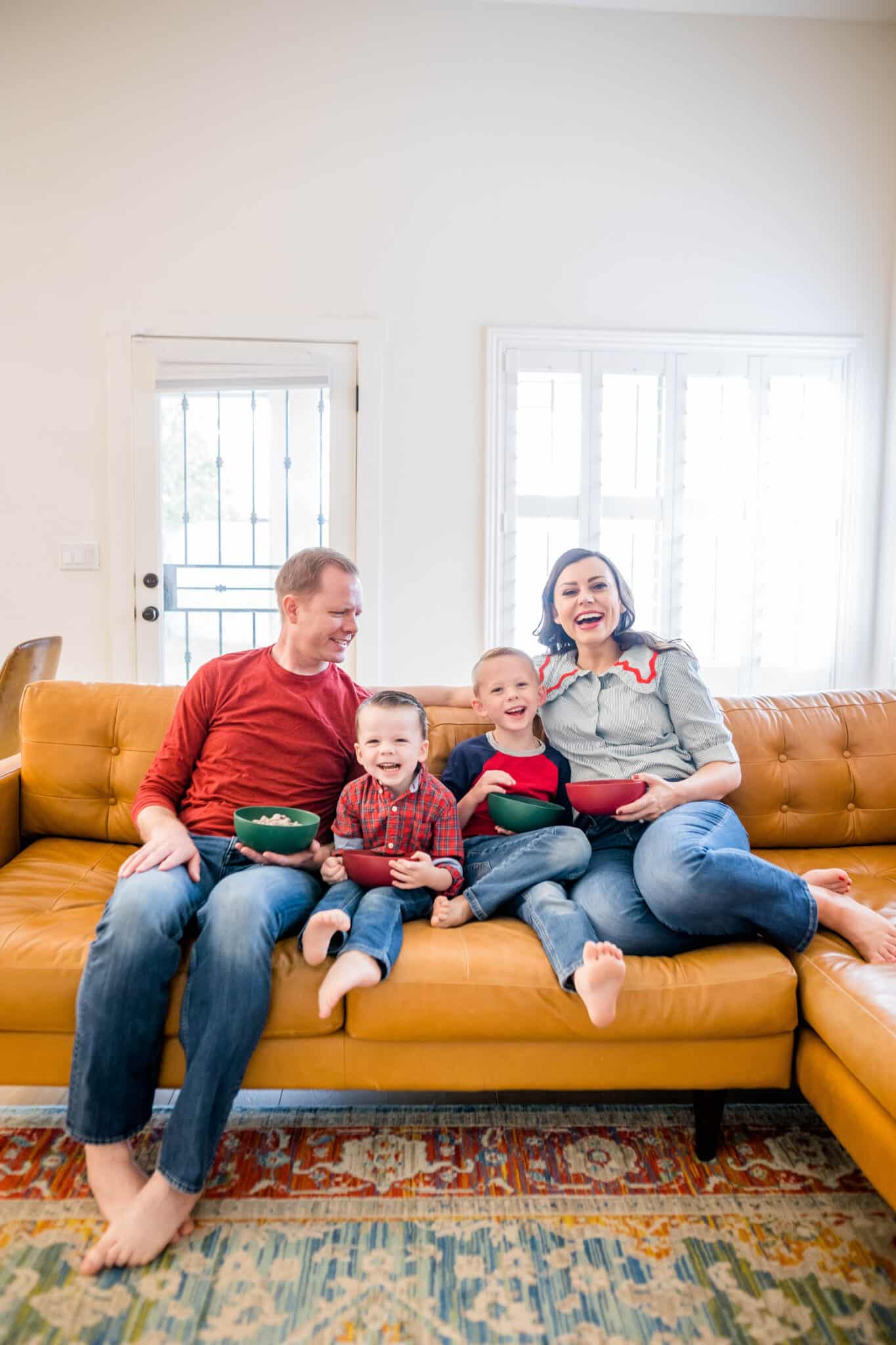 Family-Friendly Christmas Movies
It's a Wonderful Life
It never quite feels like Christmas with a viewing of It's a Wonderful Life! This 1946 classic tells the story of an angel is sent from Heaven to help a desperately frustrated businessman in Great Depression times by showing him what life would have been like if he had never existed.
Elf
Will Ferrell earned a spot in holiday classics as Buddy the Elf! Elf tells an elf's story of realizing he's adopted and actually a human living at the North Pole. He heads to New York to try to reconnect with his dad, and figure out who he really is. This movie is full of laughs, and fun, and is one of the most beloved and one of the best family Christmas movies of all time!
Home Alone
Eight-year-old troublemaker Kevin McAllister is accidentally left home alone when his family takes a trip to Europe. He finds he must protect his house from a pair of burglars. But also find his love of family during Christmas vacation.
Home Alone 2: Lost in New York
One year after Kevin McCallister was left home alone and had to defeat a pair of bumbling burglars, he accidentally finds himself stranded in New York City. Unfortunately, the same criminals who he faced breaking into his home are not far behind.
The Santa Clause
After Santa has an accident on the roof, Scott finds himself reading a note and finding he has months to get his life in order to prepare to assume the role of Santa.
The Santa Clause 2
Scott Calvin has been Santa Claus for eight years, but finds there's another Santa Clause he agreed to! He discovers his time as Santa might come to an end if he doesn't find a Mrs. Claus.
The Santa Clause 3: The Escape Clause
Santa (Tim Allen), must figure out how to keep his new family happy and how to stop Jack Frost from taking over Christmas.
Jingle Jangle
This movie is the real deal and an absolute delight! Brace yourself for a modern musical, superb acting, costumes, and cinematography that are just stunning! Jeronicus Jangl, an inventor, toymaker, and owner of Jangles and Things, has an apprentice stealing his designs and toy inventions. Jeronicus loses his wife and while coping, falls out of touch with his daughter. His granddaughter comes for a visit. She sets them on an adventure to save the toy shop, and help Jeronicus find holiday magic and joy again.
Santa Paws
Santa has lost his memory. However, a team of magic dogs and elves team up with two children to help rescue Santa.
Noelle
When Santa Clause passes, it's up to his family to figure out how to proceed with the family's business of making Christmas happen! Santa's daughter Noelle (Anna Kendrick) is ready to carry on. However, Bill Hader who plays his son flees the scene just in time for Christmas. Noelle sets out to find him and make what she thinks is the only way to make Christmas happen. This is a Disney Christmas movie that's cute, funny, well done, and so incredibly heart-warming!
How the Grinch Stole Christmas
When the rights were sold for the movie, Jim Carrey was named as one of the possible actors the family deemed appropriate to play The Grinch, and the rest is history! This goofy comedy of the classic story is visually stunning, has an amazing soundtrack, and will make the extended family of all ages laugh!
A Muppet Christmas Carol
Get ready to make Dicken's classic A Christmas Carol exciting and funny with a fun and kid-friendly twist! I grew up watching this movie on Christmas Eve, and it felt like the perfect time to cozy up in our family Christmas pajamas and enjoy a movie the entire family could enjoy together. Michael Caine stars as Ebenezer Scrooge, and his performance and vocals are just top-notch!
A Christmas Story
This is a Christmas classic that has withstood the test of time! Set In the 1940s, a young boy named Ralphie attempts to convince his parents, teacher, and Santa Claus that a Red Ryder BB gun really is the perfect Christmas gift. It's a hilarious look at Christmas traditions and what it means to be a hopeful kid at Christmas.
Miracle on 34th Street
A little girl and a lawyer team up to prove Santa Clause to be the real thing!
The Christmas Chronicles
Kate and Teddy Pierce plan to catch Santa Claus on camera on Christmas Eve. Their plans turn into an unexpected journey of Christmas magic. And Kurt Russell makes the perfect Kris Kringle in this fun Christmas journey!
The Christmas Chronicles: Part Two
Kate Pierce is now a teen- and a cynical one at that. She is unexpectedly reunited with Santa Claus when a mysterious troublemaker threatens to cancel Christmas – forever.
Christmas with The Kranks
When they find out their daughter isn't coming home for Christmas, the Kranks decide to skip it this year. Their Christmas-loving town is not okay with this plan! When their daughter Blair changes her mind last minute, it's up the Kranks to put together all the elements of Christmas from a tree, and ham, to Christmas lights – in only a few hours!
Godmothered
A young and unskilled fairy godmother in training decides to track down a young girl whose request for help was denied. She tries to bring some joy and vision while igniting the Christmas spirit for a family who desperately needs it.
The Nutcracker and Four Realms
Disney gives the classic Nutcracker tale an updated and magical adventure twist while Clara learns of the four realms and how she can save it.
A Cinderella Story: Christmas Wish
Even with her vain stepmother and mean stepsisters, an aspiring singer finds her own holiday miracle as she works as an elf at a Christmas-tree lot.
White Christmas
This Christmas classic is a beloved vintage film families still adore! A song-and-dance team becomes romantically involved with a performing sister act. They team up to save their former commanding general's failing Vermont Inn.
12 Dates of Christmas
If your kids can handle a romantic Christmas movie, this one is a great one! Kate is hung up on her ex and has a terrible blind date blowing off nice guy Miles who may be the most eligible bachelor and greatest guy Kate will encounter. She finds herself reliving the same day and dates over again until she learns to shake the selfishness, have compassion, and see love before her eyes.
The Princess Switch
A Chicago baker decides to compete in a Christmas baking competition in Belgravia. She bumps into the prince's fiancée–who looks just like her. They switch lives for two days and discover a lot about themselves in a fun holiday setting.
Prancer
A farm girl nurses a wounded reindeer she believes is one of Santa's! Her holiday spirit inspires those around her, even impacting her disheartened father who is having trouble understanding the holiday spirit.
Honorable Mentions:
Hallmark Christmas movies. They are all rated G or PG. Although most involve an unexpected romance (or completely predictable one), they remind you true love exists. Plus, Hallmark movies can be a lot of fun to watch with older kids. You will also catch many 90s/2000s stars Like Mario Lopez, Candace Cameron Bure, Jodie Sweetin, and Lacey Chabert starring in movies. You can find them on the Hallmark Channel Christmas movies roundup, and several older movies on Amazon Prime too.
And many families with older children and teens love to add in National Lampoon's Christmas Vacation, Spirited, Hawkeye (a Marvel movie that came out with Disney Christmas movies), and Even Die Hard to their Christmas movie watchlist.
We hope these help you find the perfect holiday movie for your Christmas movie night plans. And don't forget to grab our free Christmas movie printable checklist! It helps you have so much fun as you make your way through as many favorite movies loved by families during this holiday season!
Christmas Movie Frequently Asked Questions
What is the best family Christmas movie?
This is obviously going to depend on individual opinion, but most people would agree that It's a Wonderful Life is the best family Christmas movie of all time.
But if you need more ideas, be sure to check out our free printable of the 35 best family Christmas movies.
What are good family Christmas movies on Netflix?
Netflix has a ton of great family-friendly Christmas movies, including:
– Jingle Jangle
– A Boy Called Christmas
– Klaus
– Falling for Christmas
Like this roundup of the best Christmas movies for families? Be sure to check out these posts too:
Christmas Bucket List + FREE Printable!
Movies to Watch Before Disneyland
Christmas Pictionary + Free Printable
Santa Beard Christmas Countdown Printable
Get 365 Date Ideas!
We want to help you have the best date nights ever! Grab this FREE printable with 365 date ideas, a date for every day of the year so you never run out of ideas!