Easy Christmas Gift Exchange Idea Families Will Love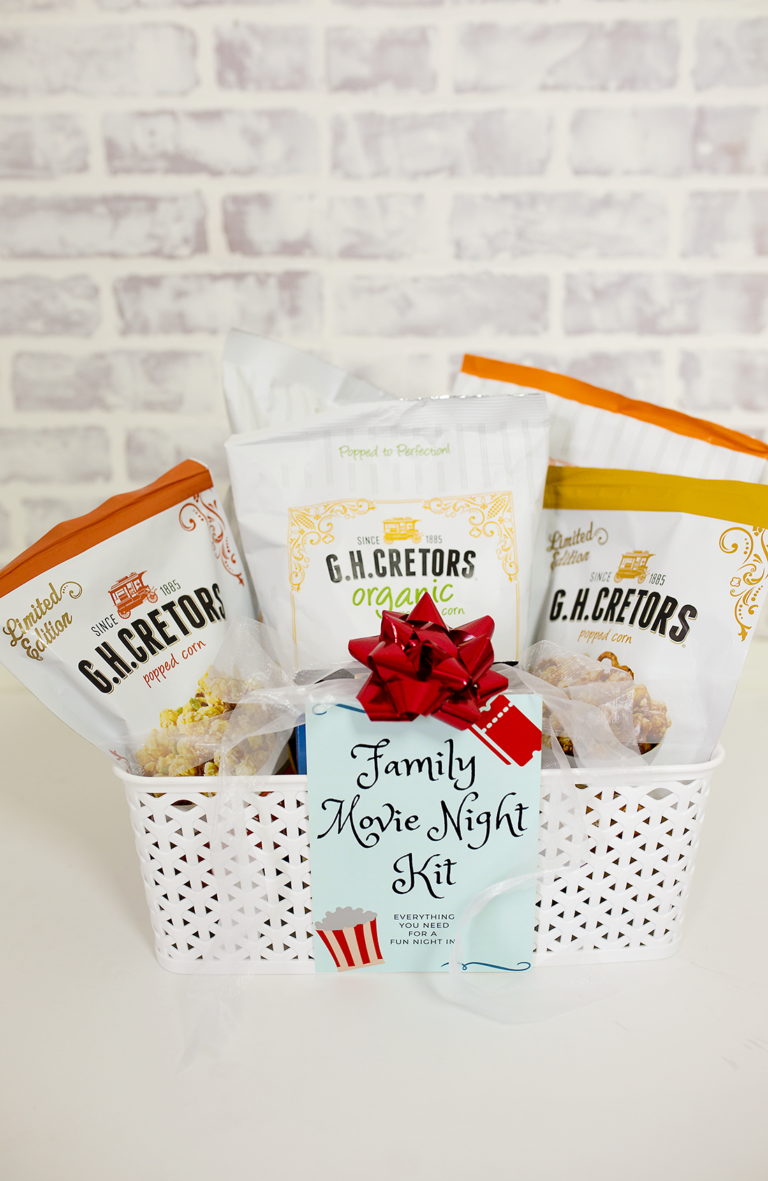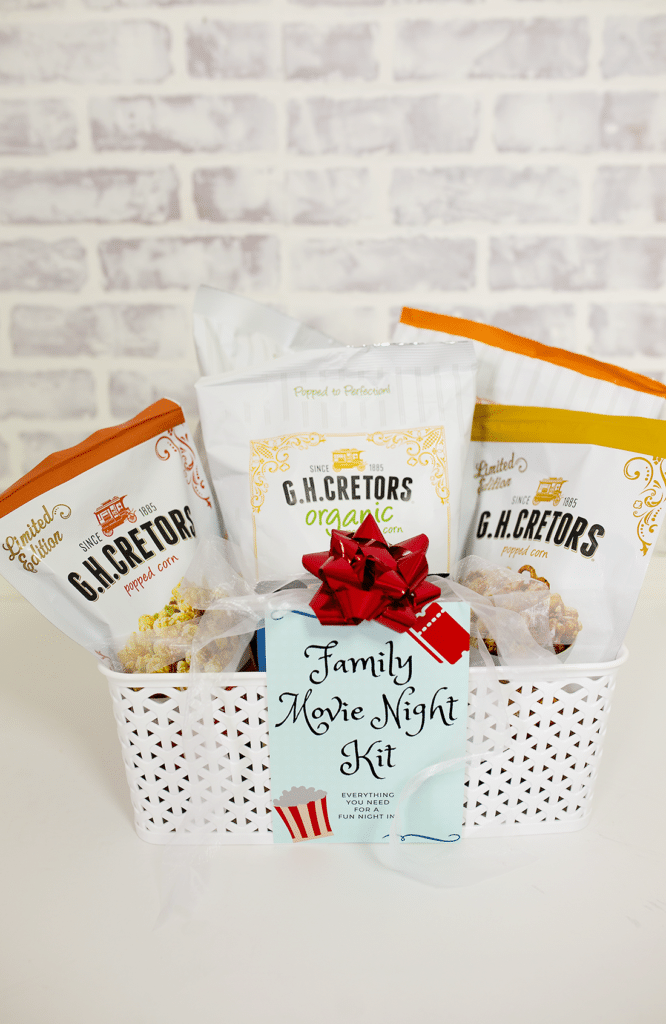 This post is sponsored by my friends at G.H. Cretors, but my love for their popcorn and it's addition to the perfect family movie night is all my own! 
You know those situations where you're assigned to give a group gift to a family and you wonder what on earth you can do that everyone will love? Jacob and I are both from large families, and every year we draw a name or rotate assignments on which sibling's family we'll be giving gifts to this year. There's a set limit, it simplifies not having to buy for everyone, and typically it means only one trip to the post office: hooray for simplifying Christmas!
But the problem always comes into play that most the families we gift to have different dynamics and ages with different interests. What a toddler may enjoy, their older pre-teen siblings likely won't. What we'd gift a childless couple looks completely different from what we'd typically gift a sibling with several children. When you add a budget limit to the gift and attempt to please several people with one Christmas gift exchange idea for the whole family, it can be a challenge to find a slam dunk gift. I'm happy to say after years and years of doing this, we've found one that everyone seems to love every year!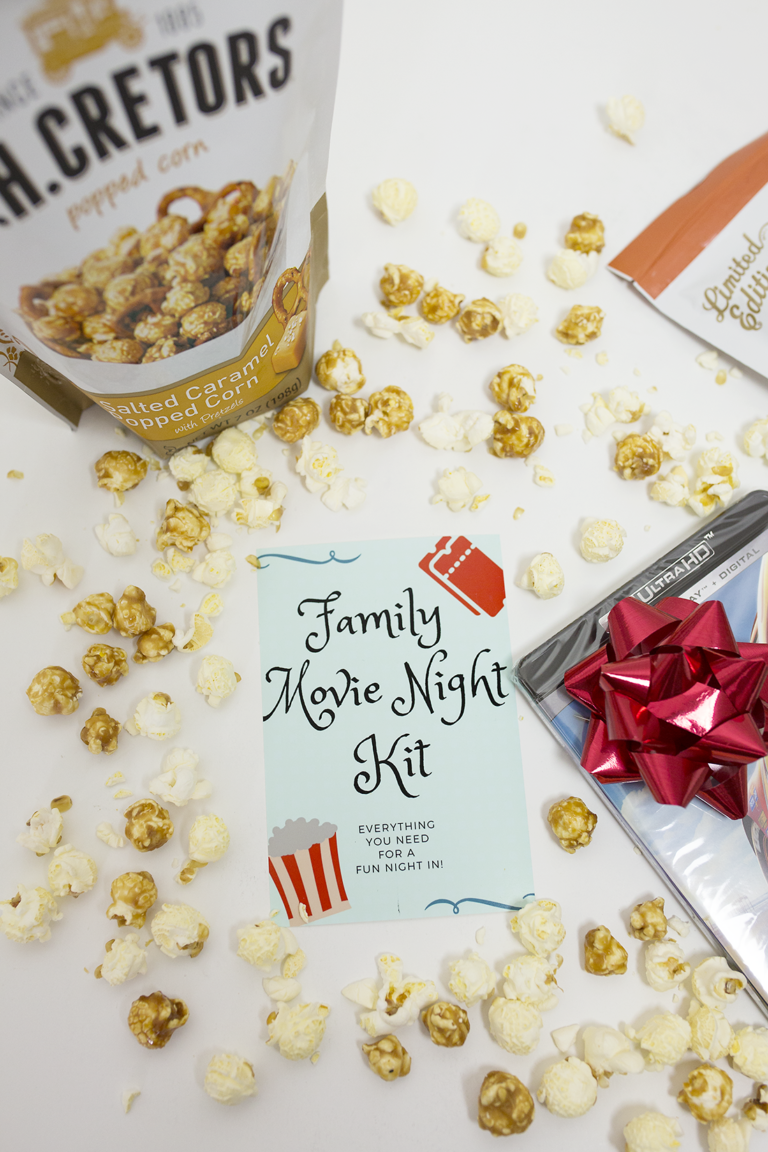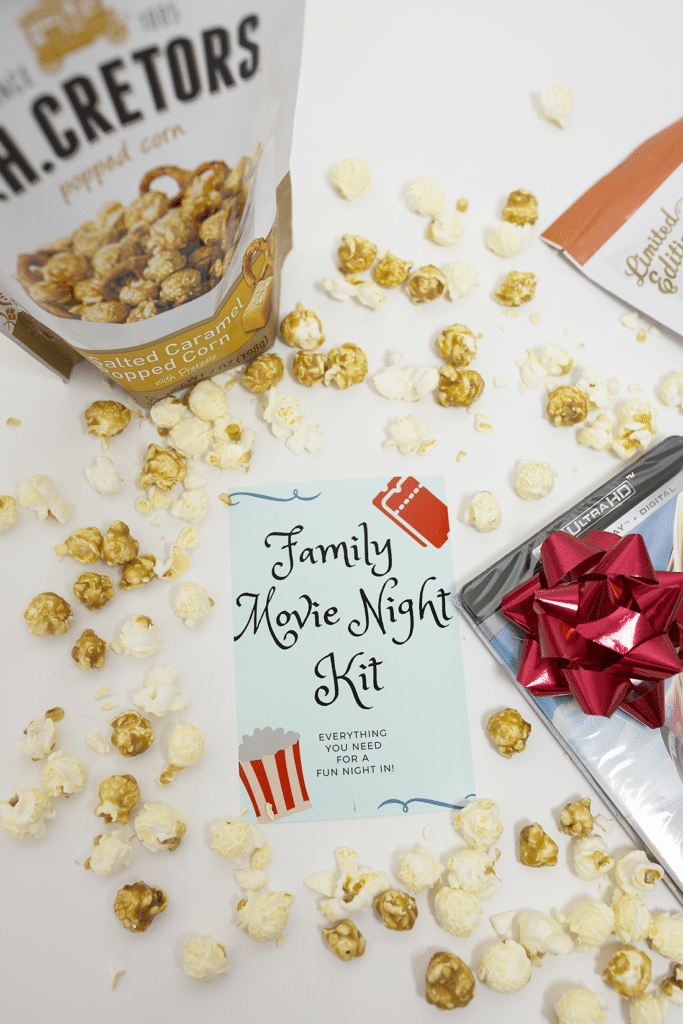 We love gifting experiences instead of just things, and gifting family dates is something we're all about! We've found that giving a family movie night kit gift basket is something that makes the entire family smile! They are so easy to put together, you can work with a simple one or a more extravagant based on your budget, and it's easy to make a few tweaks for specific families.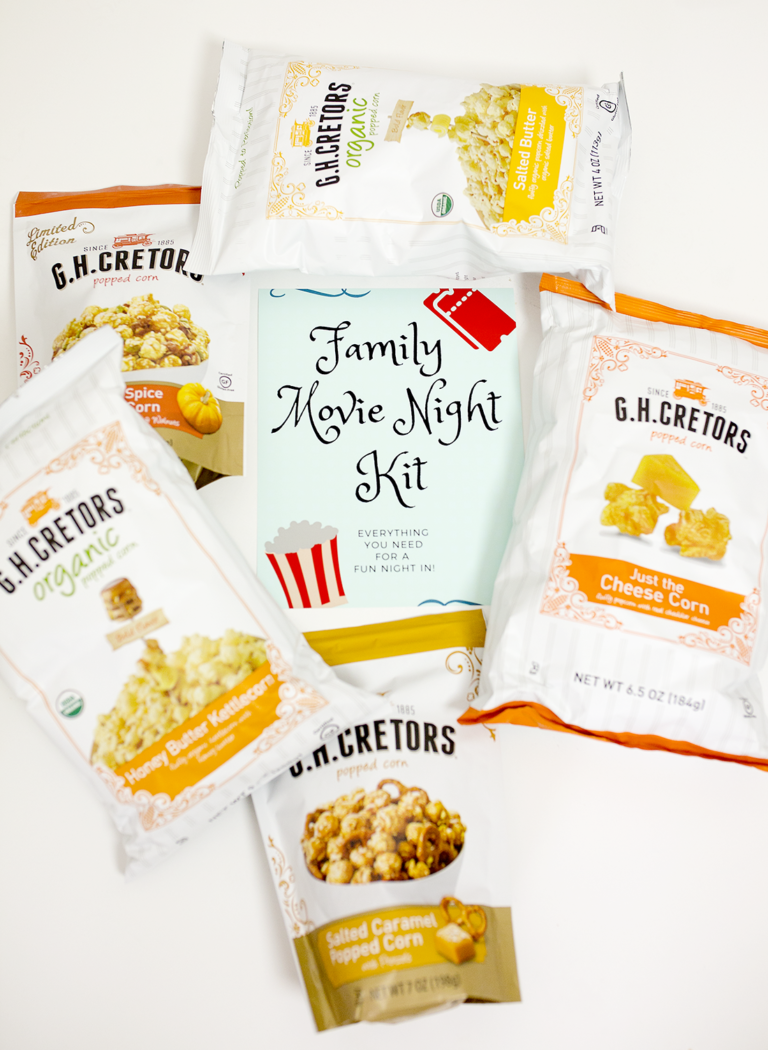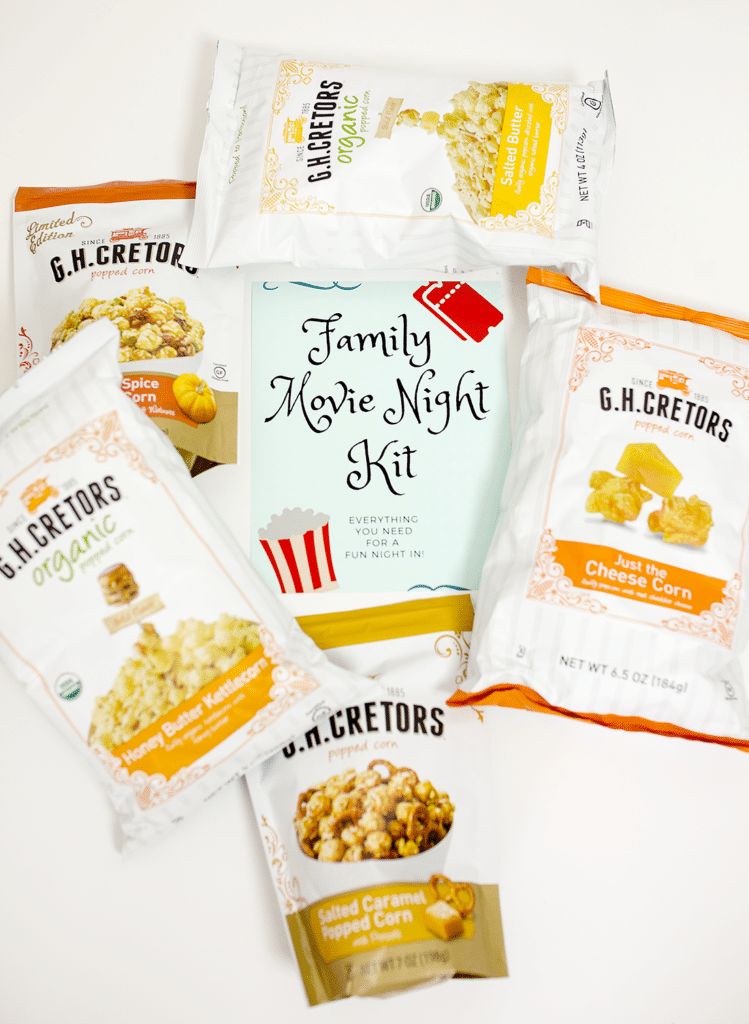 If you've been around these parts a while you know my favorite popcorn is G.H. Cretors, they really make the best of the best! I'm usually someone who passes on movie theater popcorn, but I can never say no to some G.H. Cretors! I love the Organic Salted Butter classic, but the Just the Cheese Corn, their Chicago Mix, and their seasonal sweet flavors all have my heart too! I could eat the Salted Caramel Popped Corn (that has pretzels in it!) year round! I've never met a person remotely into popcorn who hasn't fallen in love with at least one G.H. Cretors flavor, and that makes including this gourmet popcorn such a winner as a piece of the at-home movie night family group gift.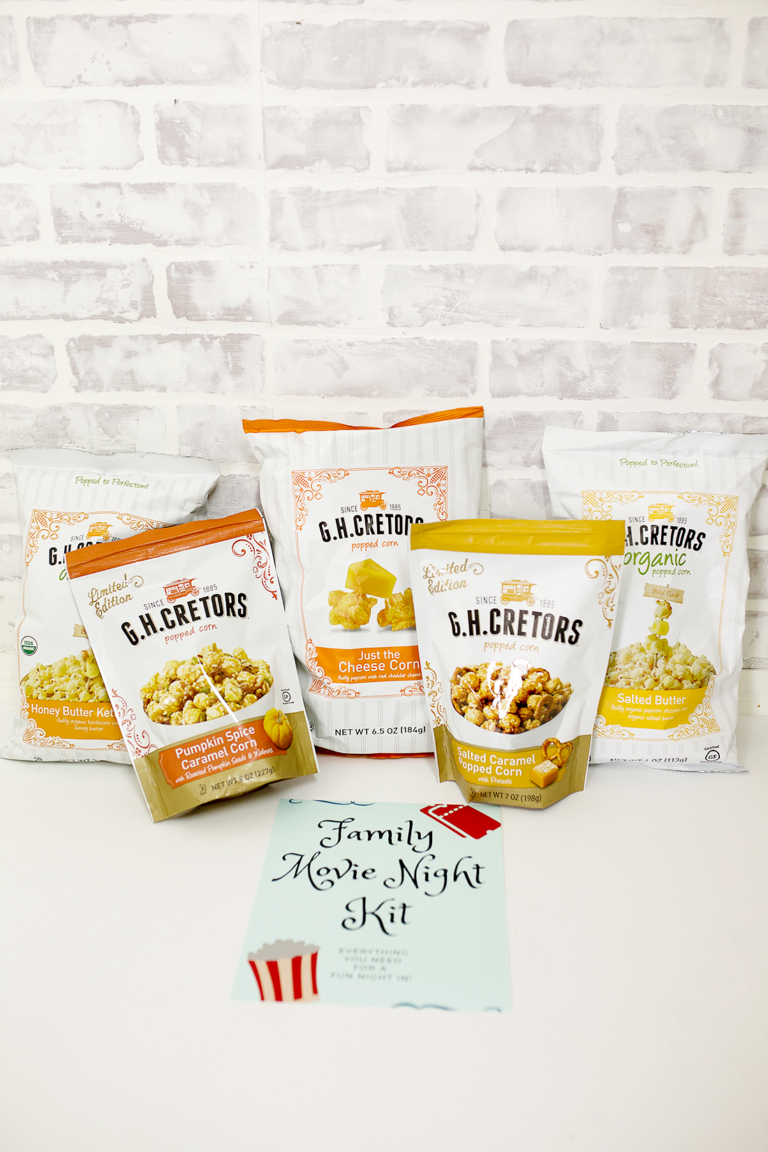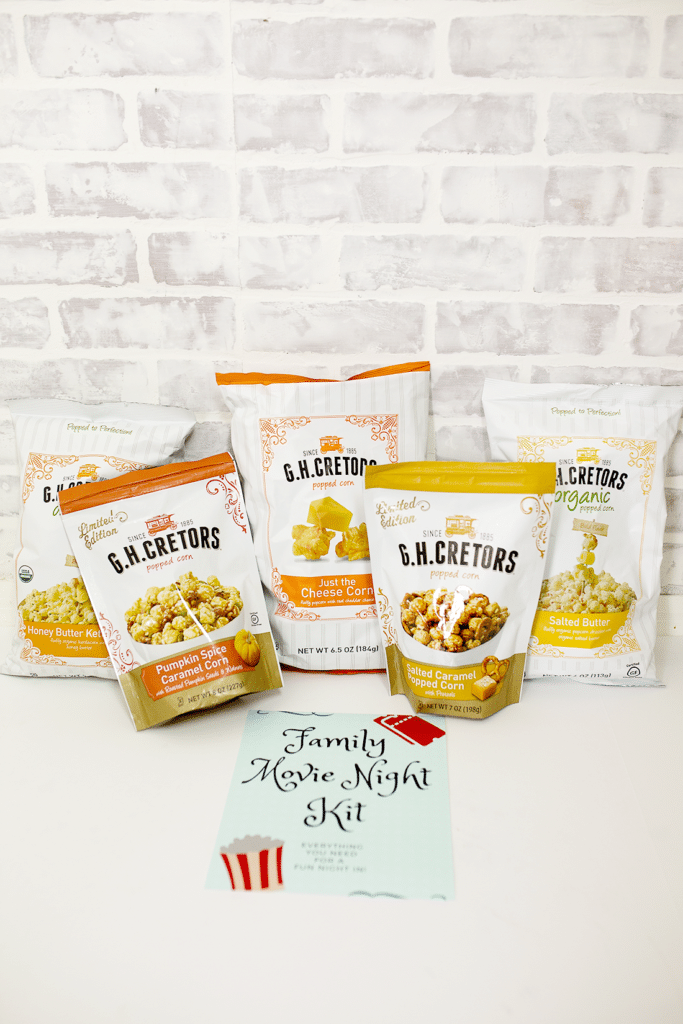 All it takes is finding a few bags of popcorn with a variety of savory and sweet, a movie, a basket or box, and this free printable to pull together this easy family gift!
For the movie, there are so many ways you can do this. If you know there's a movie their entire family will enjoy, feel free to purchase it and include it in the gift box. If you aren't sure about the movie, you can include tickets to a local theater (just remind them they'll want to sneak in the best popcorn out there with them), or you can grab a gift card to rent a movie. I'd note if they have a brick and mortar or kiosk movie rental place nearby, or if they like to rent through a streaming site. A small amount of detective work will help you get the perfect gift card to include.
All it takes is a cute basket or box to mail, maybe a bow or two, and bam, you have a really easy, really thoughtful, and really fun family group gift for your next Christmas gift exchange!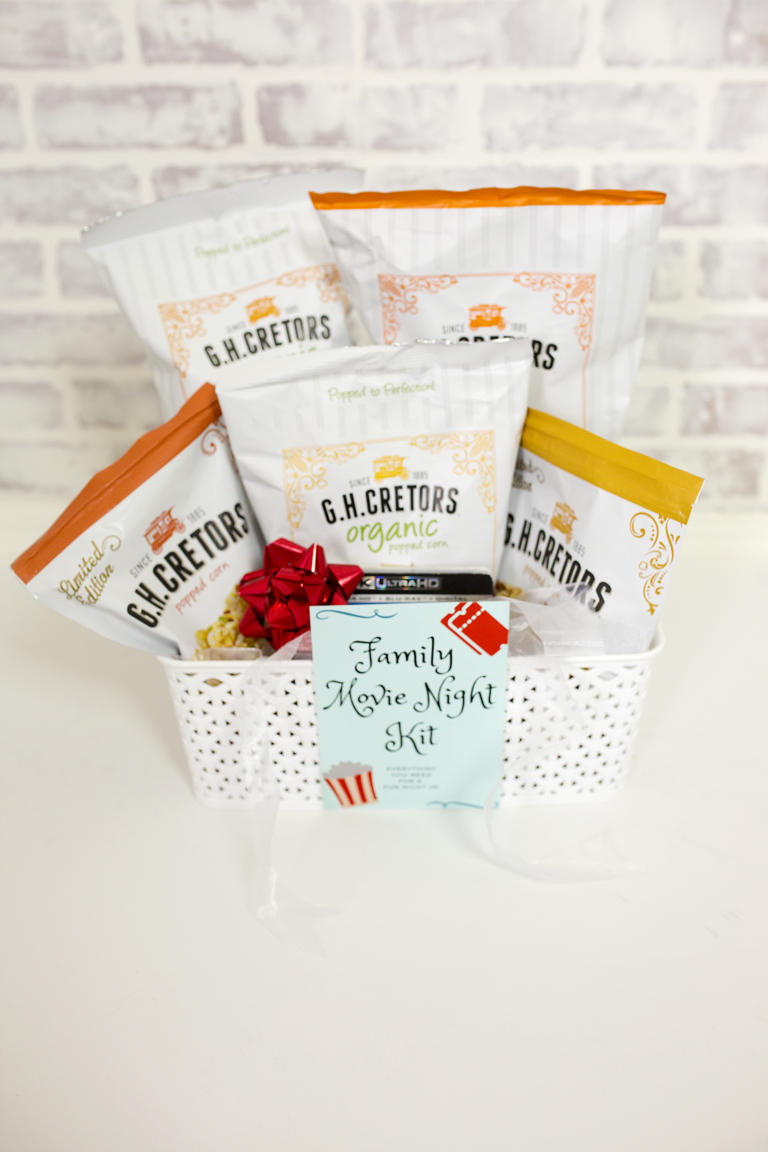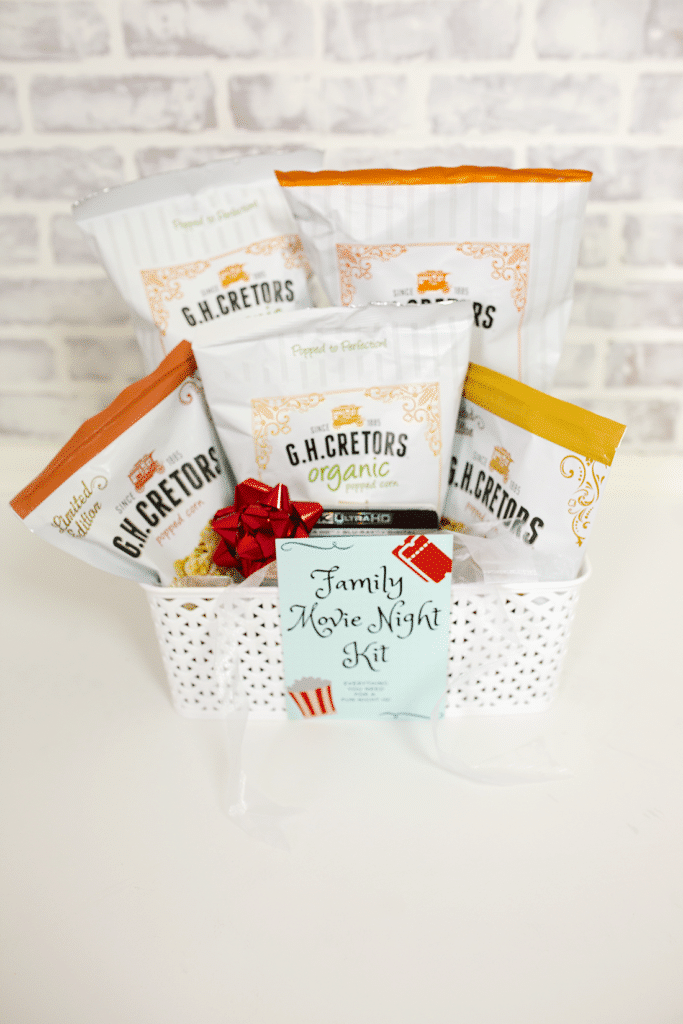 Get 365 Date Ideas!
We want to help you have the best date nights ever! Grab this FREE printable with 365 date ideas, a date for every day of the year so you never run out of ideas!