Baby First Birthday: 10 Reasons to Have a 1st Birthday Party
Some may say throwing a 1st birthday party isn't worth it for an event they won't remember. But a baby first birthday is worth the celebration! Here are 10 reasons to have a 1st birthday party and why they are so worth it!
I have some sad news, this week my baby decided to grow up on me and is going to turn one. My heart isn't ready for this week to happen, but it's happening all the same.
I honestly think I've been in a bit of denial. He's been such a little miracle baby for us, we're still in shock me made it here at all!
Baby First Birthday Party?
I had a big baby first birthday party for our oldest son that actually went a little viral. If you need a super simple first birthday check out his donut grow up themed party here.
We got a little flack about hosting a party from our friends and family. I'm a pretty practical person, and throwing a party and spending a little cash on a little person who won't remember it seems silly to some people. I totally get that, it's not the most practical thing to do. But I LOVE celebrating 1st birthdays! And as I prepare to execute a second 1st birthday party in the next few weeks, I thought I'd share why we love 1st birthday parties and the top reasons we make sure a big deal out of them.
10 Great Reasons to Throw a 1st Birthday Party
There's nothing cuter
It may sound overly simple, but it's just darling. Tiny humans all lit up with excitement, it's worth every penny
Hello, cake smash.
A little person enjoying a solo cake it cause for celebration! Actually, anyone getting to enjoy a solo cake is a cause for celebration- ha! But really, it should be a spectacle many people get to enjoy.
The milestone is so much bigger than we give credit for.
There are so many things that can go wrong for the first year. Infants are fragile things! Truly, survival for one full year is a remarkable thing! Of all years of one's life, the most amount of change and development happens in the first. It's worth a party!
It's a celebration for mom more than the baby.
Truly, I should have put this first. It's my party just as much as it's the baby's, if not more. It's for me to celebrate. I birthed a human, with muscles and organs torn apart, and I lived through it. I nursed a baby for a full year stuck to a couch. Additionally, I made it through sleepless nights. Sure I have the best co-parent ever, but the first year is just so much about mom. I earned a moment to smile at a darling little person I've created and kept alive.
My MBA graduation had days of celebration, and that seems so small now that I've become a mother. An hour or two of a human's life feels so much more deserving.

It's a moment to capture a baby before they turn into a toddler.
My oldest took his first step during a cake smash photoshoot. It hit me right then that we really were capturing some of the last moments of a baby. I'm so glad there's a moment to pause and enjoy one of those last moments!
Close friend and family gatherings are always a good idea.
I don't think you can ever have enough small gatherings with those you love! Holidays always seem so big. Baby parties are the perfect place to invite a few close people and enjoy every moment of it.
It allows others to enjoy your baby
My sister had a baby nine months after I did, and told me "You're welcome to hold mine and enjoy him anytime as yours outgrows phases you love!" I loved her sentiment, but I knew then and there I wouldn't get much of a chance. Not only because my own kids take five million percent of me, but because the first nine months keep a baby pretty attached to parents only.
I love when our friends invite us to first birthday parties because we get a moment to soak up their baby without them having to eat every hour or sleep on the off hour. I know I'm exaggerating a bit, but truly, this is one of the few times besides babys first birthday others get to just enjoy that baby.
Pictures.
I cherish these pictures Chrissy Blake took more than almost any others! She captured a moment. I adore my little human so smiley and excited about his new milestone! If for no other reasons, a party with a cake are worth pictures you'll cherish forever.

It starts a foundation for gifting an experience over just things
We don't gift much for birthdays as far as toys are concerned. But we celebrate in big ways with a really fun party or a trip to Disneyland. The perks of living close are manifested at birthday time! But for a 1st birthday, a celebration party with a book and a new toy set a foundation for experiences and moments over just things.
Memory creation
We still laugh about creating donut balloons. My sister announced her engagement this day, which added to an even more fun memory!
It's a collective memory those closest to us share. And for that, I'll feed a small group of people, make a cake, and host a party any day!
I can't wait to share the theme and party for our little man. It's coming very soon!
But until then, excuse me while I continue to tear up while we party prep. It's such a fun experience, and it's the one helps ease the sadness of a kid deciding to grow up on me!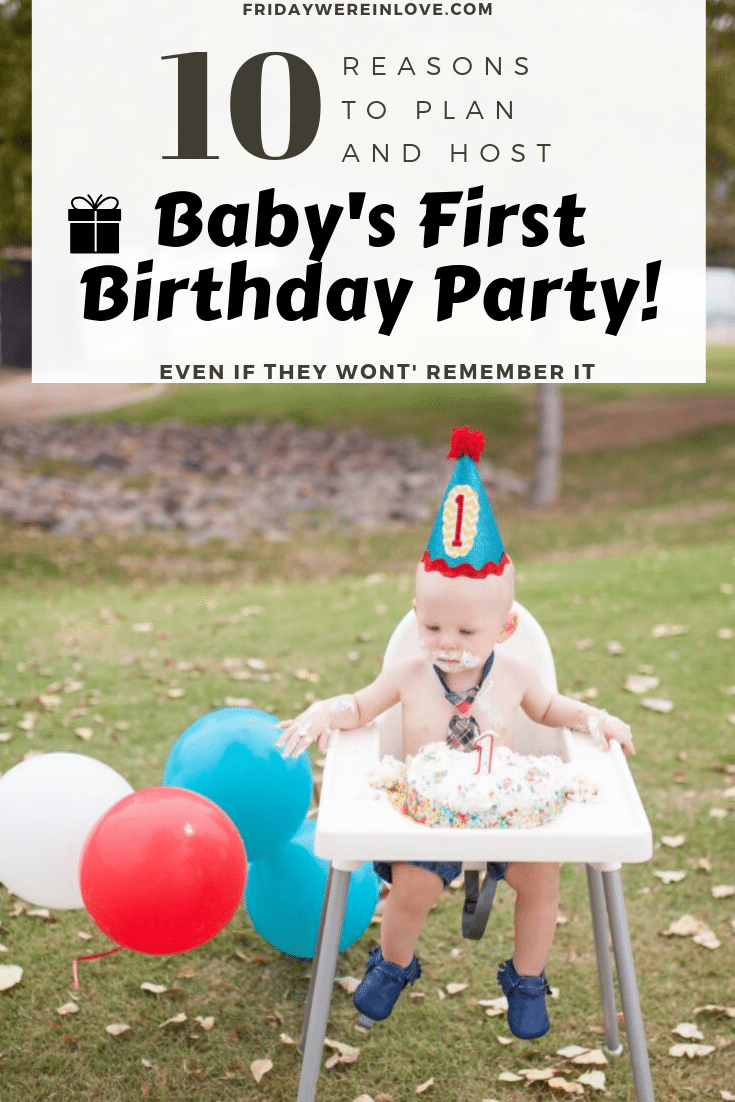 Like this first birthday party post? You may like these posts too:
Donut Grow Up First Birthday Party
20 Things You Might Not Know About Me on My Birthday
Get 365 Date Ideas!
We want to help you have the best date nights ever! Grab this FREE printable with 365 date ideas, a date for every day of the year so you never run out of ideas!