Best Gifts for a One Year Old
A list of the best gifts for a one year old by category: including birthday gift ideas, and gifts no one else will think to give the 1-year-old toddler!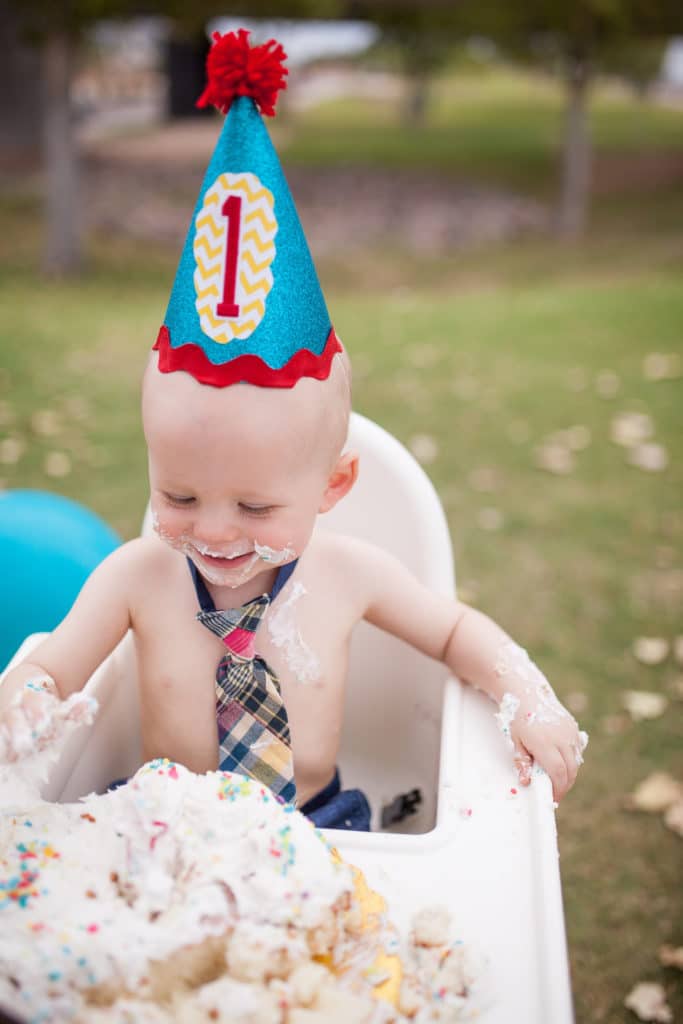 While my heart may never be ready for my baby to turn one, it's time for me to get physically ready for the big day. We're just a few weeks out from that first birthday party, and I usually like to go big and do a party. It may be more for us than them: surviving keeping a child alive for a year is a big deal!
With our oldest we chose the Donut Grow Up 1st Birthday Party theme, and I've selected our 2nd child's theme now too. Which means it's also time to start thinking of birthday gifts for a 1-year-old.
Birthday Gifts for 1-Year Old
Whenever we send out invites we make sure guests know there's zero pressure to bring gifts. But there's something about buying for a smiley baby that everyone seems to love. Which leads to the question: what are the best gifts for a one-year-old?
We've been through one now and on countless playdates. We've also had time to enjoy several playdates and a formal play to learn class with one-year-olds that have allowed to observe what kids love, what parents use, and what are the best gifts for a one-year-old.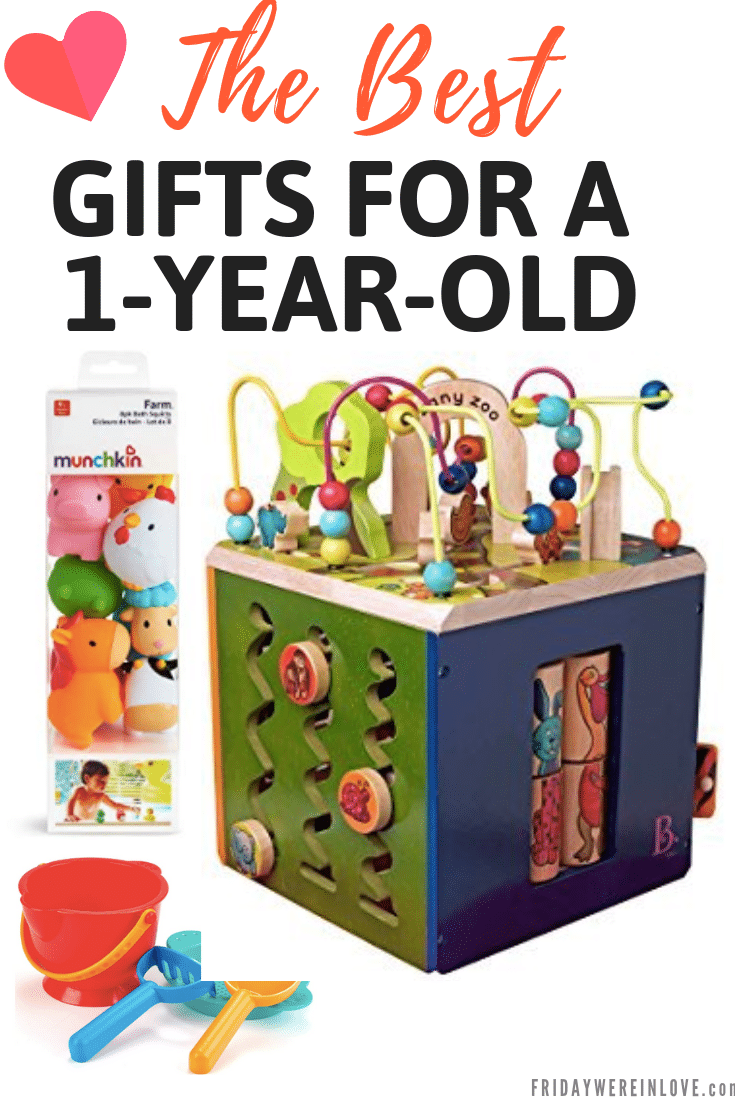 Best Gifts for a One-Year-Old
I'm going to share the best gifts at all price ranges should you have a 1-year-old or toddler in your life. We'll break these down by category:
Books
Toys
Unexpected Gifts No One Else Will Think to Give
Best Books To Give As A Gift For 1-Year-Olds
I'm going to argue this is the best gift you can give! It's easy, it's minimal, and it's something most parents really want at this phase. It's perfect for their word burst phase, and building vocabulary. And if they don't love it or already own it, it's easy to give to another toddler who will!
I have a post about the 20 books every new mom should have in their library if you need a bunch of classics. But don't worry, I have even more to share!
If you want to buy a gift for a 1-year-old that's a book, here are some of the best titles to give:
And if you want our top 20 books we've loved from birth through childhood, check out this post!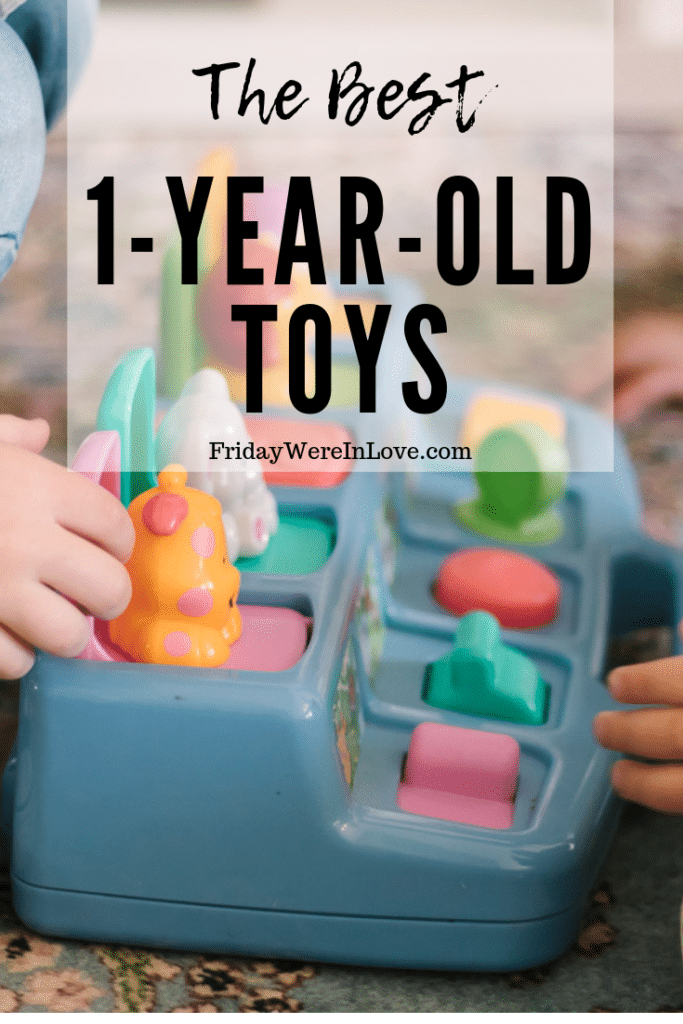 The Best Toys for 1-Year-Old
Wooden Block Set
We gifted our oldest child a quality set of Melissa and Doug blocks for his first birthday. At the time he mostly tinkered with them and teethed on them. Almost three years later, it's a toy he still plays with daily! This is a great time to invest in toy they will love and play with throughout their childhood.
Water Table
This is one of the best sensory toys out there! Not to mention it's one they will play with for years!
Sandbox/Beach/Park Toys
We bought a set of beach toys when we went to Rocky Point with our little toddler. I've been amazed at how it's been used and loved in toyboxes at home and at parks ever since!
Baby Swing
This one is easy to set up, safe for smaller kids, and lasts for years! We're on three years with ours and it's still going strong! It has been a lifesaver on fussy days and days we just want to be outside.
Bath Toys
These are something kids adore, they make bath time easier and more fun, and due to mold, parents cycle through quickly! We love the Munchkin Squirts and replace our set quarterly. It's the perfect inexpensive toddler gift!
Play Cube
I witnessed my child play with one of these at a friend's house and knew we needed one! He played with it for hours! It's an educational toy for one-year-olds that teaches ABC's, colors, animals, eye-hand coordination, and sensory skills. It's one of the few toys that can keep those busybodies busy at play for hours!
Baby Walker Toy
Another one I observed at a friend's house and knew it was a must-have. It was played for long after the walker portion was no longer needed. But the walker really helps gain muscle strength and makes learning to walk so much more fun!
Band in a Box
This is what our baby will be receiving this year! He loves music, he tries to make it with any object he can find. For safety sake, we're giving him intentional baby music toys.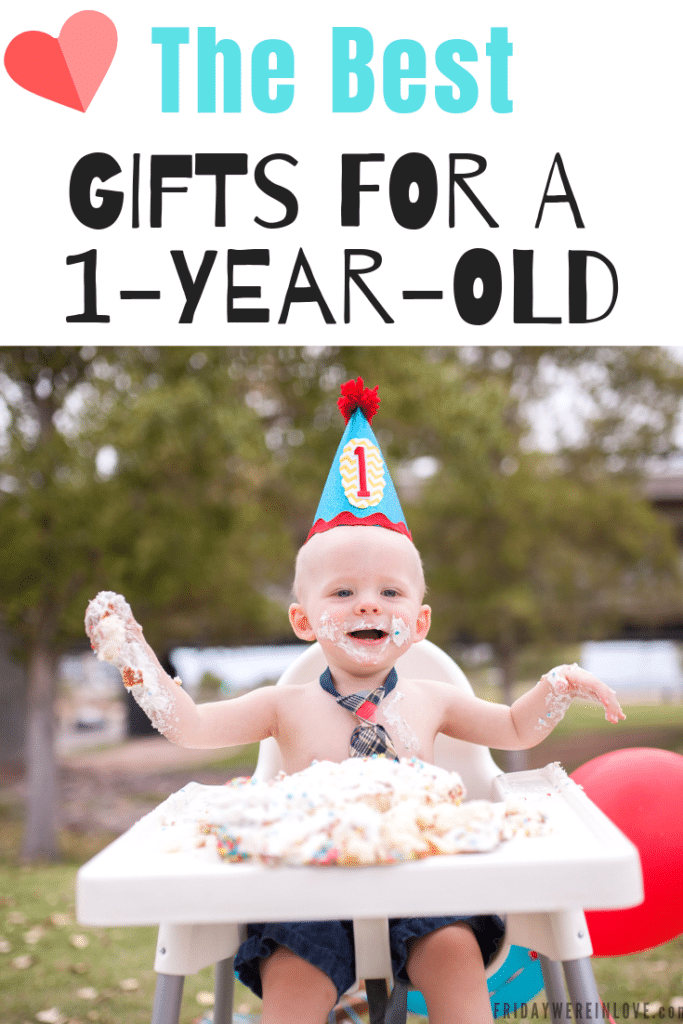 Unexpected Gifts for a 1-Year-Old No One Else Will Give
Experiences like a museum pass that's appropriate for babies. Check your area, there's always a children's museum or museums designed with toddlers in mind.
A subscription box to last all year.
– Bookroo (new QUALITY books delivered every month. They hand select the best, then wrap them for your favorite toddler to unwrap each month. We've loved using Bookroo!)
– Amazon Book Club. Similar to BookRoo, but you can send books monthly, every two months, or three
– KiwiCrate
This is an experience box that helps build STEM skills. They even have a darling Panda Crate for 0-24 months: pefect for kids this small!
And be sure to gift the parent an extra hug as it's so hard to watch that baby grow up so quickly! And maybe an extra kudos for keeping a tiny human alive long enough to celebrate the need to find the best gifts for a one-year-old!
Like this gift guide? You may like these posts too:
Toddler Gift Guide: Tried and True Toddler Gifts
Toys that Grow with Them
Best Toddler Toys They'll Love and Play With
Get 365 Date Ideas!
We want to help you have the best date nights ever! Grab this FREE printable with 365 date ideas, a date for every day of the year so you never run out of ideas!