Toddler Activity Table and Creativity Activities Setup
The details on our toddler activity table everyone asks about: plus why a toddler table and chairs are furniture we think every parent should own!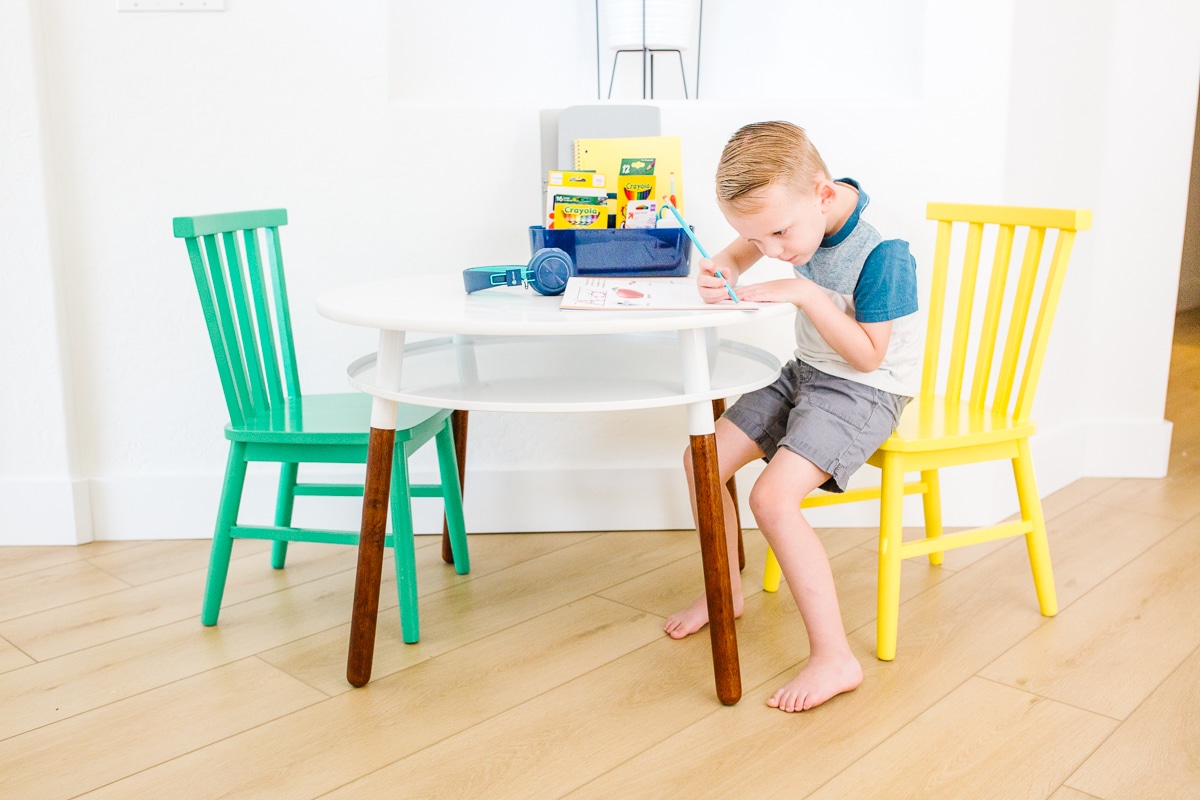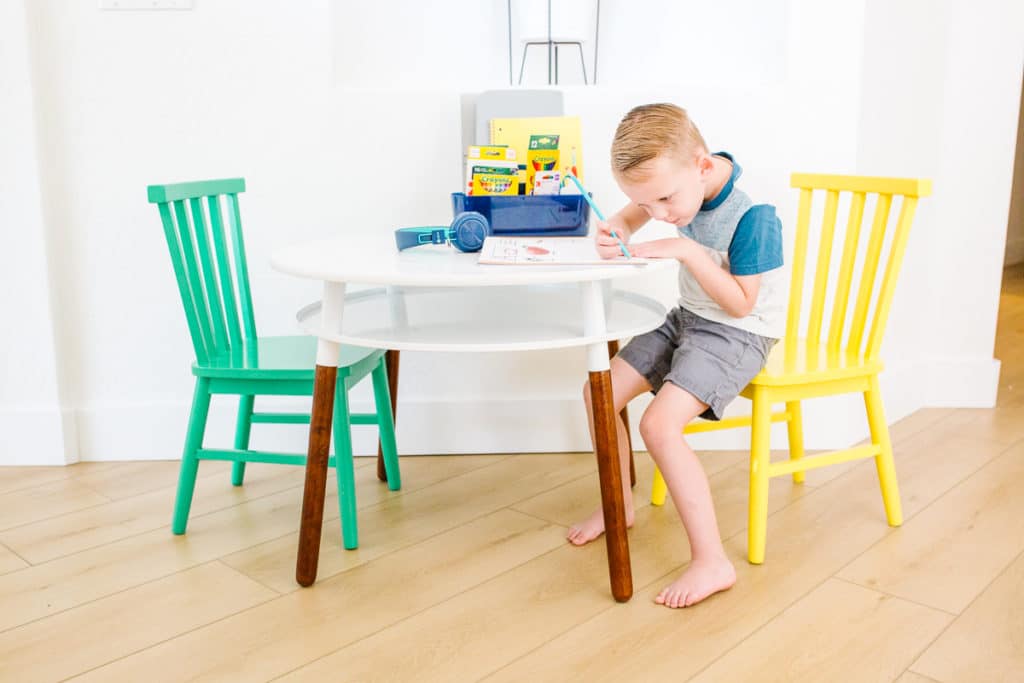 Links for our table and chairs:
A few years when we moved our oldest child into a big boy room, we hired a design service to help us plan and decorate and get some toddler boy's bedroom ideas he could be excited about! I knew he was transitioning out of nap time, and we'd be implementing quiet time soon.
I also knew he was about to have his little world rocked and become a big brother. A space of his own for creative activities, at-home activities for kids, independent play, and toddler craft projects without a little brother felt like a must for this space.
Designing a Creative Space for Kids
I asked our designer we worked with to please include a toddler activity table. I was open to anything from a cheap Ikea kids table to a nicer design toddler table with chairs. Most of all, I just had this gut feeling my child would spend a lot of time there. It felt like the one thing in the room we should put time, intentional thought, and even money into.
They delivered with the cutest little toddler activity table and colorful chairs in my son's favorite color. I loved that the toddler table with storage was the option they chose. Surprisingly, I hadn't thought of it before, but he definitely needed a place to store his supplies and projects.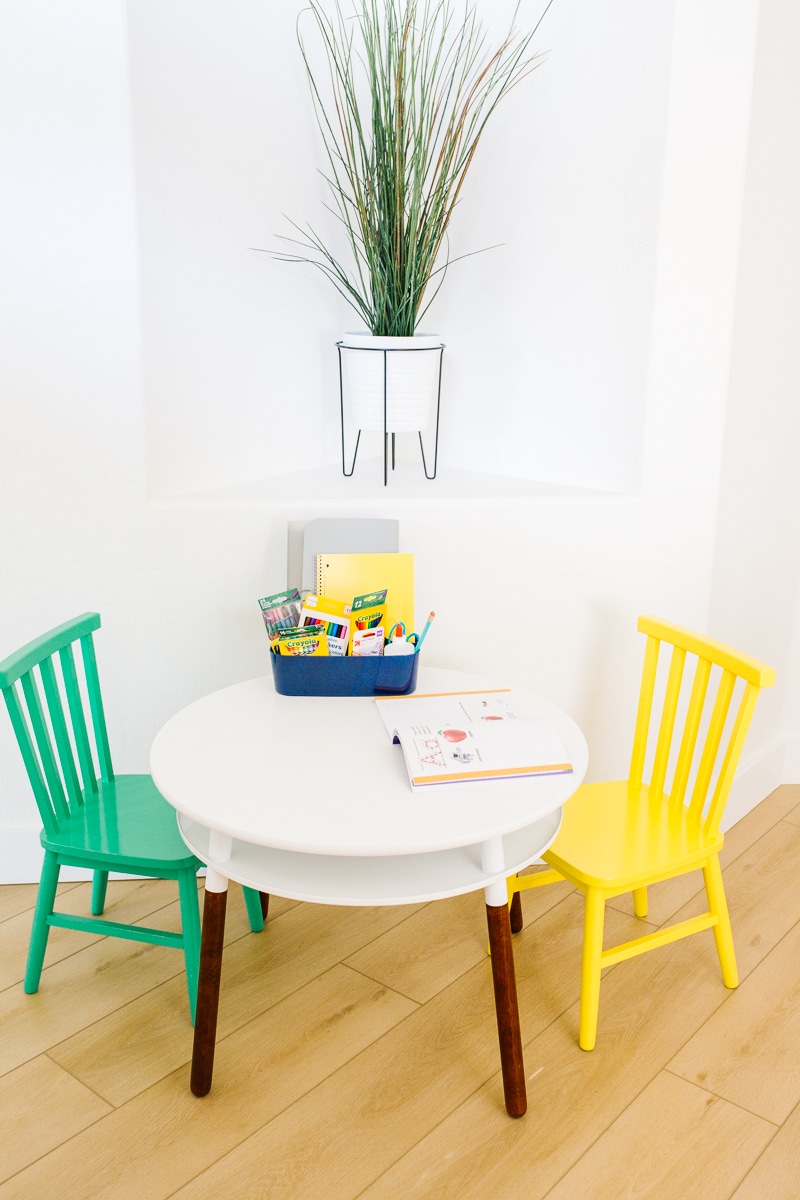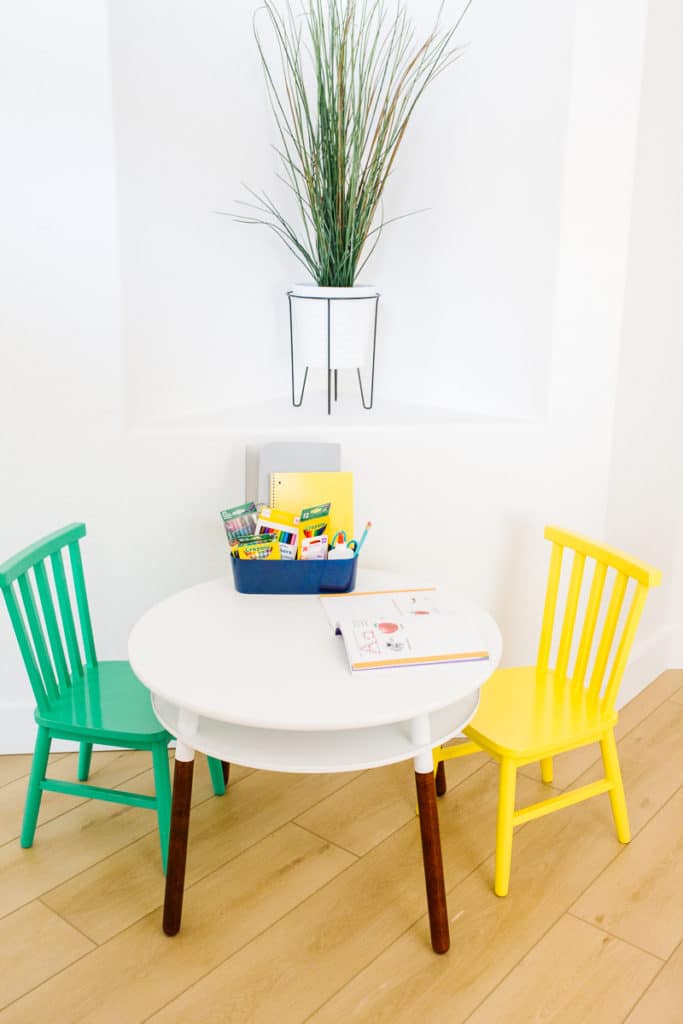 A Learning Table for Toddlers I Couldn't Forget
I checked out the table they recommended and had a little bit of sticker shock by the price. It would cost more than the bed frame or dresser we chose! Granted, we didn't choose the most high-end items for those. But I really didn't want to buy something he may color all over and destroy and be grumpy I'd spent so much.
We started to look for other toddler tables and chairs. I also investigated preschool tables and chairs since he's a tall kid! But after I had seen that mid-century modern kids' table, and thought about the storage space, I couldn't get it out of my mind! We're firm believers in budgets. But also, firm believers in buying at least one piece that truly makes you happy for your spaces. Also, when something will be well-used, well-loved, and utilized for years, sometimes the price tag is just worth a little splurge!
Realizing All the Uses for a Toddler Table and Chairs
Very pregnant Camille looked at that table and instantly knew it would be one of the most well-loved and used items for our son. I justified I'd saved a lot with maternity outfit creativity, maybe a little splurge was in order. I could envision him doing quiet time, building Legos, coloring, and doing crafts and sticker books on his table. We ordered it, and I have to tell you I've never regretted the purchase for a second!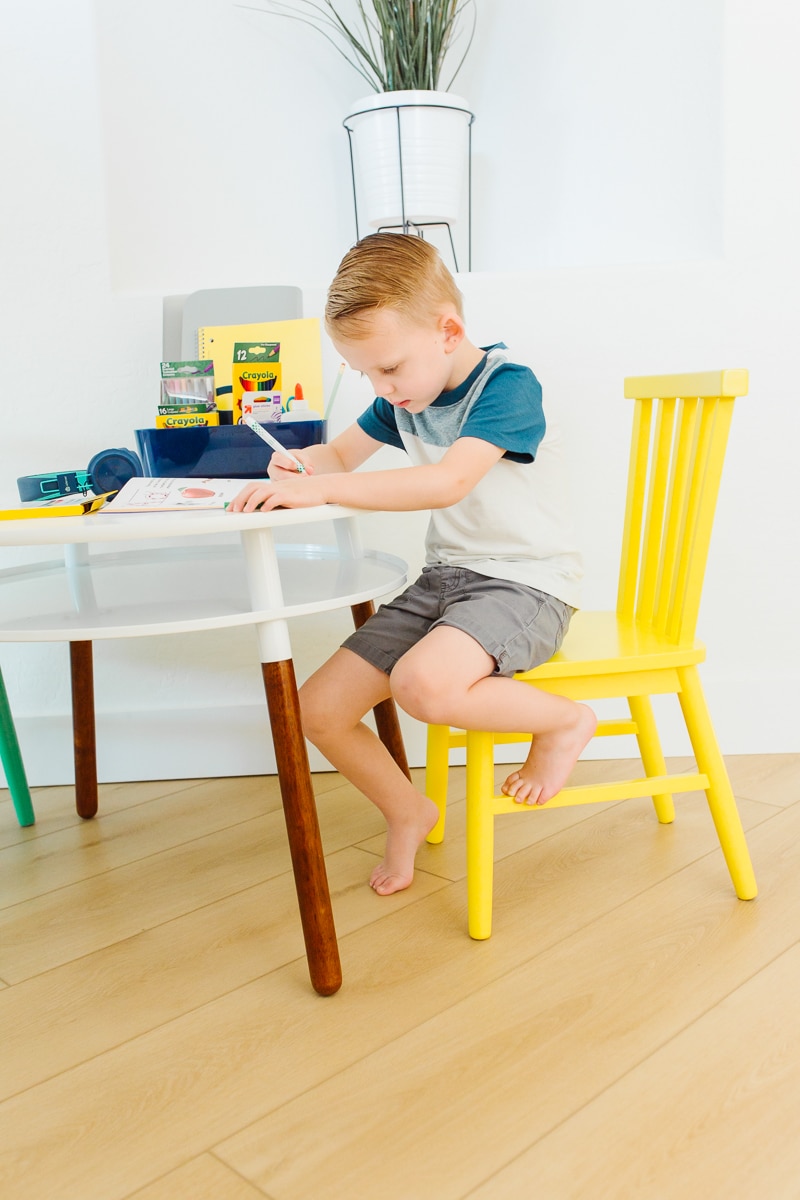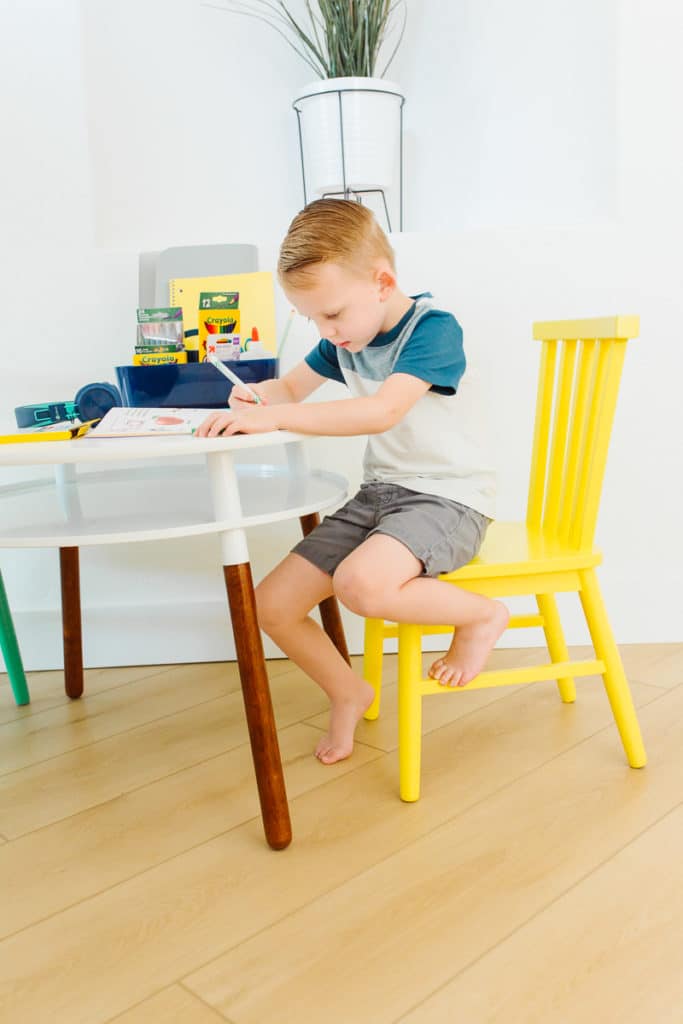 Here are just a few of the activities he uses his toddler table for:
A coloring table
A Lego table/
Building project table (See the best building toys for kids, we clearly feel passionate about them)
Craft table
Quiet time table
Drawing project table
Sticker book table
Remote learning table
Homeschool table
Creativity table for projects he's invented
I love the style, I love the size, I love that it works for toddlers and preschoolers, but it's stable enough for me or Jacob to sit on. I love that it cleans super well and every coloring on furniture incident I feared has cleaned right up with a Magic Eraser.
But most of all, I love that my child has the exact learning center and creativity table we hoped for! It has facilitated hours of happy independent creativity. Truly, it's just what I dreamed of!
Why a Toddler Activity Table Was a Great Investment
For any parents considering a creativity center set up for kids, I can't recommend a toddler table with chairs enough! Give them a designated space. Let them know you respect and honor their independent projects and play. Provide an opportunity for them to learn and grow in something they can take ownership of.
When distant learning setups became a thing, it was so easy to set him for his private reading lessons in his space. I'll forever be grateful we invested in this!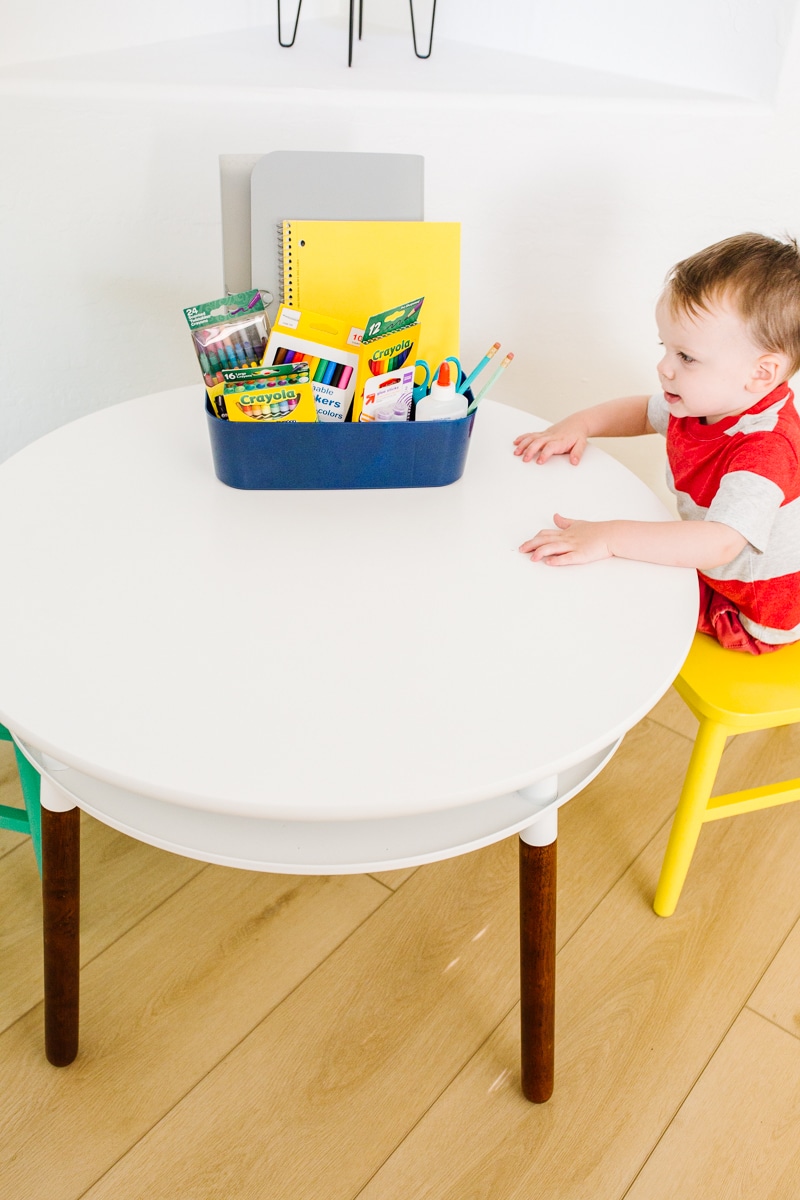 Playroom Ideas
If you're considering playroom ideas for your kids, I'd also consider a table! I don't know how our family and our home setup will evolve in the next few years. But if a playroom is in our future, we will add a creativity table for toddler craft projects to our setup indefinitely!
Toddler Table Review
I stand by this purchase that felt like such a splurge! It's been the most solid table! And as my child continues to grow I'm so glad we gave him a space he wanted to spend hours in. I often think of "A Room of One's Own" and how a table of one's own seems to be that space for kids!
This table has been so solid. I already mentioned it, but it's cleaned really well. The chairs look brand new almost three years later.
We've loved it so much, we have plans to buy another one for our baby's room as he grows and drops naps. We bought a cheap IKEA baby table to test the waters and start training him to do some quiet time. But once he's all in, we will upgrade him to a toddler learning table of his own!
Like this post? You may like these posts too:
Activities for Kids at Home (Quiet TIme Activities So You Can Get More Work Done)
Playroom Organization and Toy Storage Ideas
Kids Table Christmas Activities
Where the Wild Things Are Nursery
Get 365 Date Ideas!
We want to help you have the best date nights ever! Grab this FREE printable with 365 date ideas, a date for every day of the year so you never run out of ideas!