Where the Wild Things Are Nursery
Sharing our nursery reveal and how to create your own Where the Wild Things Are nursery with easy links and information how to pull this book-themed nursery together!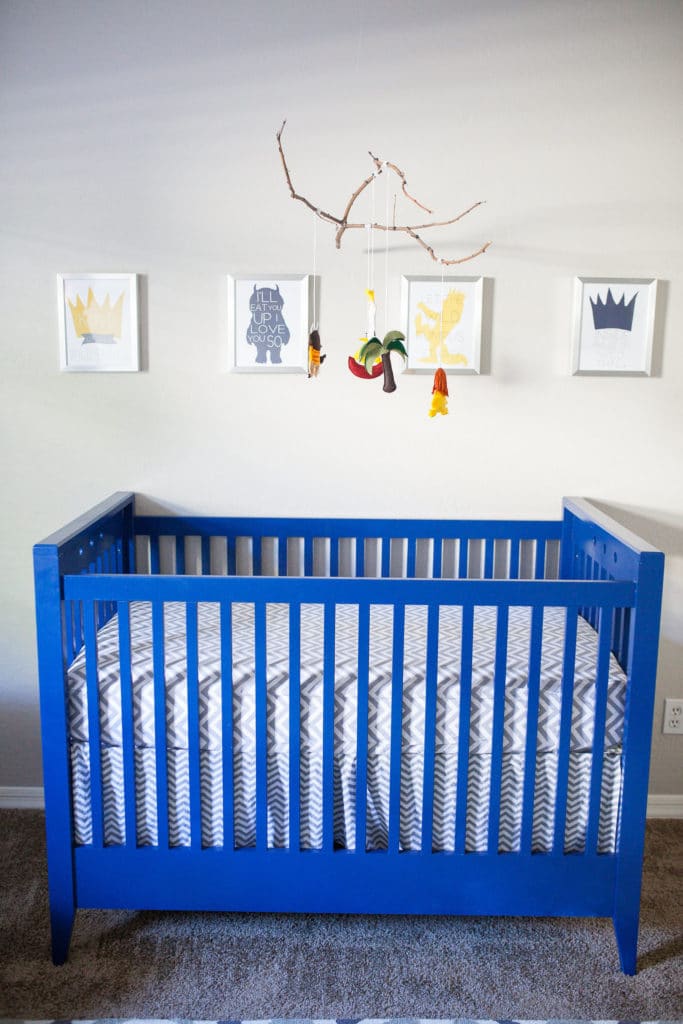 Now that our baby is officially two and a half (half birthdays are important!) it's probably a good time that we share a nursery reveal. I'm laughing at this because it was pretty much ready a month before the baby came, but I always had that one wall I wanted to do more with, so I waited and waited and never officially "finished" or shared our nursery reveal.
*This post contains affiliate links  
Prepping a Nursery
We're now prepping to convert the nursery to a big boy room and prep for baby #2's nursery, and I just couldn't officially let the room and decor change go without sharing this nursery that I've loved and adored and my little man has loved and adored for two and a half years too.
When he was in the womb we had a lot of ultrasounds. He was high-risk due to being an infertility baby and me having gestational diabetes, so we had a lot of ultrasounds! I got to see this little guy almost weekly and I laughed seeing how active he was at each visit. We're talking he literally was jumping off the sides of my uterus and doing flips the entire time. He was busy, and we started to nickname him the wild little thing. He was quickly are Where the Wild Things Are baby. This just seemed to stick, so when it came time to choose a nursery theme, it was an easy choice!

Choosing a Nursery Theme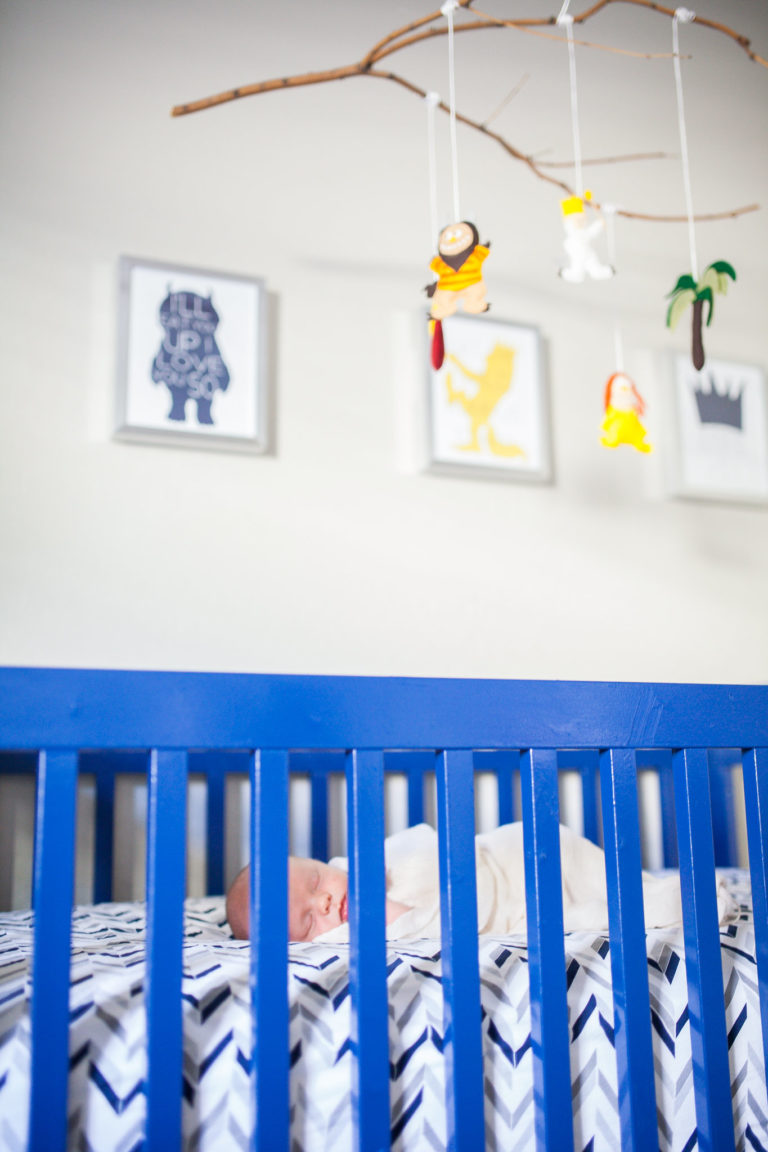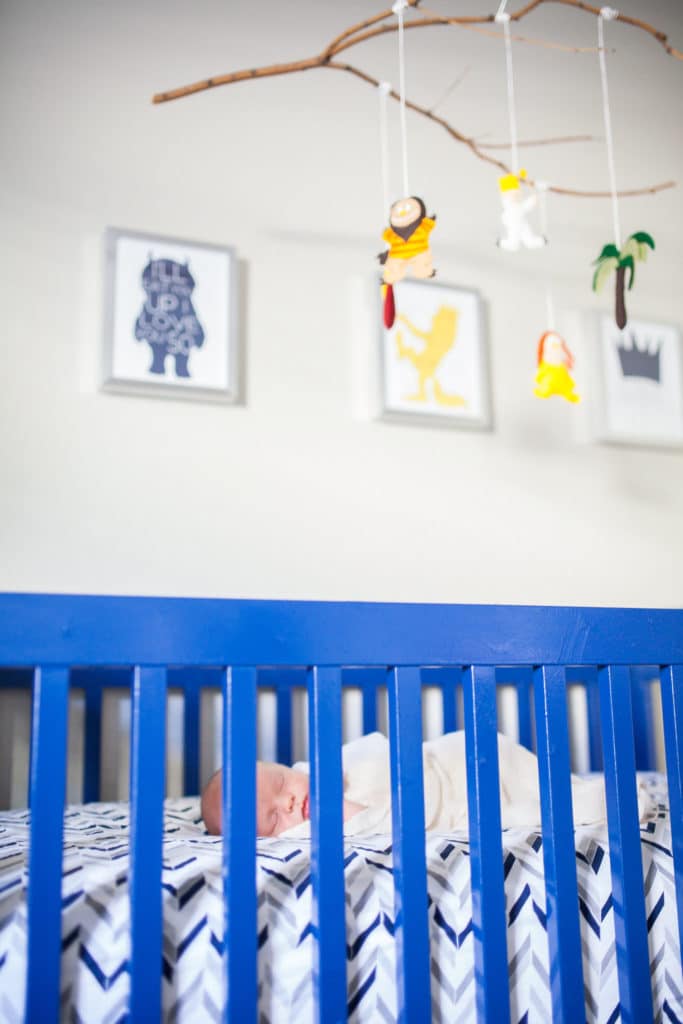 My undergrad is in English, I was an English teacher for seven years, and literary-themed nurseries have always had a place in my heart. When we first suggested a Where the Wild Things Are themed nursery, it just seemed to fit.
I've never been one to shy away from color: in my wardrobe, my home, or anything else in life. We didn't want a nursery over-the-top and still wanted a peaceful place for baby to sleep and us to relax, but we also wanted something fun with some color in it. I turned to Where the Wild Things Are for inspiration. Blue, yellow, and gray with a splash of neutral just felt right for a Where the Wild Things Are nursery.
Choosing the Right Crib and Nursery Furniture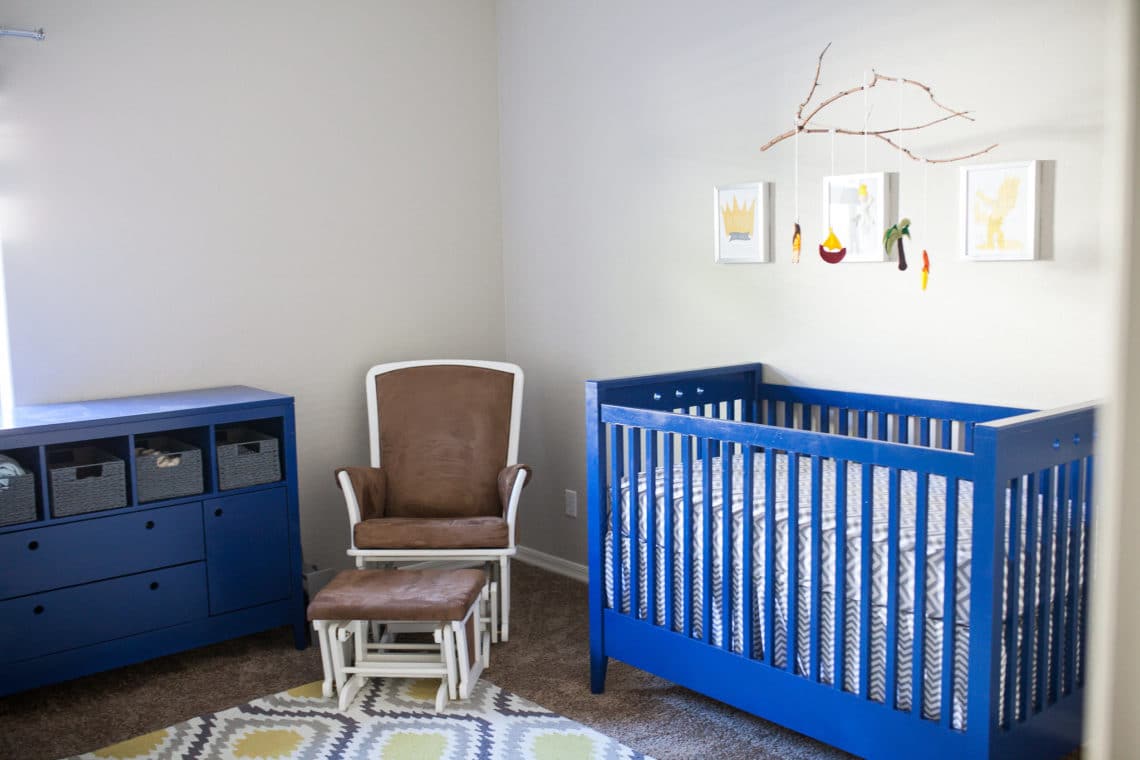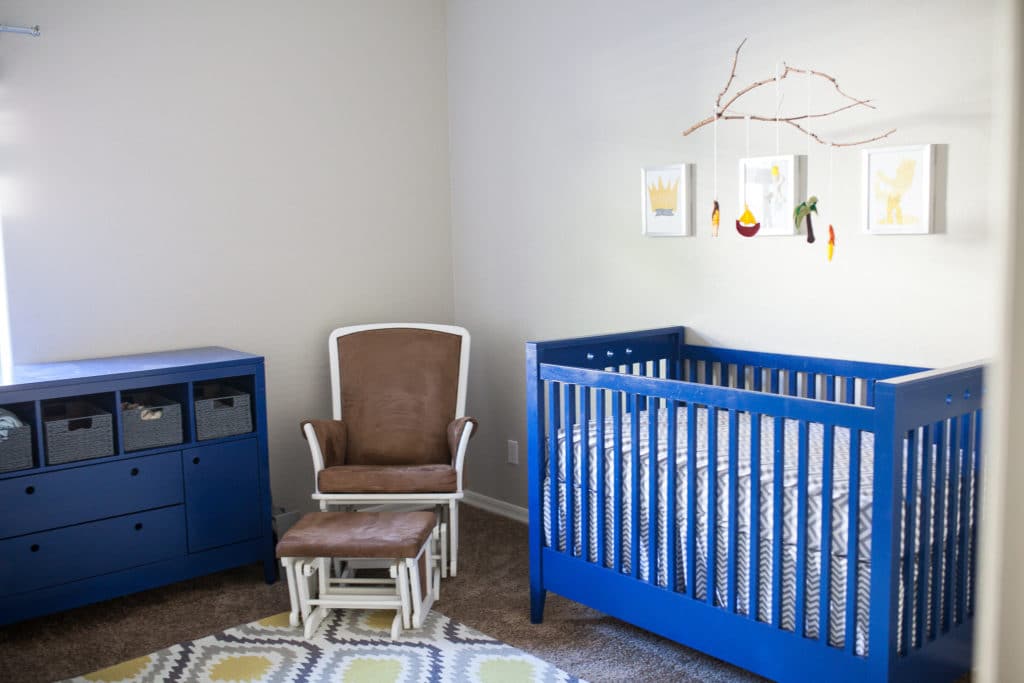 We had a lot of talks about cribs. I don't think there's one way to do this! So many buy an investment crib with their first child for every subsequent child to use. Many opt for a crib that will convert to a toddler bed and can be used through the next phase. And several go for an inexpensive or trendy option to use for this baby for that first year or two and have every intention to give it away or replace it if another baby comes. We were on the fence, but the second I announced a pregnancy we had an opportunity we couldn't refuse.
A friend and former coworker reached out and said she had a crib set that in amazing condition, but not the trendy white set everyone was buying. They bought it from a friend who bought two nursery sets: one for home, one for the nanny's home, and ended up not using the cheaper set for the nanny's home. They asked if we wanted to buy it super cheap so they could get rid of it. Hello opportunity, we quickly decided we could probably paint the set and buying a practically new set for less than a thrift store price sounded amazing.
A Statement Crib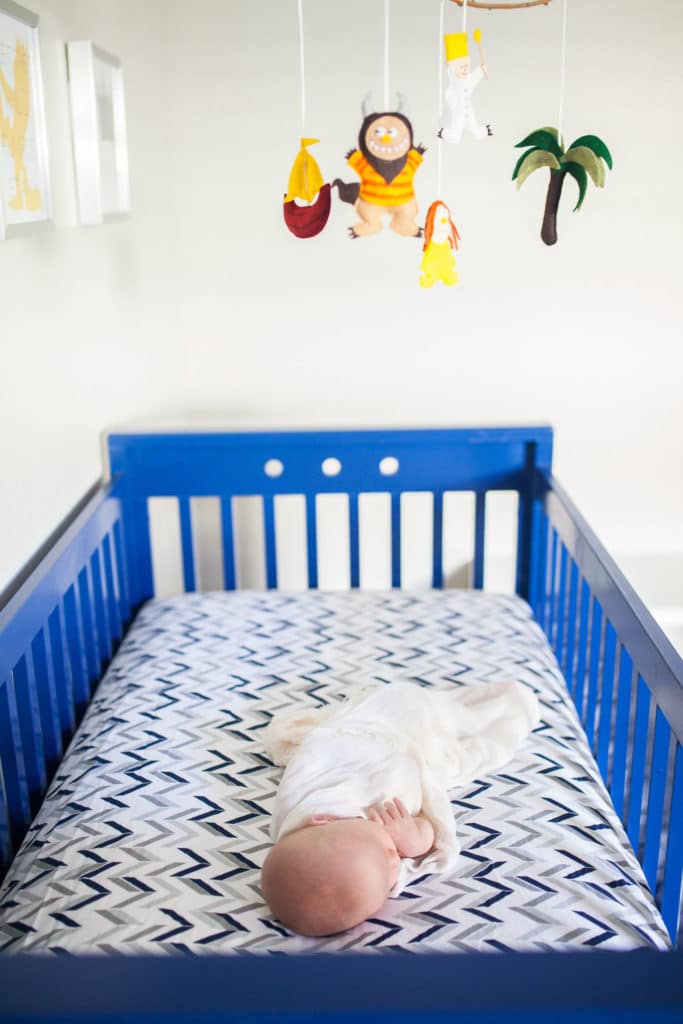 We got to researching if we could paint it, how we could paint it, and really thought white or gray may be the right answer. But the more we chatted, the more we couldn't get the crib being the statement piece of the room out of our heads. It's a long process to describe, and guess what- we're doing it again for baby #2! I have a whole post coming soon about how to paint a crib and what's safe and effective to use. I promise we'll share it in the next month or two and I'll come back and link it here.
We absolutely loved the idea of a bright blue that was a fun statement without being too over-the-top. We did custom color matching based on a bunch of color samples. From there we went to work and transformed a vinyl coated strange oak colored nursery set into a hipster blue statement crib and changing table that we were thrilled with. It pulled together the Where the Wild Things Are nursery so well!
Pulling Together Where the Wild Things Are Nursery Decor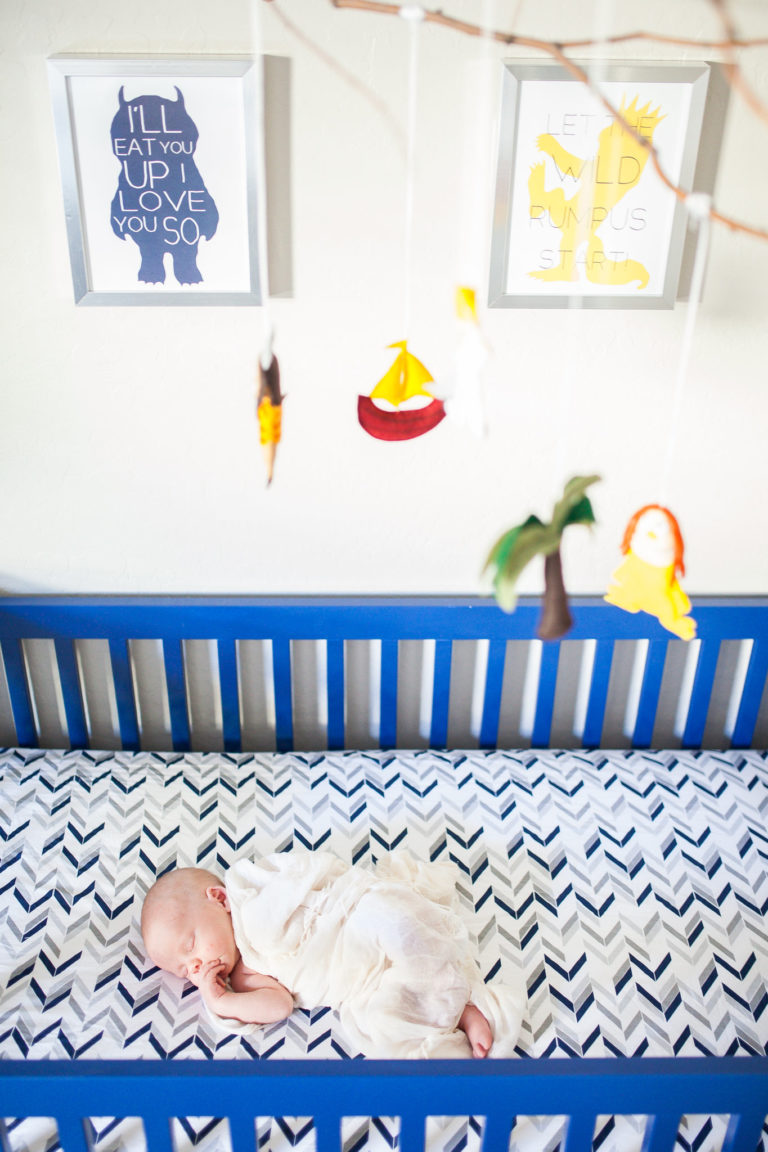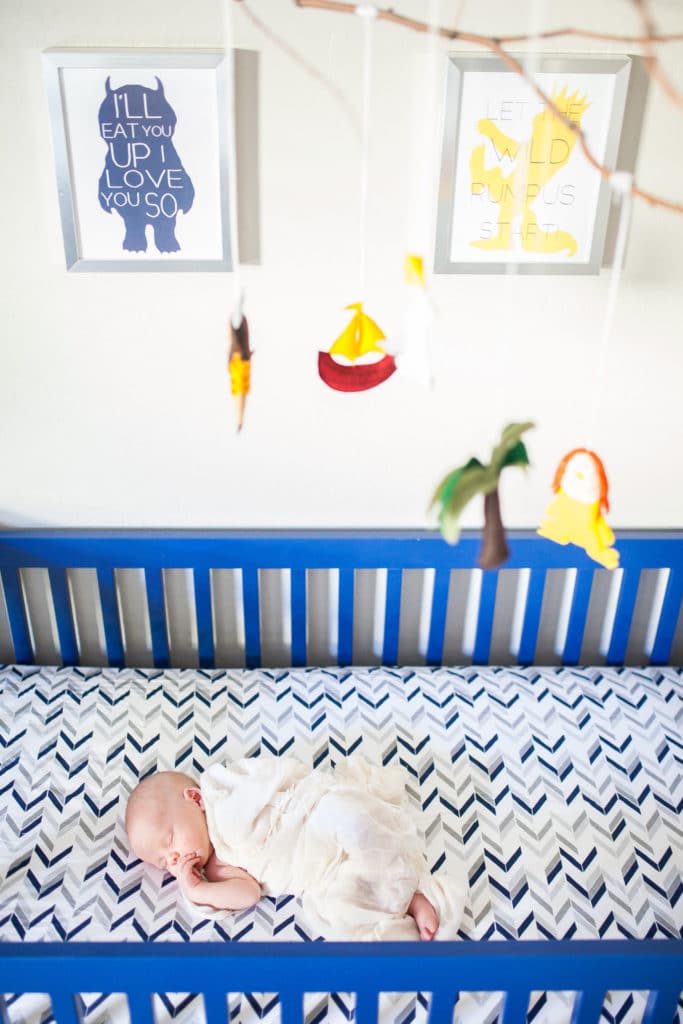 I definitely want to honor the book and the theme, but I also wanted to keep things classy and fairly minimal. Two major ideas came to mind: Look at Etsy Where the Wild Things Are and see what others have created, and look into purchasing a copy of the book and having some pages framed. I was so thrilled to find some of the cutest printable designs that fit the color scheme I'd already selected.
You can find these Where the Wild Things Are printables here.
I also fell head over heels in love with the crib mobile I found on Etsy. Those felt characters, those perfectly crafted details, and those colors had me at hello. I was about to pull the trigger on this pricey item when a family member suggested she could likely make a version and was up for the challenge! Was she ever! It was a true labor of love and it's something I've cherished as the greatest nursery gift!
If you aren't so lucky to have a crafty friend or family member, I'd still really consider ordering it off Etsy. It was the piece that brought it all together! We found a tree branch to hang as the mobile to add some nature and rustic charm to the Where the Wild Things Are nursery. I loved this piece, and so did my son!
Where the Wild Things Are Nursery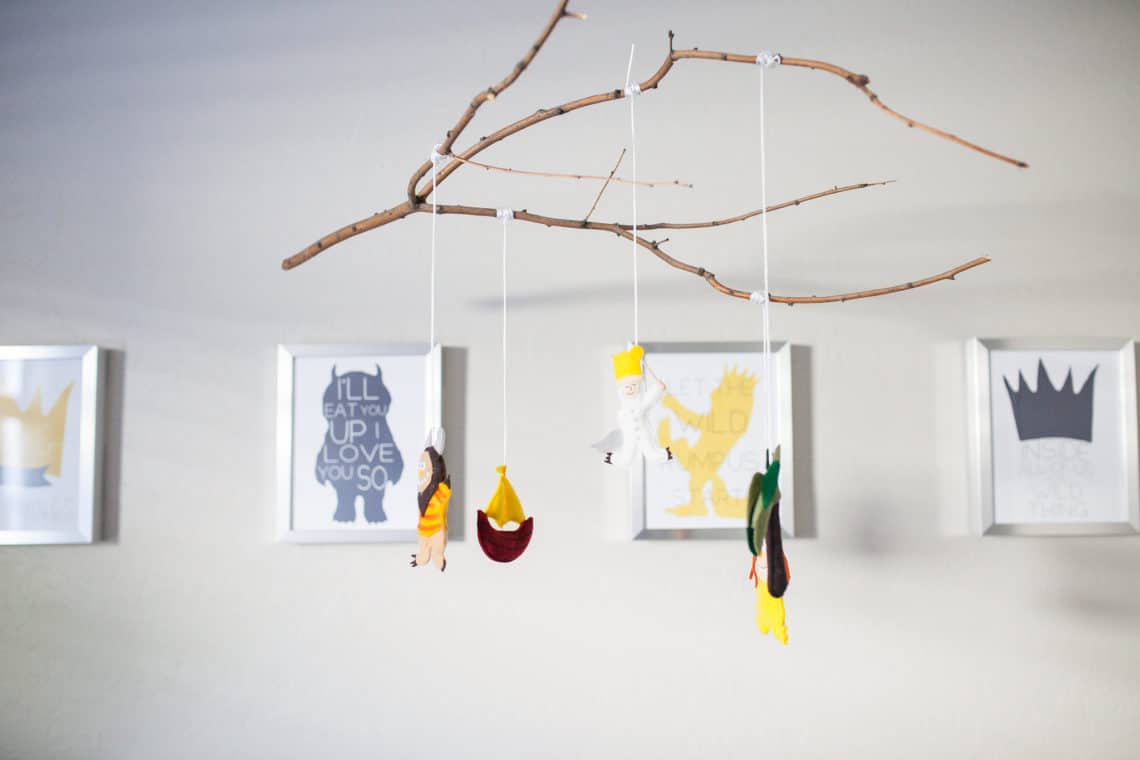 With the crib, changing table, and dresser the perfect blue, and the mobile and the printables, I was feeling pretty set to pull it all together. I had a coworker gift a glider they no longer used that we had every intention of re-upholstering to a gray, but never got around it. The light brown worked enough with the theme, it was definitely a prevalent color in the book!
I felt like we needed a little more light and some more yellow, so a rug was in order that would brighten up the room. I knew this rug would need a bit more cleaning, but it took about two years and a lot of rocking the baby to feel like it was time. It has held up great, and I'm glad we didn't shy away!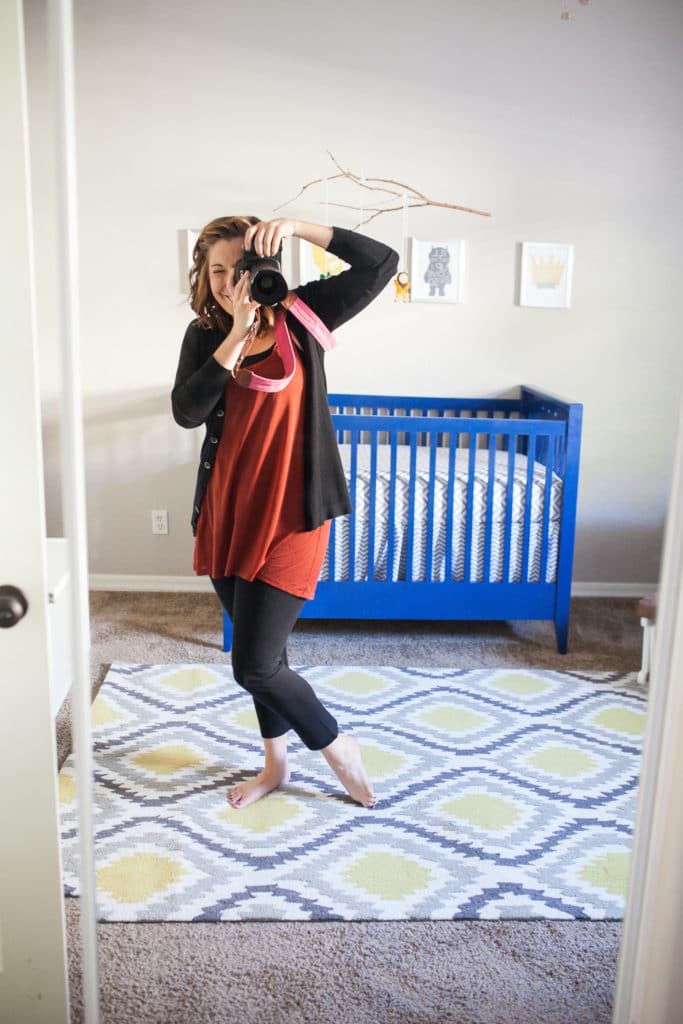 *Pictures by Chrissy Blake, who snapped this shot of herself and we've loved it and how it shows the Where the Wild Things Are Nursery ever since! 
I looked at Where the Wild Things Are crib sheets but decided they would be overkill with the mobile and prints. I opted for some easy geometric sheets in the colors scheme from Target and Buy Buy Baby that was totally perfect.
Letting the Nursery Grow with Your Baby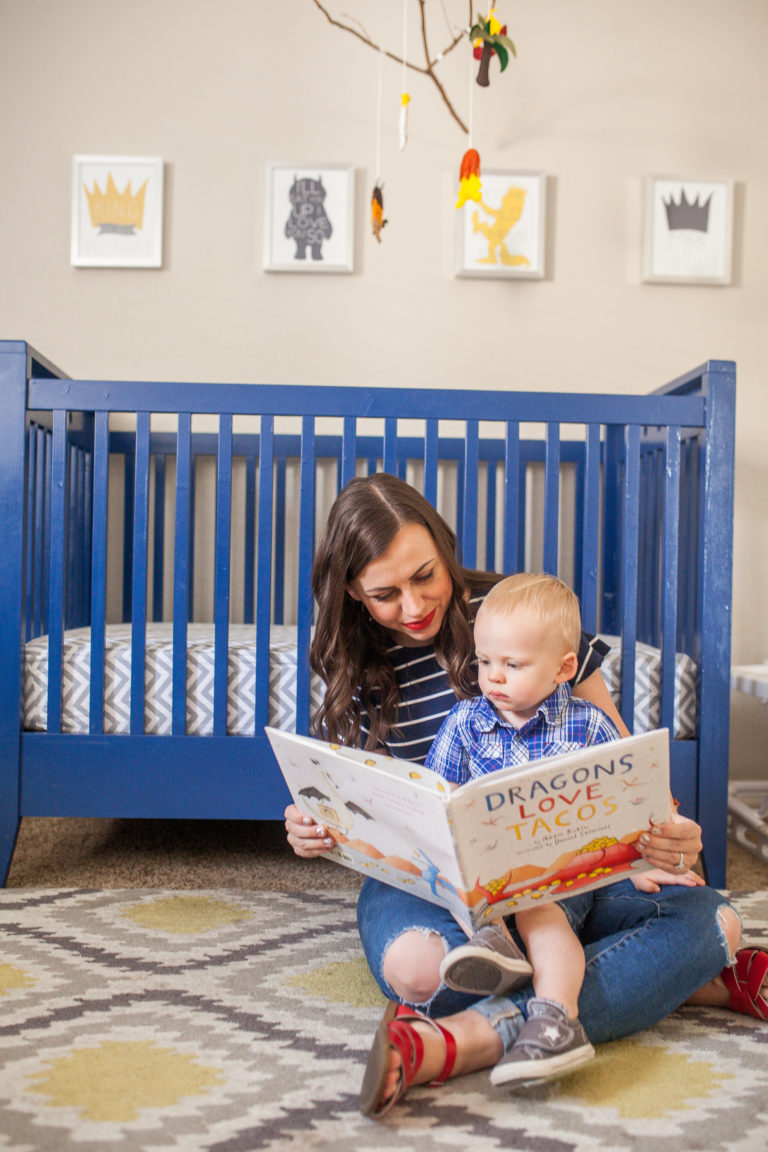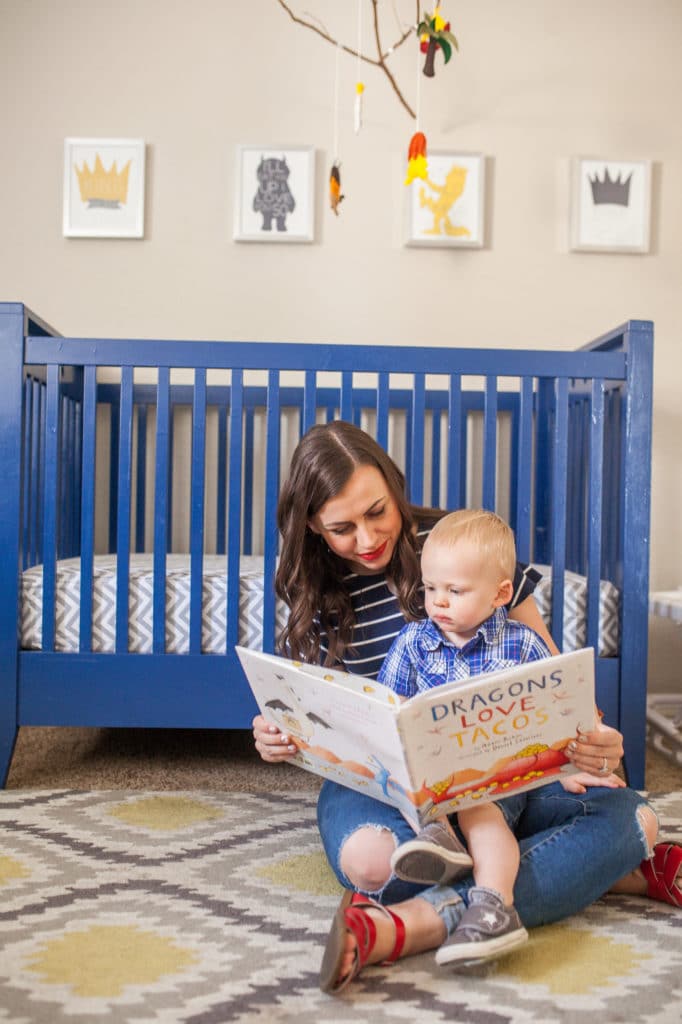 I have loved that my son has always loved the Where the Wild Things Are book since the first read. He has it memorized and can recite it! He points to the "monsters" on his wall and tells us about them. Best of all, now that we're ready to move him rooms he's requested he keep his wild thing friends.
I think that request speaks for itself. We plan to take some of the elements and include them in his big boy room. He's learned to love a classic children's book and reading even more. We have adored this nursery so, and I'm so grateful we will always have the memories of our baby and our becoming parents tied to this amazing nursery.


Like this baby post with a fun nursery idea? You may love these too:
The First Weeks After Baby Essentials Checklist
20 Books Every New Mom Should Have in Their Library
The First Six Months with Baby
Get 365 Date Ideas!
We want to help you have the best date nights ever! Grab this FREE printable with 365 date ideas, a date for every day of the year so you never run out of ideas!