A set of screen time rules for summer and proactive ways to handle screen time during summer break. Plus a free summer screen time rules printable.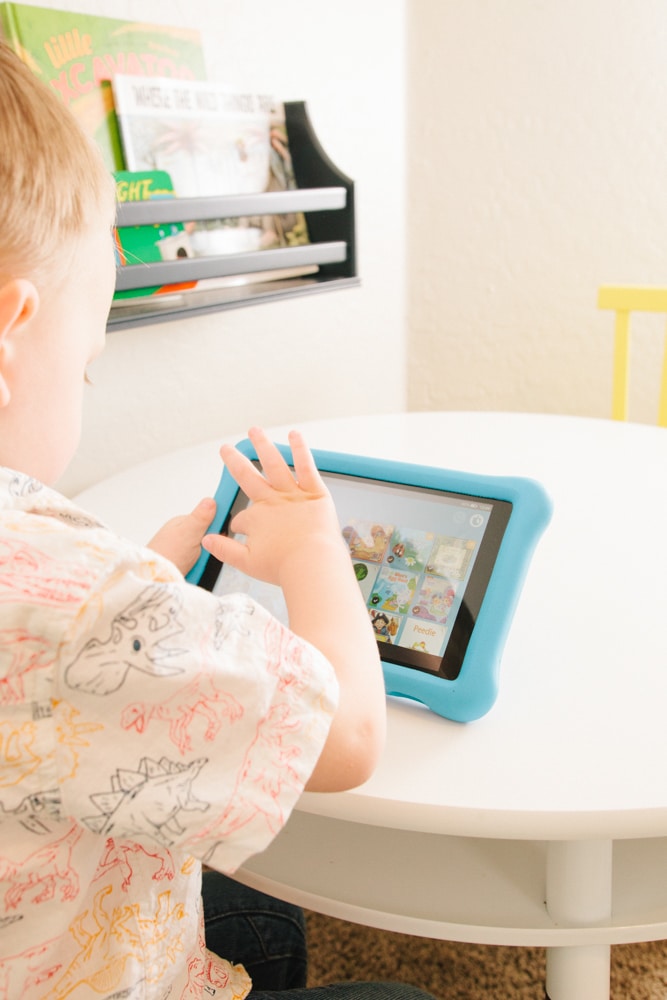 Summer Screen Time Struggles
One of the biggest parent struggles in the summer is battling screentime. It seems whether you have a toddler or a teenager, managing screens can be a huge fight for many parents.
I have to admit, we do a lot less than most families. For starters, it's not because I'm some perfect parent, or that I delight in torturing my children or myself. In fact, it's quite the opposite.
Both of my kids are still fairly young. I have a six-year-old and a three-year-old (who is almost four) in my house. I've found during the toddler and preschool years, that my kids just can't handle a lot of screentime without major behavior changes. There tend to be a lot more fits, meltdowns, and big emotions when there's a ton of screentime.
However, my kids still love shows, they love computer games, and we're a Disney-loving family who believes in movies! We even do a weekly family movie night tradition. So let me tell you, we're in the same boat with kids who love them some screentime, and a mom who constantly needs to set screentime rules and boundaries and remind kids what those rules are.
Summer Screen Time Rules
Summer break brings a unique challenge. Kids are home all day, or at least a lot of it. There are many days it's too hot to go outside. Also, most parents still have plenty to do with a lot more responsibility on their plates with children at home. That's why we're all for utilizing screen time for our advantage and making sure some set rules are in place.
Recommended Rules:
The American Academy of Adolescent and Child Psychology recommend 1 hour or less for kids ages two and up. And there are a lot of guidelines to encourage outdoor time, active play, and creative time.
That's why we created this FREE summer screen time rules printable that helps kids clearly see what other tasks need to be completed before screen time happens. It's meant to help kids accomplish the other things they need to, parents keep kids from being glued to screens all summer, and expectations are set to eliminate endless questions asking about screens.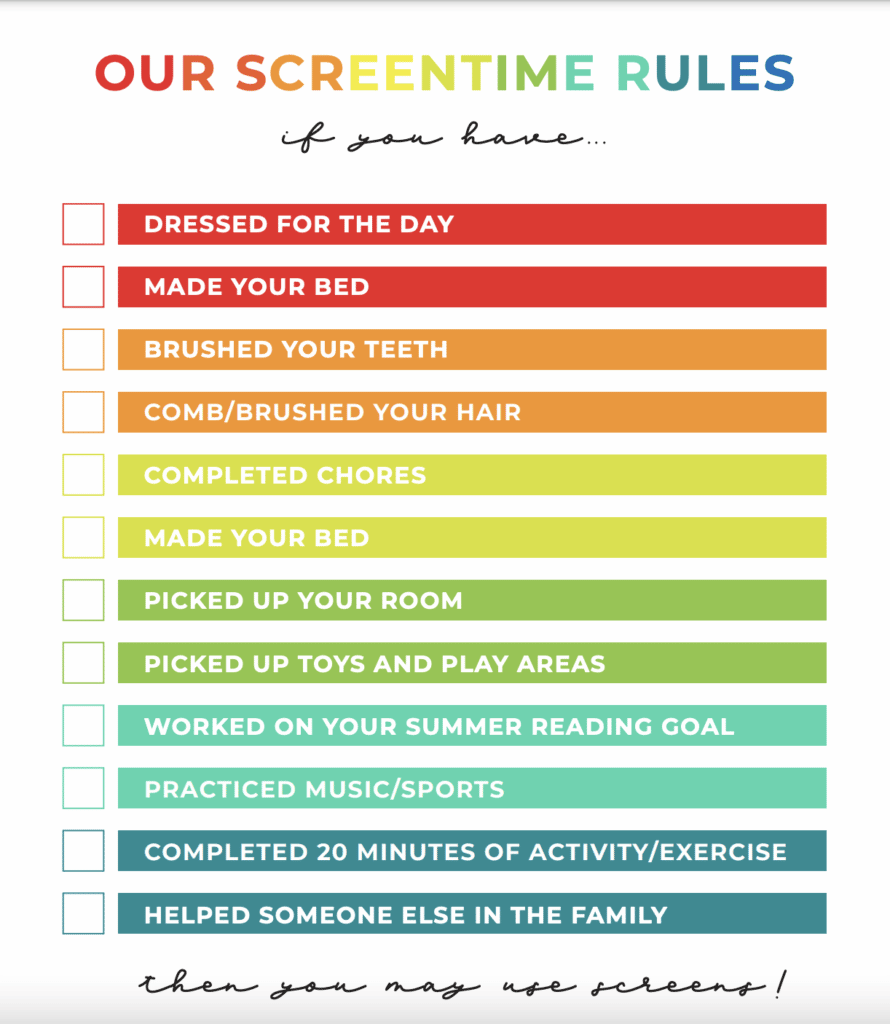 Grab the Free Summer Screen Time Printable
Set summer screen time rules with this reusable daily before screen time task list!
And if you need fun ideas to do after your set amount of screen time, don't forget to grab our 150 Summer Activities for Families printable!
Be sure to check out these summer resources for families:
Summer Camp Ideas At Home: Camp Mom Series
How to Limit Screen Time: Setting Up Boundaries as a Parent
Summer Schedule for Kids with Free Printable
Get 365 Date Ideas!
We want to help you have the best date nights ever! Grab this FREE printable with 365 date ideas, a date for every day of the year so you never run out of ideas!