Tips for a Good Babysitter Experience

This is a sponsored post written by me on behalf of Tyson Foods, Inc. All opinions are 100% mine.
Our most precious things in life are the two little people we lived through years of infertility to get! Leaving them with a qualified and wonderful babysitter is always our top priority for date night. And through five a half years of dating with kids, we've learned a good babysitter situation is crucial to making a regular date night happen.
Once we've found someone we trust to leave our little people with, we've found it's now our job to help set them up for success! We want our kids to have a good babysitter experience, and we want our sitter to have a great experience too! Here are five things that make all the difference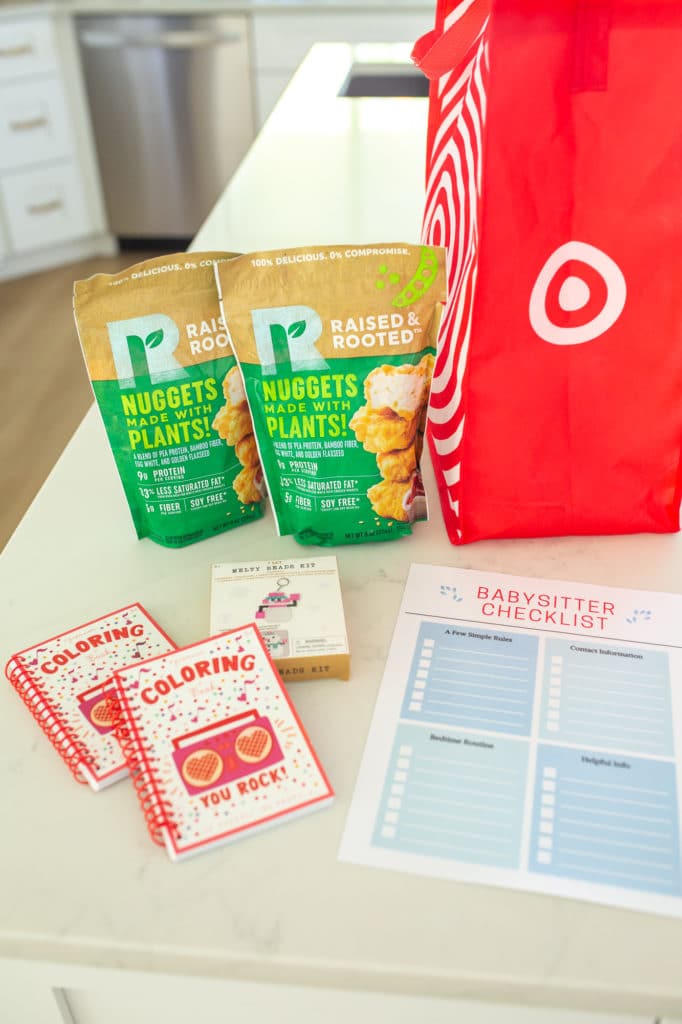 5 Ways to Set Up Babysitters, Kids, and Parents for Success
Write down routines before you even go

I consider myself a pretty easy-going parent, particularly with babysitters. However, what feels normal or routine to you is usually a mystery to a babysitter! And every family does something a little different. I like to let them know when bedtime is, and what our bedtime routine is. Also, small rules, like we aren't comfortable with them playing outside after it's dark are important small details that help set up a good babysitter experience for the babysitter and the kids.
Sample times can be so helpful and set them up for success by helping them know a rough timeline of how the babysitting experience will go with routines and rules/guidelines.

Have an easy dinner (or lunch) you know kids will eat on hand

Without fail, my kids will decide they need a meal even if we feed them before we leave. I love setting up a babysitter for success by having something really easy to make my kids will eat ready to grab and make! Raised & Rooted™ Plant Based Nuggets at Target are the perfect option! They taste great, my kids love them! I love that they're plant-based and have 8g of protein per serving.

They're so convenient to make! A babysitter can microwave, bake, or stick them in the air fryer. We make sure to let her know where items to prepare them are before we go. Also, we make sure there's also a package in our freezer. It sets our babysitter up for success, and our kids too!

Communicate Expectations

There's nothing that creates more problems than a lack of understanding of what one's role is and what is expected of them. I think all parents expect safety, but what you'd like the next several hours to look like is important to communicate. Some people want their homes clean. I think that's a nice thing, but I'd rather my kids be played with and given tons of attention. But communication of our expectations for basic toy pick up and lots of dedicated attention is something I make a point to do.
Are they feeding children? Is bath time included? Are you adamant that they avoid screens for themself or keep the tv off for your children? Make sure you communicate your expectations before you leave so everyone is on the same page.


Include Special Activities

This does not have to be anything complicated! I found this trick for a good babysitter experience early in hiring a nanny for regular childcare. My son had a game I didn't care for, and I saved it for our nanny to play with him. He was so excited every time she came, because it meant game time!
If we buy a new activity book, I'll hold onto it until a babysitter/nanny comes. It is one simple thing that makes a huge difference! The babysitter is set up to look like such a fun and exciting person. Kids are entertained and occupied in a positive way the parent approves of. And, often, the parent can escape a game or toy or activity they aren't 100% in love with. It's truly a huge win for all parties!

Have a Check-In Time

I never want a babysitter to feel like they can't reach us if they need us. Adversely, I've had babysitters text us every 10 minutes and it sure makes a date night hard to enjoy with that much distraction! I've learned it's great to ask for a check-in point at a certain time. We have our date night babysitters send us a text when our kids are in bed. We also check-in and let them know when we're about 15 minutes away from home.
If there are any problems we ask them to text us. If we run more than 15 minutes later than expected, we check-in too.
These check-in times seem to be the perfect way to stay approachable and in good communication without micromanaging or ruining our night out.
We hope as you find a great babysitter, these tips help you keep a good thing going with lots more date nights in your future!
Get 365 Date Ideas!
We want to help you have the best date nights ever! Grab this FREE printable with 365 date ideas, a date for every day of the year so you never run out of ideas!